Our rating
Take cards effectively on the go with Worldpay Reader, but be aware of fees.
Replacing their old WorldPay Zinc, the new Worldpay Reader is a handy card reader that works with a mobile POS app. It accepts all the major cards anywhere with network connectivity or WiFi. Businesses can choose between pay-as-you-go or subscription pricing, fees depending on your sales volume.
Highs: 24/7 phone support. Can choose price plan. Option for virtual terminal.
Lows: Fees not straightforward. 18-months' commitment with subscription. PCI compliance is required to avoid penalty fees.
Buy if: Your card sales volume is on the low side, and you want a mobile card reader from a traditional industry giant.
The lowdown
Worldpay Reader is a compact card reader for accepting debit and credit cards. It works through a mobile app called Worldpay POS, which has all the basic features needed at a point of sale. The device is the same model as that used by PayPal Here and previously used by iZettle, so not so unique among card readers in the UK.
Chip and PIN, swipe, contactless cards and digital wallets are accepted, provided the card is Visa-, Mastercard- or Maestro-branded. The card reader has a PIN pad for easy PIN entry, and the transaction is securely processed over the internet via the mobile app.
The card reader is compatible with iPhone, iPad and Android phones and tablets. You need a WiFi or 3G/4G connection to use the app and take payments.
Worldpay Reader is a replacement of Worldpay's former card reader, WorldPay Zinc, which was discontinued in 2017.
Accepted cards







| | Pay as you go | Simplicity |
| --- | --- | --- |
| Card reader | £69 + VAT one-off purchase (+ purchase fees apply) | £4.99 + VAT monthly rental |
| Commitment | No contract | 18 months' contract |
| Card fees | Single transaction %, determined by monthly card turnover | Single transaction rate incl. all card fees, based on initial monthly card turnover |
| Premium card fees | | |
| Transaction authorisation fees | | |
| PCI non-compliance fee | £9.99/month | £9.99/month |
| Pay as you go | Simplicity |
| --- | --- |
| £69 + VAT one-off purchase (+ purchase fees apply) | £4.99 + VAT monthly rental |
| No contract | 18 months' contract |
| Single transaction %, determined by monthly card turnover | Single transaction rate incl. all card fees, based on initial monthly card turnover |
| Premium card fees apply | No premium card fees |
| Transaction authorisation fees apply | No transaction authorisation fees |
| £9.99/mo PCI non-compliance fee | £9.99/mo PCI non-compliance fee |
In both plans, you will be allocated a preset card fee determined by your average monthly card sales. In the pay-as-you-go plan, you also pay extra fees for processing and premium cards.
Notably, they state the pay-as-you-go plan is not the best option for those who consistently have high volumes of monthly transactions, or those who accept many foreign-issued or corporate cards (which impose extra fees). They also note the pay-monthly plan is not so good for those with many monthly transactions.
If electronic invoicing, phone or mail order sales are in your pipeline, the packages allow you to add a Virtual Terminal and Pay by Link for £9.95 extra a month each.
As to settlement times, it takes up to 3 days before transactions reach your bank account.
Compared to the leading mobile card readers in the UK, Worldpay's complex pricing does not compete with the transparent, simple costs of the others. iZettle and Square both charge a simple 1.75% card fee, and SumUp 1.69%, for all cards including Amex, Diners Club and other premium or foreign cards. Their card readers typically only cost £19-£39 + VAT and have no contract , while the pay-as-you-go Worldpay Reader costs £69 + VAT + extra payment fees.
App features and analytics
The card reader needs to be used with the Worldpay POS app, which has a good amount of useful features needed at at point of sale. For instance:
Easy analytics: All payments are automatically registered and can be checked in your web Business Dashboard at any time. Analyse sales in the app as well, and see things like bestselling items, refunds and total sales.
Serve multiple customers: Serve different customers simultaneously by saving their checkout basket in the app to serve other customers, until the original customer is ready to pay.
Product menu: Products are shown on a visual menu with images, making it easy to add things for checkout in just a few taps.
Refunds and voids: Customer changed their mind? Whole and partial refunds are possible through the app.
Offline features: If the internet is not working, you can still take cash payments offline until the app next goes online. Note that card payments do require internet, so those won't work offline.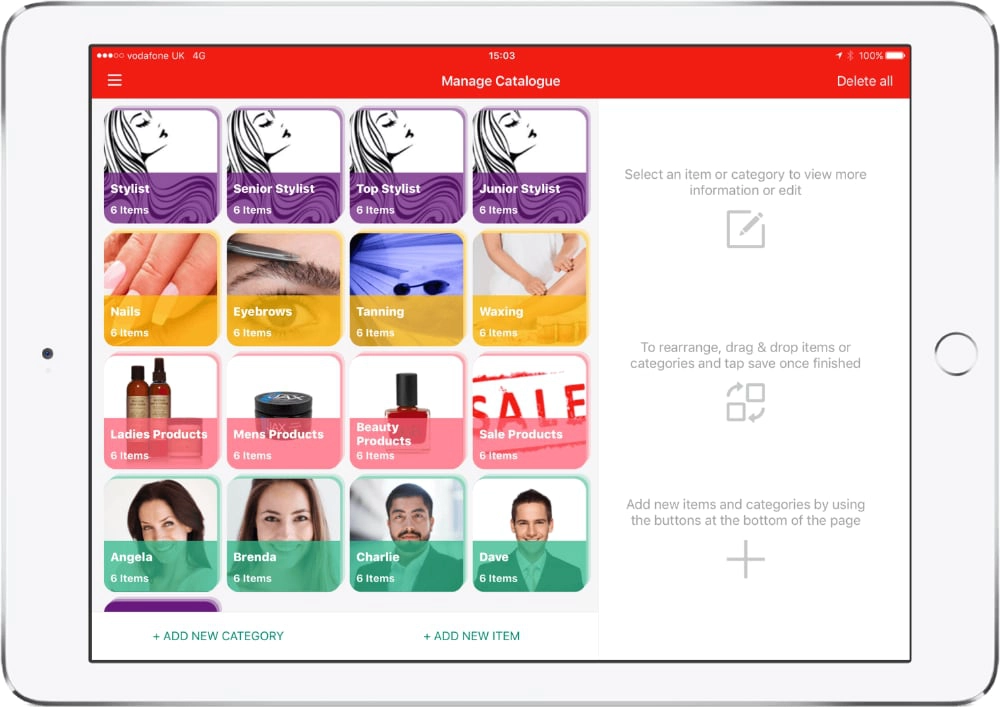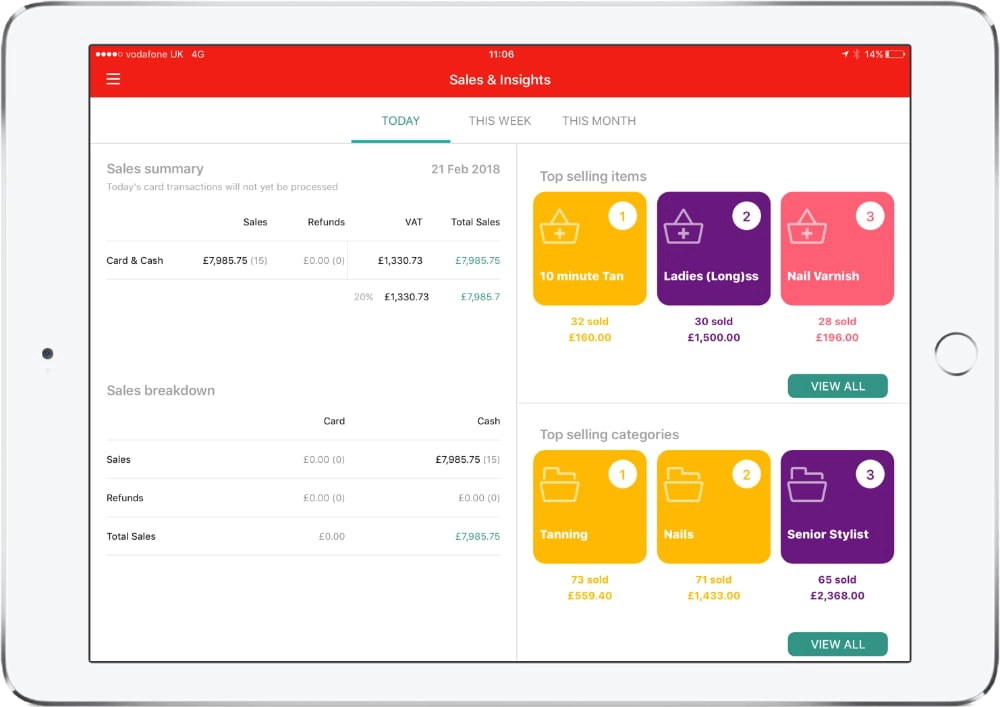 Customer service and user feedback
A great thing about the offering is the round-the-clock customer support. Every day of the year, you have a 24 hours' phone line on hand, should you need to troubleshoot issues or discuss a query. Emailing, on the other hand, is not the best way to communicate with Worldpay.
The Worldpay Reader packages also include a next-day terminal replacement service, though extra costs may apply.
There's quite a few bad customer reviews where users report being charged undisclosed fees, termination penalties and unexpected monthly costs. This is typical of traditional payment companies built of the premise of entering a long-term contract with lots of small-print conditions that are not necessarily disclosed upon signing up. For that reason, we especially recommend checking all the fine print if you opt for the subscription where you commit to 18 months.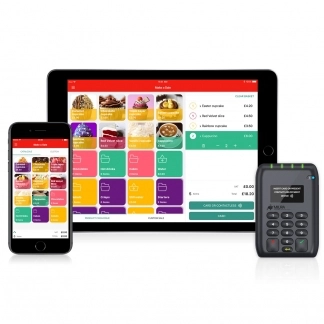 Worldpay Reader with iPhone and iPad POS app. Photo: Worldpay
If you prefer speaking to a person on the phone rather than emailing, their 24/7 phone support is an added bonus. Only Elavon MobileMerchant offers this as well. Furthermore, those who see themselves eventually taking over-the-phone payments could find the virtual terminal option convenient.
Choosing the pay-monthly plan may not be right if your business is brand new or unpredictable. It is normal for contracts to charge an early termination fee for ending an agreement prematurely, so the pay-as-you-go plan with Worldpay is probably better.
Card fees may generally be a bit too unpredictable, just like PCI compliance (a requirement of using Worldpay) may daunt people who are new to card payments.
Our verdict
Worldpay has certainly made their offerings more transparent and in tune with technological developments led by mobile payment providers like iZettle and SumUp. However, the other very similar solutions on the market in the UK are usually cheaper, more transparent and less complicated than this.
The Worldpay card reader and service are no doubt all right, but their real value is getting to use a product managed by a traditional payments giant you may trust more than 'trendier' services like Square.
Bottom line: Best for existing, diehard Worldpay customers needing a pocket-sized card reader.