iZettle, UK's leading provider of mobile card readers, offers payment processing at no fixed monthly cost with free POS software, all run from an app on your mobile device. US-based Square offers these things as well, but entered the UK only a couple of years ago with a very strong offering of their own.
How do the two compare? We look at fees, features, payment technology and customer service.
Read complete review

Read complete review

 


Device cost
£16 (offer through link)
Device cost
£59 (£19 through this link)
Transaction fee
1.75% (any card)
Transaction fee
1.75% (any card)
Monthly fee
None
Premium options available
Monthly fee
None
Premium options available
Payouts in bank account
1-2 business days
Payouts in bank account
1-2 business days
Solution type
Chip, contactless, key-in*


*Swipe with included magstripe reader

Solution type
Chip, contactless
PIN confirmation
On tablet or phone screen
PIN confirmation
On card reader buttons
Customer service
Email, online support centre
Phone 9 AM – 5 PM weekdays
Customer service
Email, online support centre
Phone 9 AM – 5 PM weekdays
Complete review
Complete review
Device cost
£16 (offer through link)
£59 (£19 through this link)
Transaction fee
1.75% (any card)
1.75% (any card)
Monthly fee
None. Premium options available
None. Premium options available
Payouts in bank account
1-2 business days
1-2 business days
Solution type
Chip, contactless, swipe with included reader, key-in
Chip, contactless
PIN confirmation
On tablet or phone screen
On card reader buttons
Customer service
Email, online
Phone 9am-5pm weekdays
Email, online
Phone 9am-5pm weekdays
Payment flow differs for PIN and swipe
We like the look and feel of both the Square and iZettle card readers, though they are very different.
Square Reader has no display and no PIN pad. The payment amount is shown in the app, and the customer has to enter their PIN on the vendor's smartphone or tablet. With iZettle, customers enter their PIN on the card reader keypad.
If you sell at a counter, Square's PIN entry flow may be smoother if you invest in a tablet stand (Square Stand is an obvious choice for iPad) that swivels to face the customer, while ensuring the privacy necessary when entering a PIN number on the screen. When you're on the go and use a smartphone, you'll have to hand the customer both the card reader for card insertion and phone for PIN entry.
Square Reader has no display and no PIN pad. The amount is shown in the app, and the customer has to enter their PIN on the vendor's smartphone or tablet.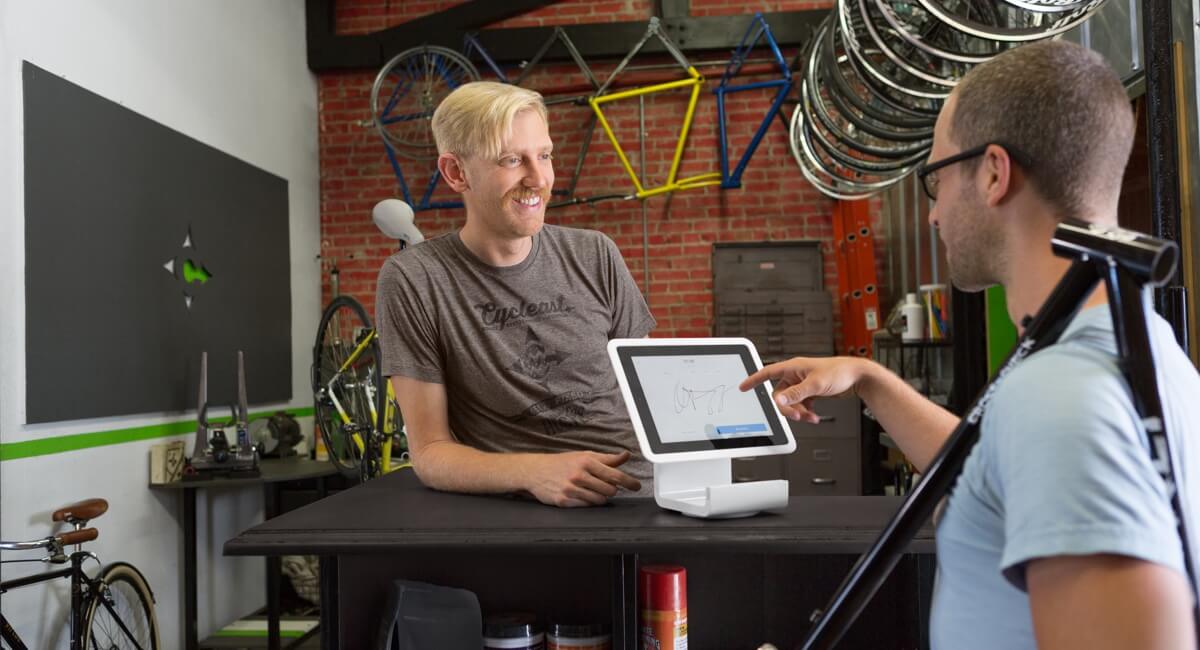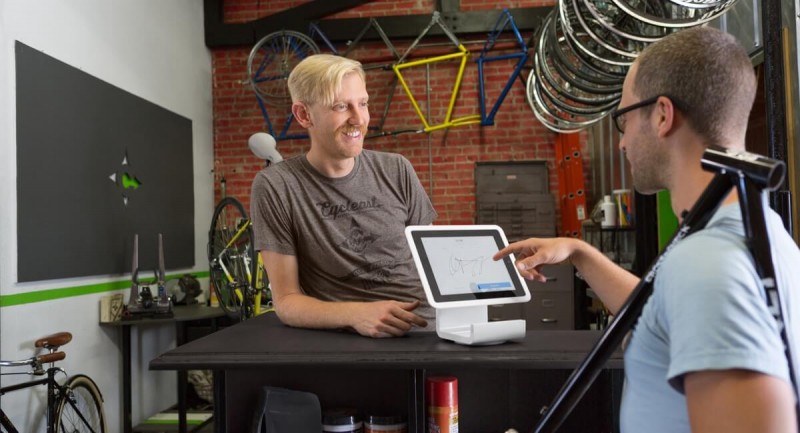 Square Stand makes the chip and PIN flow smoother. It can swivel the iPad towards to customer when the PIN is required.
Contactless payments, on the contrary, are always effortless and immediate. That's what Square Reader is best for, making it ideal for cafés, bars and other businesses where customers regularly buy for under £30 with a contactless card or mobile wallet. iZettle is equally effortless with contactless taps, but its added PIN pad makes it superior for chip payments.
Square Reader doesn't take swipe. Instead, swipe payments are handled by a separate magstripe reader that comes free with the Square Reader purchase. If you're serving lots of tourists from the US where swipe has been the norm for years, it's good to be aware that swipe is being phased out and replaced by chip cards. But those who still accept swipe on more than the rare occasion will find the second card reader a bit of a bind.
Merchants who do not want to carry two card readers around could instead enter the card details in the app, but this will cost 2.5% instead of 1.75%. Merchants with a stationary point of sale (i.e. some kind of counter) might like the Square Stand for swipe payments, which has a steady, inbuilt magnetic stripe slot.
The new iZettle Reader 2, an improved version of the first-generation iZettle Reader, similarly only takes chip and contactless and not swipe.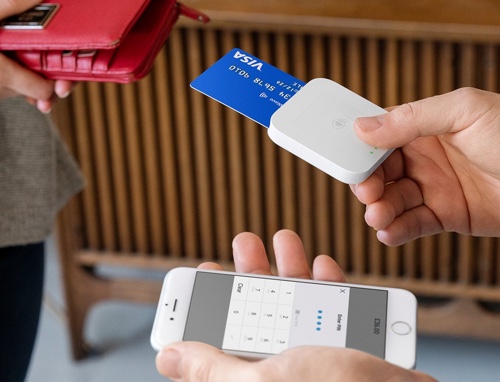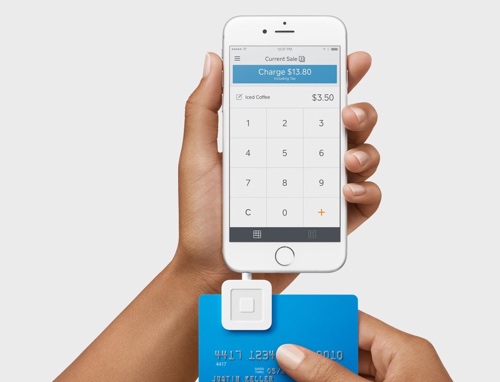 To swipe with Square, you need the magnetic stripe reader's audio jack plugged in to your mobile device. Newer iPhones need an adaptor to join them up. Photo: Square
To us, iZettle Reader 2 is more stylish and friendly-looking than standard card machines on the market. Square's displayless device might make some customers a little apprehensive, but it is sleek and accommodating for the future of contactless.
Similar pricing
Both companies charge 1.75% per chip payment, contactless tap and swipe (where relevant). There are no additional fees for foreign cards and no monthly fees, although premium subscription services for both Square and iZettle are available.
Keyed-in transactions are not possible with iZettle, but you can send payment links through the app so customers can pay remotely (costs 2.5% per transaction). Square, on the other hand, facilitates key-in payments directly in the app for a 2.5% transaction fee. You can email invoices to customers with both Square and iZettle, again costing 2.5% each.
They both offer next-day settlement in your bank account, although iZettle sometimes takes two or three working days depending on the type of card used.
If fast settlement is important to you, Square has an Instant Deposits service for receiving payments within 20 minutes of the transaction for an extra 1% on top of the usual transaction fee.
This is a setting you switch on in the Square Dashboard, and it's only available after you've accumulated enough transactions and Square makes it available to you. Also, there has to be at least £50 in the Square balance for it to work, and only a maximum of £1000 a day can be deposited instantly, so it's less straightforward if your sales are irregular or larger in volume.
iZettle offers generous chargeback protection of up to £250 per month as long as you follow what they consider to be best practice. A chargeback is when a customer contacts their issuing bank and disputes the purchase – either because they are dissatisfied with the product or service or has forgotten all about making the purchase (it does happen!).
Square goes a step further by eliminating all chargeback fees (i.e. there's no maximum monthly chargeback protection) while offering free dispute support services.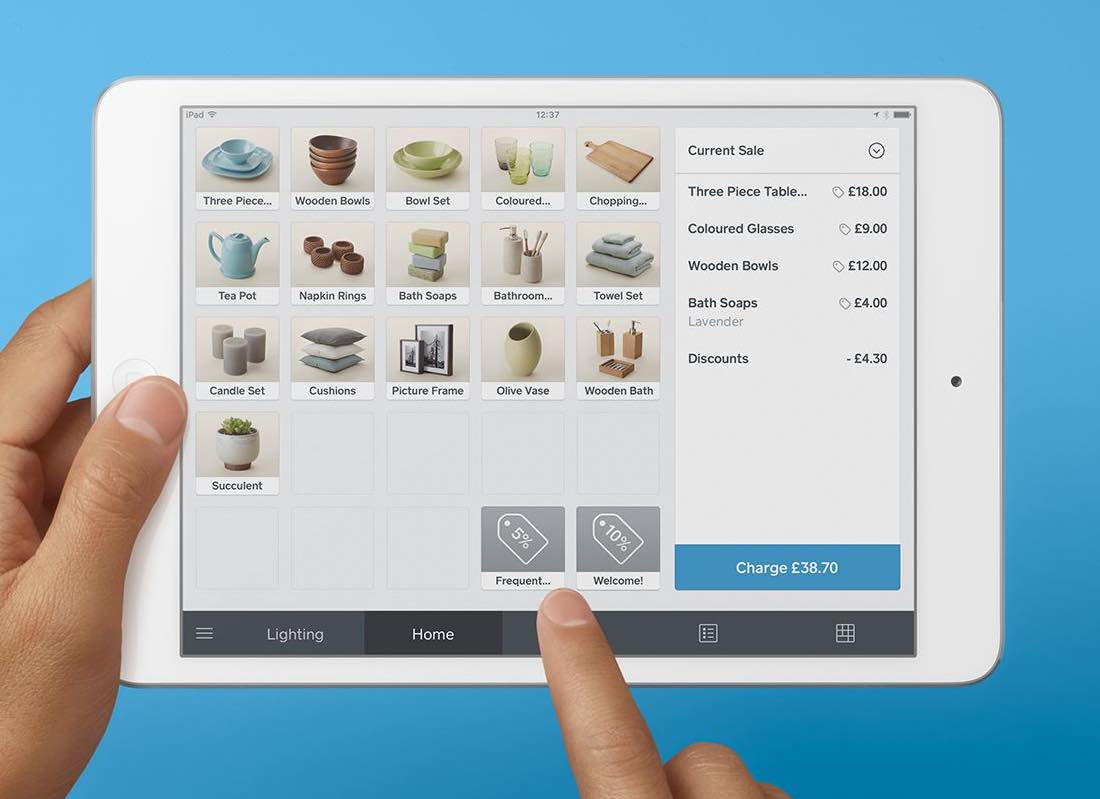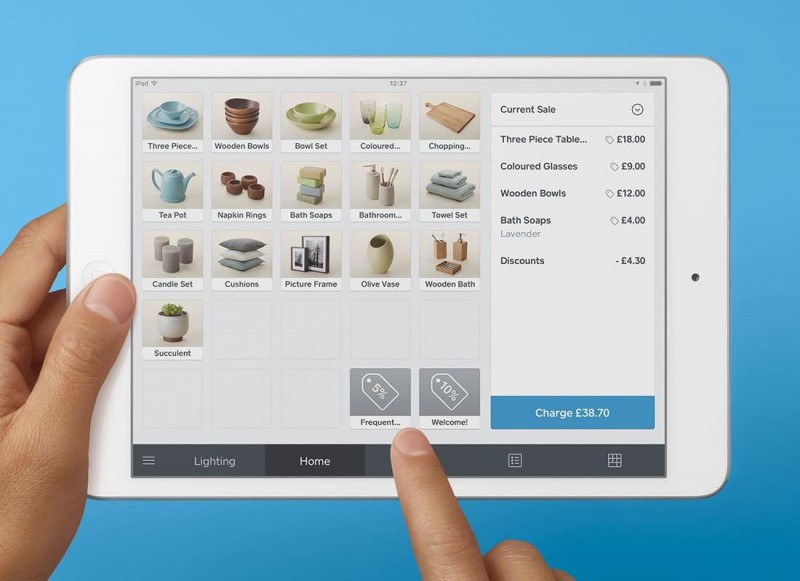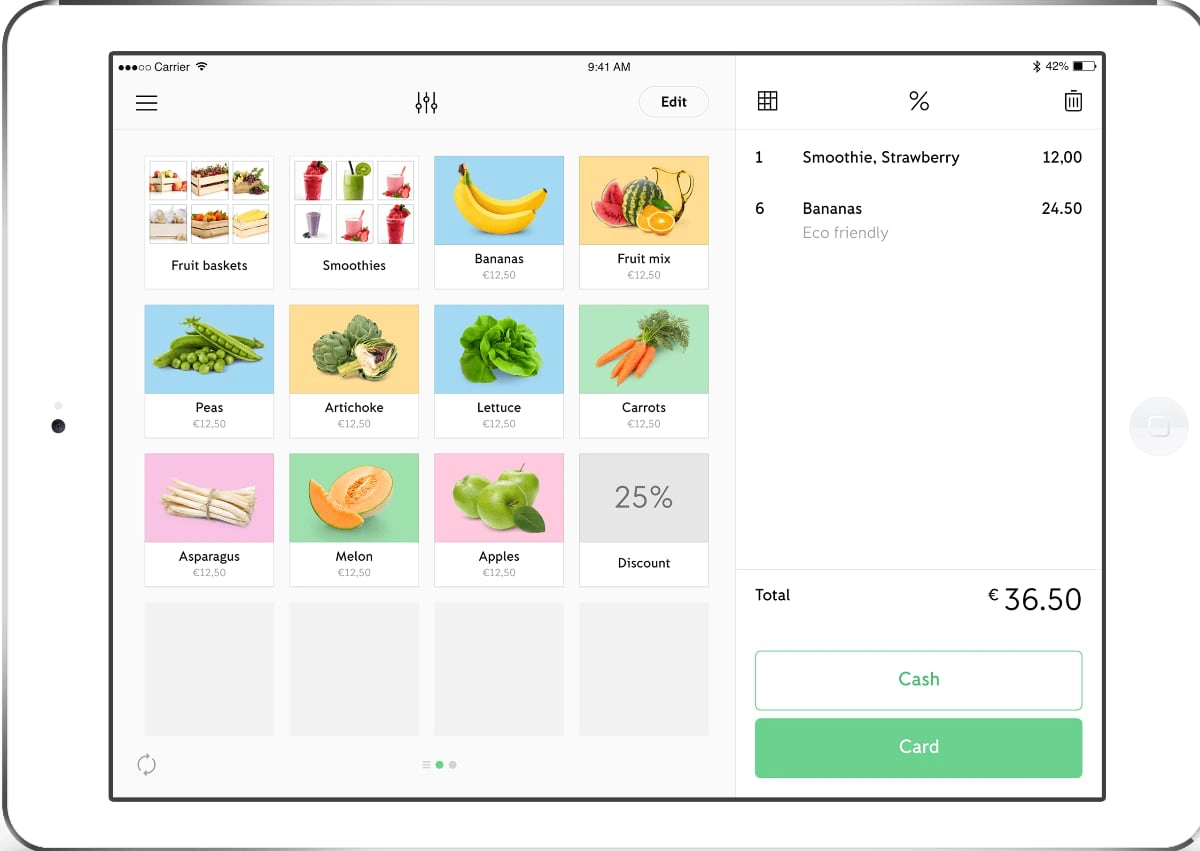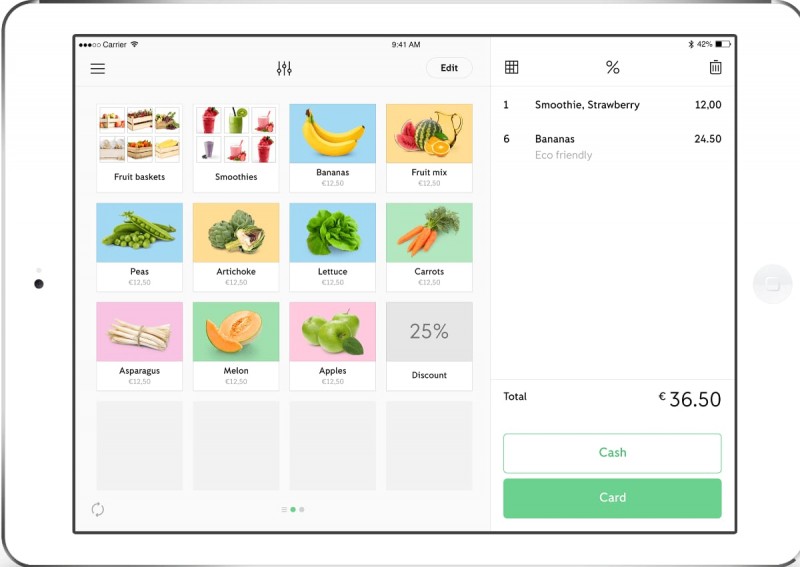 Square Point of Sale product menu (1) versus iZettle Go product menu (2) on iPad.
Both offer amazing POS features for free
Square started out with just a low-cost card reader, but it is now a world-class POS cloud software company with integrated payments. Among the European card reader companies, iZettle has been a forefront innovator of the POS experience.
Through the iZettle and Square apps and respective online back office dashboards, you get a lot of functions for free. For instance, add products and assign different attributes to them for easy checkout. Receipt printers can be integrated and receipts customised. Other hardware, like barcode scanners and cash drawers that open automatically, can be added (iZettle can alternatively use your mobile device for barcode scanning).
iZettle's Repeat Payments feature is ideal for street musicians and vendors accepting the same amount of money from each customer. You basically set an amount in the app, and the card reader will then be ready for contactless, chip and PIN or wearable tech payments for that amount. This is great for processing lots of transactions for the same thing without entering the amount in the app each time. Zettle does not, however, provide it as a default setting yet, so you may need to contact them for activation.
Not just for face-to-face payments
Those accepting payments where the customer is not present will find that Square has more to offer. Their Virtual Terminal accepts payments through a desktop browser, while the email invoice feature is useful especially in service sectors. Alternatively, you can use Square app's keyed entry option for card-not-present transactions where the card details have been given to you. None of these have an added monthly cost, allowing you the flexibility to charge customers the way you need it.
iZettle also offers email invoicing and payment links as a payment method in the app. The latter can be sent via text, email and social media apps and is basically just a link through which a customer can pay for one bill. As with Square, none of these incur a monthly cost, but iZettle does not have a virtual terminal for phone payments and doesn't allow keyed-in payments in the app.
The Square app is superior for food and drink
If you own a café, restaurant, pub or food truck, the Square app has more to offer. While iZettle's free app doesn't support split tenders or open tickets, Square does. Busy restaurants even have the option to connect Square Reader with a heat-resistant kitchen printer for food orders while also connected to a regular receipt printer. You can add a tip with Square, and split tenders make it easy to split a bill between a table of customers. That said, iZettle does allow customers to add a tip to their transaction as well.
If you opt for iZettle Food & Drink (£29 + VAT per month), you'll get a dedicated POS app for cafés, bars and similar.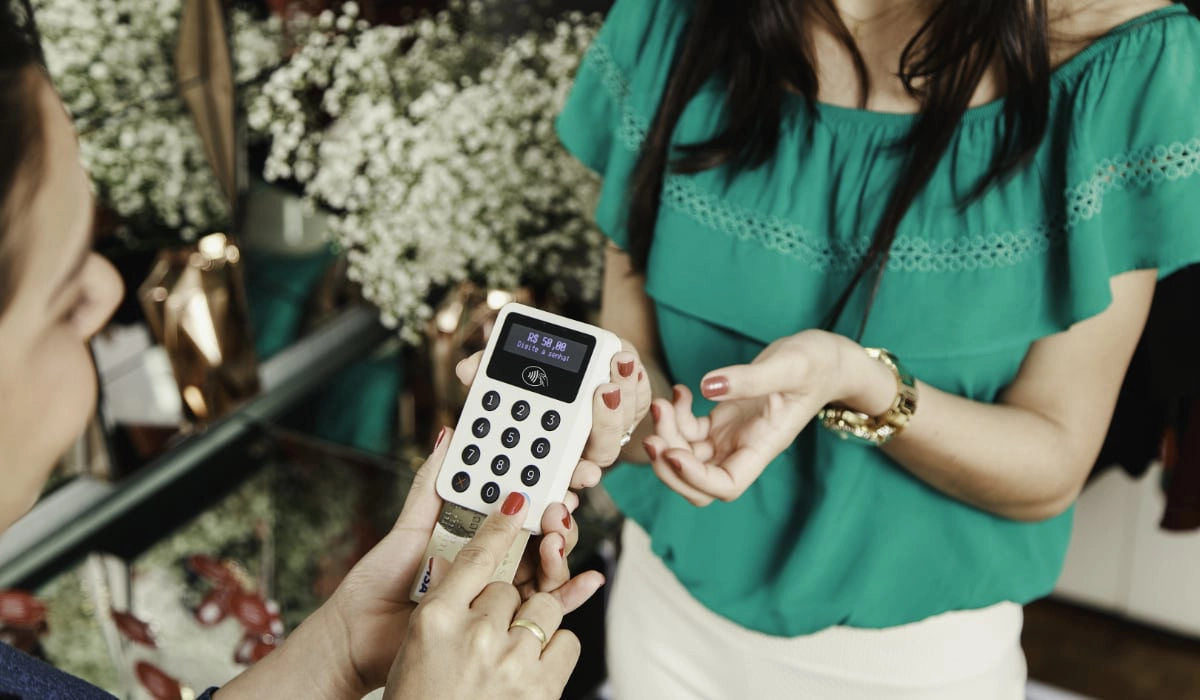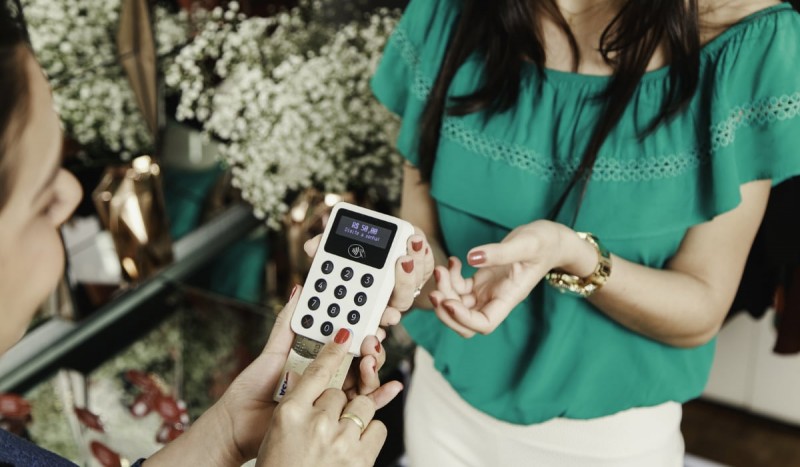 iZettle Reader is straightforward for chip and PIN payments anywhere with a reliable network connection. Photo: iZettle
Both Square and iZettle can grow with your business
The ecosystems of Square and iZettle are both impressive. Just beware, though, that certain Square features (e.g. advanced employee timesheet tracking) come at an extra monthly fee. As an iZettle user, more advanced catering and hospitality features can be yours by opting for iZettle Food and Drink – also for a monthly fee.
For bookkeeping beyond the free dashboard basics, iZettle and Square can both sync with QuickBooks and Xero. In addition, Square can integrate with a range of more advanced partner apps related to various business functionality, for example inventory systems and ecommerce platforms. All integrations are paid for separately through the chosen partner platforms.
iZettle has an E-commerce platform for £29 + VAT/month. The company has made it easy to have both face-to-face and online sales integrated in one account with a selection of website templates for building a web store.
Square does it differently. On top of their very own Square Online Store platform, they offer ecommerce integration with other online stores, prices of which will vary. They have a 3-tiered system where you either pick a platform like Weebly or Wix and easily set up an online store linked to your Square account, use one of their partners to set up a store for your unique needs, or use Square APIs to integrate with any website you have.
Existing iZettle customers can qualify for iZettle's small business cash advances against future sales. This is called iZettle Advance. Square offers a similar programme in the US, but this is not yet available in the UK.
Our verdict
Square and iZettle both have a lot to offer. But at the end of the day, we prefer the way iZettle handles chip and PIN in terms of payment flow, customer experience and security. Square boasts several POS and dashboard features that iZettle lacks in their free plan. That said, the upgrade options with iZettle will cover most business needs.
Currently, iZettle understands the UK market better than Square, but Square offers a great deal to make up for shortcomings. As to how this looks in the future, only time will tell.