The first manufacturer that springs to mind when you think of card machines is probably Ingenico. Their terminals have long been ubiquitous in shops around the country – in fact, they enable over 50% of card transactions in the UK.
Small businesses can now consider a new range of state-of-the-art Ingenico terminals including three mobile card machines, one stationary terminal and one smart POS terminal.
Ingenico machines are sold through independent sales organisations (ISOs) and acquiring banks. They are relatively expensive (several hundred pounds), but very efficient and highly customisable.
In fact, the price of each model varies according to the hardware options chosen (e.g. 4G, Bluetooth, GPS, accessories), but also the software – including that which processes your chosen payment types like Visa and American Express.
However, getting an Ingenico machine is not just about a high-quality smart terminal. Today, you also get access to a growing software platform developed by Ingenico and connected to the PDQ machines – this is called Telium.
More services with Telium Tetra
Ingenico's recent terminal models incorporate Telium Tetra, which is both an operating system and service offering. Its four feature groups include:
Integration with next-generation smart terminals
Terminal fleet management
Payment app market
Choice of customer management applications
Ingenico has created a web platform called Merchant Service Hub, which allows merchants to manage some of these features. The portal provides access to sales reports, electronic receipts, new means of payment and customer management features.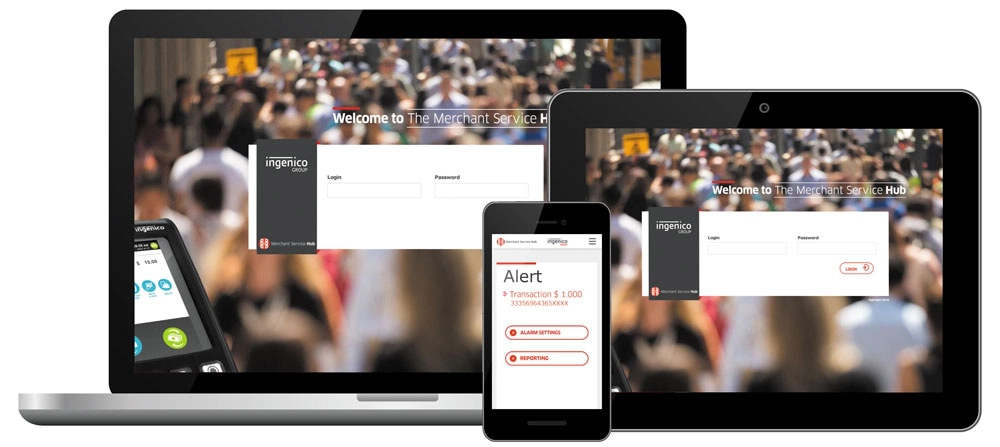 The Merchant Service Hub can be accessed from any device. Photo: Ingenico
The management of the terminal fleet is separate from the Merchant Service Hub, either handled by Ingenico's remote technical support or the merchant through a web interface. This is particularly interesting for merchants and restaurant owners overseeing several terminals. All Telium payment terminals are audited and updated remotely via 3G or the local network. It's even possible to change the phone network on all terminals without changing SIM card.
It should be said that Telium Tetra is present on the following payment terminals:
Portable/mobile: Move 5000, 3500, 2500
Desktop: Desk 5000, 3000
Ingenico more recently launched a smart POS terminal using a different operating system called Axium.
We will cover most of these models in this article. Ingenico provides other terminals too, but they can't be rented or bought by independent merchants or small businesses – instead, they are reserved for banks, petrol stations, big retailers, etc.
Main differences between the iWL 250 and new Move 5000
Operating system updated from Telium 2 to Telium Tetra.
Screen size changed from 2.8 inches to 3.5 inches and graphics from 320 x 240 pixels to 480 x 320 pixels – and Move 5000 is touchscreen (by finger or stylus). The built-in H264 codec allows video playback to the client.
The memory is significantly larger: 512 MB RAM instead of 128 MB RAM, and up to 32 GB storage in Move 5000.
4G in addition to 3G, GPRS, Bluetooth and WiFi.
New terminal is capable of acquiring data through GPS, barcode scanner and optional camera.
The price of the Move 5000 is similar to that of the old iWL250: between £300 and £500 depending on the chosen hardware specifications.
Like the previous model, Move 5000 is able to accept many payment methods including chip and PIN debit or credit cards, magnetic stripe cards and NFC (contactless).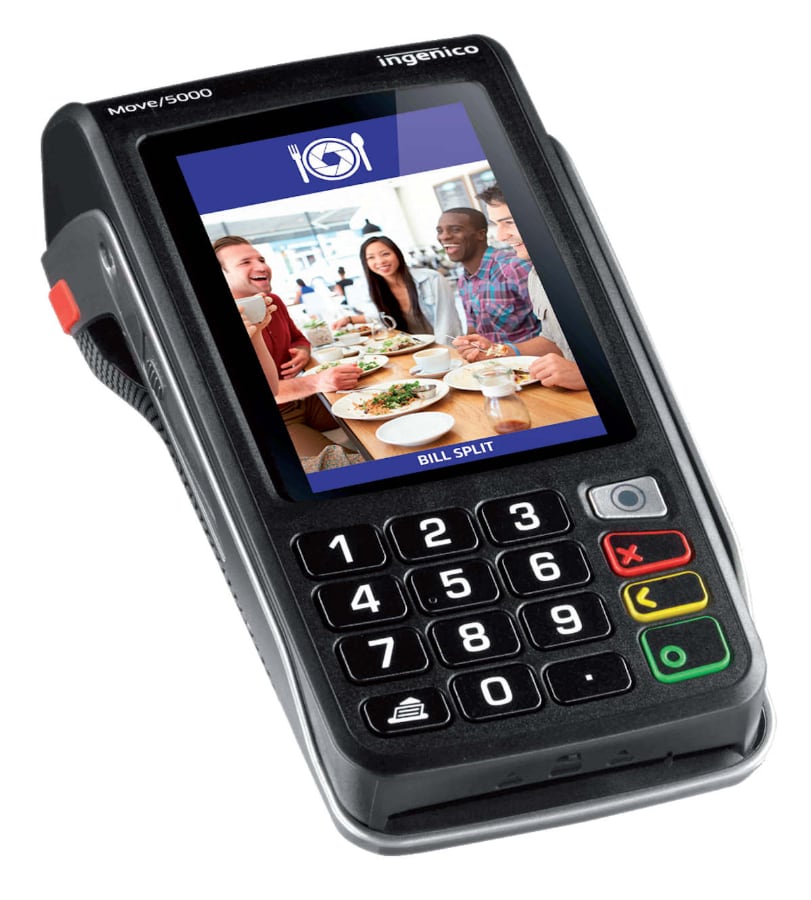 The Move/5000 has a large colour screen to make the most of Telium's app functions. Photo: Ingenico
It accepts coupons (QR codes) via the scanning feature and mobile wallets such as Apple Pay.
The accompanying stylus enables signature verification directly on the screen, as well as easy navigation to new Telium Tetra app marketplace where you can download e.g. customer loyalty schemes and membership in warranty programmes.
If you prefer a simpler model without touchscreen or optional camera, but with all the connectivity options and optional GPS location, the Move 3500 below is a good candidate.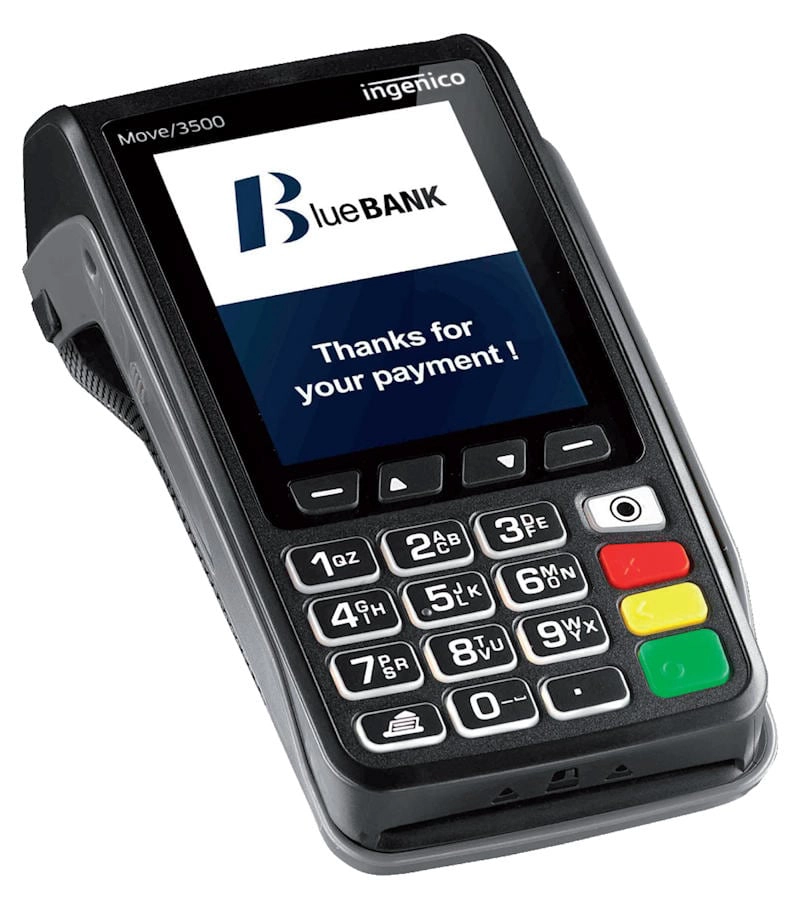 The 3500 model doesn't have a touchscreen and is a little smaller than Move 5000's display. Photo: Ingenico
The connectivity options are still as good as Move 5000's, but the most extravagant optional features are missing, namely the speaker, multimedia capability and video playback, barcode reader and camera.
The battery is also less powerful at 2200 mAh instead of Move 5000's 2900 mAh, but the Move 3500 does have a 2900 mAh battery as an add-on option.
This model is a good compromise for some merchants, although it's not as widely offered by British resellers as the Move 5000.
Ingenico Move 2500: two models, with or without cable
This non-touchscreen model has an even smaller screen (2.4 inches) than the Move 3500 and fewer wireless connectivity options, since it does not work with Bluetooth or 4G, but it works with 3G and WiFi. Like the more advanced models, it can connect to your Ethernet network.
There are in fact two models of the Move 2500: a "portable" model with 3G/GPRS and optional WiFi, and "hybrid" model with a standard wired connection and optional wireless connection.
With Move 5000 and Move 3500, all connection types are optional, so the terminals are ultimately bespoke through the merchant service providers, therefore priced differently.
Comparison table of Ingenico terminals
All three card machines accept contactless and magnetic stripe cards.
Move 5000
Move 3500
Move 2500
Printer
Yes
Yes
Yes
Battery
2900 mAh
2200
to 2900* mAh
2200 mAh
Dimensions (mm)
169 x 78 x 57
169 x 78 x 57
168 x 81 x 58 (1)
168 x 81 x 69 (2)
Weight
320 g
320 g
320 g
Screen size
3.5″
3.2″
2.4″
Pixels
480 x 320
320 x 240
320 x  240
Multimedia
Yes
–
–
GPRS/3G/WiFi
Yes*
Yes*
Yes*
4G
Yes*
Yes*
–
Bluetooth
Yes*
Yes*
–
Wired connection
Yes
Yes
Yes*
GPS
Yes*
Yes*
Yes*
Barcode reader
Yes*
–
–
Camera
Yes*
–
–
* = Available as an option. (1) = Portable Move 2500. (2) = Hybrid Move 2500.
Move
5000
Move
3500
Move
2500
Printer
Yes
Yes
Yes
Battery
2900
mAh
2200 to
2900
mAh*
2200
mAh
Dimensions
(mm)
169
x 78
x 57
169
x 78
x 57
168
x 81
x 58(1)
x 69(2)
Weight
320 g
320 g
320 g
Screen size
3.5″
3.2″
2.4″
Pixels
480
x 320
320
x 240
320
x 240
Multimedia
Yes
–
–
GPRS

3G/WiFi
Yes*
Yes*
Yes*
4G
Yes*
Yes*
–
Bluetooth
Yes*
Yes*
–
Wired

connection
Yes
Yes
Yes*
GPS
Yes*
Yes*
Yes*
Barcode
reader
Yes*
–
–
Camera
Yes*
–
–
* = Available as an option. (1) = Portable Move 2500. (2) = Hybrid Move 2500.
Ingenico Desk 5000: best for fixed point of sale
It's officially a fixed smart terminal, but it can be transformed into a mobile terminal with the same connectivity options as the Move 5000 and 3500 except for the 4G option.
It is similar to the Move 3500, but with 5000's screen and additional connection ports. Unlike the Move 5000, it does not have the barcode reader or optional camera, which is logical for a card machine designed for stationary use. Instead, barcodes can be scanned with a reader connected to the terminal body.

The Desk 5000 is intended for the till point, or optionally for mobile use. Photo: Ingenico
In-store, Desk 5000 can be connected via USB port to an extra, simpler card reader for customers, such as the Ingenico Pinpad iPP 315 terminal.
Desk 5000 also has an optional RS232 serial port for connection with the till or other compatible device. With the Move models, it is necessary to use the optional charger base for this type of connection.
There are two simpler versions of the Desk 5000: the Desk 3500 with a colour (non-touchscreen) display and Desk 3200 with a monochrome display.
Ingenico Axium D7: the future of payment terminals
The Axium D7 smart terminal probably represents the future trend of card machines. It's not a conventional-looking card terminal like Move 3500 and 5000 that can nonetheless use new applications – it is rather a terminal using POS applications cleverly through its physical design.
Axium D7 integrates with Axium, a platform with the functionality of Telium, but rooted in Android, which opens up the marketplace for even more applications. This smart POS terminal can accept cash payments, handle inventory management, customer loyalty software and a range of payment applications via Google Play.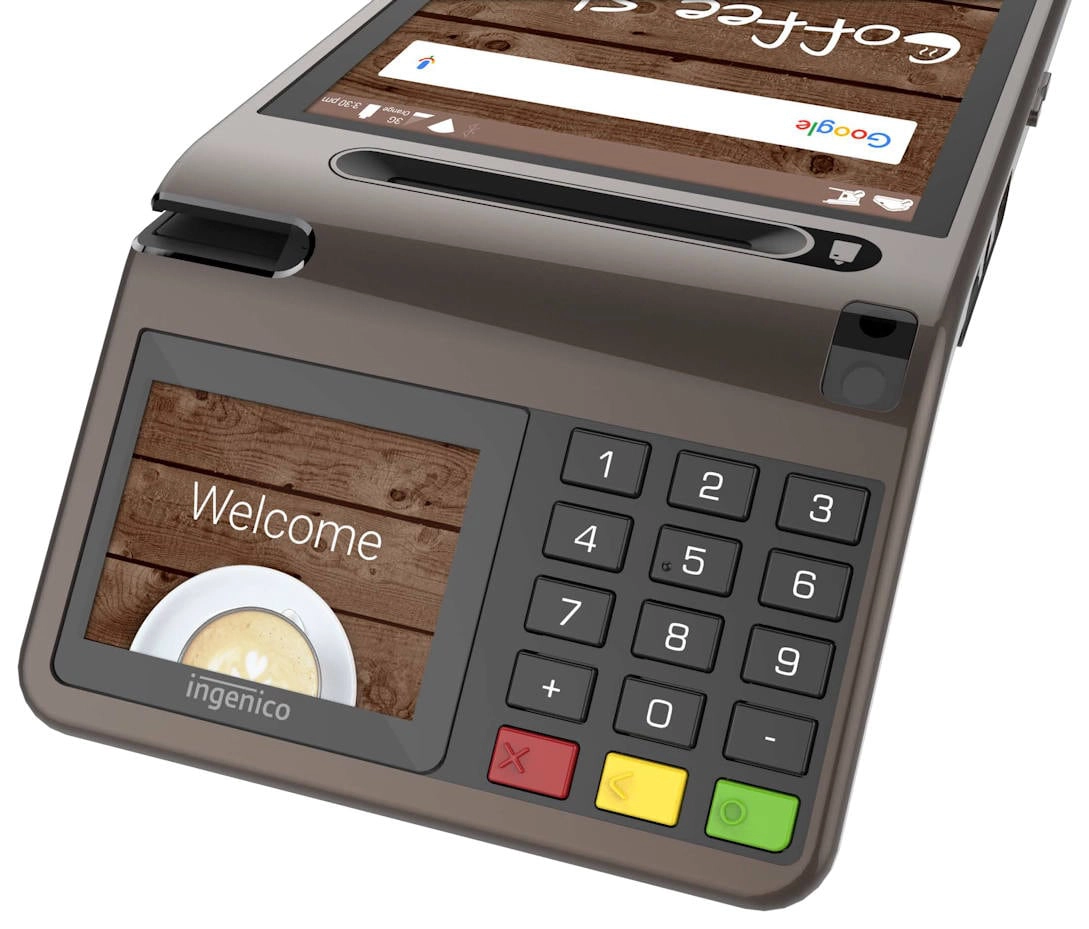 Client-facing screen on the Axium D7. The other side is an Android tablet. Photo: Ingenico
In terms of hardware, there are two screens: one large screen for apps like POS software and a smaller screen facing the customer. It also has a keypad for PIN codes and camera for code scanning.
Axium uses Telium's concept of the Merchant Service Hub, but with possible access directly from the terminal screen and web interface. The display and freedom to navigate more features also offer customers an interface similar to online stores, which could ultimately improve multichannel sales.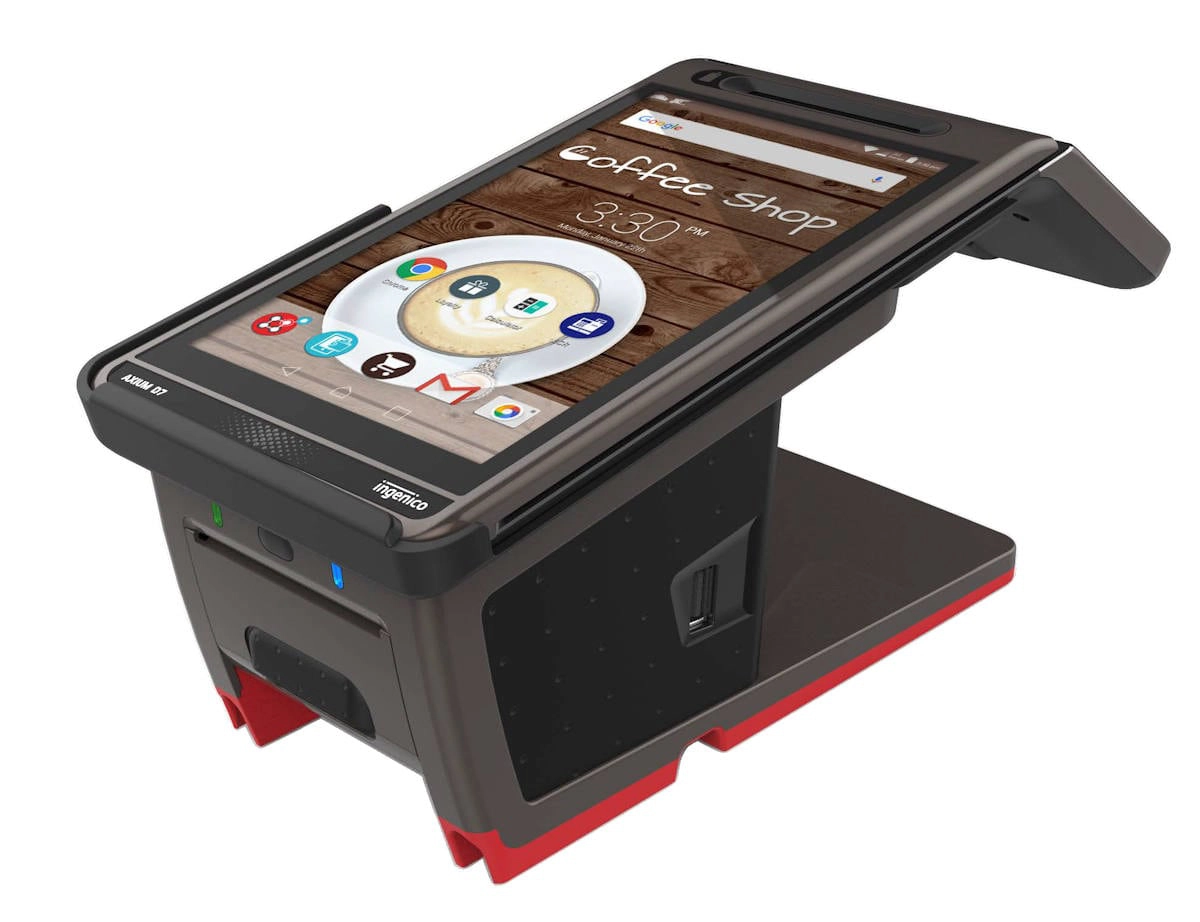 Axium D7 smart POS terminal on its docking station. Photo: Ingenico
The Axium dock serves as a hub for the point of sale. It has an integrated receipt printer, network connectivity and connections for accessories such as a cash drawer.
The flexibility of the system is similar to that of iPad- and Android tablet-based POS systems, but with a specialised device and Ingenico's services as a bonus.