Our rating
Square Reader is Australia's smallest card reader, with the most payment tools.
Square Reader is a keypad-less card reader that works with a mobile phone or tablet. And for a fixed transaction fee, Square gives you more features than any other free payment software.
Pros: Fair, simple rate on all cards. No monthly fee or lock-in. Best free POS app. Online payments tools. Choice of EFTPOS terminals.
Cons: Support not always good. Non-negotiable rates. No offline mode.
Use if: You want the smallest card reader and/or the most POS and payment features for free.
Get started with Square for just $39 incl. GST. No monthly fees or commitment.
Mobile Transaction is an independent payments industry resource that is trusted by over a million small businesses yearly.
Discounts do not influence our editorial content such as reviews or recommendations. Rating scores are based on full retail price. (Full policy)
Accepted cards









For contactless payments, you just tap above the white, square-shaped terminal and enter a PIN on the connected phone or tablet with the Square Point of Sale app downloaded. The mobile app works as a self-sufficient POS system with functions to run any type of business from just your mobile device.
Then there's Square Terminal that works independently, with the Point of Sale app installed and usable from its touchscreen. It takes contactless, chip and swipe cards and prints receipts.
The terminals accept the most popular debit and credit cards including eftpos, Visa, Mastercard, JCB and American Express. It also accepts the mobile wallets Apple Pay, Google Pay and Samsung Pay, as well as the buy now, pay later solution Afterpay.
Charges are simple and transparent
With Square, the only charges are the upfront price for a card reader and a pay-as-you-go transaction rate.
The cheapest EFTPOS machine, Square Reader, costs $39 incl. GST, with a card rate of 1.9% per transaction with any type of card.
If you buy Square Terminal for $329 incl. GST or Square Register for $1,099 incl. GST, the card rate is lower at 1.6%.
It doesn't matter whether the transaction was paid via contactless, chip and PIN or swipe, or which card brand was used – the transaction fee is the same.
No monthly (or other) fees are charged for the core payment features.
Square fees
Chip, tap, swipe transactions
Square Reader: 1.9%
Square Terminal, Square Register: 1.6%
Keyed, online, invoice transactions
2.2%
Afterpay transactions
6% + 30¢ + GST
Monthly fee
None
Payouts
1-2 working days: Free
Instant: 1.5% per transfer
Refunds
Free
Chargebacks
Free
Square fees
Chip, tap, swipe transactions
Square Reader: 1.9%
Square Terminal, Square Register: 1.6%
Keyed, online, invoice transactions
2.2%
Afterpay transactions
6% + 30¢ + GST
Monthly fee
None
Payouts
1-2 working days: Free
Instant: 1.5% per transfer
Refunds
Free
Chargebacks
Free
Payments online or where the customer is not present are charged a higher rate, i.e. every keyed, virtual terminal, payment link, ecommerce and invoice payment costs 2.2% of the transaction total. A higher fee is required for Afterpay: 6% + 30 cents (excluding GST) per transaction.
With Square, there's no minimum contract period, and merchants don't have to sell every month or meet a minimum sales volume.

Nothing is charged for refunds, PCI-DSS compliance or chargebacks, the latter being dealt with by a dedicated support team for payment disputes.
Payments are automatically deposited into your bank account as soon as the next business day. You can also choose to use a manual deposit schedule if that's simpler for bookkeeping. If you need funds sooner, an Instant Transfer option lets you transfer money instantly to your compatible bank account for an additional fee of 1.5%, even during weekends or nights.
The Square Reader package includes a micro USB cable for charging. Square sells a wall charger for $12 to go with the cable and an optional charging dock for $39.
Square Stand, which accepts chip and tap cards, for iPad is only $149, whereas the all-inclusive Register (that also has a tablet display) is $1,099. Helpfully, Square offers interest-free instalment options if you can't afford the upfront cost of their hardware.
The general-featured Point of Sale app is free, but specialised POS systems for restaurants, retail and booking services are available for a paid subscription, if not using the free plans.
Add-ons include additional employee permissions ($35 monthly per location), additional invoicing features ($30 monthly), Square Marketing ($20-$50 monthly) and Square Loyalty ($49-$149 monthly per location).
Any integrated tools from other providers, e.g. for ecommerce and bookkeeping, are paid for separately through those other platforms.
Eligible small businesses can apply for a Square business loan too for one fixed fee (cost depends on the loan) – but only after accumulating a consistent sales flow.
How Square Reader works
The most popular of Square's EFTPOS terminals is Square Reader, but how does it work?
You need a compatible Android smartphone, tablet, iPhone or iPad with one of Square's POS apps downloaded and Bluetooth switched on. This is where you begin each card reader sale.
In the app, you enter an amount or pick products or services from your items library. Tap "charge" and the customer can add a tip (if switched on) on your mobile device screen, then insert or tap their card on the reader. A receipt can be emailed, texted or printed (if a Bluetooth printer is connected) after each transaction.
While contactless cards and mobile wallets are easy – customers just "tap and go" – chip card insertion and PIN entry take a bit more effort.
Customers enter their PIN on the touchscreen of the phone or tablet, which is referred to as 'PIN on COTS' (PIN on commercial off-the-shelf devices), sometimes called 'PIN on glass'. That's because Square Reader has no PIN pad or display.
Photo: Emily Sorensen (ES), Mobile Transaction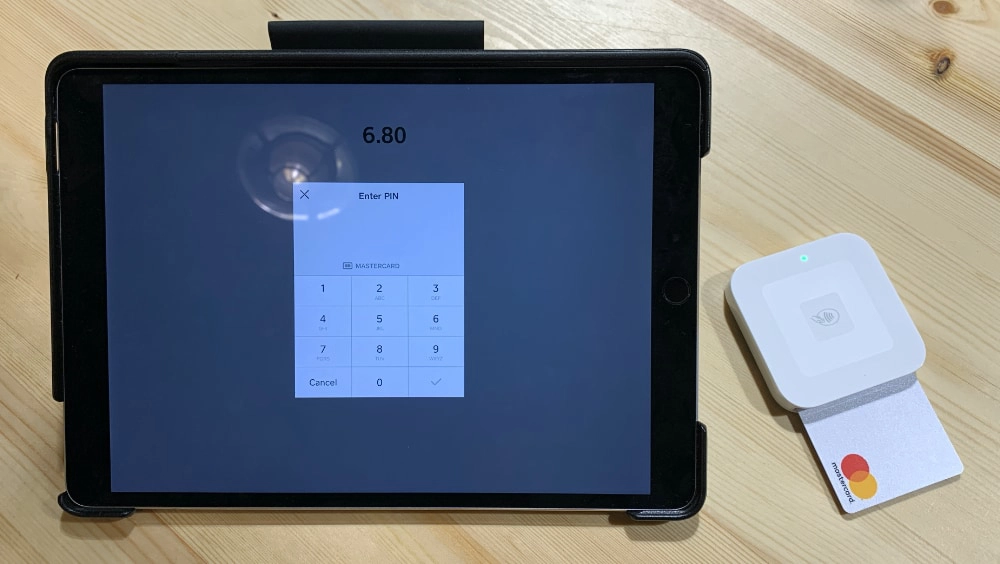 PIN entry happens in the Square app, as seen here on iPad.
If the tablet is on a stand of a certain height, PIN entry can be more difficult to hide compared to when entered on a countertop card machine. If you can find a way for customers to shield their PIN from others, it would help them feel more comfortable about it.
PIN on COTS has been officially accepted by the PCI Security Standards Council, and we do not see cause for concern for merchants or payers. Still, some customers might not feel comfortable giving their PIN this way. If that worries you, you may want to consider alternative card readers.
POS app features
The free Square Reader app, 'Point of Sale', is a big draw. Out of all POS apps in Australia, it comes with the most free features for managing sales and business operations from any compatible iPhone, iPad, or Android phone or tablet with a live internet connection (it does not work offline).
Apart from using the card reader, you can manually enter card details, send invoices and accept cash. You can create custom discounts, add tips and split the tender so customers can pay some of the transaction total with a card and the rest with cash. It also allows you to sell email or physical gift cards to be redeemed in store.
The product inventory is great for tablets with its visual layout of products, which can be customised. Each product can have a picture, description, types (e.g. red, black, pack of 2, pack of 5), different prices for each type and inventory levels.
Photo: ES, Mobile Transaction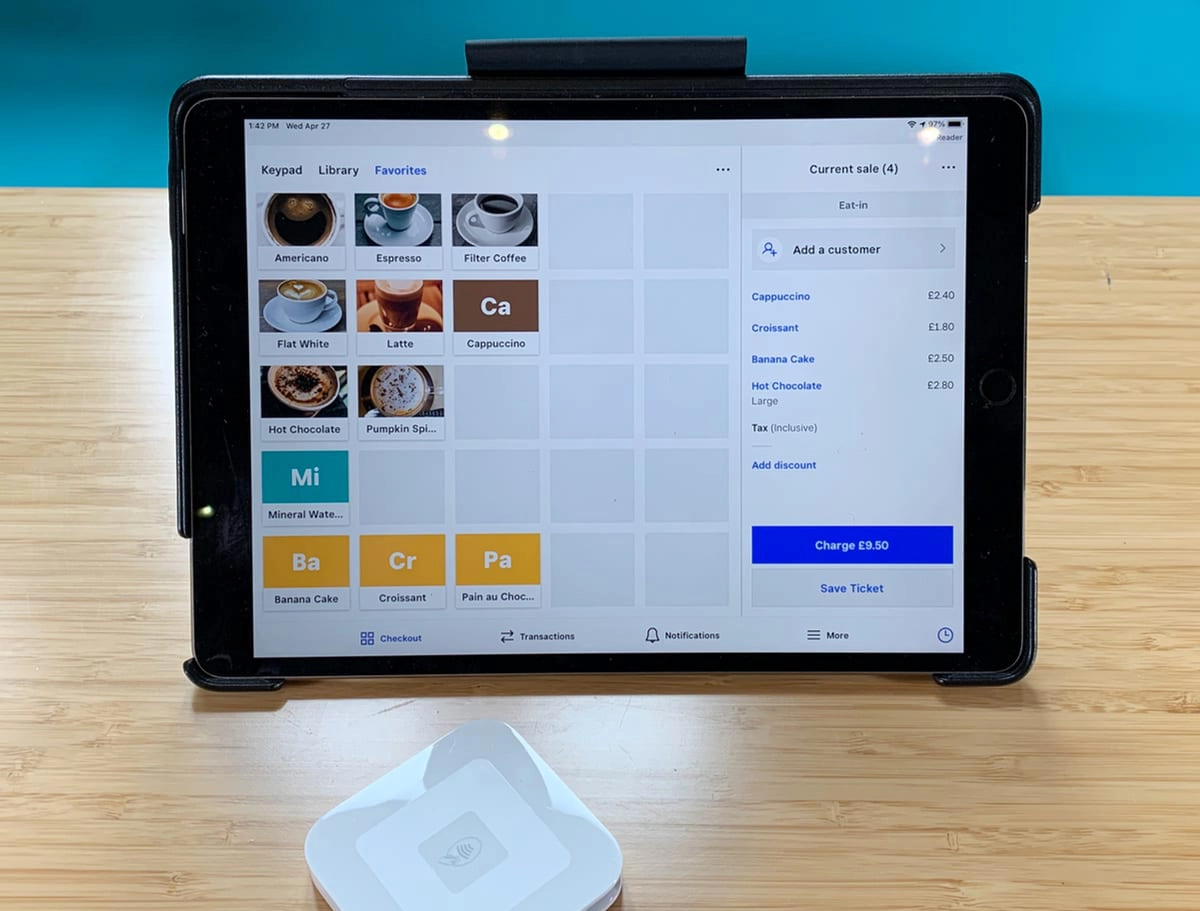 Add products, apply discounts and distinguish between product types.
To get the most out of Square's tools, we suggest adding your products to the library before using the app. This enables you to track product popularity and differentiate between items when processing a refund. It also makes check-out easier. You can tap to add products to the bill, rather than manually entering each item or transaction total, which are both possible.
Businesses with teams of staff can add employees as individual users with limited permissions in the app. Individual employee accounts also enable a time sheet for each worker.
Restaurants can upgrade to Square for Restaurants, retailers to Square for Retail and service professionals to Square Appointments – iPad apps with features tailored to the industries. It is also possible to integrate the card reader with an entirely different POS platform like Vend or posBoss.
Square Reader vs Terminal
If a POS app on a mobile device is not for you, the EFTPOS machine Square Terminal works independently.
This is a touchscreen terminal with integrated checkout features (similar to the Point of Sale app) accessed directly on the screen. It accepts chip and PIN, contactless and swipe. PIN codes are entered on a touchscreen keypad, similar to a traditional credit card machine.
Given the large touchscreen and inbuilt software, Square Terminal is much bigger than Reader (like a conventional EFTPOS terminal). It has a built-in receipt printer so you don't need to connect to a different one.
Square Reader works with 3G, 4G and WiFi through a connected mobile phone or tablet. Terminal, however, only works with a secured WiFi connection or Ethernet cable (the latter only in conjunction with Hub for Square Terminal, available at an extra cost). This makes Reader more suitable for on-the-go payments and Terminal best for a fixed area with a secure WiFi setup.
The final difference between the two is their respective transaction fees. Square Terminal has a lower transaction fee than Reader: 1.6% compared with the card reader's 1.9%.
Other hardware and accessories
Square Reader connects with compatible receipt printers, kitchen printers (for restaurants), cash drawers and barcode scanners.
What other accessories are available? The Dock for Square Reader can be attached to the countertop and keeps the terminal charged all day.
Then you have the point of sale registers with contactless and chip card acceptance included.
Photo: Emmanuel Charpentier (EC), Mobile Transaction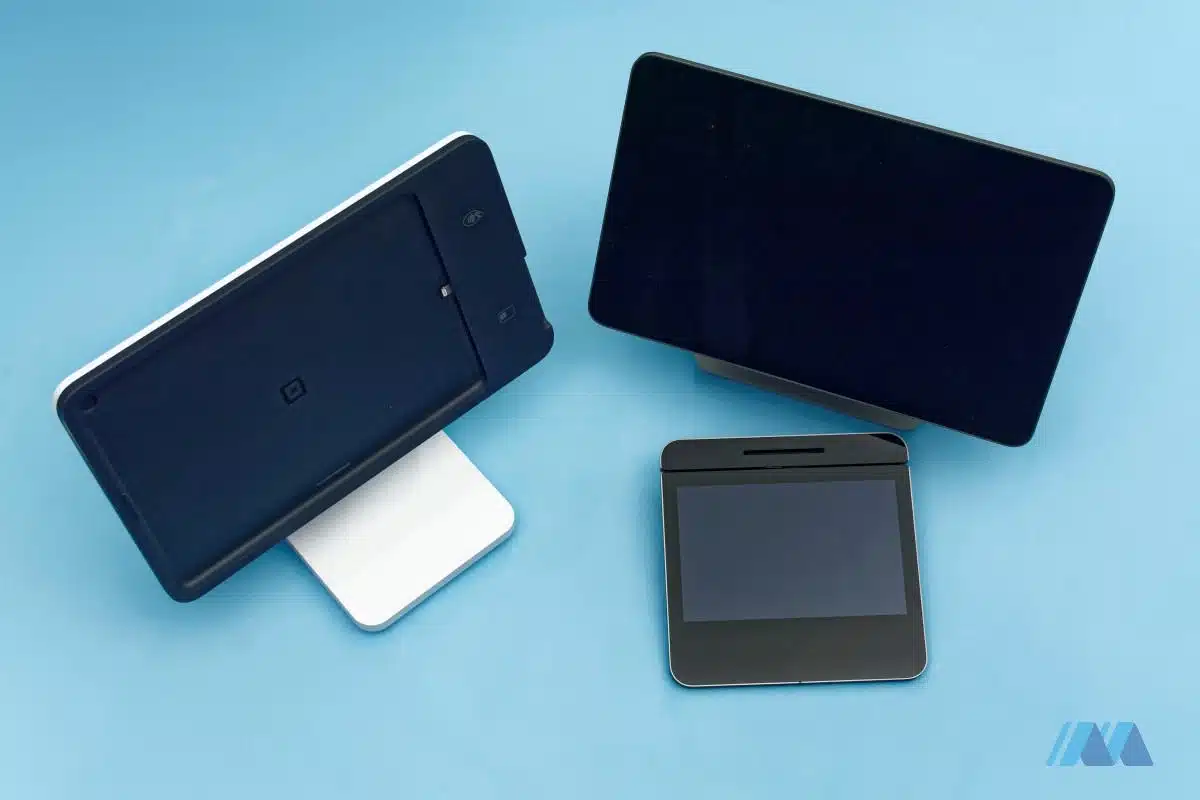 Square Stand (requires an iPad) and Register, both with a card reader built in or attached.
Square Stand for iPad enables you to swivel the tablet screen to face the customer who can then enter their PIN. In addition, it has a card slot for chip cards and NFC (near-field communication) for contactless payments.
Square Stand is only compatible with 10.2″ and 10.5″ iPads. All Square-branded equipment has an Apple-inspired aesthetic – sleek and minimal – so perhaps this is not too surprising.
You could also get Square Register, a stylish and unique tablet touchscreen register with a smaller EFTPOS terminal attached. This does not have a cash drawer or receipt printer, but they can be linked to it.
A good selection of receipt printers work with the system, but some only work with certain Square devices.
If you want a portable receipt printer, the Star Micronics SM-S230i and SM-T300i Bluetooth receipt printers will work. The compatible Star Micronics SP742ML kitchen printer can withstand heat – ideal for printing order tickets in hot restaurant kitchens.
Online payment tools
For some businesses, the best thing about Square are the free tools for online and remote payments.
For a start, all users can create a free online store (upgrade options available) or even just an ordering page for click-and-collect or socially distanced QR code ordering. All you pay is the transaction fee per successful online payment.
Different types of payment links can be generated if you just want to send a link to customers, display a QR code in store or on a table, or even to embed on an existing website. Invoices and estimates can also be sent to clients.
Transactions over the telephone are possible through the complimentary Square Virtual Terminal or keyed entry in the Point of Sale app. From any desktop browser, you can log in to the Square account and go to the Virtual Terminal section where you input a customer's card and transaction details.
Reports and accounting
With all sales in the cloud, you can log in to the Square account in any internet browser and export sales to Excel for local storage or accounting purposes. Your account can also sync with sales activities in real time so you can always check in remotely on how you're doing in the shop.
The app shows transactions, amount of cash in the till drawer (if cash management is switched on) and general sales reports (these can be emailed directly from the app).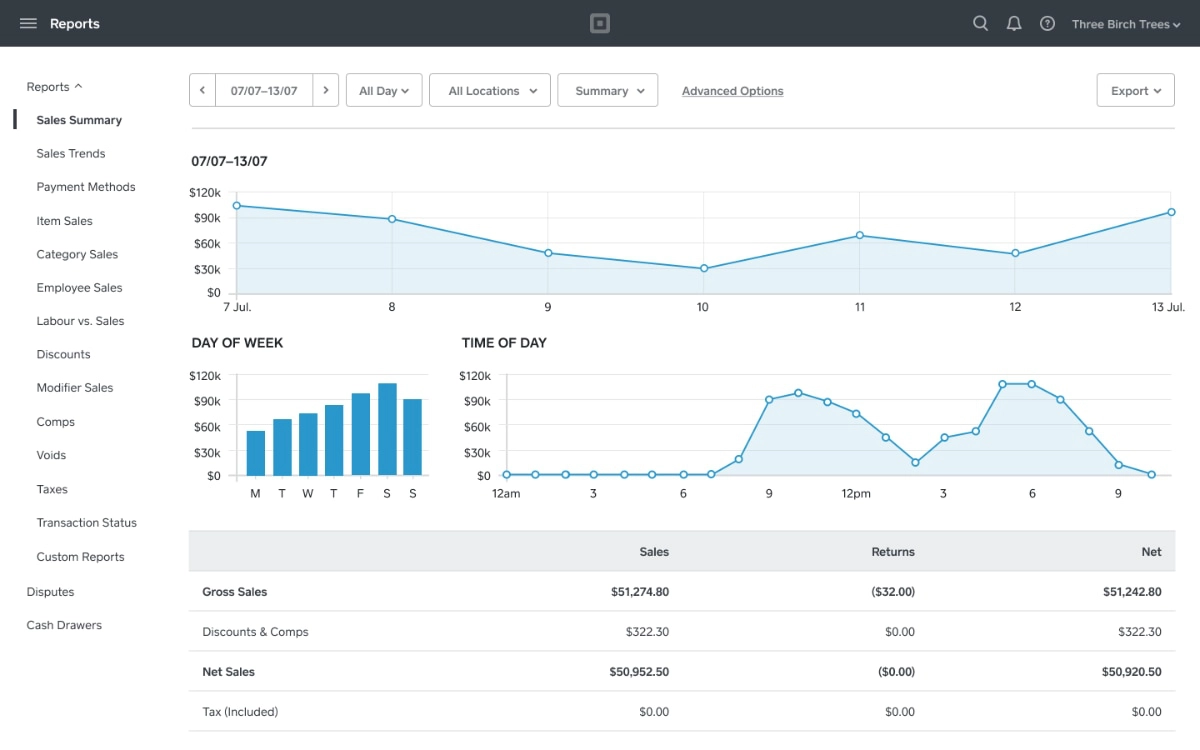 Analytics in the Square backend are quite detailed, particularly as they come free.
Square analytics are fairly extensive. Square Dashboard shows a colourful overview of key sales information, and more analytics can be accessed in the Reports section. You can, among other things, analyse employee sales, taxes, product categories and any product modifiers that have been applied to sales.
For more complex accounting features, integrate data with Xero, Zoho Books or QuickBooks.
Who is it best for?
Square is aimed at a broad range of small businesses like coffee shops, independent retail shops, hairdressers, gyms, skilled professionals and many more. The features cover not only in-person payments but also socially distanced (e.g. QR code ordering) and online transactions.
Having tested the POS app, it is best suited to retail and hospitality – food-and-drink in particular – due to its comprehensive product library, checkout functions, tipping, analytics and staff management features. There's even multi-location support for those selling in more than one location.
And let's not forget the pocket-sized card reader for on-the-go payments. This comes in more than handy at market stalls, home visits and conferences.
A big advantage of Square are the many add-on options and integrations with partner platforms covering a wide range of business tools. This means you are not stuck with the free features. Growing businesses can use Square in conjunction with apps providing advanced software for e.g. inventory, scheduling, marketing and much more.
Photo: ES, Mobile Transaction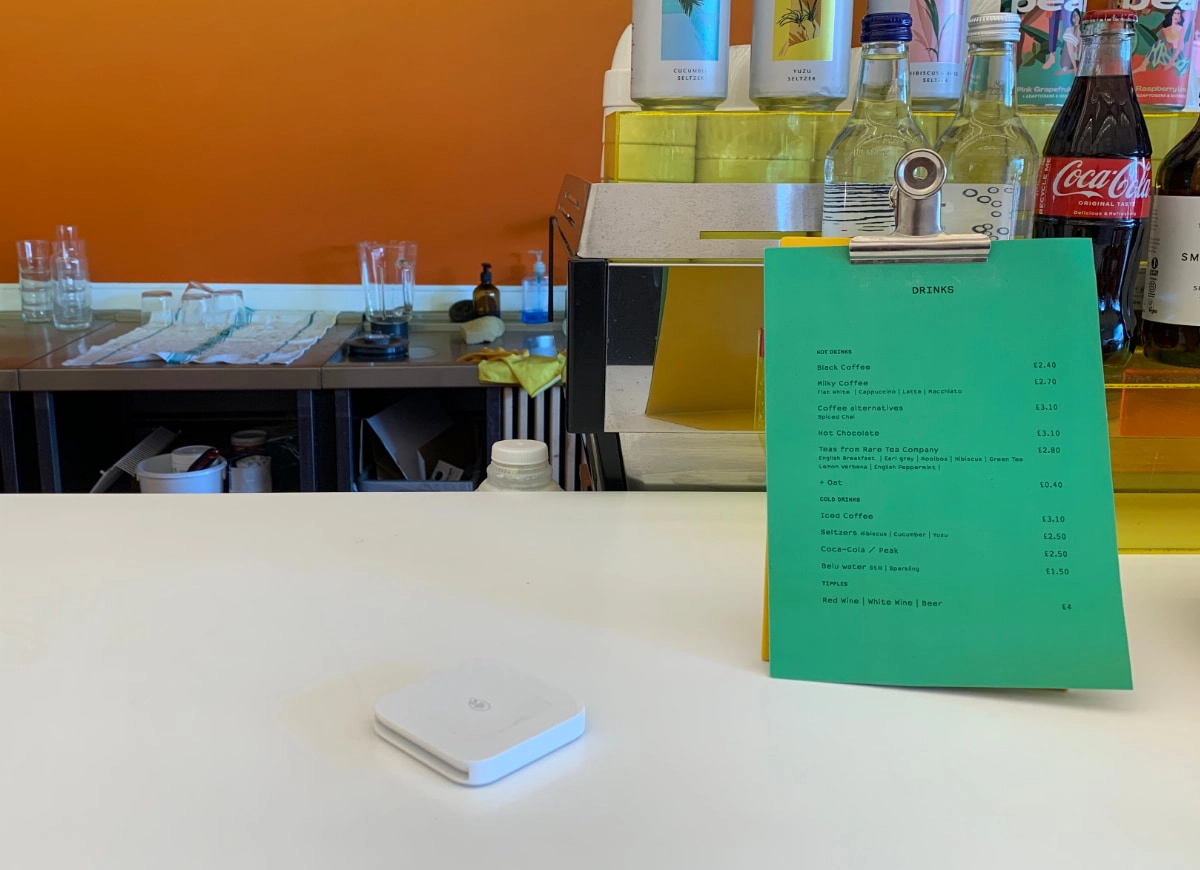 Square has been particularly popular with food-and-drink establishments.
As with other payment companies, Square has a list of prohibited businesses. Some of these industries are pharmaceuticals, adult entertainment, certain marketing or financial services, and illegal or otherwise questionable services.
Alternatives to Square
Launched more than a decade ago in the US, Square has had time to develop its offering and get to know what small businesses want. Consequently, the platform beats all other payment platforms with its breadth of easy, affordable, commitment-free and truly useful payment and business tools in Australia.
That said, newcomer Zeller is already a strong competitor with its standalone, mobile EFTPOS machine linked with a free business debit card. It settles funds nightly in its online account, allowing you to spend this money the next day. Zeller's EFTPOS transactions cost only 1.4% compared with Square's 1.9% via Reader or 1.6% via Terminal.
In the past year, Tyro launched its own app-dependent card reader that looks like and costs ($59.95 incl. GST) about the same as Square Reader. Furthermore, it has no contractual lock-in and a fixed rate of 1.6% per transaction – clearly an attempt to compete with Square.
Photo: EC, Mobile Transaction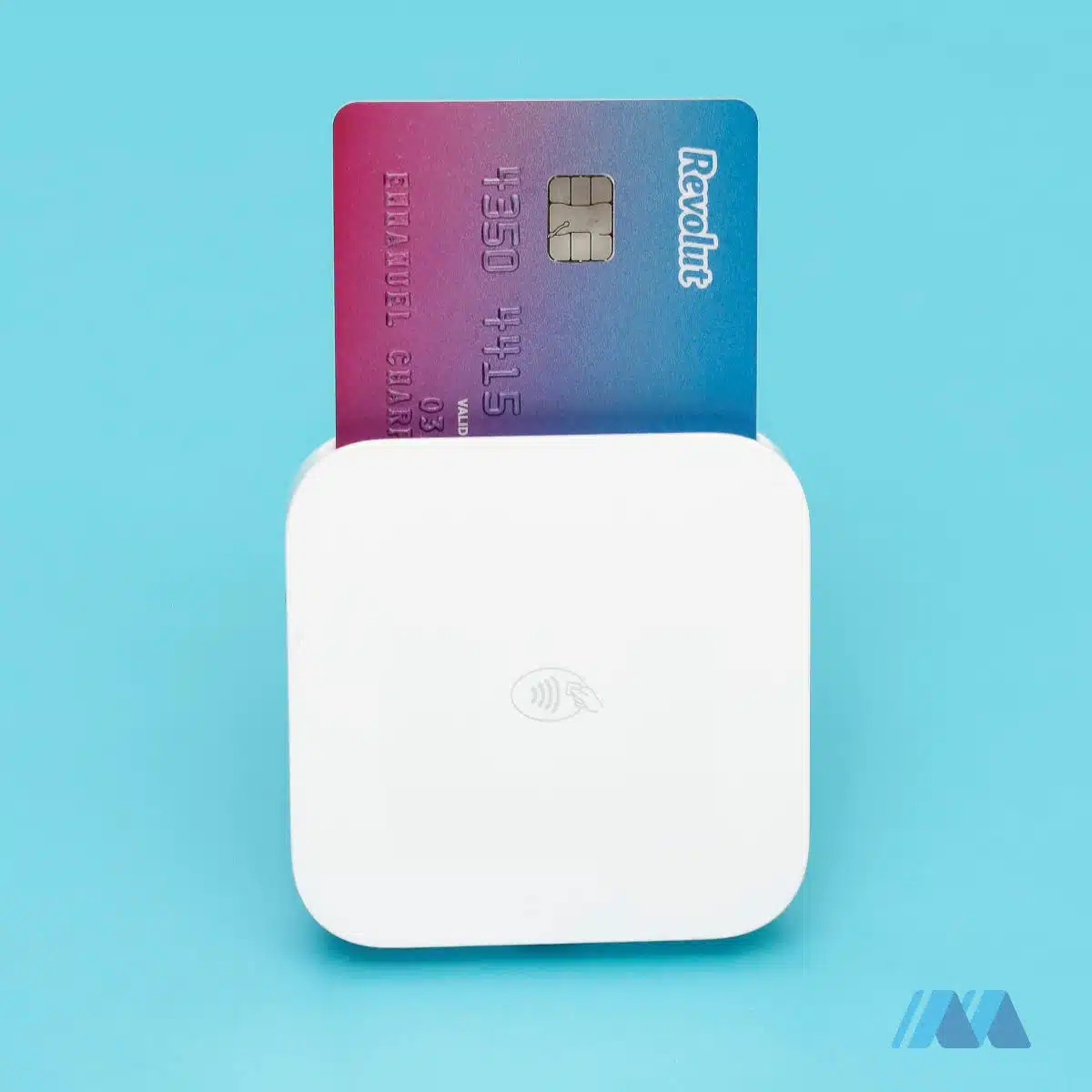 Square Reader with a chip card inserted.
PayPal used to also offer an inexpensive card reader, but it has been discontinued. Mint Payments offers the only other EFTPOS reader that still competes, but it requires a contract and monthly fee below a certain sales volume.
If competitive rates are more important than a lack of monthly fees, we recommend More Payments. Their transaction rates depend on your business turnover and cards accepted, but rates then go as low as 0.8% or nothing if surcharging is activated.
Customer support and reviews
Square is available to phone and email between 9pm and 5pm Monday-Friday (Melbourne time). There is no weekend or evening support, except for on the paid restaurant POS subscription that includes 24/7 support.
There's an online Help Centre answering most questions in detail. A Seller Community for peer support and advice, and the Twitter and Facebook channels are used when responding to messages.
Square has received a significant amount of complaints the US. This is not the case in Australia, where reviews are generally positive. The few complaints that are made usually relate to account verification issues and poor customer support.
Getting started
Before purchasing a terminal, you need to sign up for a Square account and register your bank account. It typically takes up to a week to have a bank account verified, but you can still accept payments before the verification is finalised.
After signing up, you can order an EFTPOS terminal on the Square website. It is also possible to buy the card machines from other websites like Officeworks, JB Hi-Fi, Apple and Harvey Norman, all of which have different delivery and collection options.
When the account is set up and connected with your bank account, download the Square Point of Sale app on your mobile phone or tablet and log into the app. Connect the card reader with your mobile device via Bluetooth and you're ready for tap-and-go and chip cards.
| Square criteria | Rating | Conclusion |
| --- | --- | --- |
| Product | 4.5 | Good/Excellent |
| Costs and fees | 4 | Good |
| Transparency and sign-up | 4.8 | Good/Excellent |
| Value-added services | 4.7 | Good/Excellent |
| Service and reviews | 3.6 | Passable/Good |
| Contract | 5 | Excellent |
| OVERALL SCORE | 4.4 | Good/Excellent |
The pay-as-you-go structure with no contractual commitment makes it a good place to start for a low cost. As your business grows, you can expand on tools through partner apps and additional Square features.
Advantages
Small reader is easy to carry

Choice of EFTPOS terminals

Works seamlessly with tap and pay

Accepts eftpos and most cards

Next-day, automatic payouts

Free app is user-friendly with features for any business

Online and keyed payments included

QR code payments and click-and-collect
Disadvantages
Fixed rates may not work for everyone

Customer support could be more accessible

Doesn't accept UnionPay, Diners Club or Discover