Square has long been the superior pay-as-you-go EFTPOS provider in Australia, but newcomer Zeller now threatens to knock it off its peg.
As it turns out, each company has its strengths and weaknesses. Although similar types of small businesses would go for either, some would clearly benefit more from Square's wider solutions while others prefer Zeller's low fixed rate and online account.
Let's contrast the main differences between Square and Zeller.
Zeller's one terminal vs Square's wider range
Zeller only has one EFTPOS terminal – Zeller Terminal – that works as a standalone payment solution. It comes in a box with a charging dock and Zeller business debit card (Mastercard) linked to an online account.
The terminal is a custom-made, portable touchscreen device with built-in checkout software. It accepts contactless and chip card payments through WiFi, but if you purchase a SIM card (not included), it works anywhere via 3G or 4G. The card machine has a built-in receipt printer and day-long battery life.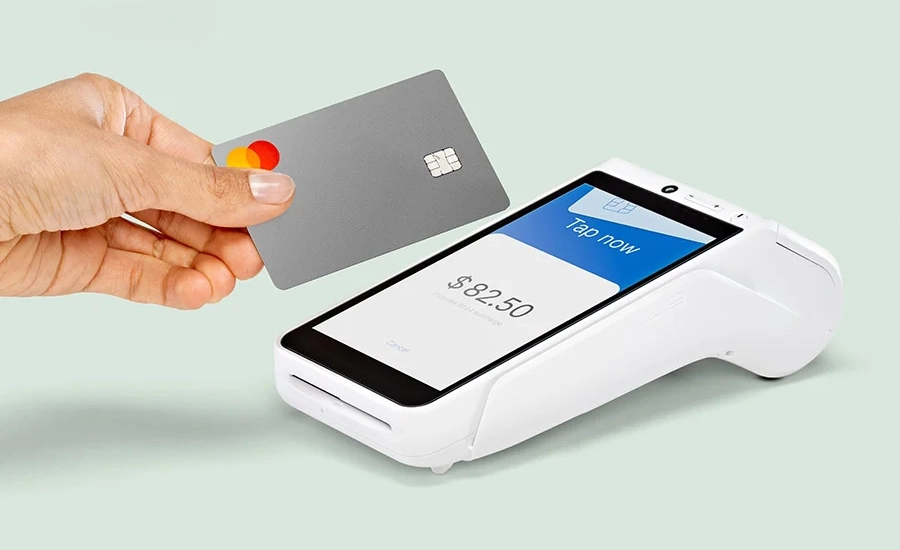 Zeller Terminal, with its big touchscreen display, works independently.
Square has two portable card machines: Square Reader and Square Terminal.
Square Reader only works when connected with a Square app on your smartphone or tablet. In the app, you create an itemised transaction with products or enter an amount, then the mobile device sends this information to the card reader over Bluetooth. It can then accept a chip or tap card.
Square Terminal, on the other hand, is what Zeller Terminal has tried to imitate. Like Zeller, Square Terminal has a large touchscreen with POS features built-in, albeit many more features including a product library and wide range of payment methods on top of physical cards and mobile wallets. It also has a receipt printer built in.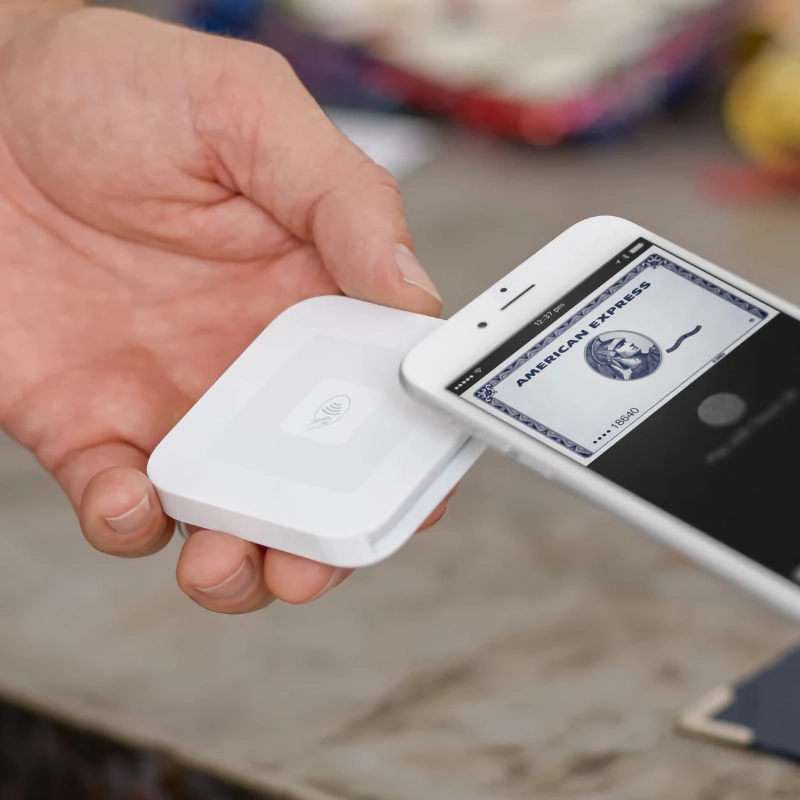 Square Reader fits in your palm.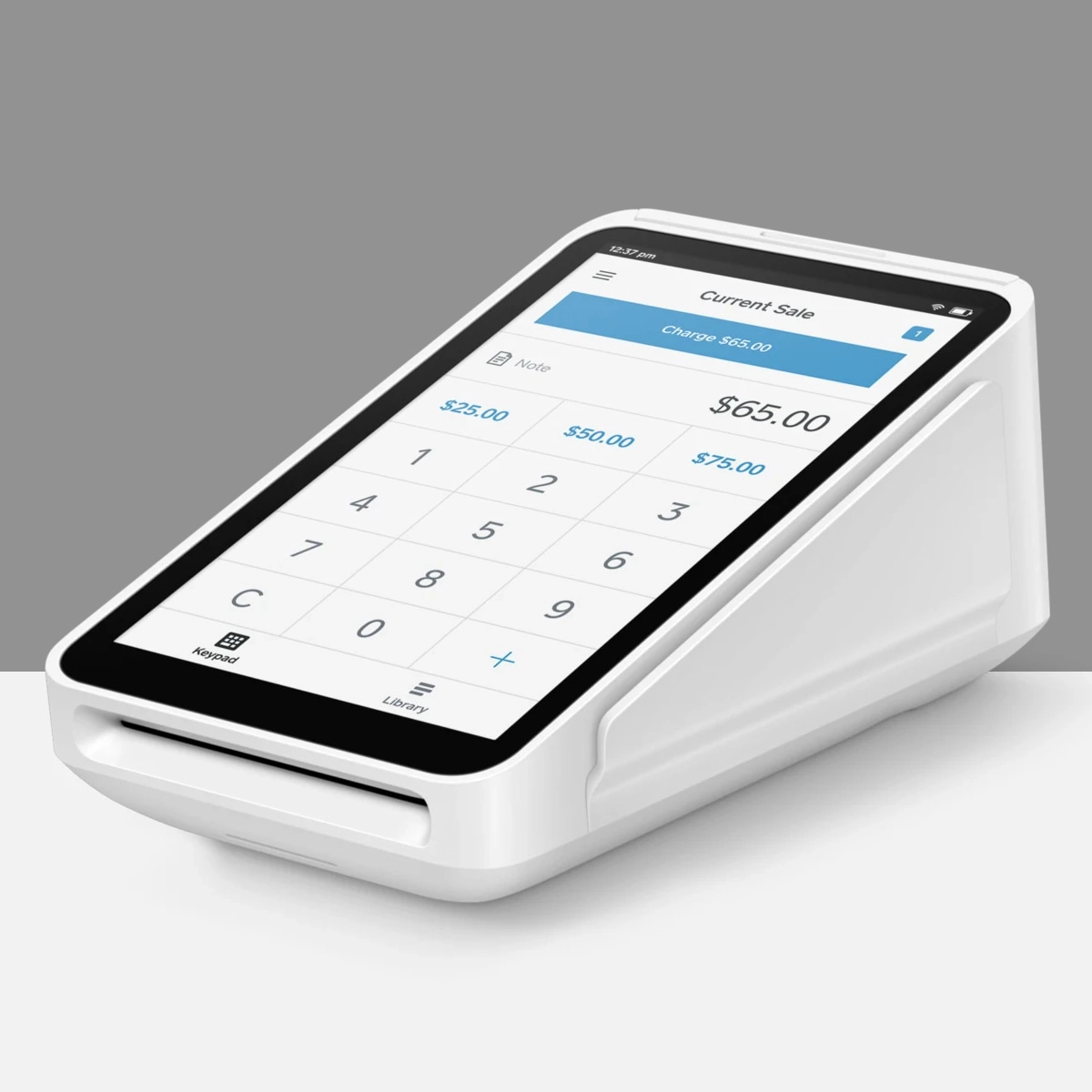 Square Terminal has a big touchscreen.
Square Terminal only works with WiFi, not mobile networks, so Zeller has that edge over it.
Furthermore, Square offers a complete checkout bundle called Square Register that has a tablet card reader attached and large touchscreen display that only works with Square POS systems. This is a classy piece of equipment that only needs a receipt printer and cash drawer in addition – if you accept cash and want to print receipts.
There is also Square Stand where you place an iPad inside for the POS software, and then it has built-in card reading capabilities so you don't need a separate EFTPOS reader.
Pricing
Zeller and Square have an equal approach to pricing: neither requires a lock-in contract or monthly fees for the use of an EFTPOS terminal. Instead, you purchase a card terminal upfront so you own it outright. Then there's only a pay-as-you-go fee per transaction. If you don't accept a card transaction, there is no cost.
The transaction fee is 1.4% through Zeller, which is the lowest fixed rate for any pay-as-you-go EFTPOS provider with no monthly costs in Australia. Square charges a bit more: 1.9% through Square Reader or 1.6% through Square Terminal and Square Register.
Cost
Terminal price*
Zeller Terminal:
$259 incl. GST
+ SIM card and data for 3G/4G (optional)
Square Reader:
$65 incl. GST
Square Terminal:
$329 incl. GST
Square Register:
$1,099 incl. GST
Delivery
Free
Free
Contract
No lock-in, no minimum sales requirement
No lock-in, no minimum sales requirement
EFTPOS transactions
1.4% (any card)
Square Reader:
1.9% (any card)
Square Terminal/Register:
1.6% (any card)
Online/keyed transactions
1.7% (keyed only)
2.2% (keyed & online)
Monthly fee
None
None
Payouts
Free
Free
Refunds
Free
Free
Chargebacks
Free
Free
Zeller Terminal:
$259 incl. GST
+ SIM card and data for 3G/4G (optional)
Square Reader:
$65 incl. GST
Square Terminal:
$329 incl. GST
Square Register:
$1,099 incl. GST
Delivery
Free
Free
Contract
No lock-in, no minimum sales requirement
No lock-in, no minimum sales requirement
EFTPOS transactions
1.4% (any card)
Square Reader:
1.9% (any card)
Square Terminal / Register:
1.6% (any card)
Online/keyed transactions
1.7% (keyed only)
2.2% (keyed & online)
Monthly fee
None
None
Payouts
Free
Free
Refunds
Free
Free
Chargebacks
Free
Free
Even Zeller Terminal is cheaper ($259 incl. GST) than Square Terminal ($329 incl. GST). However, Square Reader is the most affordable card reader in Australia for $65 incl. GST – a price point that Zeller does not match.
What about terminal connectivity? Since Square Terminal only works with WiFi, there is no need for a SIM card, and Square Reader uses the internet of your linked phone or tablet for payments. Zeller Terminal, in contrast, is reliant on a SIM card you pay extra for, unless you're just using its WiFi connection. Any SIM card will do for Zeller Terminal – Zeller sells its own for $15 monthly.
There is no minimum monthly sales volume required on either platform, so you're free to use it as much or little as you like without additional fees. Refunds and chargebacks are also free at both companies, as are any payouts.
What about additional services apart from an EFTPOS reader? Zeller doesn't yet have paid subscriptions of any sort, whereas Square has a plethora of extras:
Many Square features are also totally free (apart from a fixed transaction rate) including a virtual terminal, payment links, QR code ordering, a basic online store, the general POS app, email invoices and gift cards. So far, Zeller only accepted virtual terminal (keyed) transactions, not ecommerce payments.
Payouts, online account and reporting
A big advantage for the unbanked: Zeller Terminal comes with an online transaction account linked to a physical Mastercard. This account receives payouts the same day as you accept a payment through the EFTPOS machine, bypassing the need for a conventional bank account.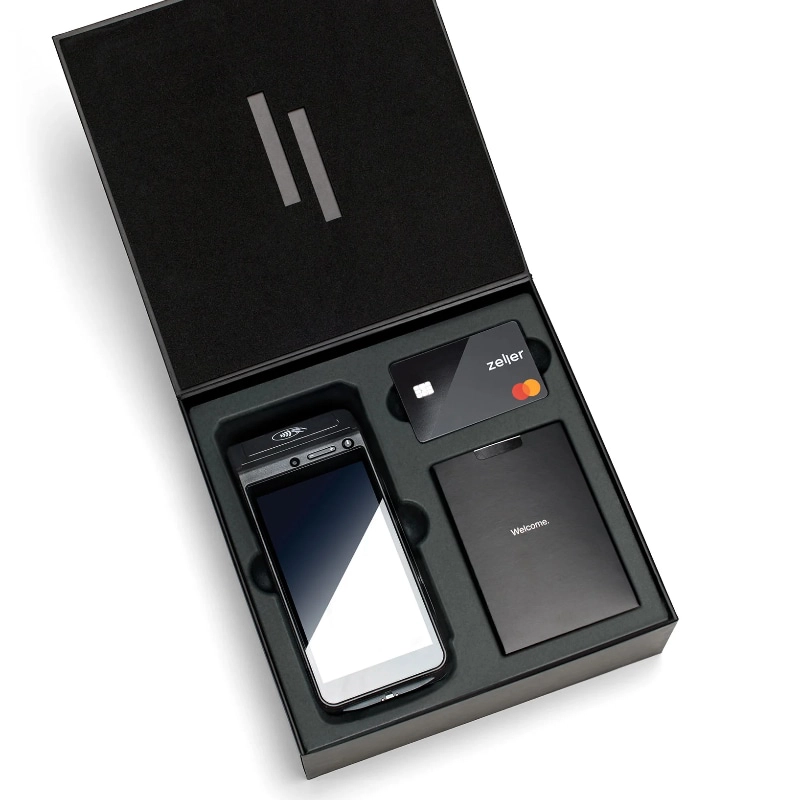 Zeller gives you a business e-account.
Square does not yet have an online account with a card, but typically settles transactions the following business day in your bank account. For an extra 1.5% fee, Square payouts can reach the bank account immediately.
The Zeller account can transfer money to Australian bank accounts (e.g. to pay staff wages), and the card can be used online and in stores where Mastercard is accepted. However, you cannot withdraw cash at an ATM, nor can you receive bank transfers from other people.
Alternatively, Zeller can settle EFTPOS transactions directly in your Australian bank account the next business day.
Both Square and Zeller allow you to monitor transactions remotely from an online dashboard. In Zeller's case, this is also where you manage the transactions account.
Square has many more options to filter and customise reports to analyse sales, products sold, staff performance and other aspects. Furthermore, Square integrates with major accounting platforms like Xero, QuickBooks and MYOB as well as many other apps for e.g. marketing, booking systems and delivery services.
Zeller integrates with Xero accounting software, so sales and analytics are not limited to Zeller's own basic reports if connected. But Zeller does not have a product library, so you cannot monitor which items have been sold or track stock levels across locations like you can with Square.
POS systems
When it comes to point of sale (POS) systems, Square is the winner.
Zeller Terminal integrates with a selection of POS systems,  like Impos and Erply, so the EFTPOS machine can form part of a wider checkout with a cash drawer and other equipment. The card terminal itself has no advanced features beyond surcharging, tipping, refunding and a few other basic functions, so it has to connect with external POS software for extensive features.
Square Reader works together with an impressive, free POS app (Square Point of Sale), Square for Restaurants, Square for Retail and Square Appointments. The general Square Point of Sale app is suitable for any business, whereas the other apps are made for retail, hospitality or professional services respectively with free and paid plans available.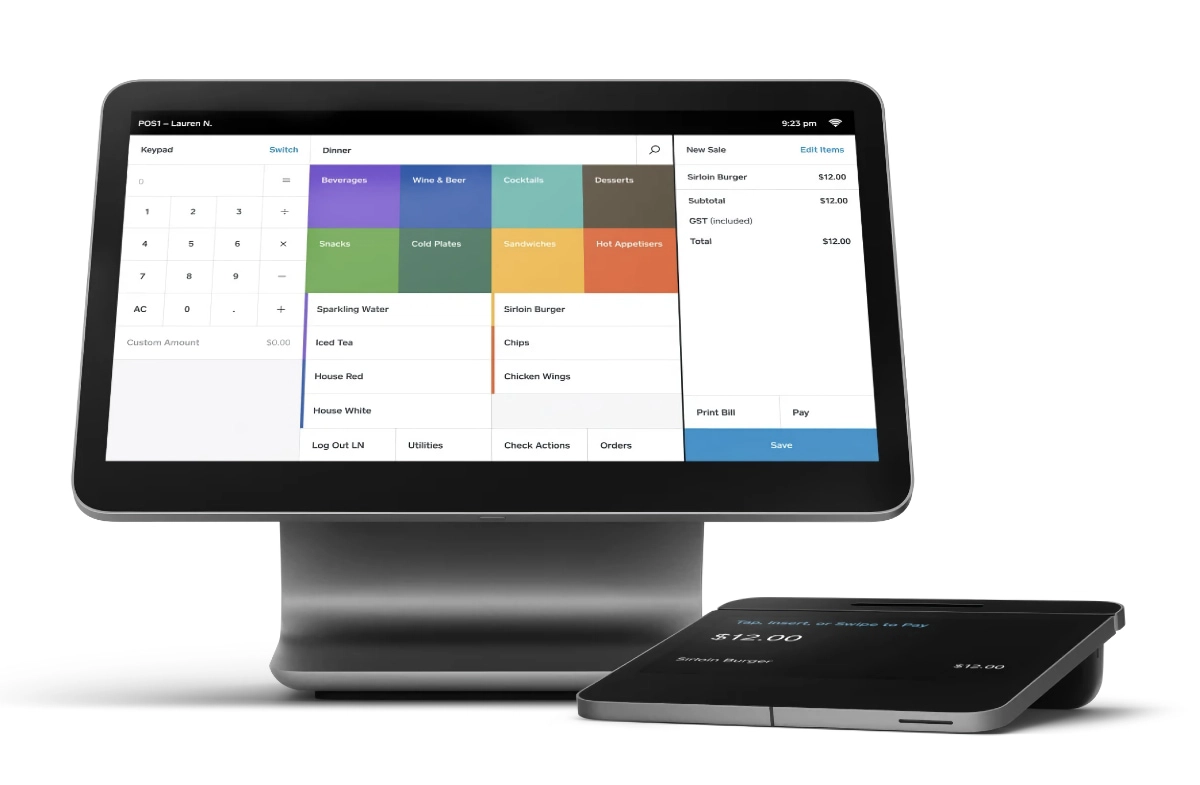 Square Register with the Square for Restaurants software.
Square Terminal more or less has the Square Point of Sale app built in, boasting quite a few more features than Zeller Terminal. Then we have Square Register, the purpose-built tablet checkout register that can use most of the free and paid Square POS systems.
Square directly integrates with cash drawers, receipt printers, kitchen printers and barcode scanners, allowing you a full POS setup in whichever type of business you run.
Online and remote payments: many options with Square
A glaring difference between Square and Zeller is the range of online payment options. Zeller accepts chip, contactless and swipe card payments, but also keyed payments for Mail Order and Telephone Order (MOTO) transactions.
That said, Square includes more complimentary options for all merchants:
Payment links to send via text, email or app

Payment buttons to embed on your website

QR codes to print for table service or show on your phone for customers to scan

Online store with a Square checkout, delivery and collection options

Virtual terminal for Mail Order and Telephone Order (MOTO) transactions

Gift cards for online and in-store redemption
All of these options are available without monthly fees, which has been handy during the pandemic when many businesses have needed to accept payments remotely.
Square offers business loans
Although Zeller does have an edge with its business Mastercard, this is only a debit (prepaid) card. Square has a different financial edge: business loans.
Square Loans are actually cash advances, which are not like conventional bank loans. The maximum loan amount is based on your Square card sales (no sales history outside Square is considered), transactions frequency and type of business.
A fixed pay-back percentage is then calculated, which included a fixed loan fee, and this will then be deducted from your sales through Square until it is fully repaid. This way, the speed of your repayment is determined by your sale volume. No interest or other charges are added to the cost of the loan.
Support and reviews
What about customer service? Zeller offers a helpline and email support every day of the week between 9 am – 1 am Australian Eastern Time (AET). Square only has customer support via email and phone on business days between 9 am – 5 pm (AET).
Both companies offer a help section online where you can find answers to many questions, though Square's help guides are more comprehensive.
In terms of reviews, Zeller is too new on the market to have enough praises or complaints to make us confident enough about its true quality of service. Square, on the other hand, has received lots of positive reviews from small businesses about the ease of use, simplicity and convenience of the products. A few negative reviews highlight that not all mobile devices work with Square Reader, so you should check in advance that the Square software would work with your setup.
Some shops only need a Zeller Terminal, not a full, stationary checkout.
Verdict: geared towards different needs
If you're just looking for a standalone EFTPOS machine that isn't too expensive, has a low card rate and convenient payouts, Zeller Terminal is probably your best choice. The online account and Mastercard are especially handy to avoid the hassle and cost of setting up a business bank account.
Anything more complicated might require Square's more versatile system. As well as the greater choice of EFTPOS readers, Square offers its own POS systems, business management tools, online payments and its own ecommerce platform. On top of this, there's a wide range of integrations available for things like accounting, inventory management and marketing. Zeller also works with Xero and several POS systems, though Square currently has more integrations.
Zeller works well for mobile businesses or as a good-quality, freestanding payment terminal for simple transactions anywhere. Square's card machines can be linked to POS systems and checkout hardware, but also used on the go with or without an app. At the end of the day, there's more choice with Square, but Zeller's specialised solution suits many merchants.