Payment by link is an easy way to accept cards online – no EFTPOS machine required. It can be used for impromptu sales on the phone, social media, online, on invoices and in person, and you don't even need a website.
Depending on the merchant provider, you may be able to send a pay button via email, text message or social media. Fees for these transactions are higher than for card terminal sales, given the fact that card details are entered manually rather than confirmed physically in a card reader.
Virtual terminals where the merchant completes the transaction themselves on a web page can be found here instead. Payment links, in contrast, are for when the cardholder completes the transaction – that's what we're comparing below.
Overview of the best payment links for small businesses in Australia:
| Payment link | Best for | Offer |
| --- | --- | --- |
| Square | Many free payment link features | |
| Stripe | Can be integrated in any payment flows | |
| Pin Payments | Australian platform with surcharge option | |
| Airwallex | Global online account, multi-currency links | |
| PayPal.Me | Reusable links for simple purposes | |
| Shopify | Convenient for online stores in Shopify | |
| Adyen | For high-volume online businesses | |
| Payment link | Best for | Offer |
| --- | --- | --- |
| Square | Many free payment link features | |
| Stripe | Can be integrated in any payment flows | |
| Pin Payments | Australian platform with surcharge option | |
| Airwallex | Global online account, multi-currency links | |
| PayPal.Me | Reusable links for simple purposes | |
| Shopify | Convenient for online stores in Shopify | |
| Adyen | For high-volume online businesses | |
Square Online Checkout – versatile and simple
Square Online Checkout is probably the most versatile payment link solution without monthly fees or a contract. You can send links for specific POS transactions or create links for individual products or donations with fixed or open amounts.
These links can be shared through your phone and apps, and the URL can be copied and pasted anywhere. For example, you go to the Online Checkout menu in the Square POS app and pick the link for a certain sandwich, then send it to the customer who wants to buy it. You can also show or print a QR code to display at your business. Embed codes can even be generated for embedding pay links on your website.
In the Square Dashboard (browser), you can then see how many transactions have been accepted through the different links.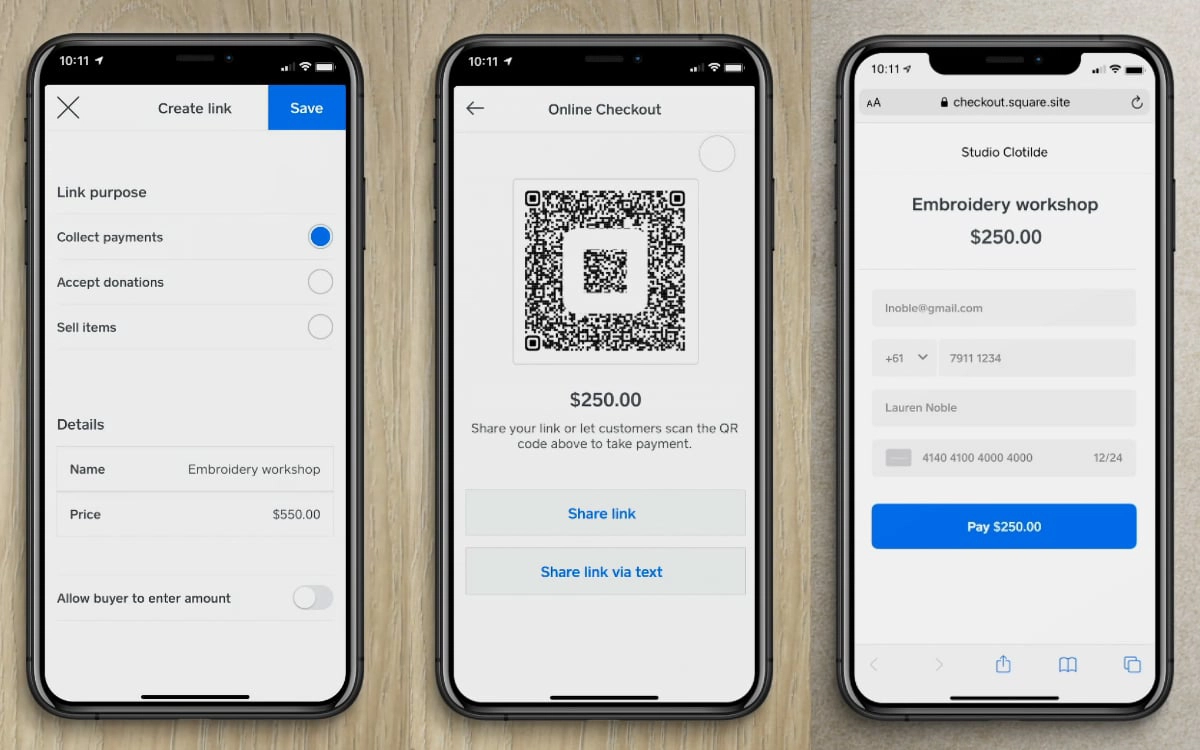 The customer opening the links will only need to enter their name, email address and card details for completing the transaction. If they access a link with an open amount, they will also enter the amount to pay.
Square has a simple sign-up form on their website, requiring you to connect a bank account for receiving the payouts. The only cost is a transaction fee of 2.2%.
Stripe Payment Link – scalable customisation options
Stripe's payment platform is trusted around the world with its scalable customisation options through code. Luckily for a small business, you don't need to know code to use its payment links from the Stripe account.
To generate a payment link, you set up an online payment page with your chosen colour theme, logo and whether to request a shipping address. This is done easily in Stripe, after which you can just send the payment URL in customer chats, via text, email, social media or elsewhere online.
Alternatively, you can generate a QR code with the link or embed it as a button on a website or in an email.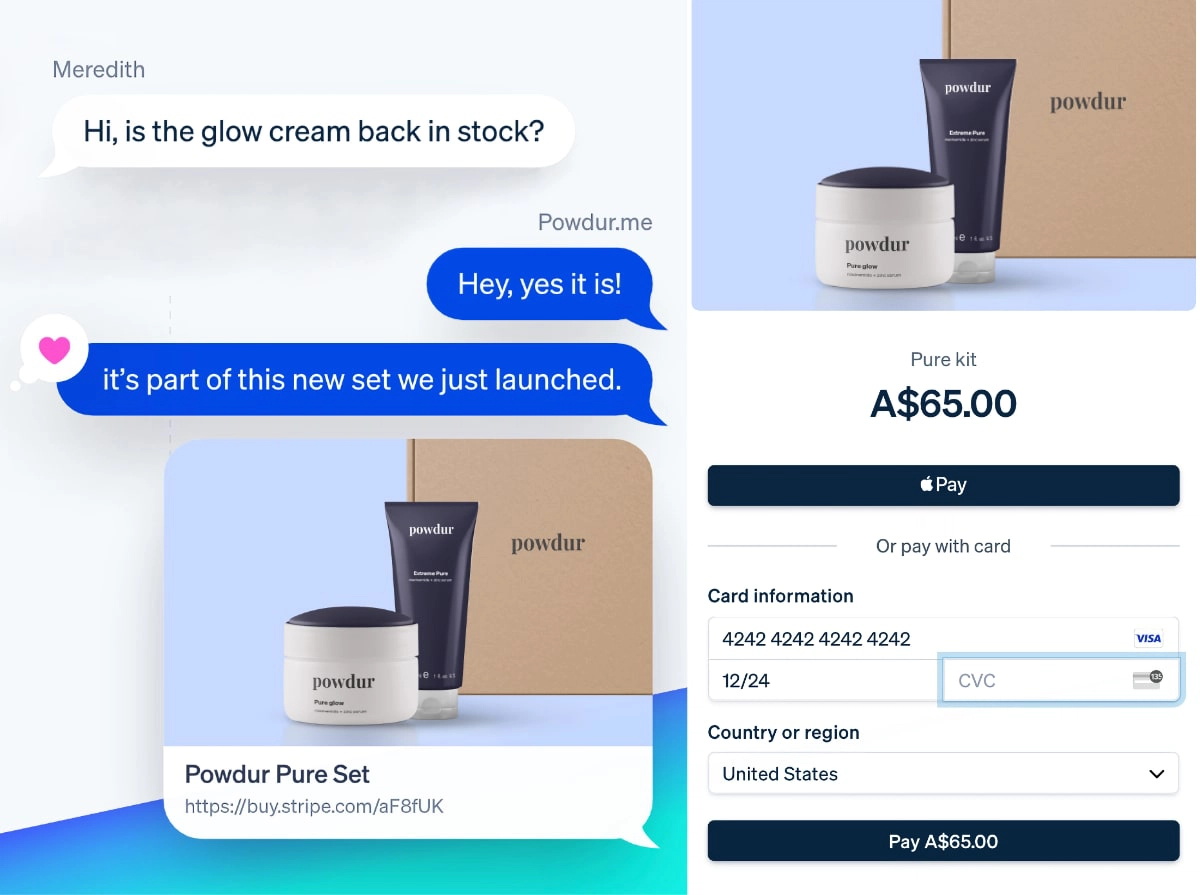 Links can be created for subscriptions, donations (open amounts) or selling products and services. The links can be reused, allowing you to track payments for specific items over time. As with other Stripe products, it's possible to integrate the payment links into a custom web- or app-hosted solution.
Transactions cost a fee of 1.75% + A$0.30 for Australian cards or 2.9% + A$0.30 for international cards and are settled in your bank account.
Pin Payments – option to add a surcharge
A sub-company of Checkout.com, Pin Payments is Australia's local answer to online payments for small businesses. The platform lets you create payment URLs to embed on invoices or websites, or to send via SMS, email or other online message.
As with the other solutions, there is no monthly fee or contract, just a transaction rate of 1.75% + A$0.30 for domestic cards and 2.9% + A$0.30 for international cards.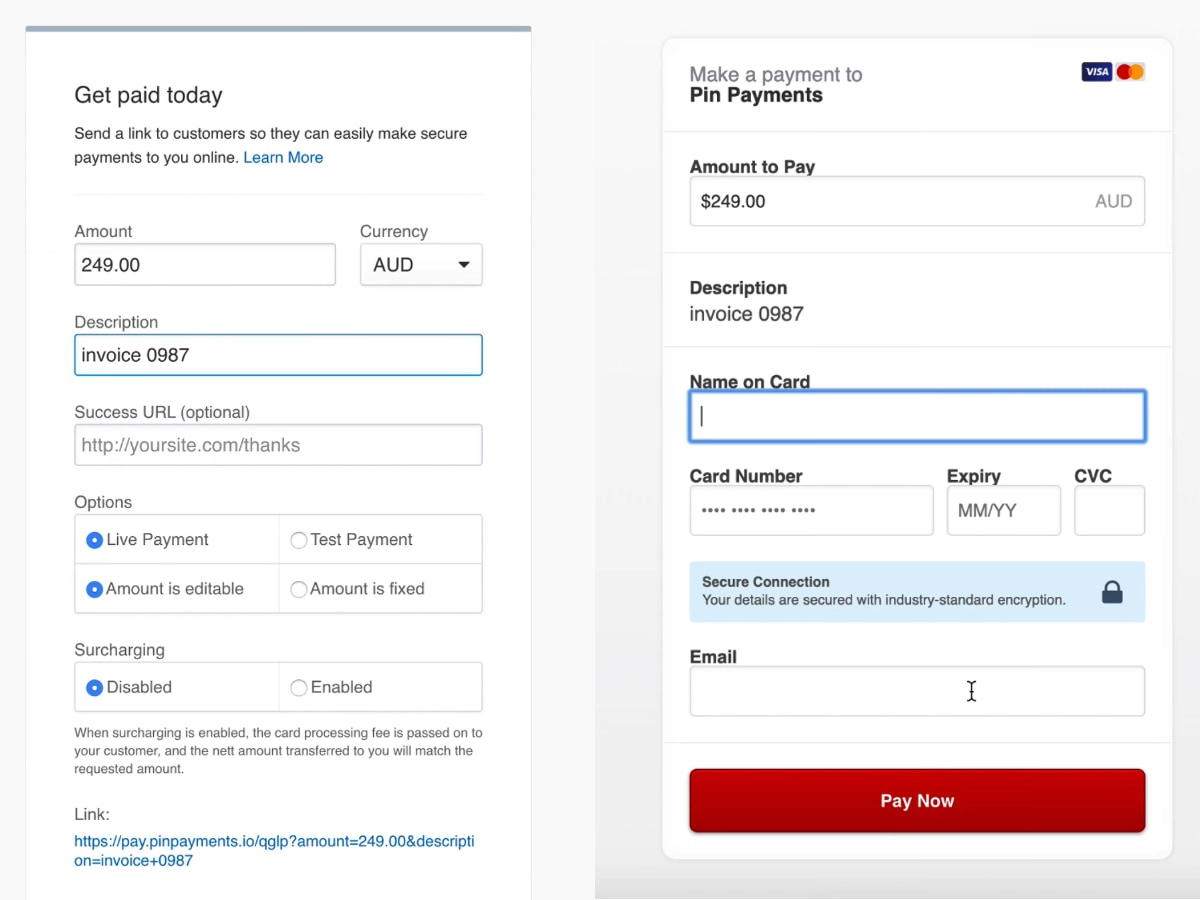 As a unique feature, you can add a surcharge to each payment link. This means you're not charged anything for the transaction – instead, the customer will be charged the total transaction fees. Although tempting to switch this on, it's worth considering whether this is fair.
Link payments can be fixed or open, live or a test. Buttons can be integrated on invoices from Xero, Synder and Invoice Ninja, where you can track payments along with other accounting data.
Pin Payments includes an online payment gateway for websites, a virtual terminal and recurring payments. It's therefore a great, versatile hub for ecommerce and remote transactions.
Airwallex Payment Link – with global account
If you're not just selling to Aussies, Airwallex is the ideal payment link provider with its free online business account. There's no monthly fee or contract, just a pay-as-you-go transaction rate per successful transaction.
The account allows you to transfer different currencies between countries without cross-border fees. By extension, customers can choose between 130+ currencies and their preferred payment method (Visa, Mastercard, Alipay, WeChat Pay) on the online checkout screen. Funds will settle in your home currency regardless of how the customer paid.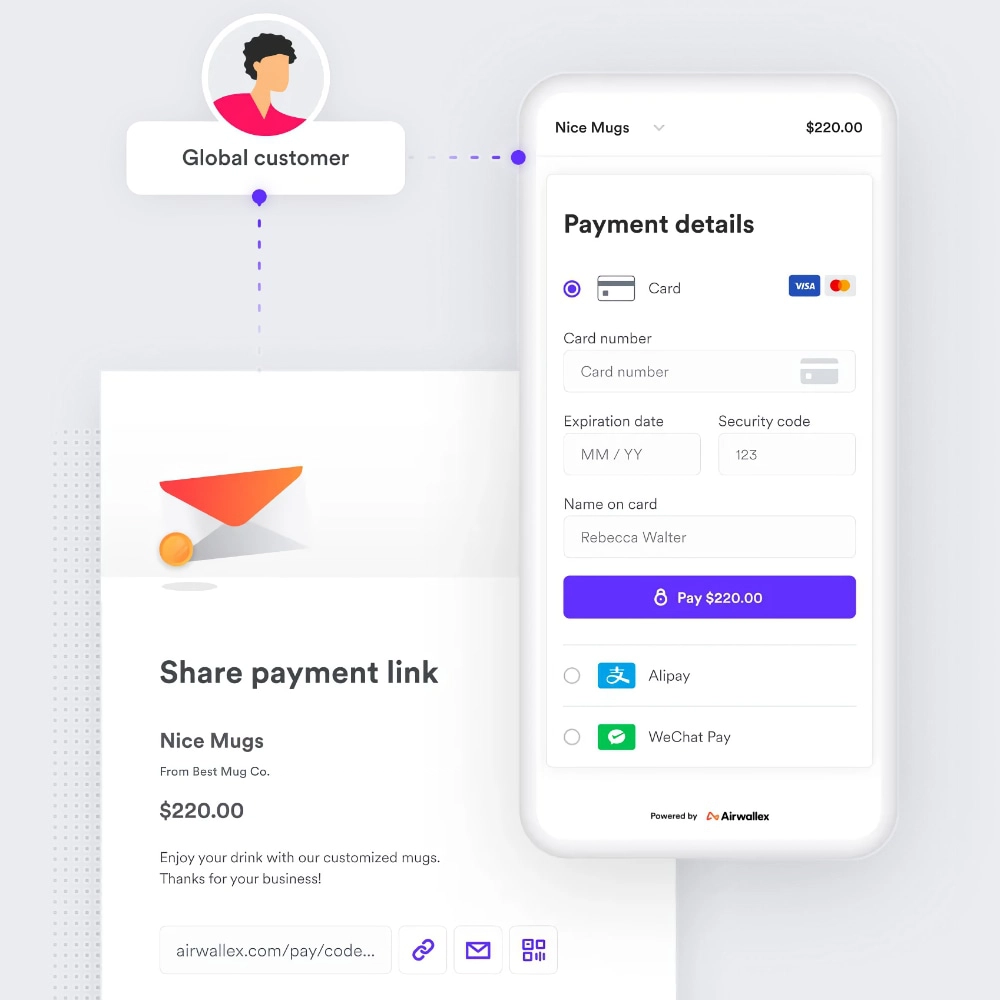 You create a one-time or reusable payment link in the Airwallex account (in a browser) and send it via email, SMS or embedded in a message or invoice. A QR code is generated for each link, which can be sent instead.
With Airwallex's 'Blended' fees, transactions are 1.65% + A$0.30 if a domestic card was used, or 2.9% + A$0.30 with a foreign card. Additional fees for settlement, currency conversion or specific transactions may apply.
Subject to eligibility, you may be able to get interchange++ fees that are more variable than the blended rates.
PayPal.Me – reusable links for PayPal transactions
PayPal offers a very convenient service where businesses can create a pay link for free through the PayPal.Me service. It has no contractual commitment, no monthly fees, and payouts appear in the online PayPal account almost immediately after each transaction. If you need the money in your bank account, however, you will need to manually transfer it to your linked bank account, but even that is quick (a few hours).
It costs 2.6% + $0.30 to receive a PayPal payment link transaction, plus applicable currency conversion fees and possible payout fees. This is not that cheap, so it might be best suited for occasional or limited sales.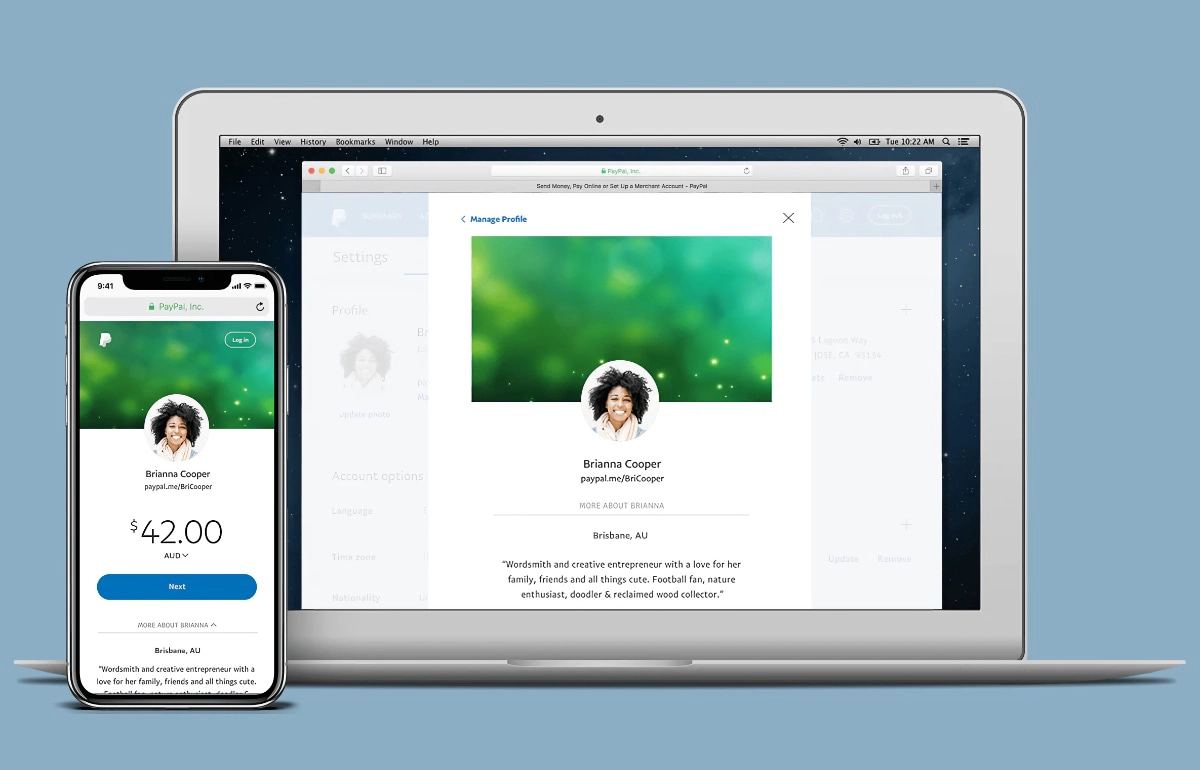 The links work like this: create a link URL in the format paypal.me/yourbusiness – yours to use indefinitely. You send this link to the payer who will be able to enter an amount manually to pay, or you can pre-specify an amount for the recipient by adding the number at the end of the URL (paypal.me/yourbusiness/30 goes to a payment page for a $30 bill).
You can send the link in any context online, e.g. by text, chat message, email or any social media channel. Clients have to pay through their own PayPal account (with Buyer Protection), in any of 25 different currencies.
The fact you can choose not to specify a transaction amount for the customer means that PayPal's payment links are great for donations, while also suitable for any other business payments.
Shopify – payment links in addition to ecommerce
Shopify does not advertise this, but you can actually send payment links through its account. But since you need an ecommerce subscription to use it, we can only recommend it for those running an online store in Shopify.
In fact, it takes some effort to find the feature. First, you need to create a draft order in the Orders section of the account. Shopify lets you itemised the order with preexisting items from your product library or custom descriptions with a discount, taxes and shipping information – similar to an itemised shopping cart online.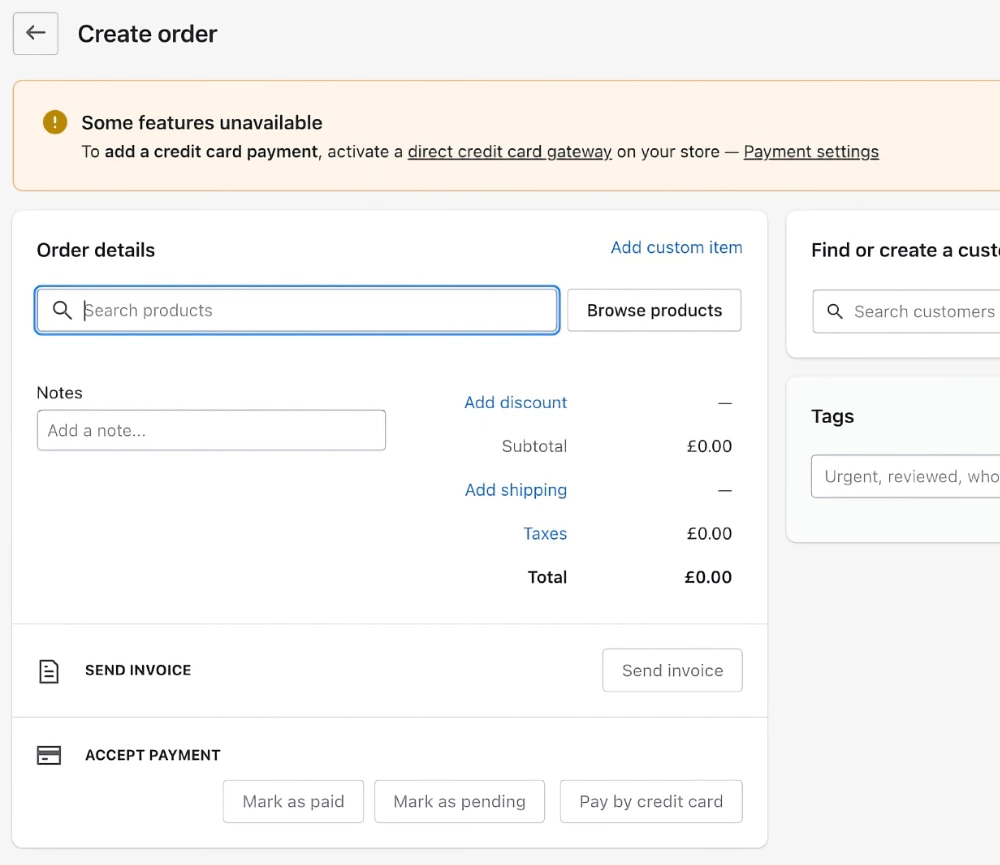 Once created, the order can be shared with a checkout link or transformed into an invoice (with the same payment link) if that's what you need.
It's also possible to create 'checkout links' through the Products section. Here, you can generate a payment link for sharing online or a button to embed on a web page.
Shopify allows you to use its own payment system for 1.4%-2.9% + A$0.30 per online transaction, depending on the ecommerce plan you're on and the type of card being used. For a lower monthly fee, you can sign up for long-term online plans of 1+ years, but monthly plans are available too. Transactions go to your bank account.
Adyen Pay by Link – for those with a high turnover
Adyen is an international online payments provider mostly for medium-to-large businesses. It's intended for businesses transacting at least A$3 million annually and considering Adyen as their payment platform for all sales channels, not just payment links.
Adyen Pay by Link transactions cost a A$0.12 gateway fee plus the interchange rate of the card which can be anything from 0.2% to 3% (domestic debit cards are cheapest, foreign premium cards are on the high side). That's good value for merchants accepting mostly Australian debit cards for transactions over $30.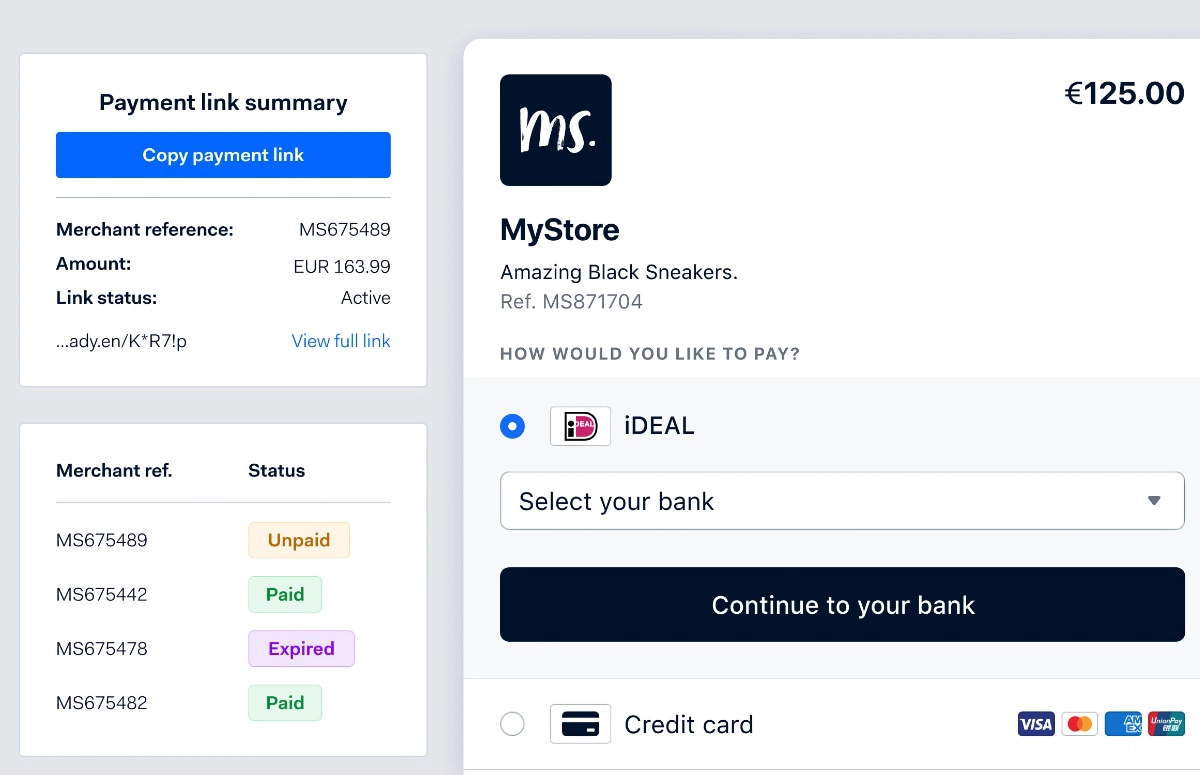 There's no setup, closure or monthly fees, but Adyen requires a minimum of A$165 monthly in transaction fees. Opening an account requires a minimum deposit of around A$800, which is returned when the account is closed. To make this worthwhile, your card turnover through Adyen Pay by Link should be at least A$30k monthly, in most cases significantly more.
Adyen accepts many payment methods globally. The links can be sent via any channel online in various currencies and can be time-limited. The built-in payment security tools such as '3D Secure 2' make Adyen more advanced than most payment links on the market. You can also customise the checkout page, create a QR code for the link and create open donation links.
Provider
Costs
Site
$0/mo, no contract
2.2% per transaction
$0/mo, no contract
1.75% (domestic cards) / 2.9% (international cards) + A$0.30 per transaction
$0/mo, no contract
1.75% (domestic cards) / 2.9% (international cards) + A$0.30 per transaction
$0/mo, no contract
1.65% (domestic cards) / 2.9% (international cards) + A$0.30 per transaction
$0/mo, no contract
2.6% + A$0.30 per transaction
US$9+/mo
1.4%-2.9% + A$0.30 per transaction
$0/mo, A$800 deposit
0.2%-3% + A$0.12 per transaction (variable)
Provider
Costs
Site
$0/mo, no contract
2.2% per transaction
$0/mo, no contract
1.75% (domestic cards) / 2.9% (international cards) + A$0.30 per transaction
$0/mo, no contract
1.75% (domestic cards) / 2.9% (international cards) + A$0.30 per transaction
$0/mo, no contract
1.65% (domestic cards) / 2.9% (international cards) + A$0.30 per transaction
$0/mo, no contract
2.6% + A$0.30 per transaction
US$9+/mo
1.4%-2.9% + A$0.30 per transaction
$0/mo, A$800 deposit
0.2%-3% + A$0.12 per transaction (variable)