When it comes to payment gateways, Stripe is undoubtedly one of the more advanced options available on the market, becoming a go-to choice for coders and businesses with relatively complex websites.
Payment gateways act like a middleman between you and your customers, ensuring that whenever customers make online payments, their information is encrypted, verified and processed. Once the transaction has been approved, the payment gateway lets you know, and the sale is complete.
Stripe offers more than just the basic features like card payments, though. It offers more tailored solutions to match niche payment requirements like API-only payments and subscription systems.
Still, whether it's the 2.9% + $0.30 fee for international payments (plus an added 2% for currency conversions) or you'd just like something that's less complicated, it's understandable why you might consider alternative payment platforms.
Ultimately, business owners have different payment needs, budgets and levels of technical skill. You might want a solution that's easy to use, convenient or with faster payouts. In any case, let's explore the best Stripe alternatives for Australian merchants.
1. Square: the perfect fit for small businesses
Regarding intuitiveness, Square boasts an exceptionally easy-to-follow design that can be used by even the most technophobic business owner without any hassle.
Square even integrates with other popular platforms for ecommerce, like GoDaddy or WooCommerce.
Unlike a few other options on this list, there's no need to worry about complicated pricing structures either. Square keeps everything simple with a flat rate for all of their online card transactions (2.2%), meaning international or low-value payments are still cost-effective. This essentially makes it the one-size-fits-all of payment processing.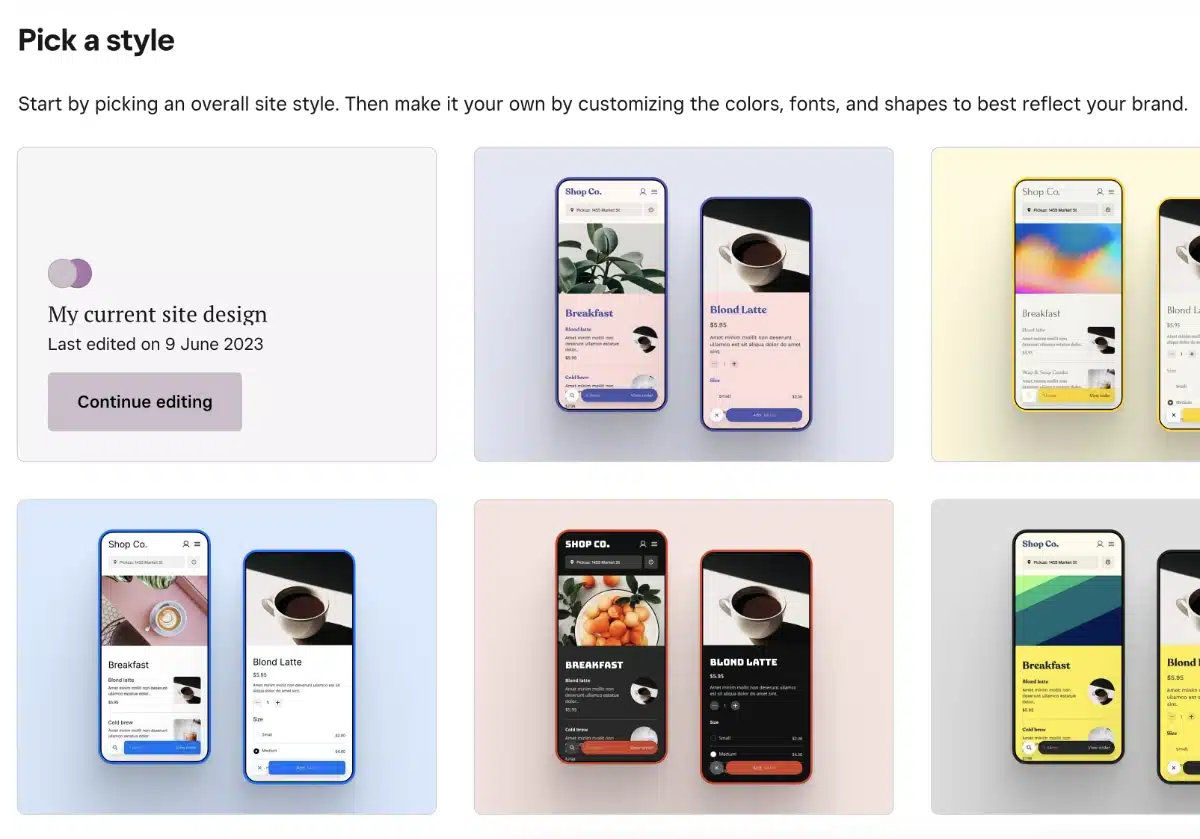 Square makes it easy to build a mobile-friendly online store with payments built in.
What about invoicing? This isn't an exclusive Stripe feature. Square also lets you create and send professional invoices to all of your customers to receive credit card payments online with minimal effort.
And let's not forget about payment links, either, with the option of selling through social media or email being as easy as sending a link and then sitting back.
If you're still not convinced, Square even throws in a free online store builder to get you started.
2. Adyen: powering global payment solutions
If you're looking to process payments on a large scale, Adyen certainly appeals to some of the larger businesses and enterprise customers.
Rather than generic subscription plans, Adyen tailors ongoing fees and transaction rates around your annual turnover, type of business and range payment methods accepted.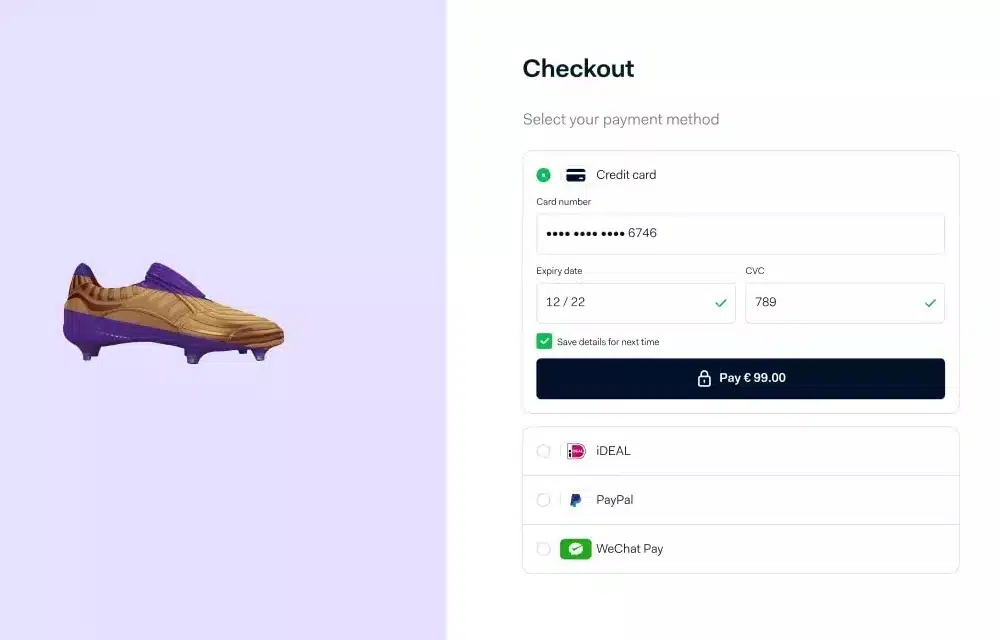 You can customise Adyen's online checkout, if you can get an account as a large business.
Still, Adyen's offering is only available for any businesses raking in around AUD 2 million in card payments annually, so you're best sticking to one of the other Stripe alternatives if you're yet to hit that revenue milestone.
3. Airwallex: simplifying cross-border payments
Originally known for its multi-currency accounts, Airwallex evolved into a payment gateway that excels in international payments specifically.
Aside from some of the best exchange rates in payment processing, Airwallex's competitive fees and exceptional user interface make it a wise choice for anyone looking for a customer-first experience.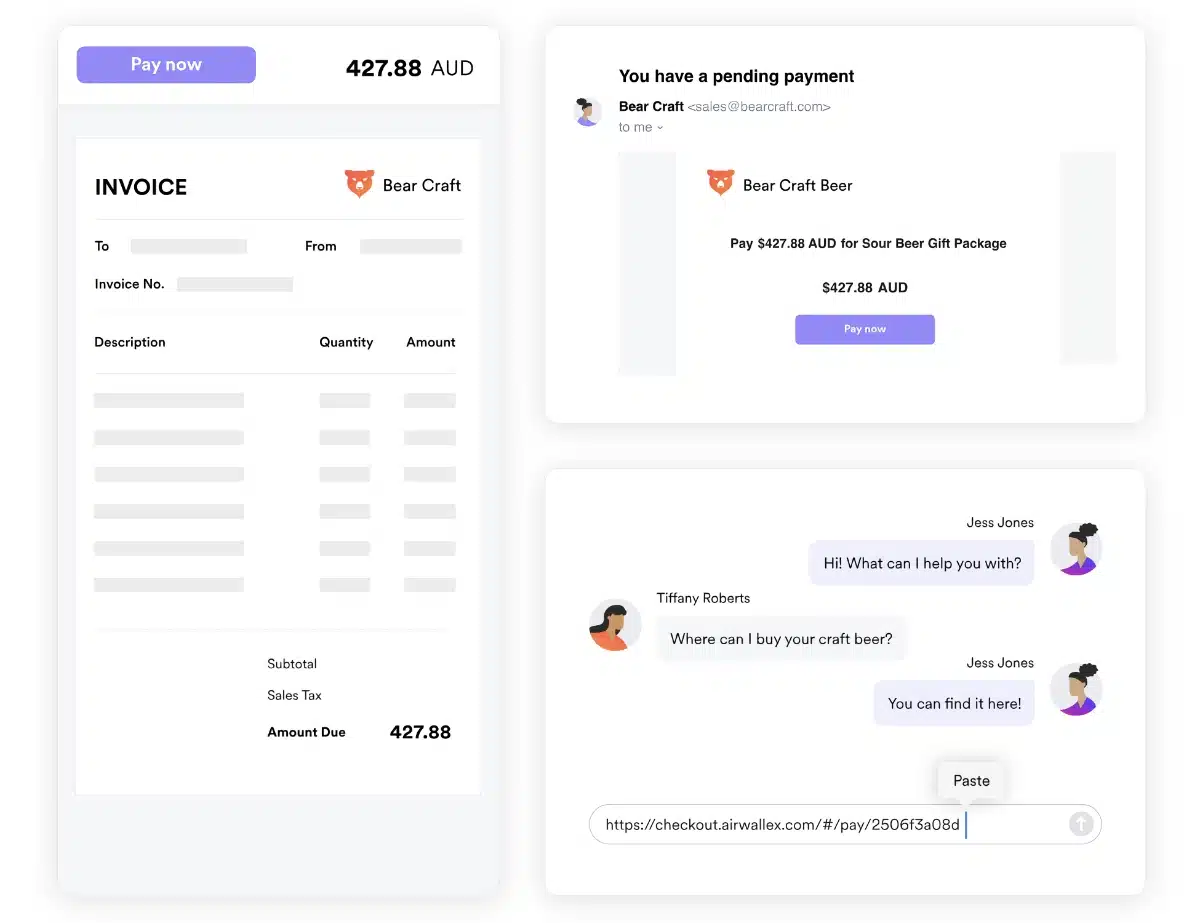 Airwallex offers payment links, electronic invoices and ecommerce integration.
Furthermore, Airwallex's 1.2% + $0.30 fee for domestic payments trumps the 1.75% + $0.30 offered by Stripe, making it just as viable for non-international vendors too.
Lastly, hourly sync with plugins like Xero can be a lifesaver for anyone looking to compile their accounting and other business tools in one place.
4. PayPal: the trusted name in online payments
No one can deny PayPal's convenience and familiarity, being a fairly household name since the early 2000s. With a smooth setup and all the basic features you need to receive payments, it's clear to see why businesses are lured by the simplicity – just remember to transfer funds from your business account to your bank account.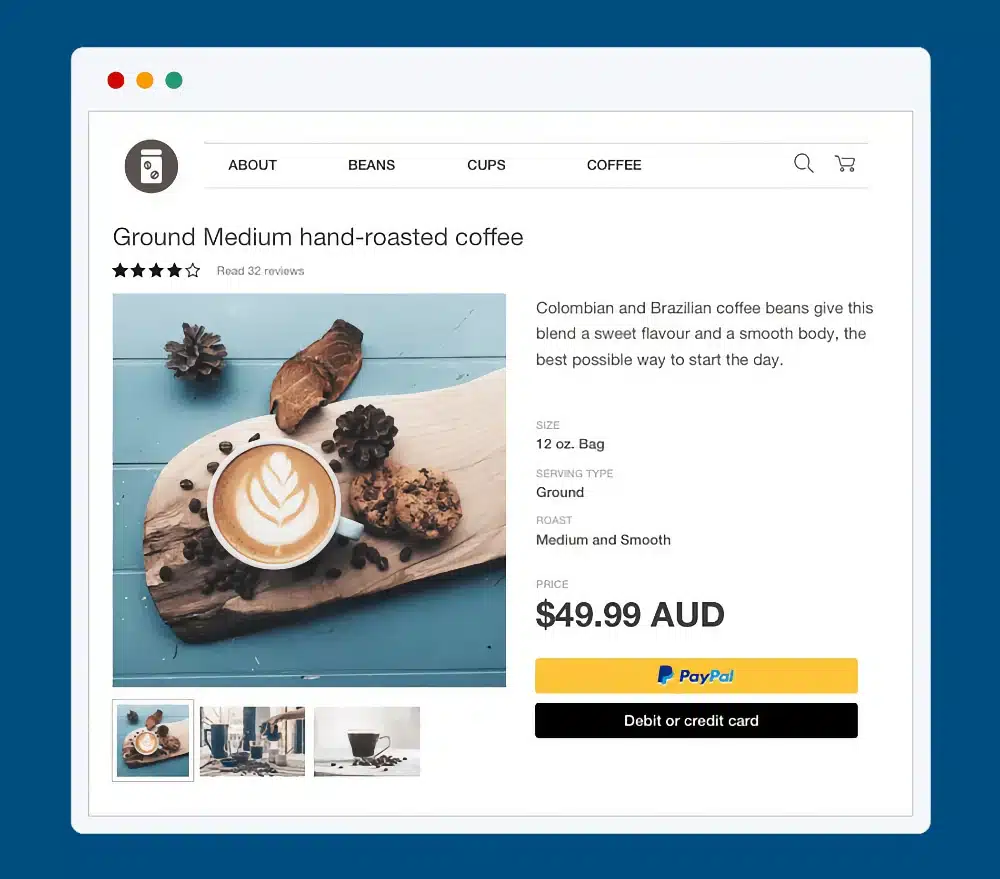 PayPal offers a choice of ways to integrate its payment flow on your website.
You know what you're getting with the PayPal commerce platform, but unfortunately, that means exorbitant fees and a distinct lack of customer service too.
For instance, goods and services transaction fees are usually around 4% per transaction, so this can quickly eat into your earnings if you're not selling at least mostly in bulk.
Still, you can manage your payments quite well with recurring billing, so it remains an option worth thinking about.
5. Eway: reliable and secure payment processing
Since 1998, Eway has managed to carve out a niche for itself in the Australian market, primarily due to their consistency in transaction fee rates.
Like PayPal, Eway's claim to fame lies in its ever-presence in the online payments industry, so Australian businesses don't need to feel like they're taking a gamble with a less established platform.
The services mainly include a online payment gateway to integrate in your online store, as well as a virtual terminal for over-the-phone payments.
However, while they might boast about their competitive rates and fraud protection, the annual fees dampen the enthusiasm slightly, making it a bit less accessible for small business owners on a long-term basis.
6. PayNuts: customisable solutions for diverse businesses
PayNuts recognises some of the unique challenges each business faces, so their personalised rates based on your specific needs are easily their strong suit.
While exceptional services, many of the options on this list lack a dedicated support team, so PayNuts can be a massive help for any novices to payment gateways that could benefit from a strong relationship with their provider.
Final thoughts
Ultimately, don't be afraid to venture beyond the Stripe bubble for any payment gateways your business needs!
Although payment processors like Stripe have dominated the online payment scene in Australia, it's still worth considering alternatives that might be able to provide more flexible solutions for managing payments.