Many consumers in Australia prefer to use money they know they have. Credit definitely isn't their first option. For these shoppers, debit from a savings account is the way to go and in Australia, there's a unique way of doing just that.
Eftpos (eftpos) is a privately-run Australian debit card payment system. A long-standing staple of the country's financial landscape, it has allowed electronic payments at the point of sale for almost four decades.
And while it might share the same name as the commonly used EFTPOS abbreviation (Electronic Funds Transfer at Point Of Sale), they are two very different things.
History of eftpos
The eftpos payment system was launched in Australia during 1983. It introduced consumers to a quick, easy and secure way to pay at the point of sale.
It quickly became the go-to choice of merchant payment systems in both Australia and New Zealand. In fact, 1.8 billion transactions totalling over $115 billion were processed via the more than 900,000 eftpos-enabled terminals during the 2017/18 period.
However, the rise of international schemes like Visa and Mastercard has led to a decline among consumers in the use of eftpos cards over the last decade.
How does eftpos work in Australia?
The eftpos system in Australia is composed of seven proprietary networks which all interlink with each other. These networks are principally operated by the major Australian banks such as Westpac, Commonwealth Bank and National Australia Bank.
Almost all debit cards issued in Australia can process transactions via eftpos. These cards are known as dual-network cards. They support international schemes like Visa or Mastercard as well as the Australian eftpos system. There are also about 5 million prepaid cards and over 5 million credit cards with eftpos functionality in circulation.
Australians have three payment options at the point of sale:
Cheque (CHQ)
Savings (SAV)
Credit (CR)

Cheque or Savings purchases will be processed through the eftpos system. Credit will run the transaction across the Visa or Mastercard network (depending on the card type).
The transaction amount is transferred to the retailer as soon as the payment clears.
Consumers will then instantly have funds deducted from their chosen account, making it a great way to keep track of money spent in real time.
Shoppers can also use eftpos to withdraw cash from any merchant who accepts card payments. This makes life a lot easier if an ATM isn't close by.
It is also quite common for merchants to set a minimum purchase amount of $5 or $10 if shoppers want to withdraw cash. This is widely accepted by consumers in Australia as the trade-off for not having to look for an ATM — a win-win for both customer and retailer.
Eftpos providers
Small businesses wanting to accept eftpos transactions will usually need to sign a contract with an eftpos-approved merchant service provider such as:
Australia and New Zealand Banking Group
Commonwealth Bank of Australia
Cuscal
Fiserv/First Data Network Australia
National Australia Bank
Tyro
Westpac Banking Corporation
Windcave
There are also certain payment providers that offer eftpos acceptance as a part of their package.
For example, the pay-as-you-go card reader service Square accepts eftpos cards without any contractual lock-in. Mint Payments also accepts eftpos in their all-inclusive EFTPOS packages. These payment providers have their own agreement in place with one of the main merchant service providers offering eftpos contracts directly.
Fees and charges
The eftpos merchant rate is on average 0.26%, while Visa and Mastercard – on average – charge 0.58% of the transaction total.
Credit cards can be accepted by entering into a separate agreement with the credit card company, with varying costs for the individual contracts. Alternatively, you can avoid signing a contract through a pay-as-you-go system like Square.
Terminal rental usually costs at least $30 a month.
Contactless payments with eftpos 'Tap & Pay'
Contactless payment technologies are extremely popular in Australia. And until recently, eftpos cards did not have an option for using tap and go at the point of sale.
This definitely put them behind the systems provided by Visa and Mastercard.
Today, eftpos uses their own 'Tap & Pay' system that allows eftpos users to enjoy quick and simple transactions when spending under $100. Any transactions above this still require a PIN.
Eftpos has also slowly rolled out its own eftpos Mobile system.
This system — while still developing — allows eftpos card holders to use Apple Pay and Google Pay at the point of sale. This is a great step forward, however, eftpos Mobile is only available to cardholders from selected banks and financial institutions.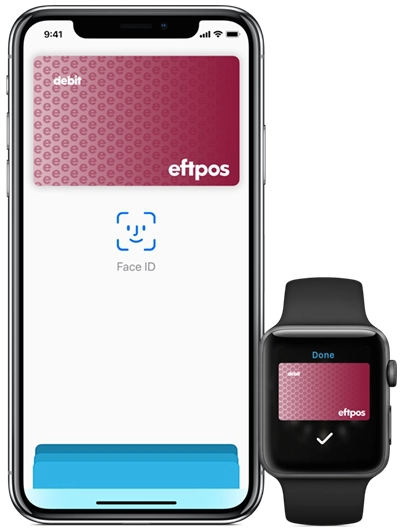 Eftpos can now be used with Apple Pay.
Online purchases? Not just yet
Eftpos is still lagging behind when it comes to shopping online. It seems quite odd to think that a major payment system could be missing this feature in 2020.
The eftpos website claims that online purchases are in the picture moving forward. But this has been the case for some time now. So it becomes a bit hard to tell how committed they actually are to allowing online purchases for cardholders.
With the recent addition of eftpos Mobile and Tap & Pay, eftpos may realise that they are losing a lot of ground to competing systems. And genuinely wanting to stay in the game means that online shopping must be a priority for the company.
With no recent announcements and no updates to their website, we might still be waiting a while for any real changes. And until this happens, Visa and Mastercard will be the choice for Australians who shop online.
The bottom line
Eftpos is still a popular debit system. There's no doubt about that.
But with its market share being well and truly eaten into by its competitors, the Australian payment system will need to make some changes (allowing online purchases being one of them) if it wants to remain relevant. There are some small steps being taken, but with Visa and Mastercard debit now available from almost every card provider, it might be fighting a losing battle.