Although PayPal was a trailblazer in online payments, Square was one of the first to sell mobile card readers.
Today, they offer similar services. Both cover both in-person and online payments – but there are crucial differences in the details. Compared with other Australian mobile card readers, their solutions for small businesses and independent merchants are top of the line.
PayPal's in-person payments service is called PayPal Here and Square's mobile card reader is called Square Reader. Let's compare the two.
| | Square Reader | PayPal Here Card Reader |
| --- | --- | --- |
| | | |
| | | Withdrawn from market |
| Technology | EMV (chip), NFC (contactless) | EMV (chip), NFC (contactless), magnetic stripe (swipe) |
| Price | $65 incl. GST | $99 incl. GST |
| Transaction fee | 1.9% | 1.95% (other fees apply) |
| Monthly fee | None | None |
| Commitment | No contract | No contract |
| Deposits | 1-2 business days to bank account | Immediate in PayPal account |
| Accepted cards | | |
| Contactless | | |
Square
Reader
PayPal
Here
Card
Reader
Withdrawn from market
Accepts chip, contactless
Accepts chip, contactless, swipe
$65 incl. GST
$99 incl. GST
1.9% per transaction
1.95% per transaction (other fees apply)
No contract, no monthly fees
No contract, no monthly fees
1-2 business days' transfers to bank account
Immediate transfers to PayPal account
Card terminals: PIN in app vs. on keypad
PayPal Here only sells one card reader in Australia – the PayPal Here Card Reader. It works in conjunction with a free payment app downloaded on a compatible iPhone, iPad or Android phone or tablet.
Square sells two card terminals in Australia: Square Terminal and Square Reader. Terminal is the more expensive model with inbuilt POS software, allowing it to work as a standalone POS terminal.
Crucially, the Terminal does not work on mobile networks (4G, GPRS etc.), only with secured WiFi connections. We will therefore focus on Square Reader which works anywhere through a mobile app, just like PayPal Here.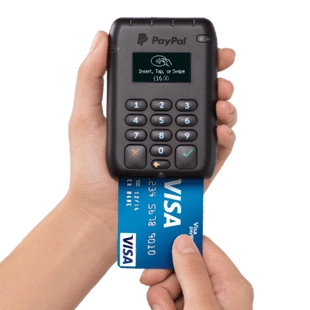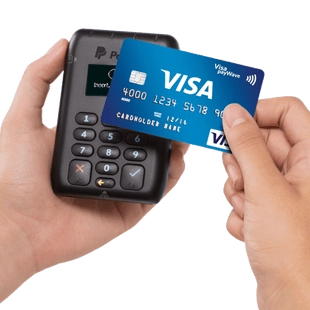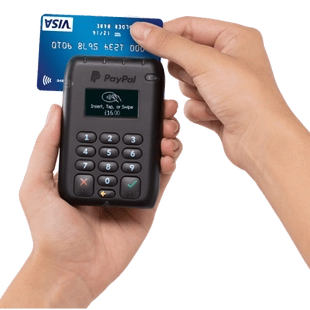 The PayPal card reader accepts chip and PIN, tap-and-pay and swipe cards. Photos: PayPal
PayPal Here Card Reader accepts chip, contactless and swipe cards. The Square Reader only accepts chip and contactless cards. The Square delivery does, however, come with a complimentary magstripe reader that works when plugged into an audio jack on your mobile device.
Both card readers connect with the associated mobile device via Bluetooth, utilising the phone's or tablet's internet connection over 3G, 4G or WiFi. None of the card readers have an inbuilt receipt printer.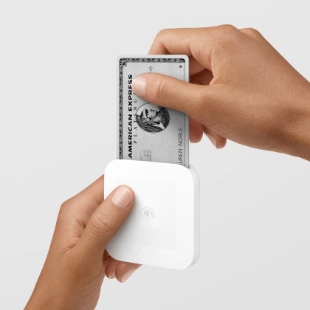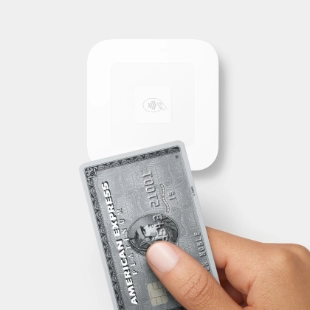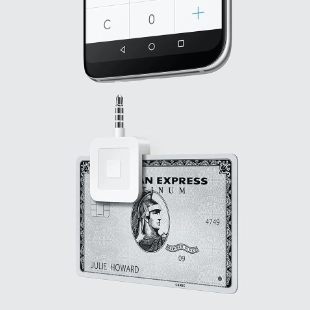 Square Reader accepts chip and NFC, with a separate reader for swipe cards. Photos: Square
Square Reader is the smallest at 56 g and 66 x 66 x 10 mm. With no PIN pad or swipe functionality, this isn't really a surprise. The PayPal card reader weighs 118 g and measures 103 mm x 71 mm x 18 mm, but does have a keypad and swipe slot.
Payment begins by first entering an amount in the connected app or adding products from your in-app library to the cart. The card payment option is then chosen, and the app communicates with the card reader over Bluetooth (or audio plug in the case of Square Magstripe Reader) which is then ready to accept the card or mobile wallet.
Customers can enter their PIN on the PayPal Here reader's physical PIN pad, just like on conventional EFTPOS machines.
With Square Reader, PIN entry is a little different, but nonetheless deemed secure by the payment industry. After inserting or tapping the card, a virtual PIN pad will appear on the mobile phone's or tablet's screen where the customer enters their PIN code.
This means you need to be ready to pass or turn the mobile device towards the customer at the point of payment, not just the card reader.
More charges with PayPal than Square
Square Reader costs $59 including GST and PayPal Here Card Reader costs $99 with GST. There's no delivery or setup fee for any of the options, no ongoing costs and no contractual commitment.
The transaction fee for chip, contactless and swipe payments is a fixed rate of 1.9% for Square and 1.95% for PayPal – hardly much different.
That's not the whole story, though. If you need money in your bank account, use currency conversion, accept keyed-in card payments, refund payments regularly or get more chargebacks than the average merchant, PayPal can be significantly pricier.
| | | |
| --- | --- | --- |
| Card reader | $65 incl. GST | $99 incl. GST |
| Setup & delivery | Free | Free |
| Commitment | No contract lock-in, no termination fees | No contract lock-in, no termination fees |
| Fixed monthly fees | None | None |
| Swipe, chip & contactless fee | 1.9% | 1.95% |
| Keyed-in transaction fee | 2.2% | 2.9% + $0.30 |
| Extra fee for foreign cards | None | None |
| Currency conversion fee | None | 3% above base conversion rate |
| Transfers to bank account | Free | 1% of transfer total |
| Refund fee | None | None, but PayPal keeps full transaction fee paid |
| Chargebacks | No fee | $15 each |
Card reader
$65 incl. GST
$99 incl. GST
Setup & delivery
Free
Free
Commitment
No contract lock-in, no termination fees
No contract lock-in, no termination fees
Fixed monthly fees
None
None
Swipe, chip & contactless transaction fee
1.9%
1.95%
Keyed-in transaction fee
2.2%
2.9% + $0.30
Added fee for non-US cards
None
None
Currency conversion fee
n/a
3% above base conversion rate
Transfers to bank account
Free
1% of transfer total
Refunds
No refund fee, and you get back the transaction fee
No refund fee, but PayPal keeps full transaction fee paid
Chargebacks
No fee
$15
Square doesn't charge for payouts to your linked bank account, currency conversion (the customer's bank processes any such fees), refunds or chargebacks. Furthermore, Square's transaction fee for keyed-in payments – including manual card entry in app, virtual terminal and invoice payments – is only 2.2% compared to PayPal's 2.9% + $0.30.
PayPal Here transfers payments directly to your online PayPal account. From here, you can manually withdraw the balance to your connected bank account for a 1% fee of the transfer total. This transfer fee is a minimum of $0.25 and maximum of $10 if transferring in AUD. Moreover, PayPal adds a 3% currency conversion fee if the customer pays with a foreign currency and you then withdraw that money to your bank account in AUD.
For refunds, PayPal keeps the fees that were applied during the original transaction.
Chargebacks do not incur an admin fee with Square, but Square will hold the payment amount being disputed until the case is resolved. PayPal also holds the disputed payment amount until the case is resolved, charging $15 on top of that.
Payouts in bank account vs. online account
Unless you use PayPal for everything, Square is arguably the most convenient for transfers.
PayPal transfers transactions (minus payment fees) directly to your PayPal account, which is an online e-money account. Then you can manually "withdraw" the balance to a connected bank account, which can take about two hours to clear and costs a 1% transfer fee per withdrawal.
Square doesn't have an e-money account. Instead, transactions clear automatically in your connected bank account within 1-2 business days at no cost. If it's easier for you – for bookkeeping purposes perhaps – the payout settings can be changed to manual transfers. Square would then hold the money until you manually transfer it to your bank account.
Square has more payment options
Although PayPal Here accepts some of the most popular card brands – Visa, Mastercard and American Express – it does not accept eftpos cards. Nor does it appear to accept Samsung Pay on top of the accepted Apple Pay and Google Pay mobile wallets.
Square Reader, on the other hand, accepts eftpos cards as well as any Visa, Mastercard and Amex cards for the same transaction rate. Apple Pay, Google Pay and Samsung Pay are also accepted.
| Payment method | Square | PayPal Here |
| --- | --- | --- |
| | | |
| | | |
| | | |
| | | |
| Manual entry cards, cash, email invoices | | |
| Ecommerce payments | | |
Payment
method
Manual entry cards, cash, email invoices, virtual terminal
Ecommerce payments
The companies offer a similar range of keyed-in and remote payment methods. Square and PayPal have email invoicing in the app and both can be expanded with ecommerce options. A virtual terminal for over-the-phone payments comes free with Square, while PayPal charges a monthly fee for this.
Square's POS features and add-ons are better
Since these are app-based card readers, let's not forget the point of sale (POS) features in the app.
The Square Point of Sale app can be expanded through many add-ons and integrations. The PayPal Here app does similar things, but it is not as pretty, feature-rich or reliable as Square's.
Both apps are free to use and can manage product inventory (complete with photos), send email invoices, show sales reports and allow for multiple user accounts. While Square works pretty consistently, PayPal Here is known to run slower, with bugs reported from several users.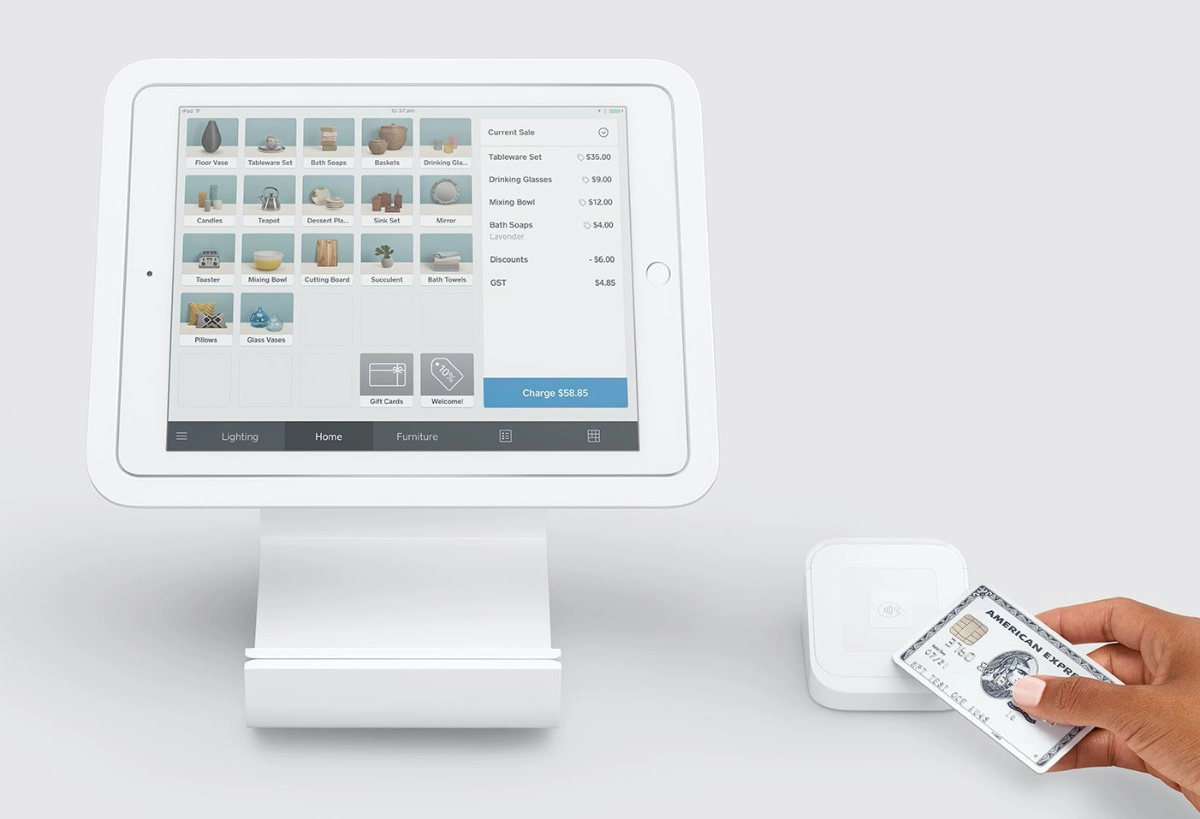 Square Point of Sale looks good and has more features than PayPal Here.
PayPal is well-known in ecommerce and integrates with many website platforms, but so does Square. Should you need a more complex POS system, PayPal Here can work with various compatible POS systems. It is also possible to integrate PayPal with accounting platforms and other business tools.
Food-and-drink businesses can upgrade Square Point of Sale to Square for Restaurants for a monthly cost. Other add-on features are available such as Square Appointments, Online Store, Team Management, Loyalty and a separate Invoices app. Square also integrates with many different platforms too, e.g. accounting and booking systems.
With all of these additional features, Square proves to be highly customisable and can adapt to your ever-changing business needs.
Since PayPal and Square work on iPad and Android tablets – usually in a tablet holder – they can connect to a cash drawer, receipt printer and other hardware to form an easy-to-use checkout.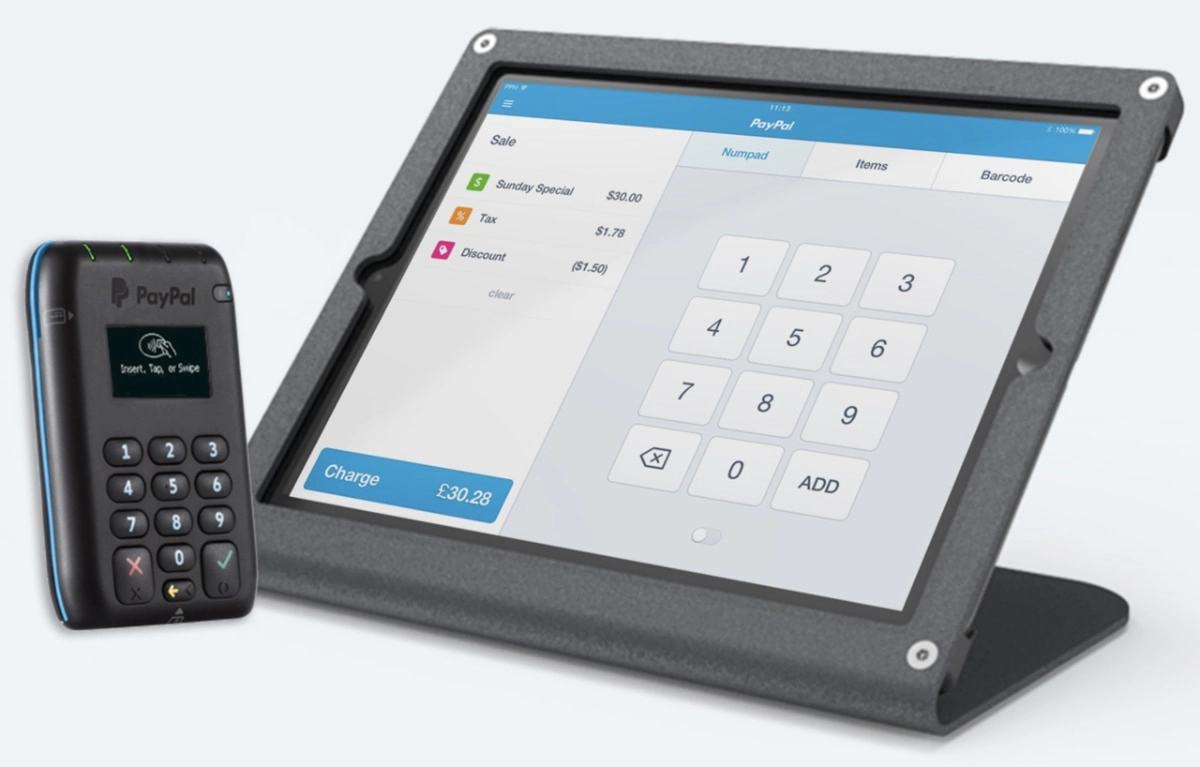 The PayPal Here iPad app includes important checkout features, but could be more advanced.
PayPal has more complaints in Australia
A look at PayPal's customer reviews is not for the faint-hearted… Many users have reported funds being held without good reason, frozen accounts and downright poor support responses to issues.
A lot of this can be attributed to PayPal's very strict security protocols. These are great for reassuring your own customers, but can make life difficult for some merchants. This is mainly a risk if you perform what PayPal considers a suspicious-looking transaction, or if your business falls under a "high risk" category.
Square also has some complaints about account verification issues. These can occur if the merchant trades in a high-risk area and Square fails to see this during the verification process.
Our verdict
Many have found it easier to go with Square since it offers plenty of features for retailers, cafés, freelance professionals and online shops – and all with no monthly cost and few fees to worry about.
PayPal Here offers similar features, but is not as polished as Square's software and can easily be more expensive. However, existing PayPal users may opt for PayPal Here to keep all transactions in the same online account.
Although PayPal has been around for longer, Square is an expert on what face-to-face merchants want in a card reader service. It's what they do best. PayPal Here tends to have more obstacles compared to Square's transparent fees and direct transfers to a bank account.
Then again, if the lack of physical PIN pad on Square Reader is a deal-breaker for you, PayPal Here might be the second-best choice in Australia.