Australia is blessed with a wide range of point of sale (POS) systems, but there are actually not many straightforward and affordable ones for a small restaurant or café. Many of the best solutions are not available in Australia, but some are.
An easy POS system is one you can set up quickly and includes all the hospitality features needed at the register. Even easier is a setup already linked to a payment system. Contract lock-in is another factor that many POS providers like to sneak in – but not all solutions require this.
Let's compare the best POS systems for restaurants and cafés we can recommend specifically for Australia.
| Hospitality POS | Rating | Cost/register | Site |
| --- | --- | --- | --- |
| | Square | $0-$129/mo | |
| | Lightspeed | $60-$180*/mo | |
| | Epos Now | From $499*/yr | |
| | Abacus | From $69*/mo | |
| | Impos | Custom quote | |
Square for Restaurants – good value, with payment tools

Needs to be online; no offline mode

Support Monday-Friday, 9 pm – 5 pm
Runs on iPad and Square Register

No contractual commitment
Square for Restaurants is a POS system for fast-paced cafés and small restaurants. The software only works on iPad together with Square's own EFTPOS terminals (not others), but you do get a lot of additional online payment tools integrated with the front-facing POS system.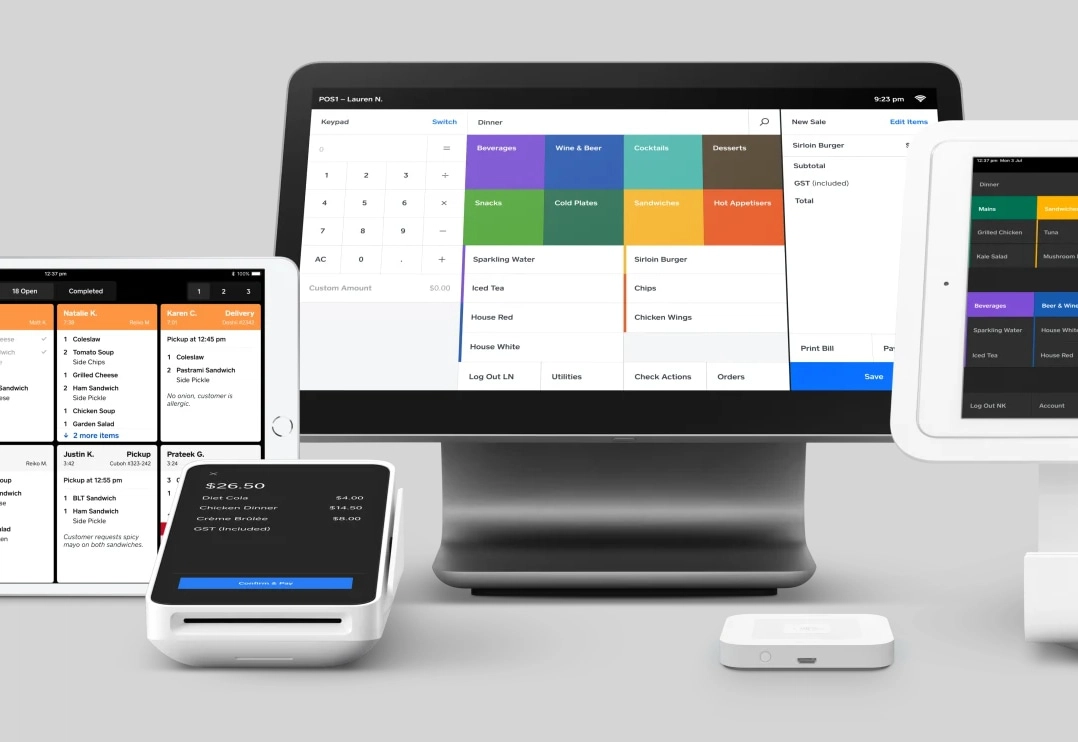 To sign up, you only need to complete a simple online form and connect your bank account. You can then get started using the free Point of Sale app with general features, Restaurants Free plan with more hospitality features, or Restaurants Plus with a full range of hospitality features.
The Restaurants software is simple, but sufficient, for a small restaurant where tills need to coordinate kitchen orders and table service.
The Free plan lacks some important features like close-of-day reports, seat and course management, advanced employee management and a Kitchen Display System (KDS). These are all included on the Plus subscription for $129 incl. GST per month for unlimited registers at one location.
Pricing
Free plan: Free
Plus plan: $129/mo per location
Note: Prices include GST.
The iPad app works with Square Reader (1.9% per card transaction) or you can use the POS software on Square Register ($1,099 incl. GST) with a touchscreen and attached card terminal (1.6% per transaction). The standalone Square Terminal works well for table service payments (1.6% per transaction).
Apart from POS features, you can set up click and collect, integrate with takeaway platforms and accept bookings over the phone with the complimentary Virtual Terminal. Alternatively, you can use eGift Cards, payment links and QR codes for touch-free ordering. Overall, Square is excellent value for money, but we do recommend trialling the software in case it lacks features you need.
The Free plan only includes customer support on weekdays between 9 am and 5 pm, but Plus has 24/7 support to suit social hours.
How do I learn more?
Sign up on Square's website to start a 30-day free trial of Plus, or just use the Free plan indefinitely.
Lightspeed POS – versatile for small food businesses

24/7 phone, chat and email support
Runs on iPad, iPhone and Android
Lightspeed POS for hospitality is an adaptable point of sale for coffee shops and small-to-medium restaurants.
The app works on Android tablets and smartphones, iPad and iPhone. In App Store and Google Play, it's called "Lightspeed Kounta POS" because Lightspeed acquired the Australian company Kounta in 2019 and now uses elements of their old café POS software in the new app.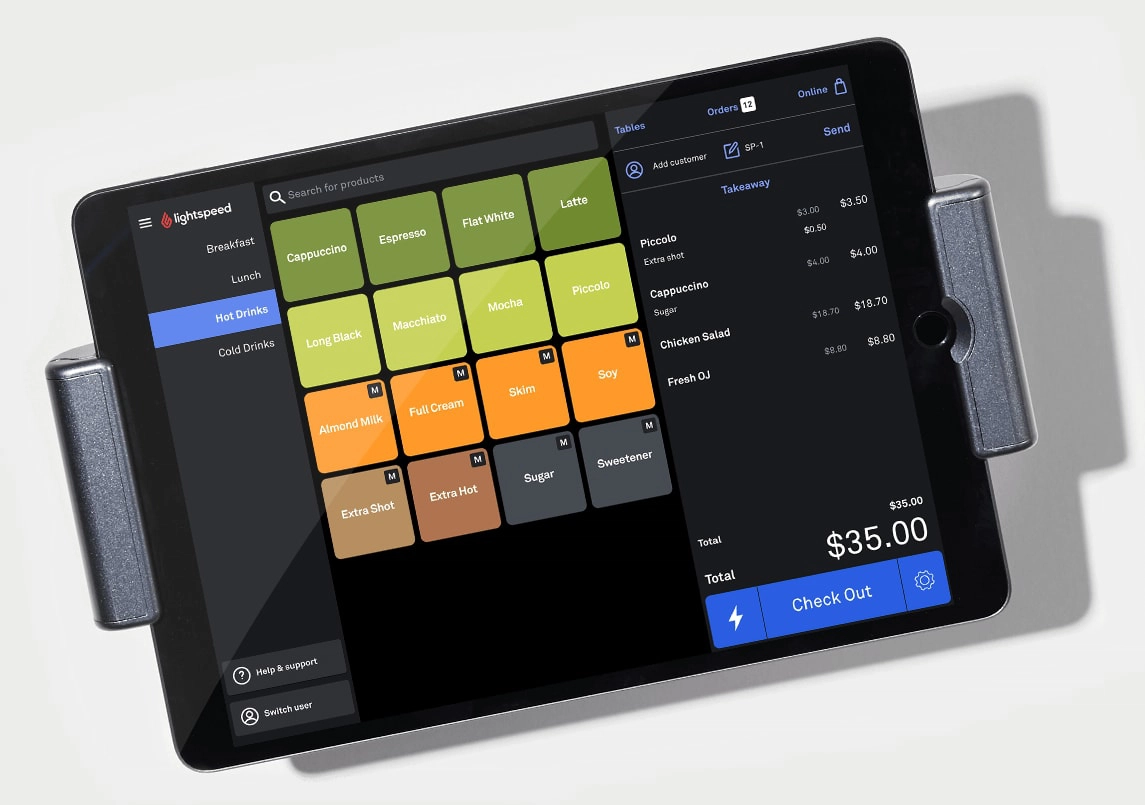 The software works while connected to WiFi or a mobile network, but the offline mode enables you to carry on operations during internet outages.
Lightspeed gives all new users a free video onboarding session where you can have any questions answered. Their customer support lines are open 24 hours, seven days a week, excluding holiday periods. Emailing and chatting via the website are also possible, and there's a help section on their website.
Lightspeed Restaurant prices start at $60/month per register in one store. This is a monthly rolling contract that can be cancelled any time.
The cheapest plan, 'Sell', is intended for espresso bars and food pop-ups, while the medium plan 'Manage' is better for quick-service restaurants and cafés for its table-service features. Full-service restaurants should opt for 'Extend' due to its advanced workflows for courses, guest tracking, advanced production printing and promotions features. All the plans have a good range of POS features for food and drink, including reporting and payment integrations.
Cost per till licence
Sell: $60/mo
Manage: $120/mo
Extend: $180/mo
Per extra register: $40/mo
Note: Prices exclude GST.
The subscriptions include basic inventory features (e.g. purchase orders and wastage tracking), but advanced inventory functions require a Produce or Purchase module from $20 per month each. Advanced reporting also requires an Insights add-on from $40 monthly.
Lightspeed connects with various well-known software platforms for accounting, online ordering, marketing, card payments (e.g. Tyro, Westpac, Albert, SmartPay) and more. Accordingly, you won't feel stuck with Lightspeed – as long as you can afford all the integrations and add-ons.
Epos Now – custom packages for any hardware setup

Customer support extra cost
Runs on iPad, Android, Mac and PC

Usually with contract lock-in
Epos Now is a scalable system that works on PC, Mac, iPad and Android tablets. It is suitable for small businesses as well as large restaurant chains.
The company sells hardware packages including touchscreen monitors, receipt printers, cash drawers and more, along with its hospitality POS software. The system can be integrated with EFTPOS machines from Tyro or Westpac.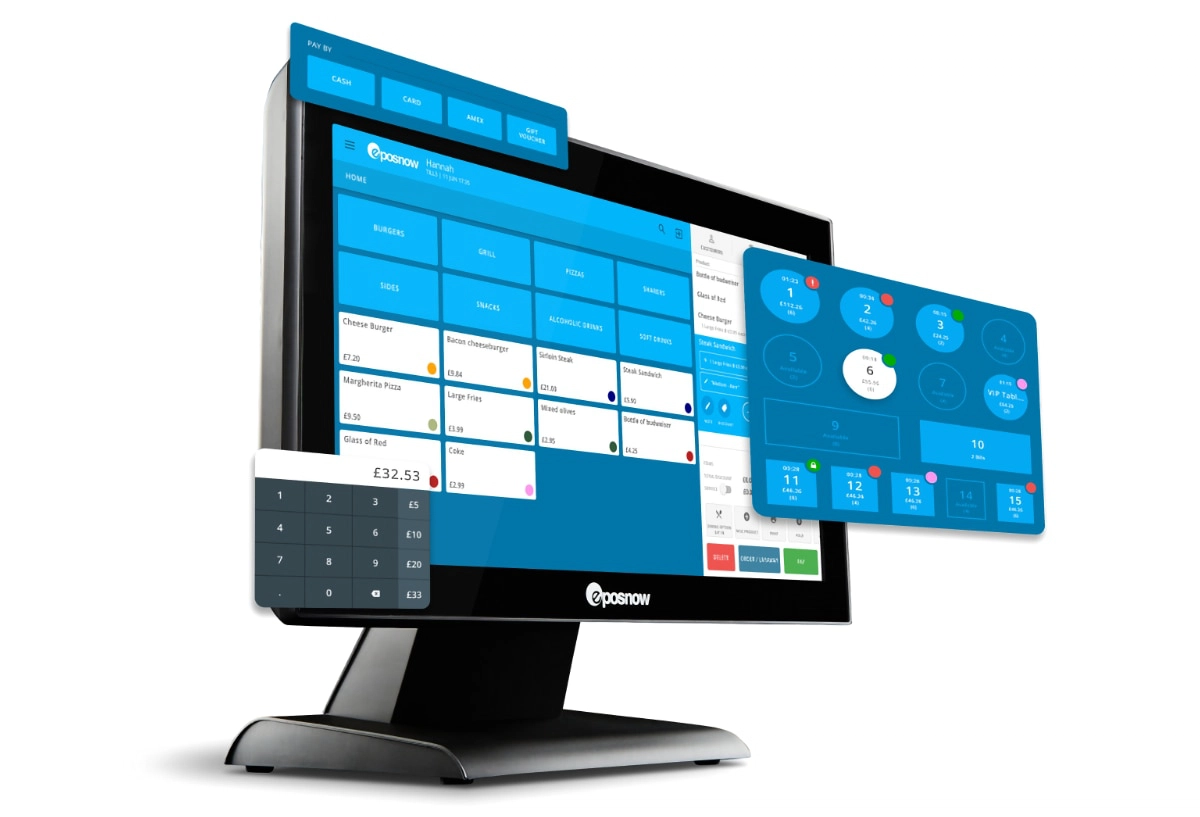 Epos Now offers 24/7 customer support, but only on the Premium plan. The Standard licence only includes email support and some initial help with setting up, so it is expected you can manage most things yourself on the cheapest plan. On the Enterprise plan, you can get onsite support.
There are three subscription tiers: Standard, Premium and Enterprise. In all of them, you can add unlimited products, users and customers, and software and security updates are included. The Standard and Premium plans both have cloud reporting, while the Enterprise plan has more advanced reporting.
Pricing
Annual plans from $499* upfront
* GST is added to prices.
The additional charge for customer support (i.e. you have to be on Premium) could be a deal-breaker for cash-strapped merchants considering most other POS systems include phone support at any price level.
While there have been reports of features being limited, technical issues getting started and usability challenges, Epos Now offers a good range of essential functions for restaurants and the option to integrate with popular apps for accounting, marketing and customer loyalty. You can also rent touchscreen PC terminals in equipment bundles if you can't afford to purchase it upfront.
Abacus – modern, frequently updated iPad app

Live chat and email support
Monthly plans, no lock-in
Abacus is an easy-to-use POS system for iPad. The relatively new company was founded in 2015, but its development of POS software has been fast and they update the app very frequently, which is always a good sign.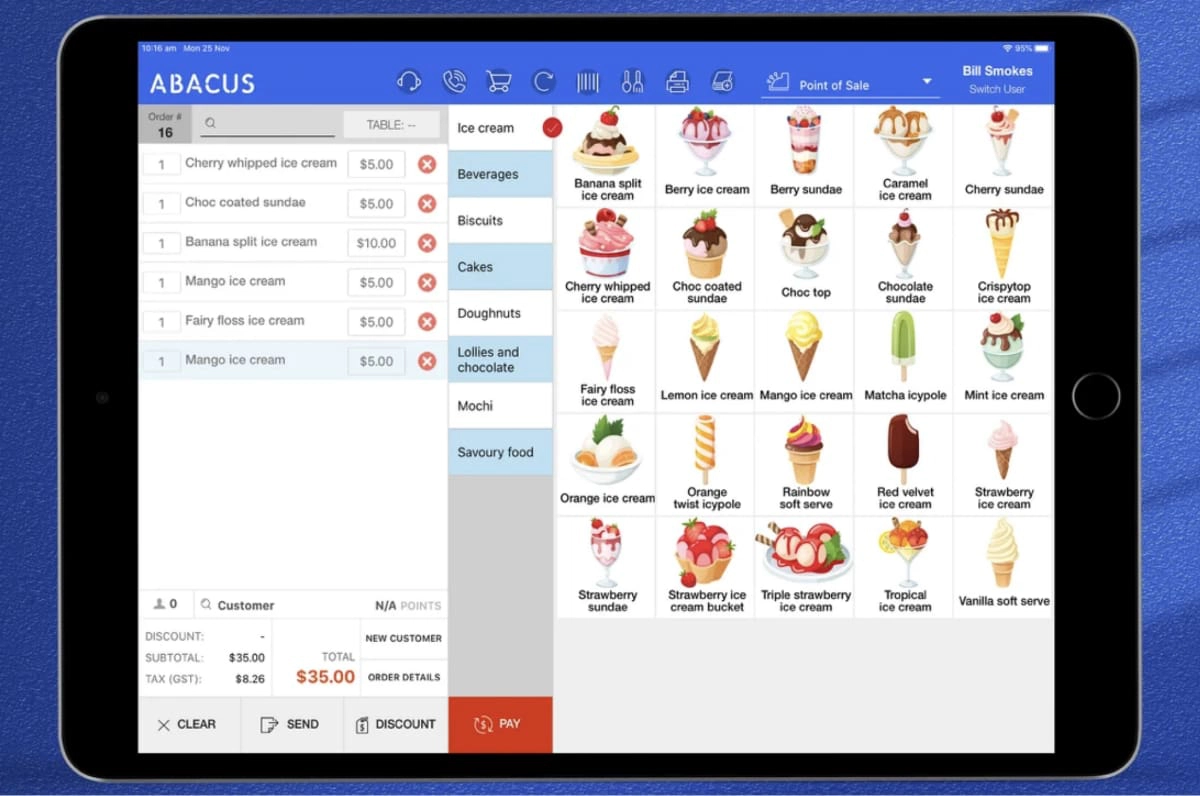 Abacus can give you custom packages to suit your physical setup, but its POS app is available in App Store for those who just need a simple, perhaps portable, POS register. The software is cloud-based and works with an ongoing internet connection or offline.
A 'Standard' Abacus subscription includes one register licence ($69 + GST/month) and Professional includes 4 register licences a month ($189 + GST/month). In between that are $118 for 2 registers or $167 for 3 registers. The features are the same on all plans, so you just pay extra for the additional till licences.
The POS app includes essential restaurant features like floor plans, menu, course and staff management. You can add discounts, tips, surcharges and check your business remotely via the Pocket Manager app on an Android smartphone or iPhone.
Pricing
Standard plan, 1 register: $69/mo
Professional plan, 4 registers: $189/mo
* GST is added to prices.
Advanced functions are available for inventory management, online ordering, loyalty tools and more. Although labelled as "add-ons", they are included on all plans. That said, the "waiter pads" add-on (including a kitchen display system, customer-facing display and waiter tablets) cost $25 + GST per month.
You get a good range of reporting tools to analyse things like sales and staff performance, as well as end-of-day reports. The software connects with popular EFTPOS machines from Tyro, Westpac NAB, Stripe, Square, Bolt Payments and others.
Customer support is available via live chat or email between 7 am and 11 pm Melbourne time. If you provide a phone number, a team member can call you right away during this time, but there is no helpline to dial directly.
Impos – personalised setup for established venues

Extra cost for customer support
Contractual commitment likely
Impos is a premium POS system for medium-to-large food and drink venues, with tailored packages only. It offers everything a restaurant needs to run a professional business, but certain shortfalls mean it doesn't suit many small businesses.
The main issue is a lack of transparency about features and pricing, which means you'll likely pay several $100s per month just for the software and a lock-in contract. Although the website says you can use it with any operating system, there is no iPad or Android app available publicly. If requested, Impos can set up a portable iPad register, but it does not have all the POS features available on a computer.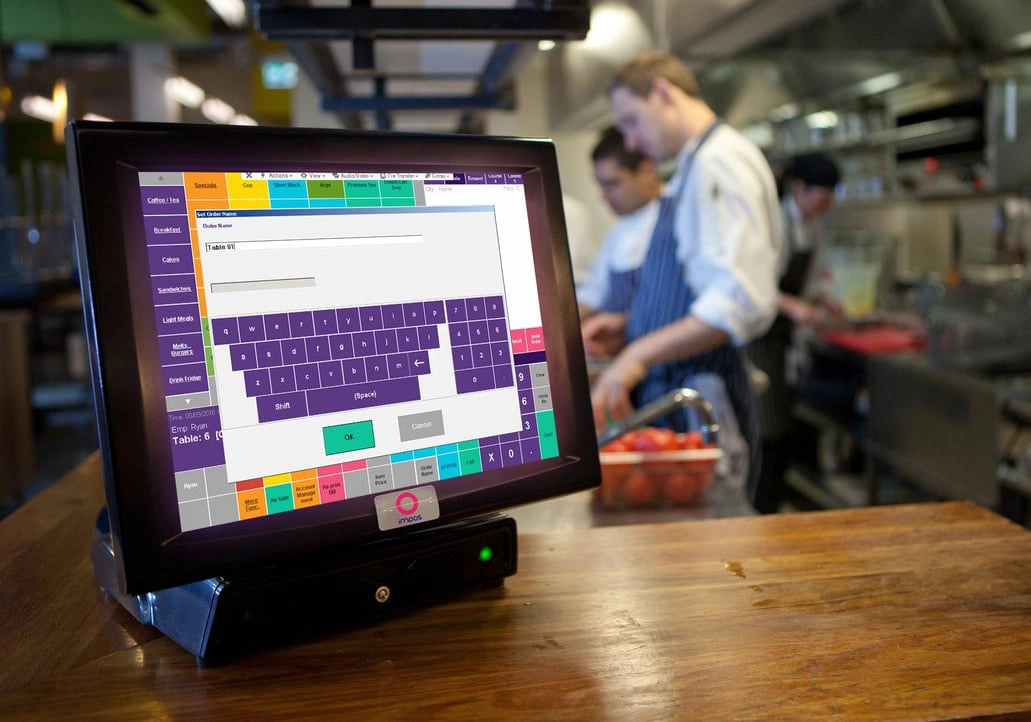 Instead, it is encouraged you buy or rent an industry-grade touchscreen register through Impos. These POS terminals are made to withstand liquid splashes and dirty environments – important for many coffee shops and dining venues.
The POS interface in the register software is colourful and highly customisable. It has in-depth reporting, inventory, rostering, table and staff management functions. Waiters can even log into the software with their fingerprint, if not swiping a staff card on the commercial-grade touchscreen till.
Pricing
Custom quote only
The extent of available customer service depends on your support plan, which is separate from the POS subscription. The basic support package includes business-hours support, whereas premium plans include dedicated 24/7 support that cannot be cancelled until after 12 months.
Impos can integrate with a few external programs for accounting, online ordering, reservation management and other advanced functions. Tyro and Westpac Presto are the only direct EFTPOS integrations available, but Linkly does connect it to many others.
The POS system mainly stores information on your local hardware, as opposed to the cloud, which makes it fast in offline mode. As a downside, integrations with online software may not work as well as Impos' own features installed on your premises.