Buy now, pay later (BNPL) services are among the most popular ways for credit card shy Gen Z and Millenials to get their instant gratification fix. Offered at the point of sale or online checkout, consumers can buy a product straight away and pay for it later through instalments.
Australia's BNPL market is a battleground, with eight companies jockeying for market share: Afterpay, Brighte, Humm Group, Klarna, Latitude, Openpay, Payright and Zip Co. Together, these companies make up 95% of the total BNPL market.
Towering above the competition is Afterpay. By far the largest service provider, it was responsible for 73% of all BNPL transactions between 2018–19. With about 3.6 million active users in 2021, Afterpay has piqued the interest of small businesses and retailers across Australia.
What is Afterpay?
Afterpay is Australia's answer to immediate gratification culture. Like any other BNPL service, it lets consumers make purchases immediately (sometimes with a small upfront payment of 25% of the total cost), then pay them off in four fortnightly instalments.
Merchants can enable Afterpay for online and in-store transactions. From their perspective, it differs only slightly from typical electronics funds transfer at point of sale (EFTPOS) or online payment gateways. Afterpay pays participating merchants the total purchase amount upfront, minus a fee.
For consumers, it's like a modern-day credit card with an interest-free period — no external credit checks, no interest, no fees when they pay on time. And Australian consumers make full use of it – by the end of 2020, transaction values hit over eight billion Australian dollars.
Are the high fees worth it?
Deciding whether implementing Afterpay is worth it for your businesses is just like choosing the right EFTPOS system. It comes down to cost, your margins, and your sales volumes.
Afterpay makes money by charging merchants a fixed transaction fee of $0.30 and a 4-6% commission on each sale. This rate is significantly higher than EFTPOS fees (ranging between 0.8-1.75% transaction fees for the top five). Not quite cold-sweat inducing, but enough to make businesses think twice.
But the benefits of Afterpay may be enough to outweigh the additional cost. For example, customers might be less likely to abandon large online shopping carts at checkout – where's the risk if they're only paying a small portion of the total price on the day?
In fact, studies show Afterpay may increase cart size, profits, customer acquisition, and sales volume. Specifically, merchants using Afterpay have experienced:
11% increase in profits
13% more customers
17% increase in average shopping cart size
And it's not just about profits (though we all love profit most). Merchants using Afterpay may benefit from a reduced risk of fraud. The service settles payments upfront with merchants, which reduces the risk of credit card fraud – welcome news to any small business that has been caught on the wrong side of fraudsters or struggled with chargebacks.
Customers also seem more motivated to make purchases they may typically think twice about with Afterpay. They may even be more likely to make repeat purchases with brands, as they will be familiar with your store checkout process.
While Afterpay does not specify a minimum purchase amount for use at checkout, many brands configure their minimum and maximum order values themselves. Such customisation may seem innocuous, but it might lead us to infer that Afterpay designed its service with businesses selling larger ticket items in mind.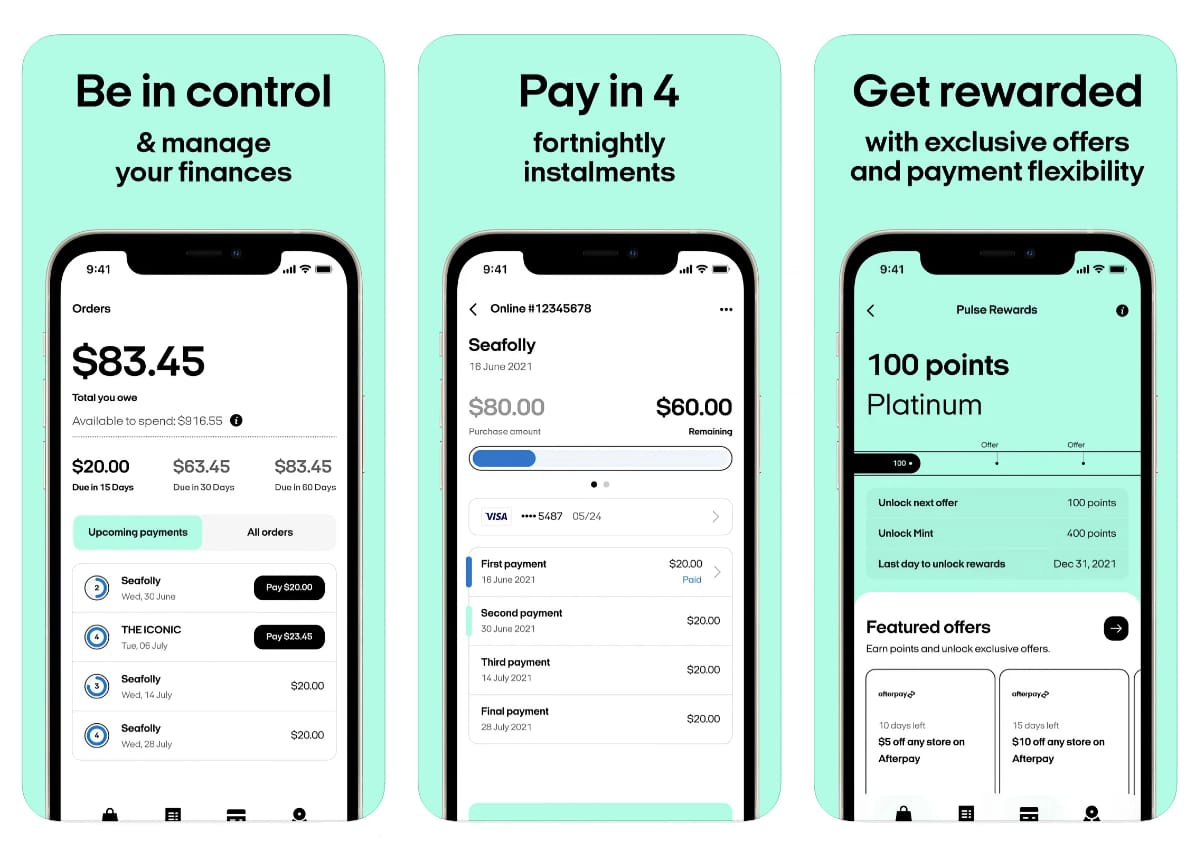 Afterpay app, as seen in App Store.
For example, setting a minimum spend of $50 might encourage customers to at least hit that threshold when shopping. Additionally, Afterpay currently requests the average order volume and annual sales from small businesses looking to sign up for the service.
So, although Afterpay users may spend more using Afterpay than with a credit or debit card, the service may not be so well-suited to cafés, convenience stores or smaller-value items.
How to add the service to your online store
Afterpay integrates with the top ecommerce store builders and shopping cart software, including some of the best ecommerce platforms for small businesses in Australia, like Shopify.
Setting up Afterpay on ecommerce stores like Shopify is straightforward. The process is very similar to how you would enable other payment options, like PayPal or credit cards.
Merchants head to the installation guide on Afterpay's developer site. There, they'll find a link to take you to the installation page. Once clicked, they then log into their Shopify account. From there, it's a case of connecting the app to the store, granting access for Afterpay, installing and then activating Afterpay.
What about Australian small business' other ecommerce darling, Square Online? Despite announcing in August 2021 that they would acquire Afterpay, Square can not yet integrate with Afterpay. However, Square plans to absorb Afterpay into its seller ecosystem, so we expect integration to be available around mid-2022.
How can you offer Afterpay in physical stores?
Afterpay's original way of enabling in-store sales was through their barcode solution. This service is no longer accepted. Instead, merchants can set up their physical locations to accept the Afterpay Card.
Customers access the card via their digital wallet. As far as customers are concerned, it's the familiar tap on the terminal through an NFC-compatible mobile device.
Merchants will have to jump through a few more hoops, however. Not all EFTPOS providers can accept Afterpay Card, such as Square's card reader and terminal. Getting set up to receive Afterpay Card in-store seems a little more complicated than the online equivalent. Merchants will have to submit a request form and ask for help from Afterpay to enable the functionality on compatible POS systems.
Overall, it's highly likely that adopting Afterpay will be suitable for small businesses. If it generates more sales, it's hard to call it anything other than a win. But it might not suit every type of small business. There's a risk that customers begin using Afterpay for everything, which will only result in your existing sales being eaten away by higher merchant fees.