Not that many years ago, most face-to-face businesses would store all their point of sale (POS) data locally, including prices of items and records of transactions. This data would usually be held on an on-site PC or server, or perhaps a server on a private company network in the case of large retail chains.
But now that most business tools are based online, there's been a natural progression towards cloud-based POS systems. You may ask: why cloud POS? Let's look at what it is and how it's fundamentally different from locally hosted POS systems.
How does cloud POS work?
Cloud-based POS systems process and store sales data online as opposed to locally on your computer or on-premise server.
The frontend POS interface is made for use on internet-enabled devices including tablets, smartphones and touchscreen monitors, while the backend can be accessed through any web browser.
Cloud-based POS systems are sometimes referred to as POS applications (apps) instead of software, since they are often used on mobile devices. They are also called EPOS (electronic point of sale) to reflect the fact that the software runs on electronic equipment.
What is cloud-based POS?
"Cloud" is really just a metaphor for the internet.
"Cloud-based" refers to online storage and processing of data as an alternative to using your computer hard drive.
Information stored in the cloud is stored on servers provided by a cloud computing provider.
Cloud POS providers handle data hosting for you.
Cloud POS can be truly portable (if using mobile devices) while the business manager can check and use sales data from anywhere as they are being updated in real time in the cloud. It also means lower equipment costs, since an existing iPad or mobile phone can be used as the POS interface.
Because the data are stored on the POS provider's internet servers, a cloud-based POS system can usually only function when there's an internet connection, although providers may offer some offline functionality to minimise potential disruption to your customer service.
Let's look at how a cloud-based POS system compares to a locally hosted POS system.
Setup usually immediate
Cloud-based POS usually requires signing up online or over the phone (the provider may perform a background check), then downloading the POS application that is ready to use straight away. Many POS providers offer a free trial you can use for testing, before you are required to subscribe to a plan.
In contrast, legacy POS systems (i.e. on-site/locally hosted) typically cost a setup fee and require a trained engineer to set up equipment, customise the software to your needs and install it on your local computer network. On-site POS systems can't be used before both the hardware and software setup have been done.
Costs: usually a subscription per till
Cloud-based POS apps are usually subscription-based, sometimes without a long-term contract, the cost of which covers licensing, customer support, data hosting and software updates. You usually pay per touchscreen device using the software. Plans are flexible so you can switch to more or fewer devices or cancel any time. If many touchscreens are used – as in the case of large retailers with multiple stores – the costs can add up to be as expensive as on-site systems.
Locally hosted systems usually requires a long-term contract. Costs can be high because locally hosted software requires a more specialised hardware setup, dedicated support from the POS provider and periodical maintenance of both software and hardware. This may, however, suit and be more cost-effective for larger businesses with particular needs.
Sector-focused features with room for additional tools
Cloud-based EPOS is usually created for specific sectors such as restaurants or retail. The EPOS apps usually come with select features most relevant to those areas, and if you pay more, you can usually get additional features. Furthermore, many of the POS apps can integrate with various partner platforms like Xero and WooCommerce, creating much room for growth and flexibility.
Providers of locally hosted software can customise the POS features to your unique business needs, for instance the POS interface can show only what's needed in that company. On the other hand, it often does not mix with internet-based software platforms, so integrating in-store sales with, say, ecommerce may not be possible. Any customisation should be done at setup, as it costs to adapt and change the system later.
Software updates are done for you
Cloud POS requires an ongoing internet connection to function, so it's vital the touchscreen till has a decent WiFi or mobile network connection. Some applications has the capacity to work offline, then sync the new data to the cloud when back online. Certain POS applications only function on iPads, but many offer Android compatibility. Software updates are done automatically by the provider – just make sure you're using the latest version of the app.
On-site POS systems function without an internet connection. Instead, they require a physical server (for instance, a computer hard drive) set up on your business premises. Periodical software updates need to be done either manually by yourself or professionally by an IT engineer on your premises.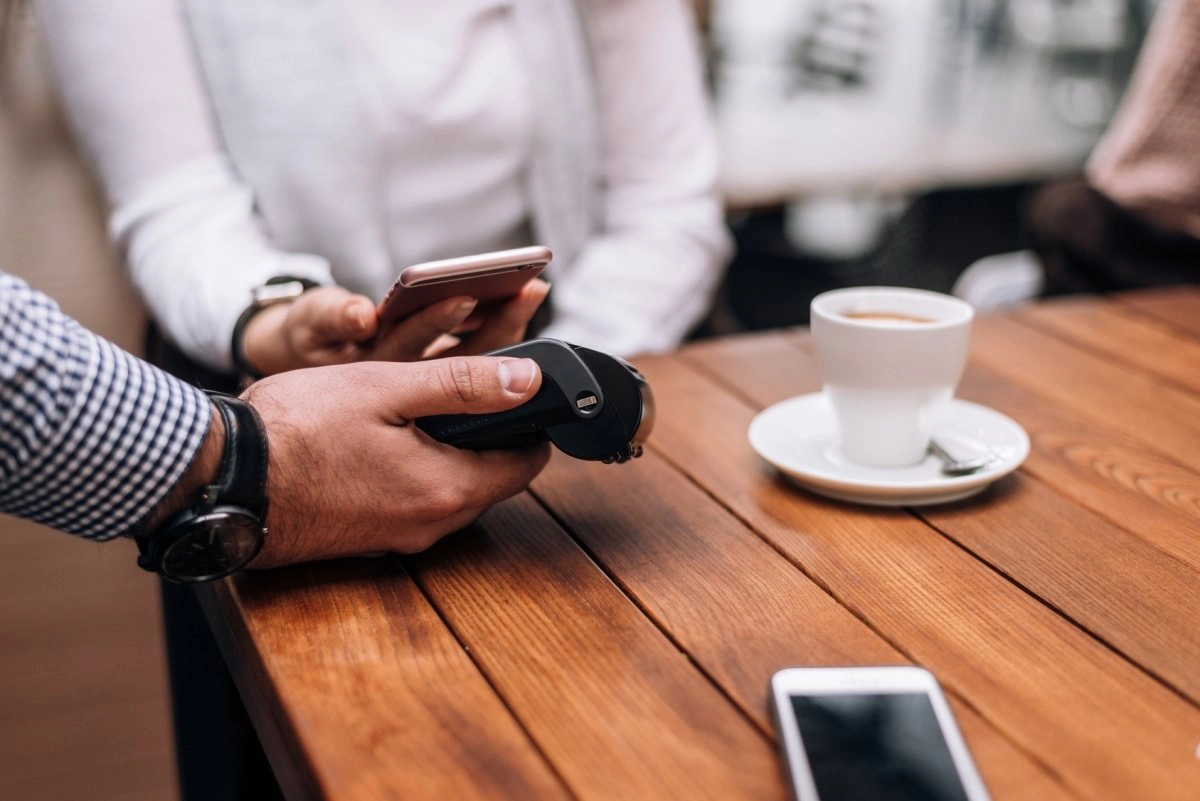 Card machine connected to a mobile device with a cloud-based POS app.
Not limited to business premises
Cloud POS apps commonly work on tablets and smartphones so you can accept payments from anywhere, provided you have a 3G, 4G or WiFi connection. Chip, contactless or swipe cards should of course be processed through a card reader, but there are many compact and wireless card machines that can be used with cloud-based POS systems. Management functions can be accessed through a web browser anywhere.
On-site systems can't be used outside the business premises where the software is installed. Wireless card terminals connected to the on-site POS will only work within the connectivity range of the system. Management functions can only be accessed on the premises where the system is installed.
As secure as it gets
All cloud-based POS data are stored in the cloud, which is highly secure. Usually, none of your data are stored on your devices, unless your POS app can function offline temporarily, in which case your device saves changes until the next time you're online. If you lose all your hardware, you still have instant access to the sales data and system when logging in on a new computer or mobile device. The POS provider automatically performs any security updates needed in the software.
Locally hosted POS systems store data on your own physical server, usually a computer hard drive. This means that if something happens to your computer, your data is at risk. It is therefore required you keep your operating system up to date with the latest security updates and take good care of your equipment.