Today's cloud-based point of sale (POS) systems are not just about processing transactions at a register. They also pack in features that – directly or indirectly – support how the business operates from opening to the end of the day, and beyond.
A crucial feature that supports the checkout flow and reporting is integrated card payments. What does this mean?
When card payments are integrated in a till system, it means one of these things:
The EPOS provider is also your card processor and card machine provider.
The EPOS is connected and synced with a different-branded card machine and payment processor.
POS apps today are often used with integrated card readers you can order after registering an account. This way, you only deal with one company for the software, hardware, fees and support, unless you decide to add a card machine from a different provider.
Some all-in-one platforms, like Square and Clover, sell their own tablet registers with contactless and chip card acceptance built in. Zettle and SumUp offer free POS apps, cheap card readers and pay-as-you-go card processing on the same platform through just one account.
It is increasingly attractive for small businesses to choose an all-in-one POS platform to avoid complications. Here, we look at the reasons why integrated payments are extremely valuable for small businesses.
Faster checkout
Perhaps the most obvious benefit of integrated payments is the automation part, which speeds up the checkout process.
Typical payment steps of an integrated POS system:
The cashier adds products/amounts to a bill and continues to the payment method screen to pick 'card payment'.
The connected card machine automatically receives the transaction amount and prompts the customer to insert/tap their card and enter a PIN.
The card machine processes the transaction and communicates to the EPOS when the transaction is successful, essentially completing the transaction.
The till screen asks if you want to print or send a receipt, then brings you back to start a new transaction.
Eliminates manual errors
When a card machine is connected and synced with the POS software, you don't have to enter a transaction total on the card terminal separately after entering it on the till screen. This means the amount processed on the card machine will always be correct, as long as it was correctly entered on the POS register.
As anyone cashing up a non-integrated register would know, it can be a hassle to correct when a card machine has processed the wrong amount. The sales totals on the till wouldn't match the card machine totals. This would never happen with an integrated POS system.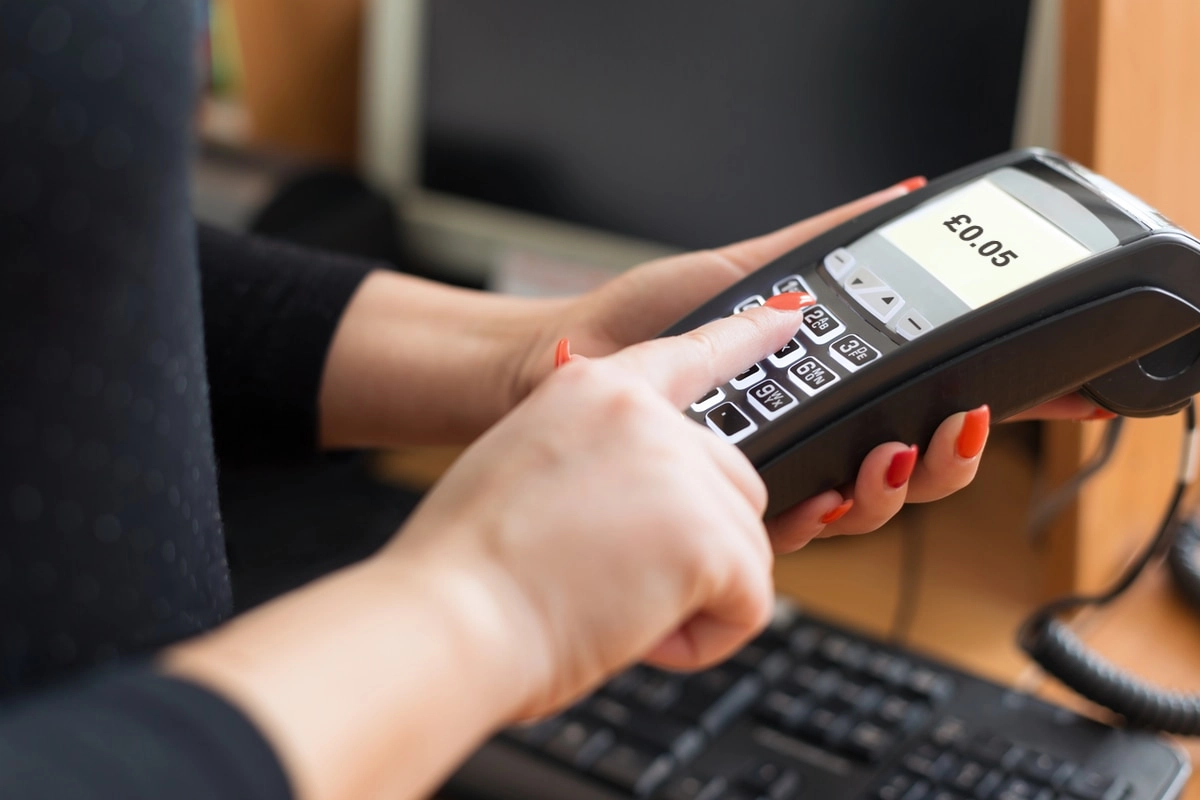 Having to reenter a transaction amount manually on a card machine leaves room for error.
Better sales insights
Non-integrated POS systems do not record the details of card transactions, only that you've confirmed a card transaction took place.
It's true that standalone card machines record non-sensitive information through its payment processor, which the merchant can (usually) view in a web portal or print out as Z or X reports from the terminal. This information is not, however, fed into the POS app unless the two are integrated.
POS software that's synced with a card terminal, on the other hand, automatically registers details of card transactions like the type of card being used, location of the payment, products on the receipt, and more. These details give better insights into your sales trends and popular payment methods.
This would all be viewable in the POS system's sales reports, instead of having to compare separate statements from the POS system and card machine provider.
Non-integrated card machine reports do not usually include details of what was purchased (products added to a transaction in the POS system). Instead, they show transaction totals only, so you'll have to match the transactions in the POS system with the card machine totals.
Saves time on accounting
If you use accounting software, you'll save time by integrating your POS system and card payments with it. This way, sales data will automatically be fed into your accounting program every day without any effort on your part.
If your card machine is integrated with the EPOS, it means you don't have to deal with separate reports to feed into the accounting platform, and there will be no need to cross-check information between the POS and card processing reports.
As noted earlier, payment-integrated POS systems do not require merchants to manually enter transactions on the card terminal, so the totals always match.
With non-integrated POS systems, however, you may occasionally notice mistakes where a card machine transaction shows a different amount than the one recorded in your till. These discrepancies can raise flags in your bookkeeping – and steal extra time as you try to deal with them.
Saves money
Sticking to the same provider for payment processing and the POS software can work out cheaper than separate contracts for both.
If you opt for a POS system with payments built int, it usually means there is no monthly fee, just an upfront cost for the card machine. Instead, there's a fixed monthly cost for the POS software and pay-as-you-go transaction fees for card payments.
With a free POS app and cheap, app-dependent card reader, you can save lots of money with a relatively low turnover.
Although it makes sense to opt for one contract only (POS-and-payments combined), the card rates may be somewhat higher than choosing an independent payment provider to integrate with the POS system. You'll need to compare card machine costs and EPOS products to find the best value solution for your needs.
Easier to deal with
Last but not least, a POS system that's integrated with payments is just easier to manage.
If the payment system is provided by the POS system company directly, there's less business software to deal with, the same customer support options and a smaller learning curve because it's part of the same interface. You won't have to sign up for a separate provider just to accept cards, as it's all included.
But if you integrate an EPOS system with an external card machine provider, you will have a different merchant portal to view card transactions and support options specific to the payment provider. That said, the checkout process will be fast, risk of human errors low and card transactions are listed in your POS system.
Which POS systems have payments built it?
The UK is spoilt for choice when it comes to POS systems with card payments built in. These are popular options:
Others allow you to connect with a choice of card processors and card machines not directly provided by the POS company.