There are mixed signals around the internet about what a 'payment link' is.
In essence, a payment link is any link or button a person can click on within an internet browser, text message, email, app or social media in order to pay a specified amount of money online to a specified receiver.

There are different, very similar terms for this depending on the payment provider offering the option, including:
Payment link
Pay by link
Pay button
Payment button
The problem is that each can mean a different thing to different providers. Let us take some examples, highlighting the different ways the types of payment links can work.
Types of payment links
A payment link can refer to any of the following online transactions.
One-time link sent over SMS, email, chat message, social media or other means to allow the recipient to enter payment details in a browser. Can be time-limited, but also valid for an unlimited time until the payment is made. An open, fixed link for multiple payments/recipients is also possible but less common.
Email invoice link. With invoices, you specify recipient details such as name, address, VAT and company details. Moreover, invoicing systems tend to send reminder emails if the payment is past the due date.
'Buy button' placed on an ecommerce website, which would take you to a typical online shop checkout page.
What they have in common is this: clicking it would take you to a payment page where you enter card details and other essential information, then submit the payment which is processed over the internet. The merchant will typically receive a confirmation of the transaction or be able to view it in the merchant portal of the payment system.
What are payment links best for?
If you haven't got an online store, card terminal or other payment system, a link for payments is a simple way to get paid.
A downside could be the requirement for your customer to enter card details manually as opposed to a simple, contactless tap on a card machine or a website where your payment information is already saved for a one-click payment process (e.g. Amazon).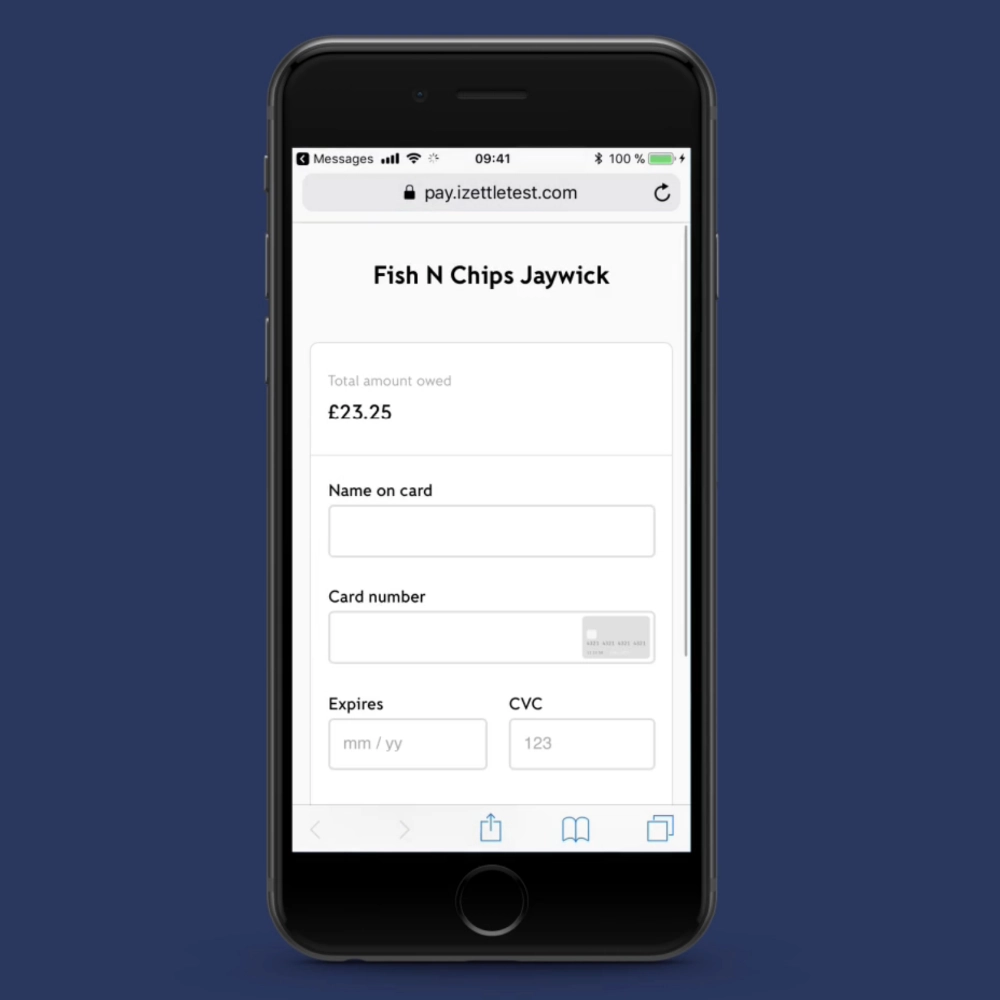 Checkout page for entering card details after clicking SMS link.
If you offer professional services, an email invoice may be your only acceptable way to receive client payments. That's because you can set a payment due date, add detailed product or service information, company-specific VAT and recipient details not otherwise available with a simple payment link.
The good thing about payment links is the lack of need for the merchant to specify recipient and other details. You simply create the link with a specific amount, perhaps itemised with purchase details, and then the payer can follow through with the payment in their own time.
Because there is no due date as with invoices, a payment link gives more freedom to 'take it or leave it', while invoices are a commitment to pay a bill.

When it comes to ecommerce, more often than not, a payment link refers to a piece of code you can embed on a website in order to insert a 'pay button'. This is a simple way to create an online store without building a website from scratch. Clicking this pay link would lead the customer to the checkout page of the payment system where card details can be keyed in.