QR codes have many uses, but how are they utilised for payments? Are they still relevant in 2019?
Let's begin with the origin of QR (Quick Response) codes. The name is the trademark of a type of matrix barcode created in 1994 for the Japanese automotive industry. It has since been used in many contexts, for instance marketing and information sharing, but it is also a popular way for people to make mobile payments especially in China.
Although similar to the linear barcodes we see on products in shops, the QR code has four important advantages:
It stores a large volume of data.
It can be scanned from a screen, not just paper.
It can be read even if part of the code is damaged.
It's safer because information can be encrypted.
QR code meaning
A QR code is the abbreviation of Quick Response code, a trademark name of the most popular type of 2D barcode readable by smartphones.
When a QR code is scanned, the horizontal and vertical patterns of the matrix are decoded by the software on your smartphone and converted into a string of characters. Depending on the command of those characters, your phone may open a browser link, confirm payment information, verify geolocation, among other operations.
Characteristics of QR codes
There are many variations of one-dimensional and two-dimensional barcodes, a lot of which look very similar. The QR code is just one of the two-dimensional designs that happens to be the most frequently used code to scan with smartphones.

QR code that links to Wikipedia.
The QR code stands out with its three small squares placed in the lower and upper left corners and upper right corner. The overall code has a square shape composed of a matrix of small squares. The number of small squares per side can vary, e.g. 33 x 33 or 177 x 177.
The fewer squares, the less information the code contains and vice versa for more squares. Because information is contained in two directions, it can hold a lot more data than a one-dimensional barcode. A QR code composed of 177 x 177 squares can, for example, contain 4,296 characters or 23,648 bits.
Since QR codes contain more data, they allow for encryption that is useful for payment processing.
How do QR code payments work?
Contrary to linear barcodes that can only be read by a laser barcode scanner from paper, QR codes can be scanned from both paper and screens. That is why you see QR codes in some online stores and apps.
To process a QR code, you need one of the following:
Smartphone or tablet with built-in camera
Barcode reader that can scan QR codes
Both iPhones and Android smartphones can scan QR codes directly from the main camera app, as long as it is using the latest iOS or Android software. You simply open the camera and point it towards the QR code, which will immediately recognise it and open a push notification requiring you tap it to finish the relevant operation.
Only a few years ago, it was necessary to use a dedicated QR code scanning app (there are many to choose from) on your mobile device, some of which are company loyalty apps where your payment card details can be saved.
Certain banking and payment apps can also process QR codes for payments or bank transfers.
QR payments can be processed in any of the following ways:
1) Smartphone scanning the recipient's QR code.
Open the relevant app allowing QR code payments.
Image: Mobile Transaction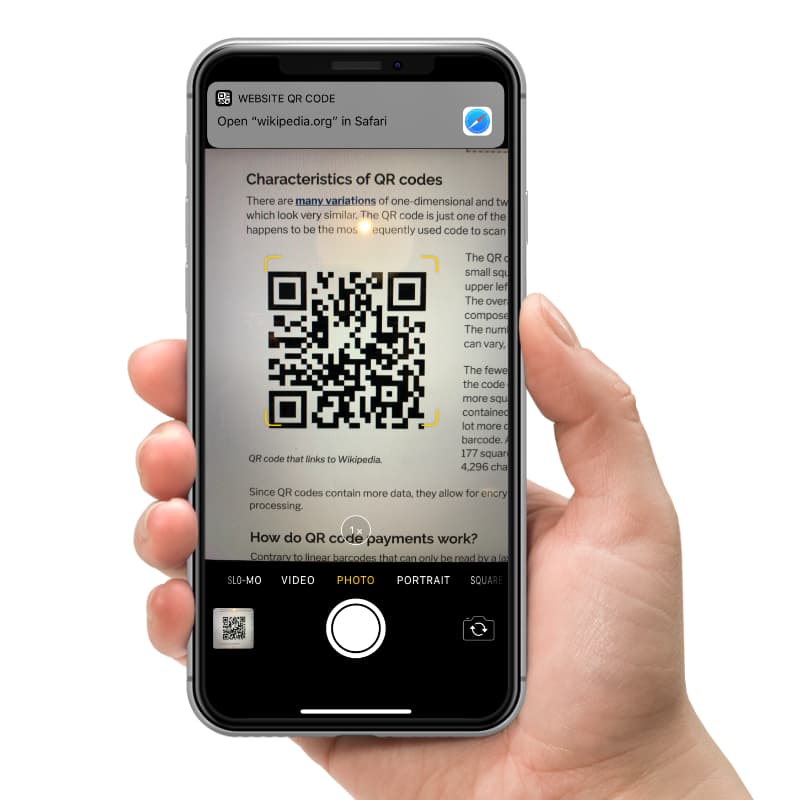 The iPhone camera quickly recognises and reads a QR code.
Then scan the code displayed at the shop's checkout, on individual products, the website or paper bill and confirm the price, if required, before tapping to finalise the payment. Offers and loyalty points may be applied through the app if it is a store-specific application.
2) Retailer scanning a QR code on your phone screen.
When the total transaction amount is set in the retailer's POS system at checkout, you open the relevant company or payment app allowing QR code payments. The app displays a unique QR code identifying your card details. The shop scans this code with a QR code scanner, finalising the transaction.
3) App-to-app payments.
Both you and the recipient open the relevant apps, then you scan the recipient's unique QR code displayed in their app through your own app. You confirm the amount to pay and tap to process the payment.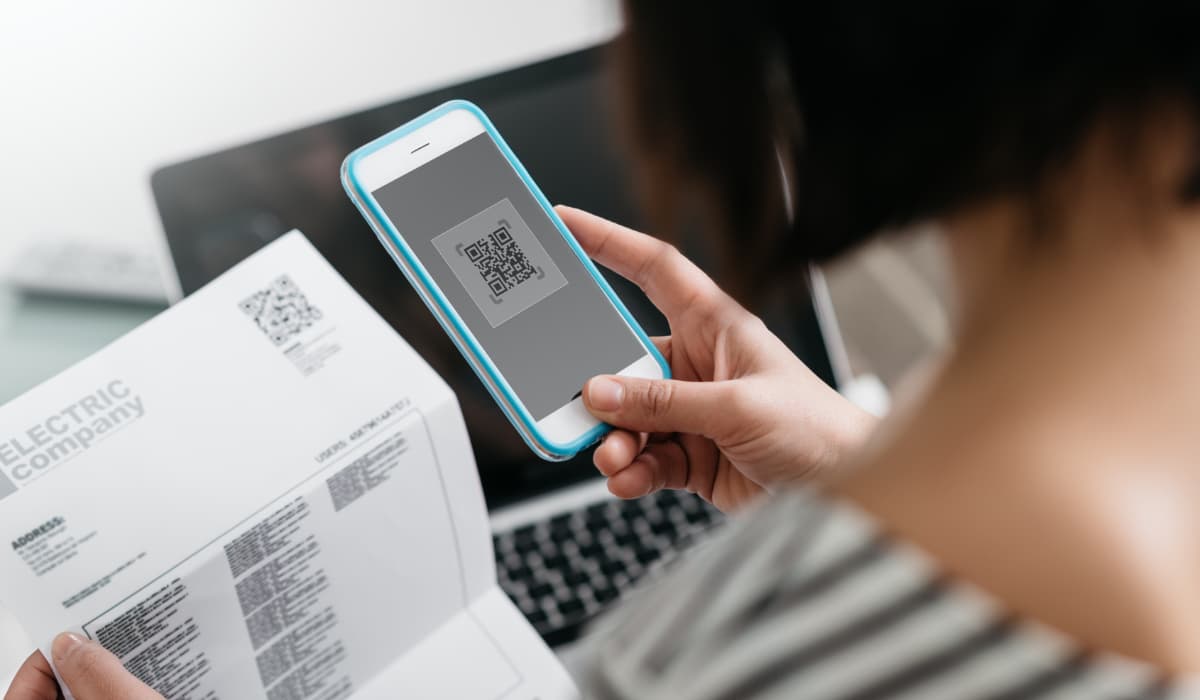 Many big companies include a QR code for bill payments on their invoices.
Only a few years ago, QR code payments weren't that fast because of slower internet speeds, but network connections have become so fast that payments are now processed instantly. Many smartphone users are, however, still deterred by having to open an app and accurately place the camera to capture the QR code within the designated square border shown in the payment app.
How can merchants accept QR code payments?
There are different ways you can accept QR code payments as a business, but options are limited in some countries. In any case, you need to set up acceptance through the payment company offering the service for the particular mobile wallet/app processing the QR code.
In Brazil, the payment companies Cielo, PagSeguro and Mercado Pago offer QR payments, for example by displaying the code on a smart POS terminal screen or in print for the customer to scan.
Belgium's most popular payment card, Bancontact, has a mobile wallet that can accept QR payments both online and in-store. If you're based in Belgium, Bancontact would therefore be your go-to provider for payments by QR code.
In the Netherlands, iDEAL allows merchants to generate QR codes on customer receipts, to print and display in store, include in invoices or offer as an online payment method. Customers are free to scan this through their phone camera, generic QR scanning app, Dutch banking app or iDEAL app. They then confirm the transaction with their mobile banking code, facial recognition or fingerprint.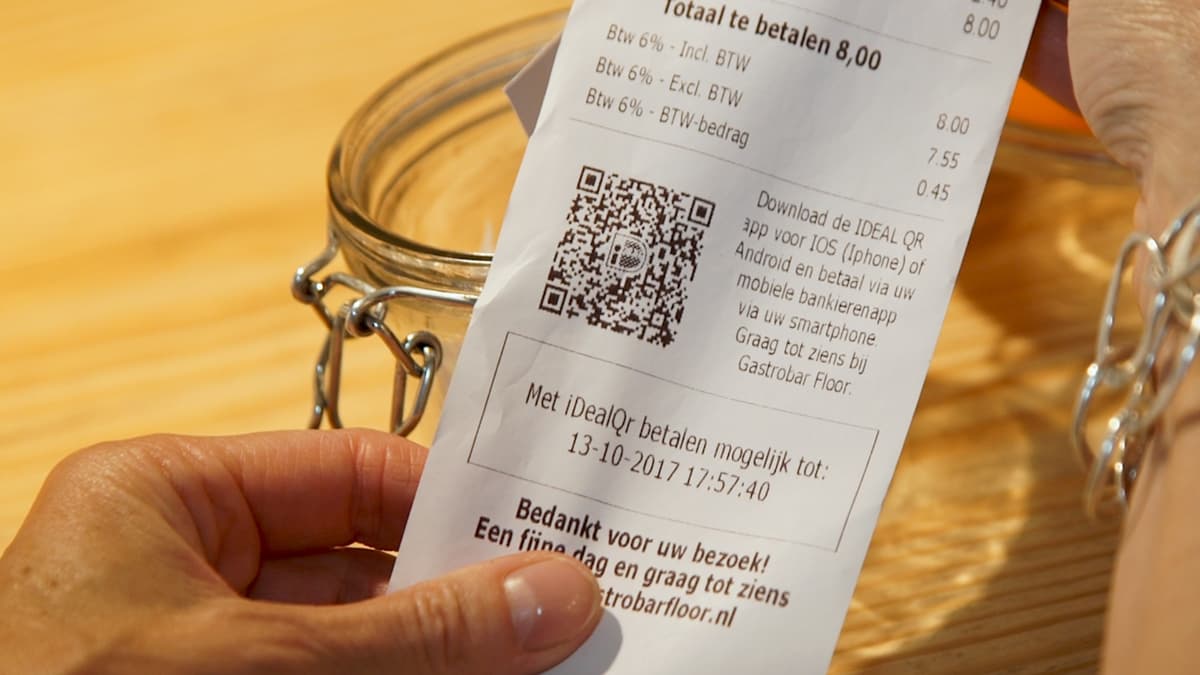 In the Netherlands, you can generate QR codes on receipts so customers can pay without queuing.
In the United Kingdom, it may be pointless to set it up as a small business. The dominant payment methods in physical stores in the UK are payment cards via chip or contactless, and cash is a close second. Mobile wallets with the capacity to pay with QR codes are not really used by British consumers yet, since the major ones – Apple Pay and Google Pay – are widely processed through NFC technology accepted by all modern card terminals.
But Barclaycard, who processes nearly half of all card payments in the UK, has in March 2019 partnered with Alipay to allow Barclaycard merchants to accept Alipay QR code payments at checkouts. This will benefit businesses with Chinese tourists who prefer the familiarity of Alipay over other payment methods. You can also apply for Alipay acceptance through Alipay directly, since they are making an effort to expand globally.
Barclay's bank transfer app, Pingit, can also create QR codes for either fixed or open amounts, that merchants can display in store or online. Customers using Pingit can then pay by scanning the code through their app.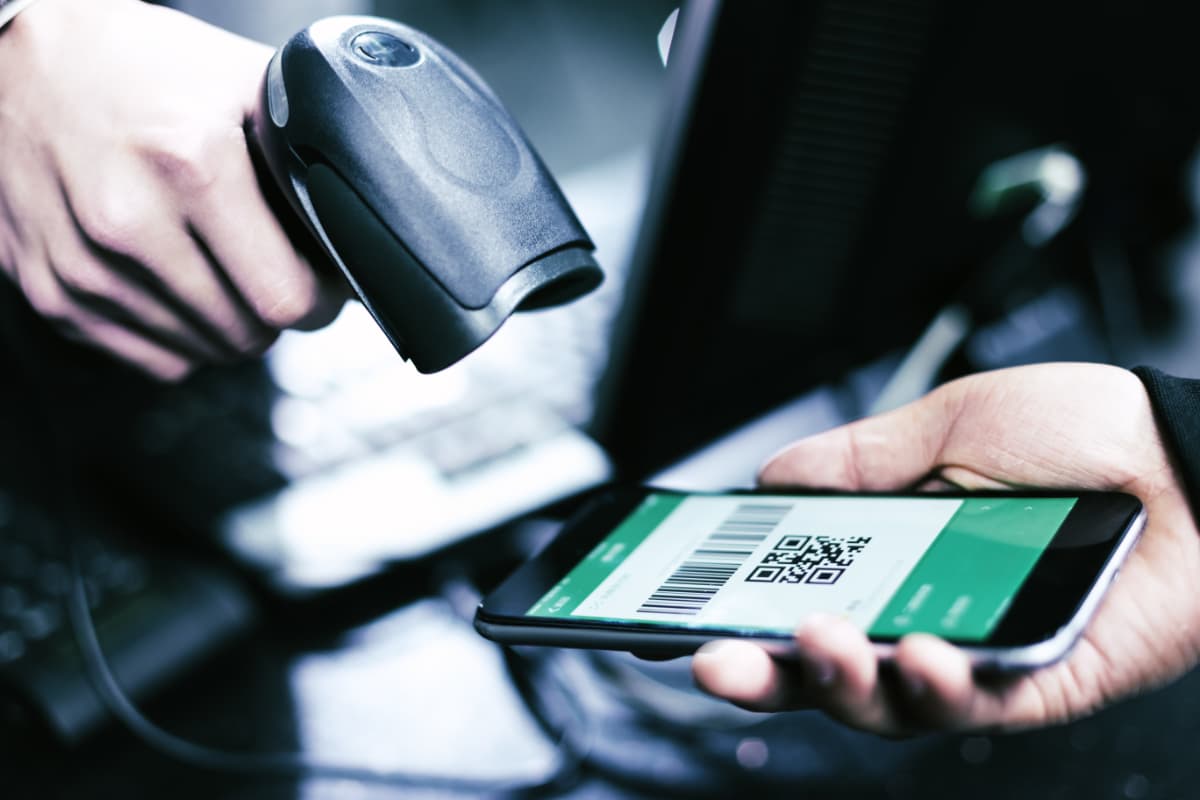 Barcode scanners for QR codes are often used for customer loyalty apps and verifying tickets.
Online stores can accept QR payments as long as the payment gateway or ecommerce solution supports it. For example, Stripe supports Alipay, Bancontact and WeChat QR codes on the checkout page. The global acquirer for online and POS payments, Adyen, can accept WeChat and Alipay QR codes both online and in-store.
Companies with the capital to create their own app can implement QR codes in the app, connected with customer loyalty points and customer data.
Can QR code payments compete in 2019?
Around Europe and the US, QR codes have so far mostly been known as useful (actual quick-response) access points to information, websites and personal verification. They have been scattered across advertising posters, product labels, event tickets, even random street corners.
As to payment processing, QR codes have not had the same rapid adoption rate as contactless cards in the UK. A lot of investment has gone into NFC (contactless) cards and mobile wallets already, and British consumers and banks alike have become happy with the convenience or tap-and-go payments in stores. It would take some very compelling reasons to replace that with something else like QR code payments.
When it comes to utility bills, loyalty apps and bank transfers, though, the Brits are more accustomed to it. For example, you see QR codes on credit card statements from the big banks, offered as one of several ways to pay the bill.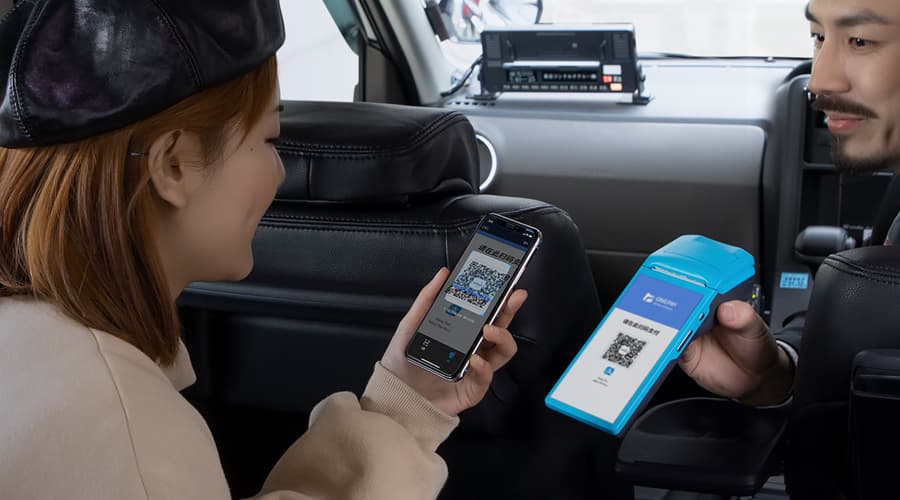 In China, it's common to pay with QR codes, mostly through Alipay or WeChat.
If you look at China, the story is different. According to App Annie, the Chinese payment app Alipay is the world's most used app in 2018 outside of social networking apps. If you factor in social apps, the Chinese multi-purpose WeChat app – which does social media, messaging and QR code payments – was in the fourth place, only topped by Facebook, WhatsApp and Messenger. 15 million small-business merchants accept Alipay's QR code payments in China.
QR codes are a popular way to transact in quite a few other countries too. In India, 9 million merchants use the digital wallet Paytm, which processes QR payments. In African countries, restaurants print QR codes on receipts so customers can pay on their own. Generally, QR codes are an excellent way for merchants to accept payments without a card machine or other expensive setup, and the customer doesn't even have to own a payment card.
Compare that to countries where nearly everyone uses payment cards and bank accounts, and the appeal of QR code payments is not that pressing. That said, places with many tourists from countries used to QR code payments could see significant gains from accepting digital wallets like Alipay and Paytm.