We've traditionally needed a card machine – or card reader connected to a phone or tablet – to accept contactless cards. But technological advancements have led to the development of 'softPOS' – the ability to accept contactless payments on just your smartphone.
SoftPOS is short for 'Software Point of Sale'. It refers to any software-based solution that turns your smartphone into a contactless payment terminal without the help of extra equipment such as a card reader.
SoftPOS meaning
SoftPOS (Software Point of Sale) is a software solution that turns an NFC-enabled mobile device into a contactless payment terminal without an external card reader.
In real life, this is a payment app where you create a transaction and accept the tap of a card or digital wallet on the back of the phone to finalise the payment.
SoftPOS only works on smartphones, tablets and other mobile touchscreen devices that have Near-Field Communication (NFC) built in.
Mastercard calls softPOS Tap On Phone whereas Visa calls it Tap To Phone. It is still a new technology yet to go mainstream, but 'tap on phone' appears more popular as a name.
How softPOS works
Although most new smartphones use NFC technology and should in theory be ready to accept tap payments, a certain setup is required.
To accept softPOS payments, merchants need the following:
Android device (iOS is not compatible with softPOS)
Merchant account from a softPOS payment processor
Tap-on-phone app connected to this merchant account
Very few tap-on-phone apps have been launched so far in the UK, the main ones being Viva Wallet POS and myPOS Glass (both European companies). These – and other softPOS apps internationally – only work on Android devices, not iPhone.
To accept contactless payments, your business needs to be linked to a credit card processor so you can receive card transactions in an account.
In the case of myPOS and Viva Wallet, you create such an account by signing up online and submitting required documents. Unless you're receiving payouts in an online account provided by the payment platform, you'll also need to link a bank account.
Once registered, you can download the Android app on your NFC-enabled mobile device, also called a commercial off-the-shelf (COTS) device in industry speak. The app software is specially designed to use one-off dynamic cryptograms to securely process cards following strict card industry standards from EMVCo and PCI.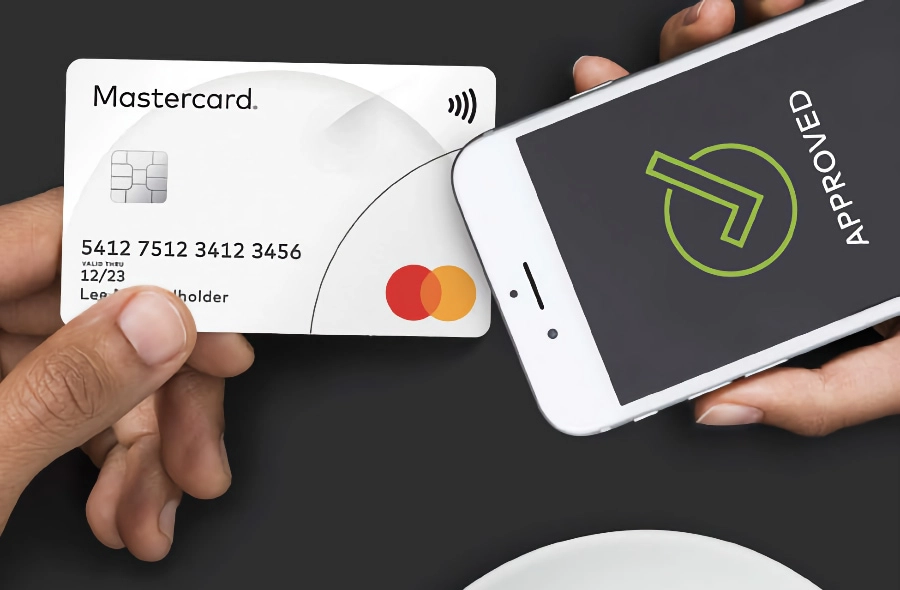 Mastercard refers to its softPOS technology as 'tap on phone'.
You'll need to log into the app, enter a transaction amount and confirm it. The cardholder can then hold their credit or debit card or mobile wallet (Apple Pay, Google Pay, Samsung Pay) up against the back of your phone until the transaction is complete. If a PIN is required, the app will display a PIN pad for the customer to use.
Your smartphone uses its mobile connection (3G, 4G, etc.) or WiFi to process transactions over the internet, so softPOS does not work offline.
iPhone incompatibility and lack of apps are issues
Despite the promises of greater convenience and presumed obsolescence of "old" card machines, softPOS is still a niche payment method. Why is that?
Firstly, there are still not many apps available to merchants. Globally, many softPOS apps imply they are the "first" or "one of the first" to offer it, but most of these claims lack merit (particularly when they're not even launched yet while others are). The race is clearly on for who will become market leaders in softPOS.
Several apps even go as far as to say that an iOS app is "coming soon", but we know from Apple's website that this is not yet possible ("Core NFC doesn't support payment-related Application IDs." – Apple Developer documents). In line with this, Visa and Mastercard directly state that their softPOS modules are created for Android only.
Apple simply does not allow developers to build softPOS for its devices, so only Android users benefit from tap-on-phone. This is a problem when over half of smartphone users are iPhone users in the UK.
There's been speculation that Apple may be working on its own tap-on-phone payments to compete with Android, but no one knows what Apple is planning to do next regarding this.
Lastly, both consumers and merchants are used to the concept of a dedicated card reader that's clearly not the merchant's personal smartphone. Customers need a certain level of trust to let a stranger read their payment card, but this may not be an issue if softPOS becomes more mainstream.
As of yet, small businesses are still happy to buy a cheap card reader that most people are familiar with, and use this alongside their phone.