Invoice apps are gaining ground in the UK, but which are genuinely trusted by small businesses? The short answer: not many. There's no shortage of invoicing tools out there, but they vary hugely in costs and features.
Many companies offer an invoicing app as an added extra to a main product. They can be grouped into:
Invoicing in accounting software
Invoicing from payment company
Invoicing from digital bank
Some allow you to receive payments directly through the invoice through a link, others are not integrated with a payment system. For instance, certain apps just have free invoice templates where you can include your bank details for a manual bank transfer.
We've sifted through the options. So what's the best invoice app for your small business?
Provider
Per month
Transaction fee
To site
£0-£20*
Card:
2.5%
Clearpay:
6% + 30p
From £0
Card:
1%-2.8% + 20p
Bank transfer:
1% + 20p (max. £1)
£10-£70*
Bank transfer:
1%-2% + 20p (max. £4)
PayPal:
1.45%-2.9% + 30p
Free
Via third party
Free
Card:
2.5%
£5
Card:
1.4%-2.9% + 20p
Bank transfer:
Free
£4.17-£29.99*
PayPal:
1.9%-2.4% + 20p
£14-£36*
Via third party
Free
Card:
2.5%
Provider
Per
month
Transaction
fee
To site
£0-£20*
Card:
2.5%
Clearpay:
6% + 30p
From £0
Card:
1%-2.8% + 20p
Bank transfer:
1% + 20p (max. £1)
£10-£70*
Bank transfer:
1%-2% + 20p (max. £4)
PayPal:
1.45%-2.9% + 30p
Free
Via third party
Free
Card:
2.5%
£5
Card:
1.4%-2.9% + 20p
Bank transfer:
Free
£4.17-£29.99*
PayPal:
1.9%-2.4% + 20p
£14-£36*
Via third party
Free
Card:
2.5%
Square – best features in a dedicated app

Free or paid plan, no contract

Integrated card processing at flat rate
Next-day deposits in bank account

Lots of additional payment tools
We think Square Invoices is the best free invoice app in the UK. It's easy to use, and you can accept card payments directly through the invoice for 2.5% per card transaction or 6% + 30p per Clearpay transaction (buy now, pay later).
It's free to use the basic app features, including unlimited invoices – you only pay when the client pays online through the link in the email invoice. The paid Plus subscription has more advanced features, like custom layouts and organising project files into folders.
Image: Mobile Transaction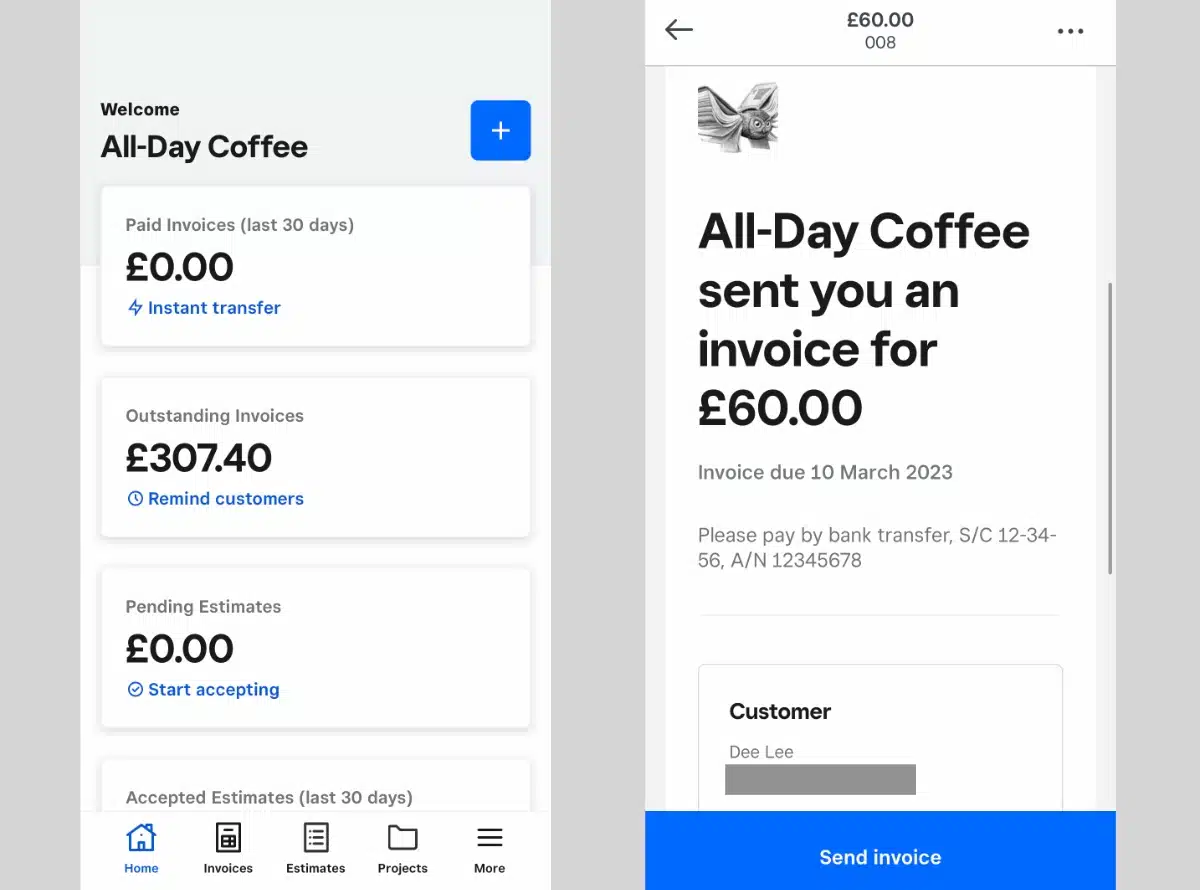 Square Invoices has more features than other free invoicing apps.
Payments are deposited in your bank account the next working day, or sooner if you opt for Instant Transfers (costing an extra 1% fee). When signing up through the simple online form, Square performs identification checks to verify your business and bank account.
It can take up to 4 working days before the bank account is linked to your Square account, but it's possible to accept invoice payments sooner, in which case the money is pending in the Square account.
On the paid plan, the app allows you to send estimates converting into invoices when the client accepts the quote. You can also set up recurring invoices, invoice tracking and deposit requests. If the client does not pay directly through the invoice link, you can mark invoices as paid with cash, gift cards, Bacs or another method.
Pricing
Monthly cost: £0 (Free plan), or £20 + VAT (Plus plan)
Card processing: 2.5% transaction fee
Instant Transfers: Additional 1% of transaction amount
Existing users of Square Reader can already send invoices through the Square Point of Sale app for the same fee. If you have the Square Reader, you can even accept invoice payments directly through the invoice app, if the card is physically processed in the card reader, for the lower fee of 1.75%.
Integrated payments: Square (Visa, Mastercard, Maestro, American Express), Clearpay
Best for: Most accessible solution to receiving invoice payments in your bank account.
Revolut – just enough advantages to make it great

Free or paid plan, no contract

Integrated card processing
Next-day deposits in Revolut account

Good multi-currency options
Revolut offers a feature-rich business current account (not bank account) ideal for merchants that charge across borders. Email invoices can be generated and managed in the Revolut Business app on both the free and paid business account plans.
Image: Mobile Transaction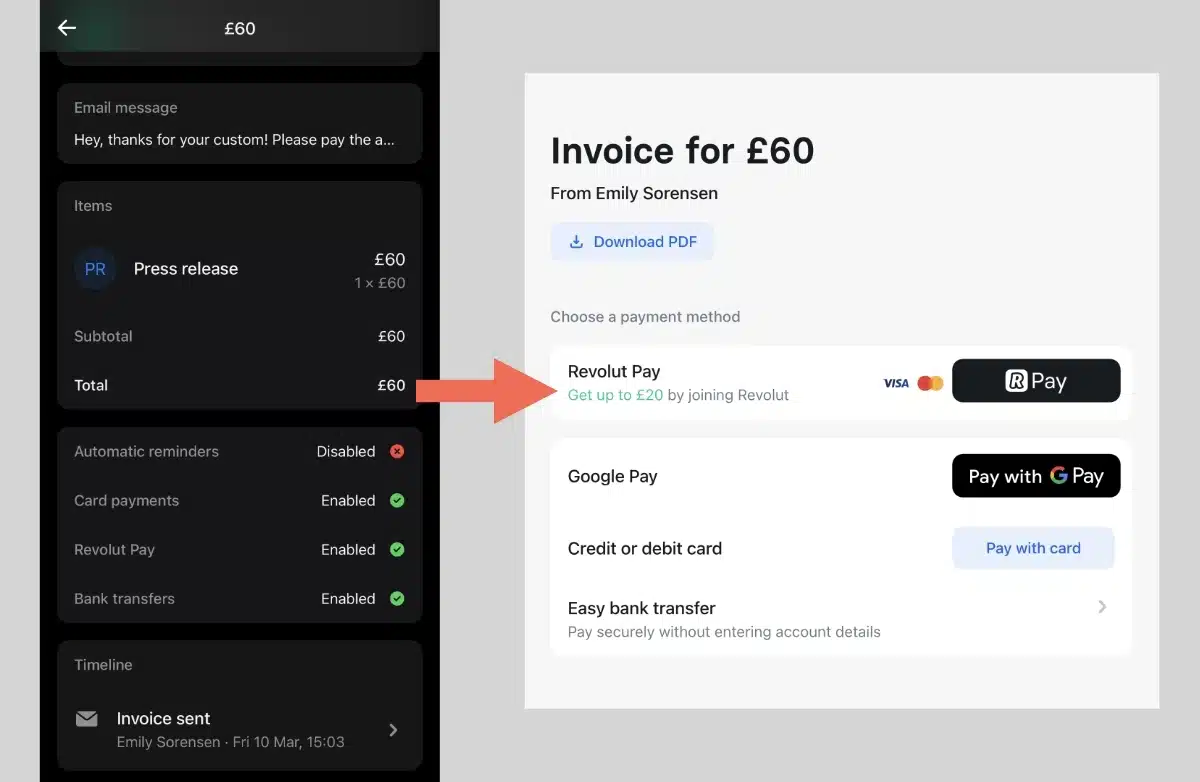 Revolut lets you send invoices to pay via card, bank transfer, mobile wallet or Revolut Pay.
The invoicing feature is accessed via a "Request money" button in the Business app dashboard on your iPhone or Android smartphone. The menu gives you a choice between sending a payment link, generating a QR code, creating a payment page to share online, or sending an email invoice.
When you choose 'invoice', a user-friendly screen lets you create one. You can add a customer (new or saved), message for the email, currency (28 to pick from), item(s) and costs, and an invoice note. Invoices can recur on a schedule or be sent as a one-off, with or without automatic reminders to pay.
We really like the fact you have full control over which payment methods the customer can use. This includes card payments (Visa, Mastercard, Apple Pay, Google Pay), Revolut Pay (from other Revolut accounts), and ordinary or streamlined bank transfers where the payer doesn't need to manually enter account details.
Pricing
Monthly cost: £0-£100 for business account
UK consumer cards, bank transfers, Revolut Pay: 1% + 20p per transaction
All business and non-UK cards: 2.8% + 20p per transaction
The easy bank transfer option lets the payer pick their bank from a list and verify the payment via their banking app, which is simpler than manually entering account details.
Transaction fees are low for domestic consumer cards and bank transfers, while all other cards cost more. The fact you can opt for a free Business account plan makes Revolut great value, particularly if you need a multi-currency business account to save money on cross-border transfers.
Just beware that all of the payment features are only available with a Merchant Account requiring a separate application after getting the Business Account. Once approved, you receive payouts the next day in the Revolut account.
Integrated payments: Visa, Mastercard, Apple Pay, Google Pay, Revolut Pay, bank transfer
Best for: Revolut Business account users whose clients like a choice between card and bank payments.
QuickBooks – best with accounting software

Trusted accounting provider
Great support for HMRC filing
Mostly known for accounting software, Intuit QuickBooks's invoicing is an integral part of their offering too. All the tiered QuickBooks packages include a variety of business tools, so this is a good choice for managing your books and invoices in one place.
The QuickBooks invoice app gives an intuitive overview of paid and outstanding payments.
If you're already using QuickBooks for bookkeeping, you might as well use the invoicing features, included to some extent on all plans. The less dispersed your documents, invoices and receipts are, the more streamlined your admin can be. A plus is that QuickBooks is HMRC-recognised and adheres to the government-incentive Making Tax Digital.
The app is compatible with iPhone, iPad and Android phones and tablets.
The number of invoicing features depend on your plan. The cheapest subscription, called Self-Employed (£10 + VAT/month), is for sole traders who are not VAT-registered. It includes unlimited invoices by email and the ability to track which ones have been read.
The next tier, Simple Start (£14 + VAT/month) is for sole traders and companies, whether VAT-registered or not. This plan has more customisation tools, payment tracking, recurring invoices and the ability to accept invoice payments online.
Pricing
Monthly fee: £10 + VAT/mo for Self-Employed, £14 + VAT/mo for Simple Start
GoCardless bank transfer: 1% + 20p for (domestic), 2% + 20p (international)
PayPal payments: From 1.45% + 30p for Visa and Mastercard, 3.5% for Amex, 2.9% + 30p for PayPal Wallet
Higher plans do not include more invoicing functions, only more accounting tools.
You can either accept payments outside the QuickBooks system and mark when invoices are paid, or accept payments through a link on the electronic invoice (except on the Self-Employed plan).
The latter can be done as a GoCardless Direct Debit integration which has no setup fee or monthly costs, just a 1% + 20p transaction fee. PayPal can be integrated too – but again, only on the Simple Start and higher plans.
Integrated payments: PayPal (Visa, Mastercard, American Express), GoCardless Direct Debit
Best for: SMEs wanting a complete, HMRC-compliant invoicing and accounting system.
Zoho – "forever free" invoice app with many features

No monthly fee or contract

No sign-up for free invoice generator
Good choice of payment integrations

Many features on all plans
Zoho is another all-round accounting system, but their invoice app is totally free with no contract, tiered plans or surprise add-ons. You get detailed invoicing features without a paid subscription.
If you only want to create a PDF invoice to download or send from your phone, you can also do that free without creating a login or signing up for anything in the Zoho Invoice Generator app (separate from the main Zoho Invoice app).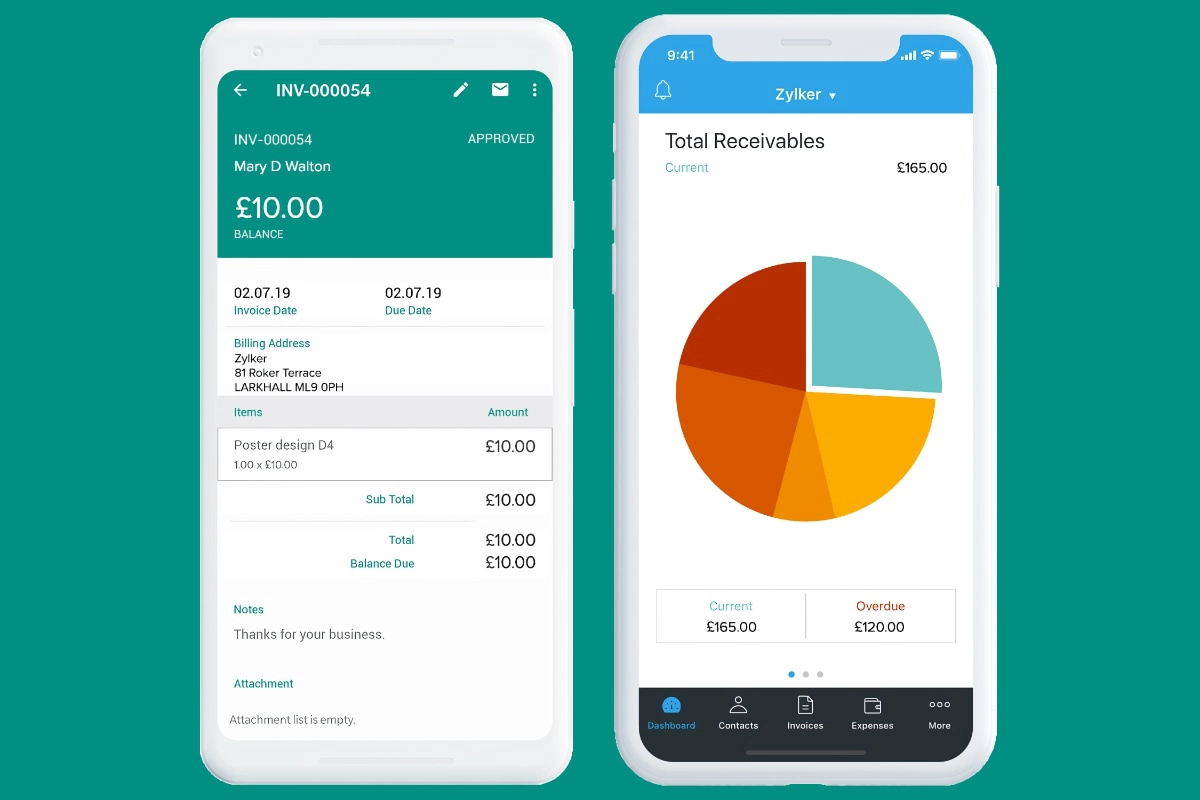 Zoho Invoice is compatible with macOS, iOS, Android and Windows phones and tablets.
The invoicing apps are supported on macOS, iOS, Android and Windows mobile devices. To be clear: the Invoice Generator app is a separate app you can download and use for free. What we describe below requires the free Zoho Invoice app, which has more in-depth features.
Features include recurring invoices, estimates, retainers, expense tracking, time tracking, multi-currency features, digital signatures, automated workflows, integrations with external apps, and much more.
The Zoho Invoice app lets you create up to 1000 per year, adapted to comply with your local tax laws, language and currency.
Pricing
Monthly cost: None
Transaction fees: Via payment processor (PayPal, Stripe, etc.)
Zoho can integrate with a number of payment services, so you can accept payments through the invoice rather than outside the platform. Transaction fees depend on the chosen payment system.
Integrated payments: 2Checkout, Authorize.Net, Braintree, PayPal, Stripe, Worldpay, others
Best for: Cheap way to start small, with options to expand features later on.
SumUp – better than average for a free solution

No monthly cost, no contract

SumUp processes the card payment
Payouts in 1-3 working days

POS and remote payment features
SumUp is best known for their cheap card readers and payment features for small businesses. But the platform has added a wealth of new features to help merchants receive payments remotely, including digital invoicing.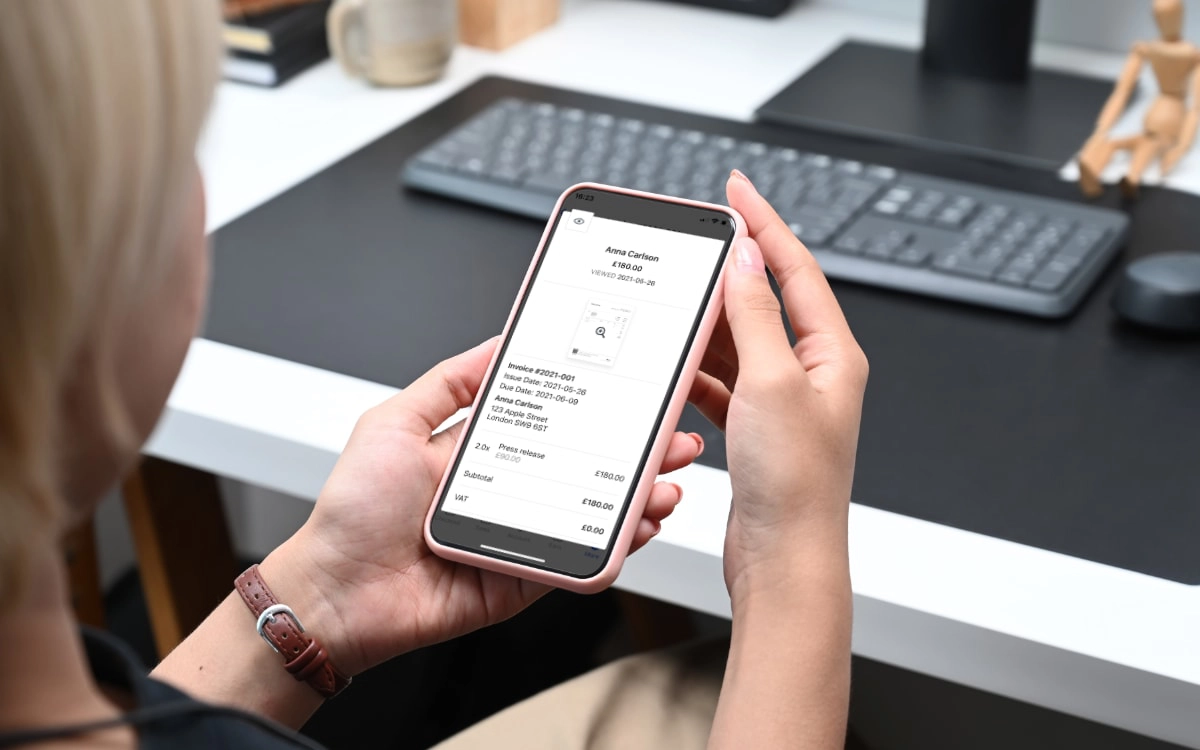 SumUp Invoices can be created, sent and managed from SumUp App.
SumUp has no monthly fees or contract term for invoicing, only a pay-as-you-go rate of 2.5% per remote transaction processed. It's easy to get started too: just sign up on the website, connect your bank account and start invoicing clients from the SumUp App or browser dashboard.
SumUp App is actually a payment and simple point of sale (POS) app. It has a product library, transactions overview and checkout interface for accepting cards, cash, QR code payments, keyed transactions and payment links.
In another section of the app, you can create, manage and monitor invoices and quotations with your own terms and conditions attached.
Pricing
Monthly fee: None
Transaction fee: 2.5% for all cards
There is no limit on how many email invoices you can send, and items from your library of products and customers can be added. If you log into your SumUp account on a computer, you can create credit notes and delivery notes as well, neither of which are available in the app.
Payouts take 1-3 working days to reach your bank account. With the free SumUp Business Account and Card (online account and prepaid debit card), you can receive transactions the next day, including on weekends.
Integrated payments: SumUp (Visa, Mastercard, Maestro, American Express, Diners Club, Discover, JCB)
Best for: Selection of free payment methods, not just invoices, from the same app.
Monzo – free account-to-account payments

Uses Stripe for card payments
Payouts within 2 working days

With full-fledged bank account
The online bank Monzo offers a decent business account that can be used for free (Lite plan). If you need invoicing, you can subscribe to its Pro plan for £5 monthly with no contractual obligation. This adds features like accounting integration, multi-user access, tax pots and digital invoicing.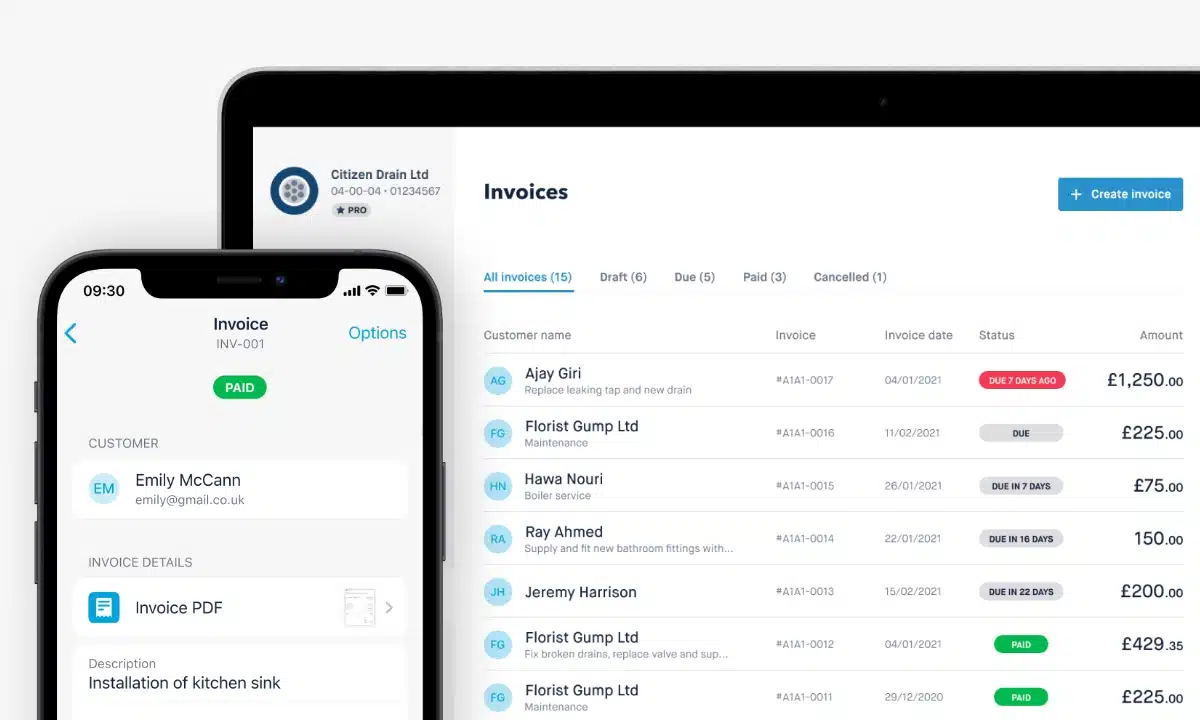 Monzo Bank offers an in-app invoicing solution with a streamlined bank payment option.
Once subscribed, you can generate invoices in the Monzo Business app on your smartphone. Customisation options include products or services paid for, your own logo and a note on each invoice.
Invoices are generated in a PDF format and sent via email, text or messaging app on your phone.
To accept card payments, you have to register with Stripe and connect that with Monzo. This is easily done via the Monzo app. It means transactions are processed via Stripe, so you are charged Stripe's processing fees.
The biggest advantage of Monzo invoicing is its new integration with "easy bank transfers", enabling customers to pay via bank transfer in a few taps on their phone. It involves selecting their bank from a drop-down menu and verifying the transaction in their banking app. These payments are free to accept for the rest of 2023.
Pricing
Monthly fee: £5/mo for Business Pro
Card transaction fee: 1.4% + 20p (UK cards), 2.5% + 20p (EEA cards), 2.9% + 20p (all other cards)
'Easy' bank transfers: Free until year 2024
Card payment via Stripe cost 1.4% + 20p for domestic cards, 2.5% + 20p for EEA cards, and 2.9% + 20p for all other debit and credit cards. Funds arrive in your Monzo bank account within a few working days, or faster via bank transfer.
Integrated payments: Stripe (Visa, Mastercard, Amex, Google Pay, Apple Pay), bank transfer
Best for: Monzo Business account holders who want the cheapest, easy way to accept bank transfers.
Invoice2go – established invoicing brand

Annual or monthly billing
Settlement takes 2-5 working days

Features are better on pricier plans
Invoice2go is a well-known invoice app in the UK, which is understandable given its sleek looks and branding, but it does not offer a free app (barring the 30-day trial). It comes with invoice templates, invoice tracking, multi-currency support, customisation, recurrent billing and estimate-to-invoice conversion.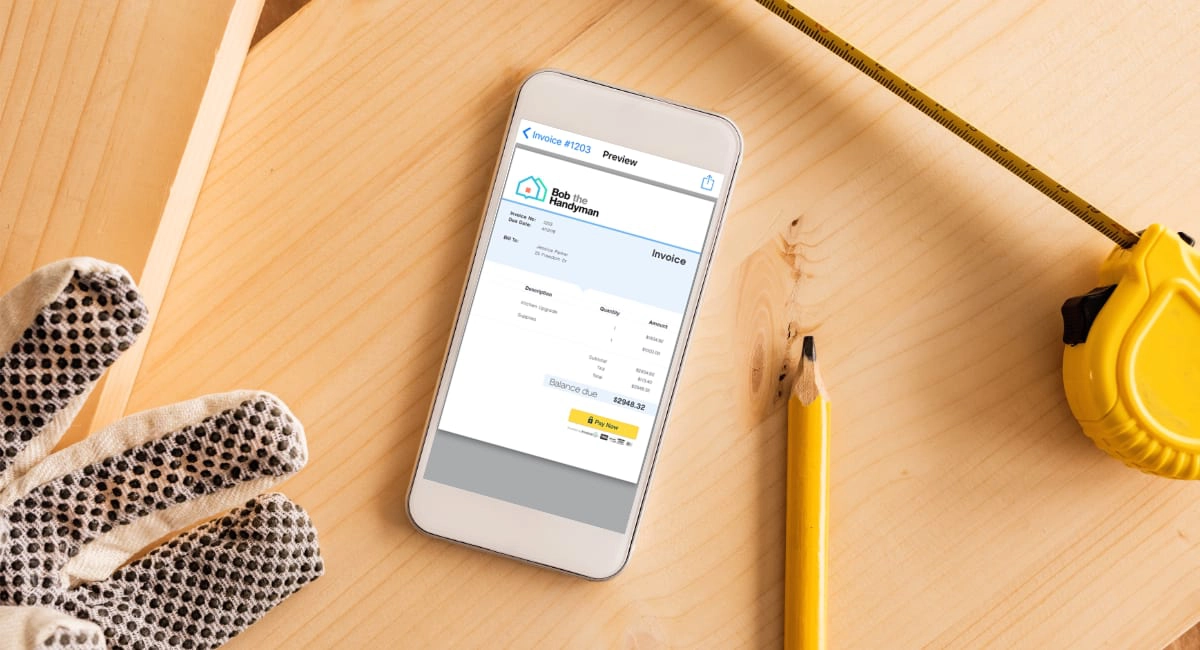 The invoice templates in Invoice2go have several customisation options.
Invoice2go has four plans that can be paid upfront monthly or annually (the latter work out cheapest per month). The cheapest subscription, Starter, includes 30 invoices for the whole year on an annual plan (£4.17/month) or 2 invoices per month on the monthly plan (£4.99/month).
The annual Professional plan costs £6.67/month and includes 100 invoices annually. The same plan paid monthly (£7.99/month) allows for 5 invoices per month.
Premium (£29.99/month on a monthly plan, £25/month on annual) allows unlimited invoices to be sent.
All the subscriptions allow you to have unlimited clients, team members and projects, and send unlimited estimates. The system integrates with PayPal for card transactions that take around 3-5 working days to reach your bank account (or up to 7 working days in some cases – quite slow!).
The higher your plan, the lower is your transaction fee through PayPal. You can expect additional fees for cross-border payments and currency exchanges.
Pricing
Monthly fee: £4.17-£25/month for annual plans, £4.99-£29.99/month for monthly plans
Card payments: From 1.9%-2.4% + 20p per transaction
On the plus side, Invoice2go specialises in invoicing features rather than the general accounting tools that QuickBooks and Xero, for example, offer together with invoicing. However, many users have reported the app is cumbersome to use, the disappearing of features or data saved in the app, and generally the high price for an increasingly problematic user experience.
Integrated payments: PayPal (Visa, Mastercard, American Express)
Best for: Those who don't mind paying more for a reputable, dedicated invoice app.
Xero – trusted by bigger businesses

Optional business add-ons
Connects with Stripe and GoCardless

Integrates with Xero accounting
Better known for its advanced bookkeeping software, Xero's invoicing app (actually the main Xero Accounting app) is approachable for small businesses too.
The app works on iPhone and Android devices, but it's quite expensive because the plans include accounting functions too. You can't just pay for invoicing for a lower fee.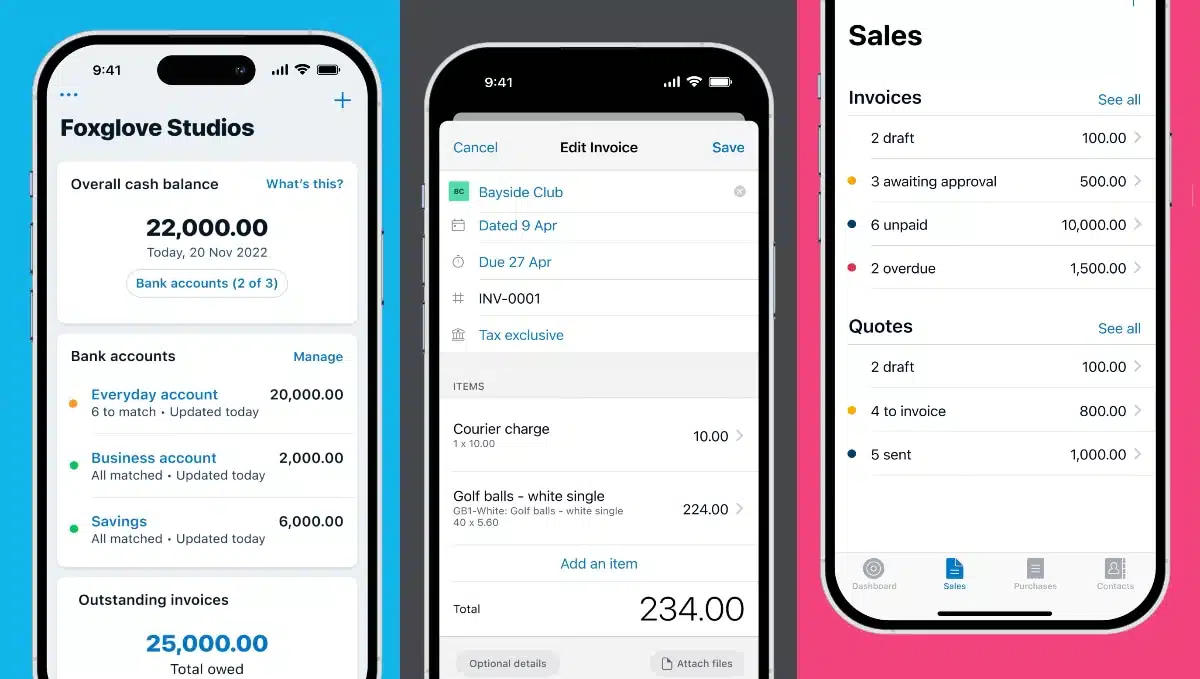 The main Xero Accounting app doubles as an invoicing app.
The cheapest plan, Starter (£14 + VAT/month), lets you send quotes and up to 20 invoices per month from the app, and enter 5 bills monthly. The higher plans, Standard (£28 + VAT/month) and Premium (£36 + VAT/month), give you unlimited invoices, quotes and bills.
Regardless of the plan, you get accounting reports, Construction Industry Scheme (CIS) calculations, VAT returns to the HMRC, and Hubdoc capture of receipts. The Standard plan lets you reconcile transactions in bulk, while Premium also lets you work in multiple currencies.
You can add a button to invoices for accepting card payments via Stripe and bank account-to-account payments via GoCardless.
Pricing
Monthly fee: £14-£36 + VAT
Stripe payments: Fees via Stripe
GoCardless transfers: Fees via GoCardless
Rather than paying transaction fees to Xero, each accepted card payment or Direct Debit transfer incurs a cost via Stripe or GoCardless. It's possible to add a payment button on invoices that's handled by another card processor – Xero is flexible like that.
That being said, Xero reportedly has a steep learning curve that some only find worth the time if they use it for a larger company. But the interface has improved over the years, and it is generally a solid system for keeping the books in order.
Integrated payments: Stripe (Visa, Mastercard, Apple Pay, Google Pay), GoCardless bank transfers
Best for: Xero users who'd like their invoices integrated with bookkeeping.
Zettle – simplest for face-to-face merchants

No monthly cost, no contract

Zettle handles payment processing
Payouts in 1-2 working days

Comes with free POS features
Zettle by PayPal (previously iZettle) is well-known for their low-cost card reader and free point of sale (POS) app, but did you know the Zettle Go app can send email invoices too? The invoices are quite simple, and payments are settled directly in your bank account within 1-2 working days.
Zettle invoicing allows you to send email invoices directly from the point-of-sale product menu.
You can add items from a (previously set up) product menu or enter an amount with a custom description. This is all done from the POS interface of the app, where you then have to choose invoicing as the payment method.
You can save customer details, set a due or delivery date and customer type (private or company). Sent invoices that are unpaid, paid and credited are monitored in the Go app, where it is also possible to manually mark a payment. Apart from that, you can view, resend or cancel invoices and view event history. Payment reminders are sent to the customer after the due date.
Pricing
Monthly cost: None
Transaction fee: 2.5% for all cards
When the customer receives the invoice, they can pay by link with their Visa, Mastercard or Amex card, and Zettle by PayPal then processes the transaction.
Zettle invoices are quite straightforward, with no templates to choose from and no superfluous functions. If you need complex features like invoice scheduling or design options, this is not for you. But if you don't mind using a POS app for simple invoices with a pay-as-you-go transaction fee, this works okay.
Integrated payments: Zettle by PayPal (Visa, Mastercard, American Express)
Best for: Existing Zettle merchants who want a very simple option to bill by invoice.
Other invoice apps
Lots of invoicing apps are available to the UK, but many have flaws. For example, the PayPal Business app is very convenient for some existing users, but has high transaction fees and occasional account holds for some users.
Other invoice apps are either created for the North American market, are buggy, have limited features, or use Stripe for payment processing – known for their slow settlement (about a week) to UK bank accounts.
Alternatively, you can sign up for an online business current account with invoicing. For example, Tide and Monese business accounts have basic invoice features. Starling Bank's Business Toolkit add-on includes invoicing software only accessed in a web browser.