Invoice apps are gaining popularity in the UK, but which are genuinely trusted by small businesses? The short answer: not many. There's no shortage of invoicing tools out there, but they vary hugely in terms of costs and features.
Some companies offer an invoicing app in supplement to a main offering of bookkeeping or payment services. Some allow you to receive payments directly through the invoice, while others are not directly integrated with a payment solution. For instance, some apps just have free invoice templates you can use.
We've sifted through the options and list the six best-value invoice apps for small businesses.
Square – best features without subscription

No monthly cost, no contract

Integrated card processing at flat rate
Next-day deposits in bank account

Lots of additional payment tools
Of all the free invoice apps, Square Invoices is a very good choice. It's easy to use, and you can accept card payments directly through the invoice for 2.5% per transaction. It's free to use the app and features – you only pay when your client pays online through the email link or URL for the invoice.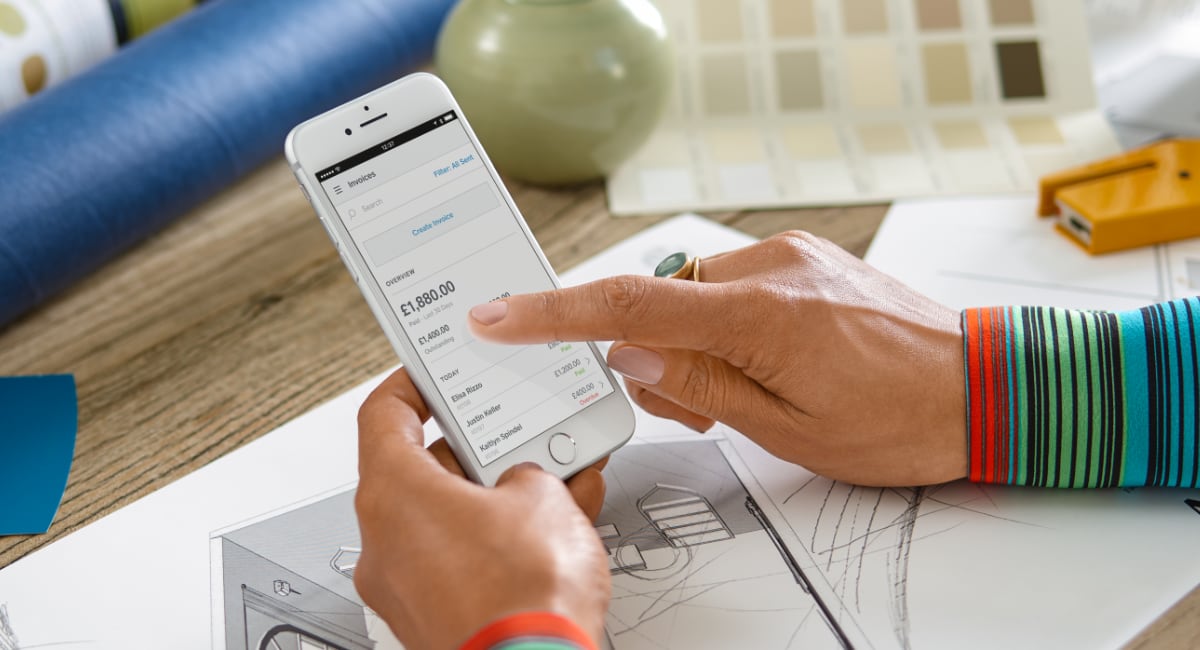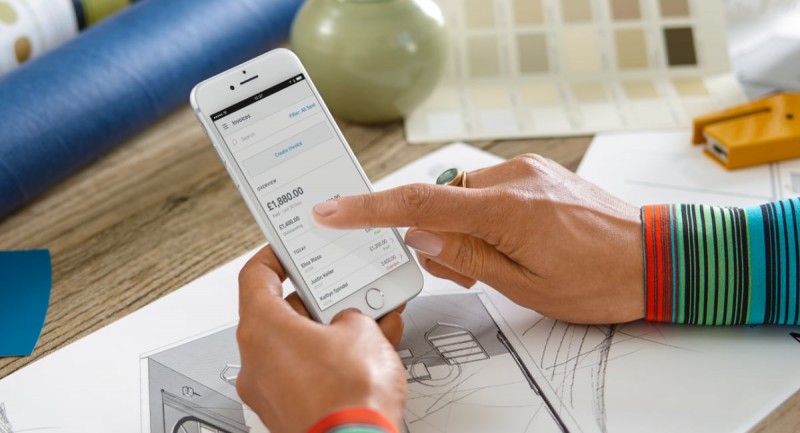 Square Invoices has more features than other free invoicing apps. Photo: Square
Payments are deposited in your bank account the next working day, or sooner if you opt for Instant Transfers (costing an extra 1% transaction fee). When you sign up through the simple online form, Square performs identification checks to verify your business and bank account.
It can take up to four working days before the bank account is linked to your Square account, but it is possible to accept invoice payment sooner, in which case the money is pending in the Square account.
The app allows you to send estimates that convert to invoices when the client accepts the quote, recurring invoices, invoice tracking and deposit requests. You can register cash, gift card, BACS or other payment types in the app to mark invoices as paid.
Pricing
Monthly cost: Free
Card processing: 2.5% transaction fee
Instant Transfers: Additional 1% of transaction amount
Existing users of Square Reader can already send invoices through the Square Point of Sale app for the same fee. If you have the Square Reader, you can even accept invoice payments directly through the Invoice app, if the card is physically processed in the card reader, for the lower fee of 1.75%.
Integrated payments: Visa, Visa Electron, V Pay, Mastercard, Maestro, American Express
Best for: Those wanting the easiest solution to receiving invoice payments directly in the bank account.
QuickBooks – best value for money

Trusted provider in the UK
Great support for HMRC filing
Mostly known for accounting software, Intuit QuickBooks' invoicing is an integral part of their offering too. All their tiered packages include a variety of business tools, so this is a good choice for managing your books and invoice payments in one place.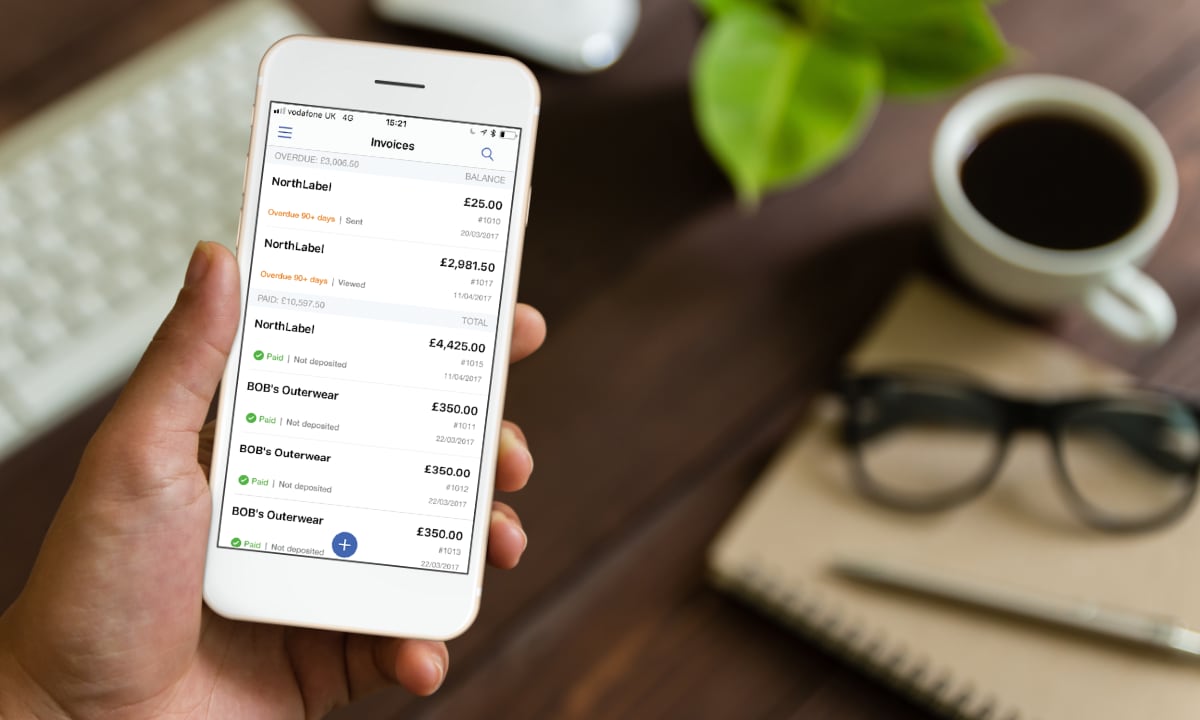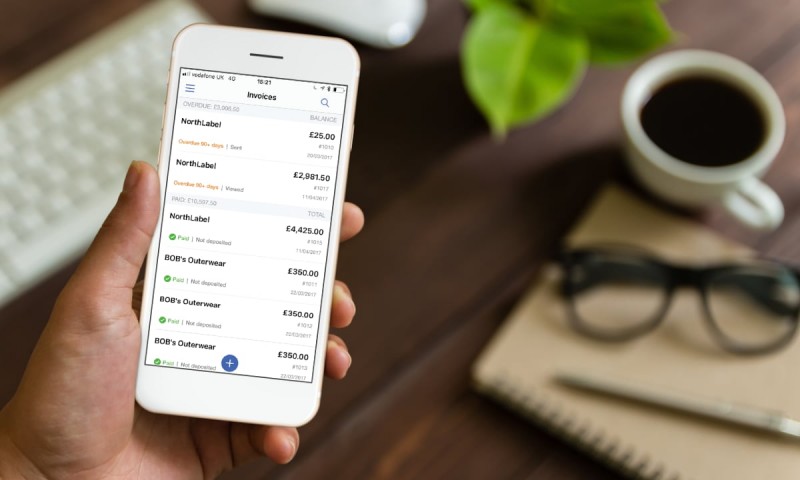 The QuickBooks invoice app gives you an intuitive overview of paid and outstanding payments.
If you're already using QuickBooks for bookkeeping, you might as well use the invoicing features which will be included to some extent on all plans. The less dispersed your documents, invoices and receipts are, the more streamlined your admin can be. A plus is that they are HMRC-recognised and adhere to the government-incentive Making Tax Digital.
The app is compatible with iPhone, iPad and Android phones and tablets.
The number of invoicing features depend on your plan. The cheapest subscription, called Self-Employed (£8 a month), includes unlimited invoices by email and the ability to track which ones have been read. The next-tier plan, Essentials (£18 a month), gives you more customisation tools, payment tracking, recurring invoices and the ability to accept invoice payments online. The Plus plan, costing £27 a month, does not include more invoicing functions, but is used by those with advanced accounting needs.
You can either accept payments outside the QuickBooks system and mark when invoices are paid, or accept payments through a link on the electronic invoice.
Pricing
Monthly fee: £8/mo for Basic, £18/mo for Essentials
GoCardless payments: 1% transaction fee
PayPal payments: From 3.4% + 20p for domestic cards, from 3.9% + fixed fee for international cards
Stripe payments: Fees through Stripe
The latter can be done as a GoCardless Direct Debit integration which has no setup fee or monthly costs, just a 1% transaction fee. Other payments, such as PayPal and Stripe, can be integrated too – but integrated payments can only be done on the Essentials and Plus plans.
Integrated payments: PayPal, Stripe (Visa, Mastercard, American Express), GoCardless Direct Debits
Best for: SMEs wanting a complete invoicing and accounting system compliant with HMRC.
Zoho – free invoice creator, more features optional

No sign-up for free invoice generator
Good choice of payment integrations

Many features on all plans
Zoho is another all-round accounting system that includes invoice tools too. In fact, if you only want to create a PDF invoice to download or send from your phone, you can do that for free – without having to create a login or signing up for anything. You can also pay for the Zoho Invoice app that includes various invoicing features.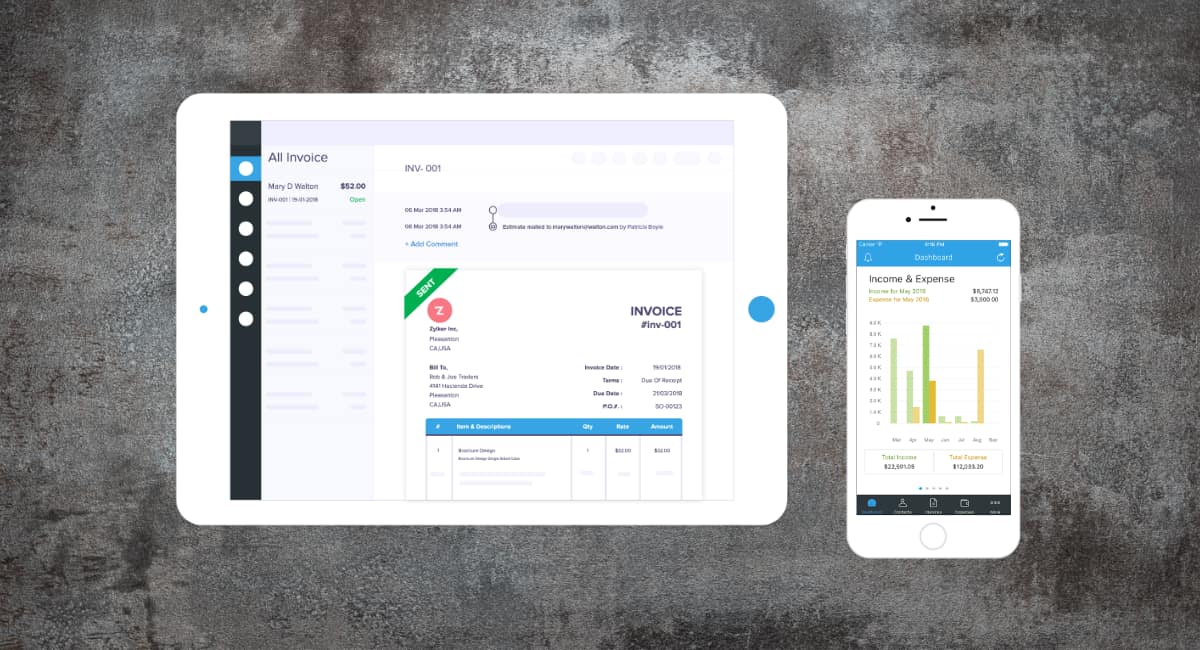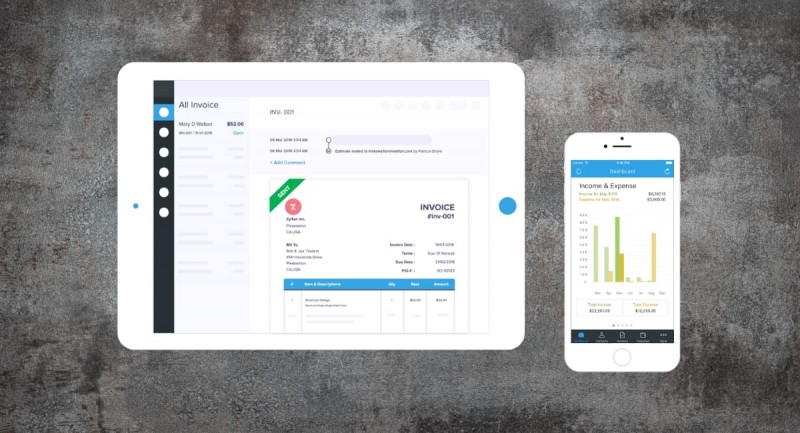 Zoho Invoice is compatible with iOS, Android and Windows phones and tablets.
The invoice apps are supported on iOS, Android and Windows mobile devices. To be clear: the Invoice Generator app is a separate app you can download and use for free. The Free and paid plans described below require the Invoice & Time Tracking app.
The feature-rich invoice app has a Free plan limited to one user, with the ability to create transactions for up to five customers. On the Basic plan (£6/month), one user can invoice up to 50 customers. On the Standard plan (£12/month), three users can invoice up to 500 customers, and the Professional plan (£18/month) allows 10 users to invoice unlimited customers.
All the plans include recurring invoices, estimates, expense tracking, time tracking, multi-currency features, a 'snail mail' service, and many more features. The pricier plans have more reports, more automated workflows and more integrations.
Pricing
Monthly cost: Free or £8-£18/mo
Payment fees: Paid through payment processor (Square, Stripe, Worldpay, etc.)
PayPal fees: From 3.4% + 20p for domestic cards, from 3.9% + fixed fee for international cards
Zoho has the option to integrate with a number of payment services, so you can accept payments online rather than outside the platform. Transaction fees for these vary between providers.
Integrated payments: PayPal, Stripe, GoCardless Direct Debits, Square Payments, Worldpay
Best for: Small businesses wanting to start cheap, with the option for advanced features later on.
Wave – free features, just pay for payments

Transactions from 1.4% + 20p

Good value for a free app
Settlement in 7 working days

Also offers free accounting tools
Invoice by Wave is an app for Android, iOS and Windows devices that sends unlimited invoices for free. The only thing you're paying for is the payment processing when customers choose to pay through the invoice link.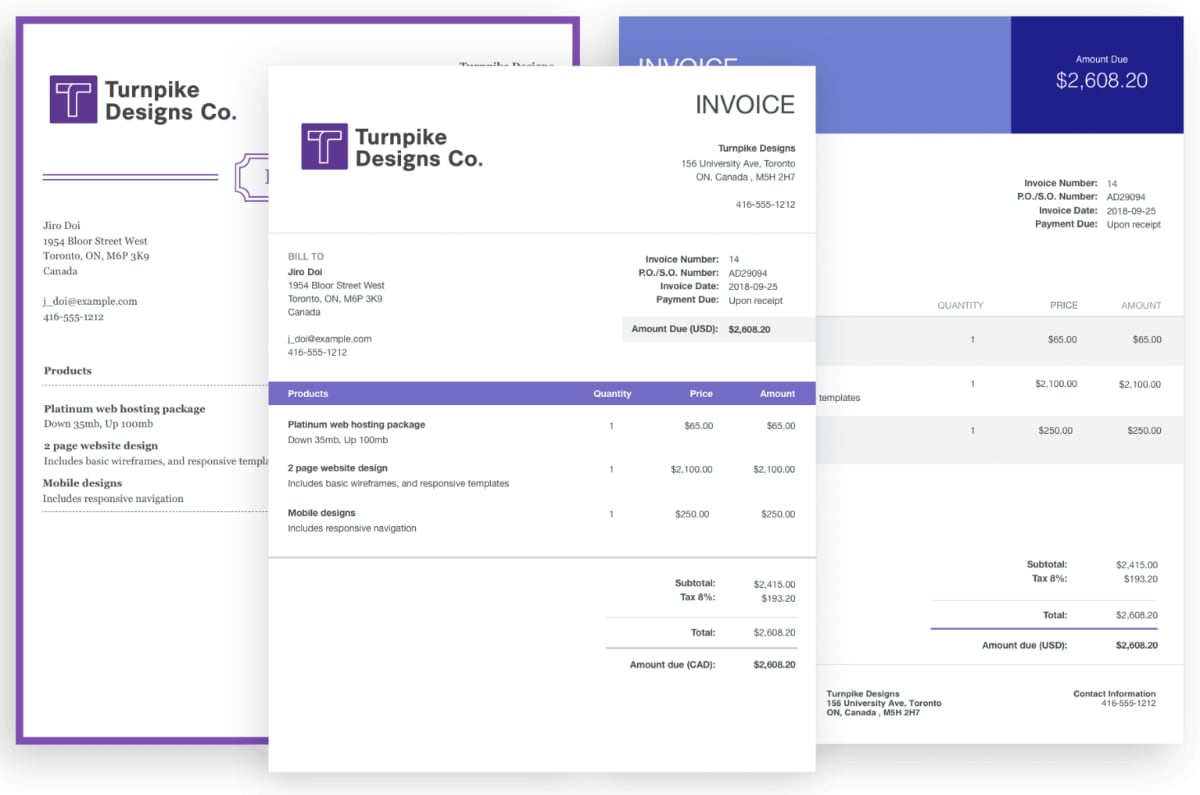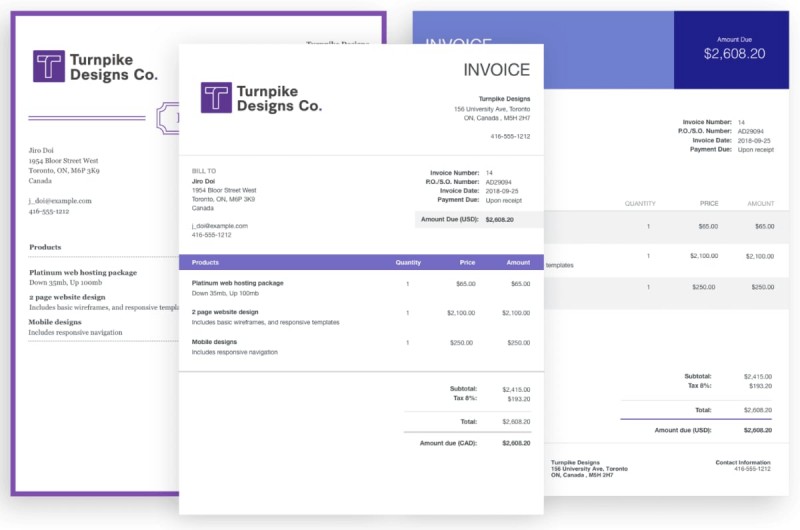 Wave's invoice templates are pretty good, considering they are free.
When it comes to transaction fees, they are hard to beat! Payments with cards issued in Europe only cost 1.4% + 20p per transaction, but international cards cost 2.9% + 20p per transaction.
Payments are processed through Stripe, a payment company with quite a slow settlement to European accounts – in fact, it takes seven working days for transactions to be deposited in your bank account. This could be a deal-breaker for some businesses, so we only recommend this app for businesses that do not mind waiting around for their money.
Pricing
Monthly cost: None
Transaction fee: 1.4% + 20p for European cards, 2.9% + 20p for other cards
That being said, the app features include customisation, recurring invoicing, reminders, cash flow insights and quite a few more useful things.
Integrated payments: Stripe (Visa, Mastercard, American Express)
Best for: Small businesses wanting the lowest card fees, without caring much about settlement time.
iZettle – simplest for face-to-face merchants

No monthly cost, no contract

iZettle handles payment processing
Payouts in 1-2 working days

Comes with free POS features
iZettle is well-known for their low-cost card reader and free point of sale (POS) app, but did you know the iZettle Go app can send email invoices too? The invoices are quite simple, and payments are settled directly in your bank account within 1-2 working days.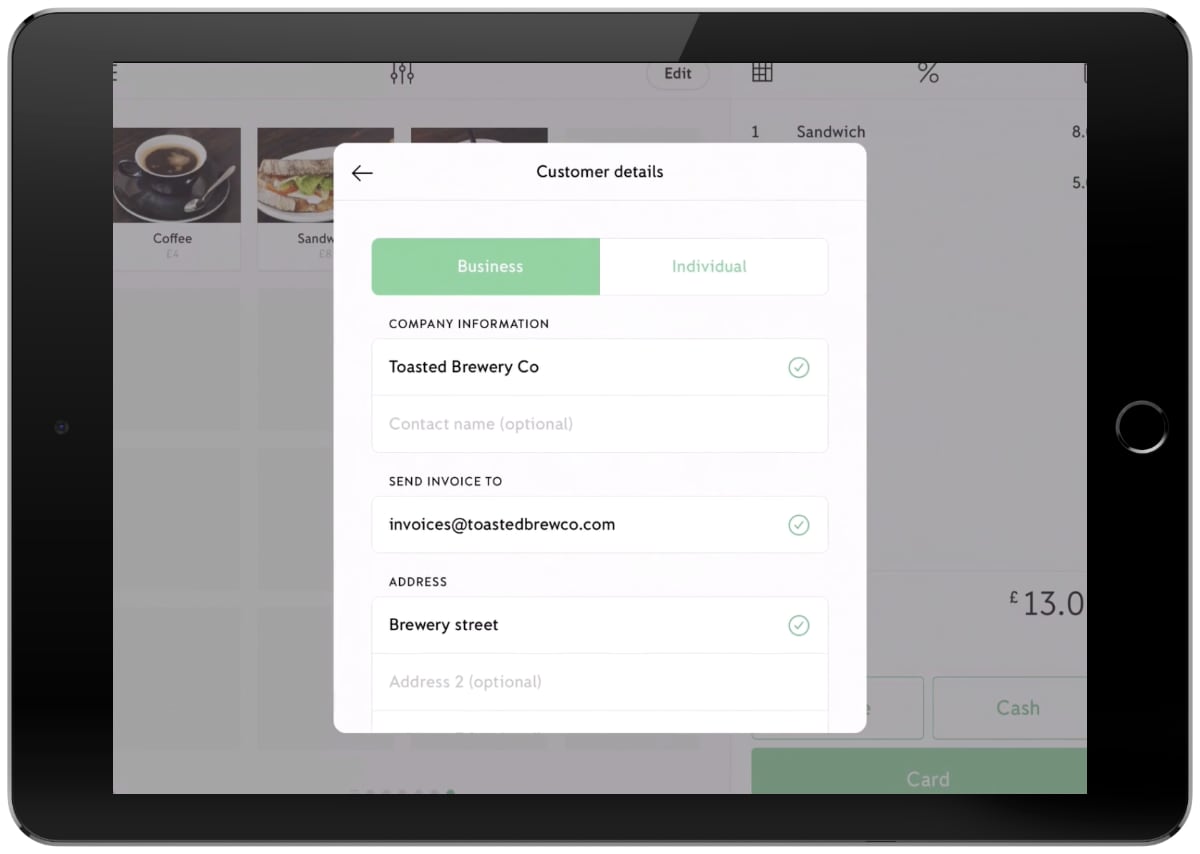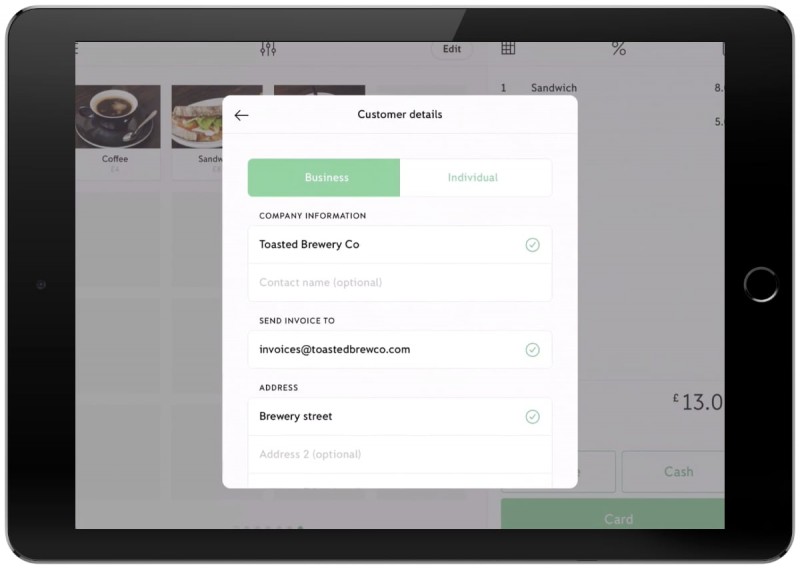 iZettle invoicing allows you to send email invoices directly from the point-of-sale product menu.
You have the option to send invoices straight from a product menu (if you're billing for items you've added to the library) or enter an amount with a custom description, after which you can choose invoicing as a payment method. The latter option only allows you to list one amount/item to pay for, while the former allows you to add multiple products or services from the product menu.
The app can save customer details, set a due date, delivery date and customer type (private or company). After sending an invoice, you can view unpaid, paid and credited invoices in the Go app, where it is also possible to manually mark invoices as paid. Apart from that, you can view, resend or cancel invoices and view event history. Payment reminders are sent to the customer after the due date.
Pricing
Monthly cost: None
Transaction fee: 2.5% for all cards
When the customer receives the invoice, they can pay via a link by Visa, Mastercard or Amex, processed by iZettle – without any integration required on your part. The customer does not pay a fee for payments – only the business pays the fixed rate for all transactions made.
All in all, iZettle's invoicing is made to be straightforward, with no templates to choose from, and no superfluous functions. If you need complex features like invoice scheduling or design options, this is not for you. But if you don't mind using a POS app for sending simple invoices at a fixed-rate fee, this is a very efficient option.
Integrated payments: Visa, Mastercard, American Express
Best for: Best for iZettle users selling face-to-face, but wanting the option to bill by invoice.
Invoice2go – big invoicing brand

Annual or monthly billing