Invoices are a crucial part of doing business, but before you send the official bill, you might need to offer a pro forma invoice. What is this?
While an invoice is a binding document requesting payment for products or services delivered, a proforma invoice is a preliminary document that's very similar, but with room for adjustment before it's turned into a binding invoice.
A proforma invoice includes:
Date of issue
Description of products or services
Price incl. taxes and additional fees expected on the final invoice
A proforma invoice is sent after a client has agreed to proceed with some sort of business, but they need a more accurate quote with a full draft of the service and pricing details. This is different from a quotation that is more loose and provided before the recipient has agreed to do business.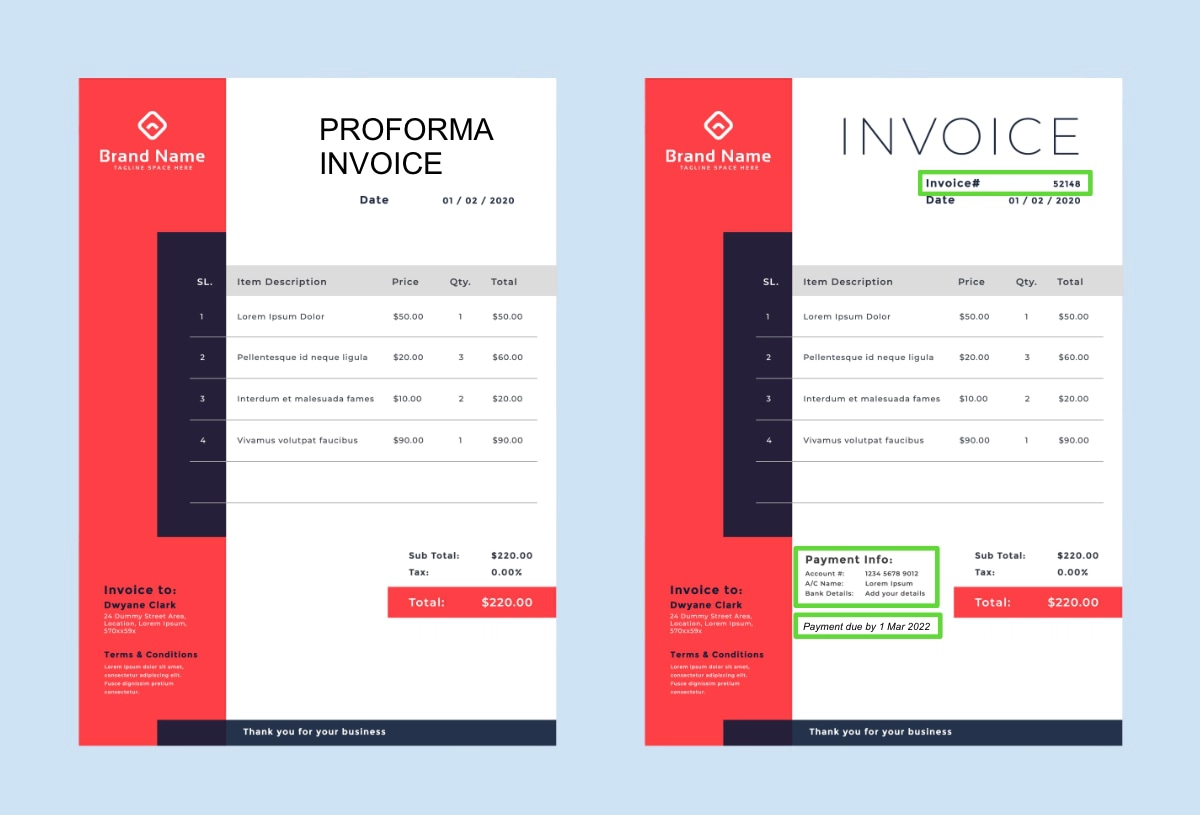 A normal invoice differs from pro forma by including payment details, due date and an invoice number.
Once the services or goods have been delivered, the business can issue a 'real' invoice formally requesting payment.
You cannot use a proforma invoice for accounting or tax purposes, as it is not a legal document. Its role is more practical, in that it provides a useful costing with leeway for changes before the business has provided their products.
Difference between proforma and other documents
To explain proforma invoicing, it helps to clarify the differences between that and its closest siblings below.
Quote: A quotation is an informal, non-binding price estimate for a service inquired about. The merchant may not have all the details needed to provide an accurate quote at this stage, so the quote serves to just give an initial indication of the cost based on the knowledge at this point.
Proforma invoice: Once the client has agreed to proceed with the service, a proforma invoice may be sent to provide an accurate cost of the product/service based on a detailed view of the client's requirements. It should be labelled clearly as a "proforma invoice". Changes may be applied before it is turned into a full invoice.
Invoice: An invoice is the legally binding document requesting payment for goods or services received by the client. Unlike a proforma invoice, an invoice must have a payment due date, payment instructions and a sequential invoice number. This can be used for accounting purposes and to reclaim VAT, which you cannot use the other documents for.
| Quotation | Proforma invoice | Invoice |
| --- | --- | --- |
| For initial cost inquiries | Provisional, cancellable | Legally binding bill |
| Purchase not yet agreed | Purchase agreed | Cannot be cancelled |
| Non-binding estimate | Detailed costing | Detailed, final costs |
| | Service not delivered | Service delivered |
| | | Used for accounting |
Quotation
Proforma
invoice
Invoice
For initial cost inquiries
Provisional, cancellable
Legally binding bill
Purchase not yet agreed
Purchase agreed
Cannot be cancelled
Non-binding estimate
Detailed costing
Detailed, final costs
Service not delivered
Service delivered
Used for accounting
Examples of uses
Proforma invoices serve these following useful purposes.
Giving clarity to customers about all costs incl. shipping and other additional charges. The detailed price breakdown prevents surprise fees that a client might've otherwise refused to pay on delivery.
Good faith agreement of services to be delivered, which the customer can reject before a final invoice is issued. For example, an artist may provide a proforma invoice in advance for a custom portrait and issue an invoice when the portrait is done to the client's satisfaction.
To provide a realistic estimate for goods to be made, that might incur further production costs later on if there's a change in the manufacturing process.
Declaring the value of goods for customs when items are shipped internationally. A proforma invoice helps the package move through customs quicker as it details weight, size, delivery fees and other crucial details for authorities.
Proforma invoices can be created with specialised software or manually.