A quote and proforma invoice are used before the issue of a sales invoice, but they have distinct roles to play in the run-up to invoices. What makes them different in a business context?
Quotation: A quote is a an informal document or statement with a loose price estimate on a service or product. It is provided in response to an initial customer enquiry about pricing, so the cost is not final. It is the first step of getting a price when pricing is custom to some degree.
Proforma invoice: As a second step, merchants might offer a 'pro forma' invoice. This is a more comprehensive breakdown of costs calculated after the customer has agreed to buy a service or product. Details on the proforma invoice can still be edited, or the whole thing cancelled, as it is not a legally binding document.
In contrast, an invoice is a legally binding document with the final costs of a service or product that is – or will definitely be – delivered. It is also a type of sales contract requiring the customer to pay within a certain time frame.
Differences
Let's compare the different aspects of proforma invoices and quotes.
| | Quotation | Proforma invoice |
| --- | --- | --- |
| Description | First cost estimate in response to customer query | Provisional invoice with accurate pricing |
| Format | Verbal, email or document | Document |
| Purchase | Not yet agreed | Agreed but details not yet confirmed |
| Editable? | Yes | Yes |
| Legally binding? | No | No |
Quotation
Proforma
invoice
Description
First cost estimate in response to customer query
Provisional invoice with accurate pricing
Format
Verbal, email or document
Document
Purchase
Not yet agreed
Agreed but details not yet confirmed
Editable?
Yes
Yes
Legally binding?
No
No
A quote could be an outline of various costs if it's for a service with many sub-fees, or total price if the product is straightforward. It could be given verbally (over the phone or in person), in writing (email, letter or hand-written note) or more formally as a document. The customer may not agree with the price, instead just wanting to know what to expect.
A proforma invoice, on the other hand, is always a document (digital or paper) that looks similar to a legally binding invoice. It is different from an invoice, as it has no sequential number, payment due date or payment details. Rather, proforma invoices contain a date of issue, description of products or services to be purchased, and pricing including taxes and shipping (if applicable).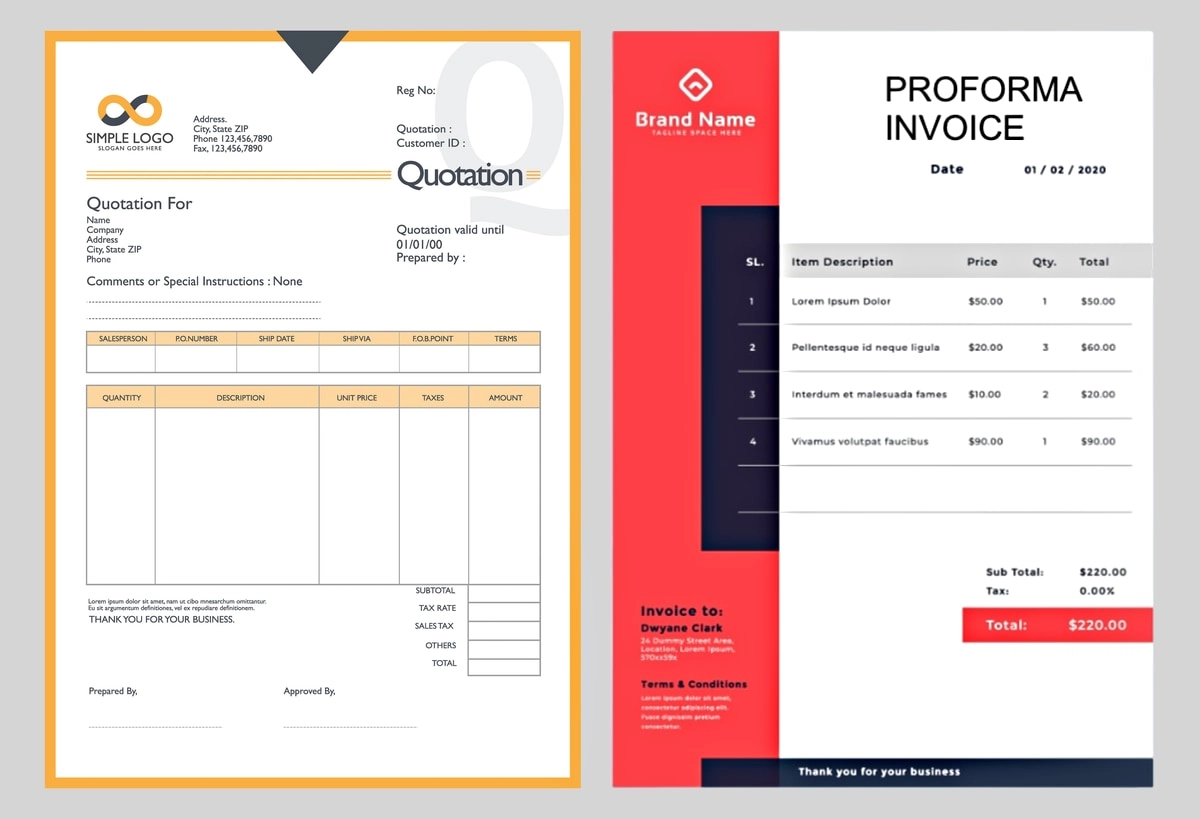 Example of a document quote next to a proforma invoice.
Examples of uses
Quotes may be given to prospective customers in these contexts:
An entrepreneur is researching card payment providers and submits details via an online form to request a personalised quote that's given over the phone.

A home owner enquires about the cost of a kitchen based on a loose description of style preferences, features and size. They are given a quote in a document.

A car owner asks how much it costs to fix particular faults in the car and gets a verbal estimate.

A customer asks an artist how much it costs to have a painting made of a friend and gets an email quote.
Proforma invoices may then be given as a next step:
When the entrepreneur decides on a card machine package, they get a detailed breakdown of costs before signing the contract.

The home owner provides exact kitchen dimensions and picks the specific design elements to obtain the final costing on a proforma invoice.

The car owner gets a proforma invoice to confirm pricing based on the verbal quote received at first.

The artist provides a proforma invoice to confirm the scope, cost and delivery time for the customer to confirm.
The above are examples of when a customer receives both a quote and proforma invoice. In reality, some businesses just provide one of them before a customer commits to the transaction. A receipt should always be provided after a payment is made.
You can get invoicing and quotation software that turns an estimate into a binding invoice. Some of them have integrated payments though an emailed invoice, but quotes and proforma invoices don't contain payment links as they are not signed off by the customer yet.