True to its 'simplicity' mantra, SumUp keeps developing products for busy merchants who want to get paid easily.
Established in 2012 and prevalent across Europe, Brazil, the US and beyond, SumUp has mostly created its products from its base in Berlin, Germany. Its beautifully-designed, yet functional, card readers go hand-in-hand with accessible online selling tools.
SumUp facts
Founded in 2012 in London
Merged with Berlin-based Payleven in 2016
Acquisitions: Shoplo, Debitoor, Goodtill, Tiller, Paysolut and Fivestar
Offers card terminals, business account, an online shop builder, payment links, QR code payments, invoicing, point of sale software and registers
Operational in 35 countries with a staff of around 3,000 spread across 25 locations
In the past few years, we have seen the offering encompass better remote payment tools, more sophisticated point of sale software and a business account, included free of charge. Even so, the humble and affordable card readers remain the star of the show.
To find out why, we spoke with SumUp's Head of Product Marketing, Amruta Hunnurkar.
A simple terminal – a gap in the market
SumUp's latest device, Solo and Printer, is an independent card machine with a receipt printer doubling as a power bank.
Built for both portability and countertops, it's more than just your standard machine. It follows the trend of card terminals with a touchscreen, yet looks futuristic with soft curves and a white exterior.
Emmanuel Charpentier, Mobile Transaction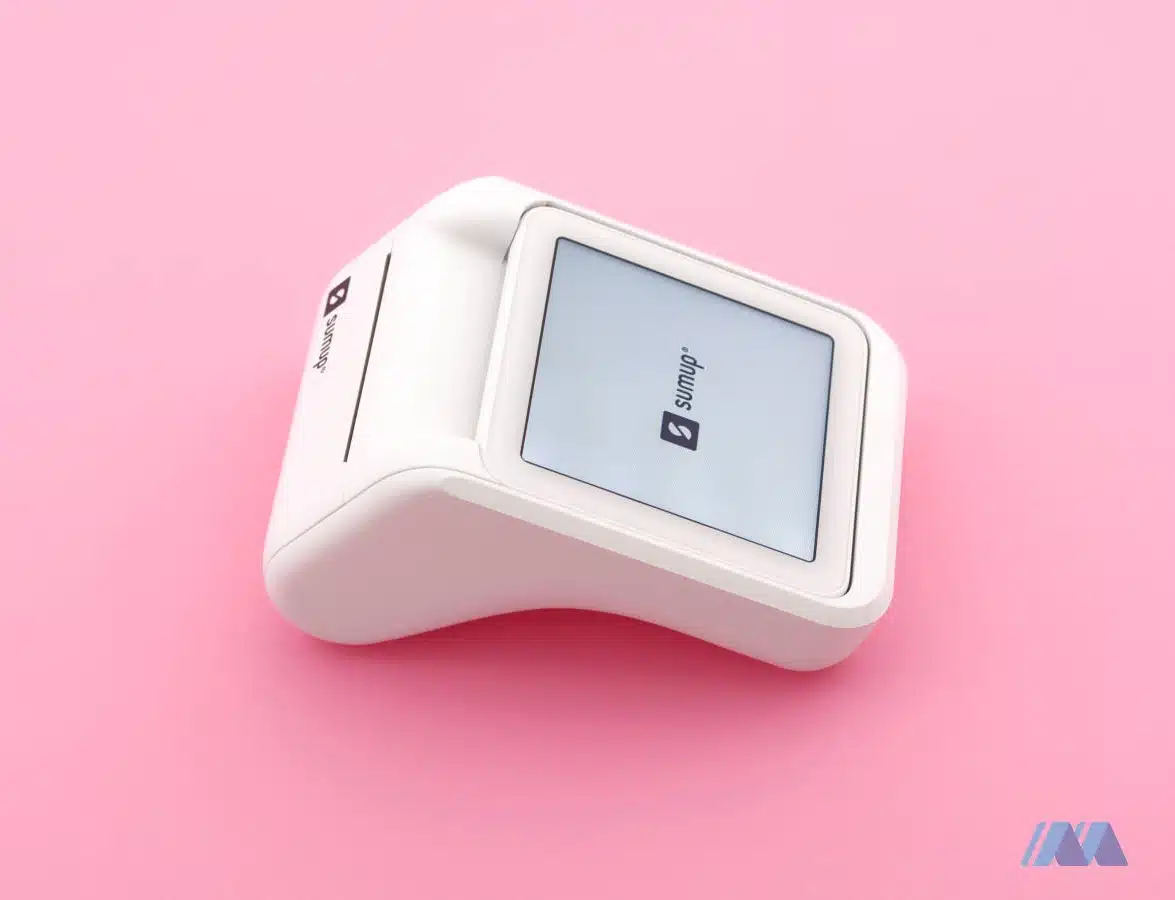 The SumUp Solo and Printer duo looks really pleasing to the eye.
We like the potential of SumUp Solo a lot and have tested it. Instead of jumping on the trend of offering smart terminals which allow for the downloads and use of third party apps, SumUp has opted for its own integrated system. Is that what merchants want? How does it fit with SumUp's broader plans for growth in the UK and beyond?
"SumUp supports over 4 million merchants across 35 markets globally, and we are continuously in conversation with our customers to understand their needs and wishes. That is why Solo was developed – from a clear customer need.
We saw a gap in the market for compact card readers which also offered features that merchants could directly access through the device as they went about their day. That's why the Solo is designed to be a sleek, square-shaped card reader. While being so small, it has all the features a small merchant needs to run their business from A to Z, and supports our mission of offering small merchants the full ecosystem of tools necessary for building a thriving business."
New payment methods a threat to card readers?
The company's most affordable card reader, SumUp Air, has gone from strength to strength in the European markets since launch seven years ago. Directly competing with Zettle Reader, Air works with a mobile app to make a simple point of sale (POS) for any situation.
It's still crucial to have a separate payment device. Think of merchants who have several employees, who certainly don't want to use their expensive private phone for customer contact.
The device connects through Bluetooth with the merchant's smartphone or tablet, using the latter's internet connection to process cards inserted in the chip slot or tapped over the contactless display of Air. Add to that a host of extras like an in-app product library and transaction reports, it has proven to be a winning setup for budget-constrained merchants.
Nevertheless, QR code payments, which SumUp offers, has gained some ground at the check-out counter. An increasing number of payment providers also now offer tap-on-phone, where a smartphone can accept contactless cards without a card reader.
Photo: Emily Sorensen, Mobile Transaction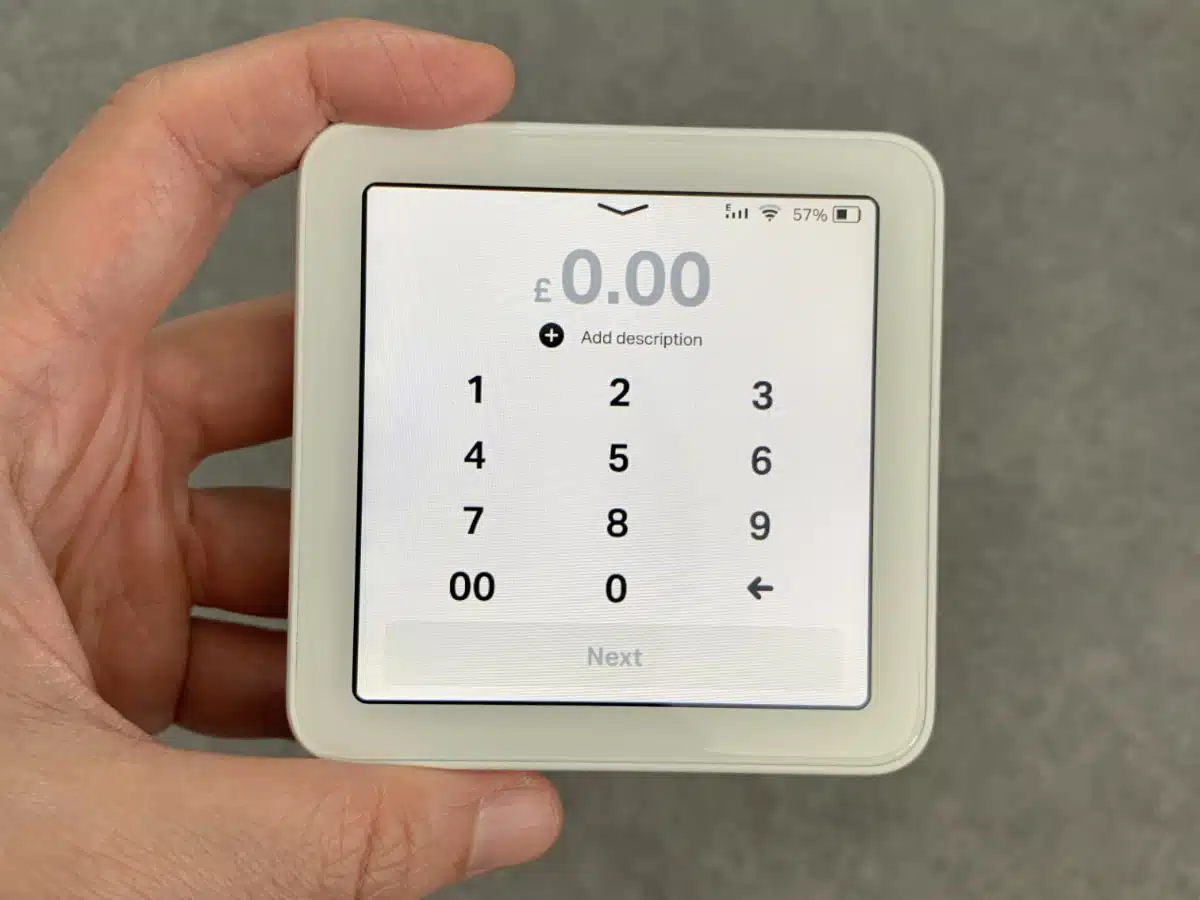 SumUp Solo is very small outside of its desk/printer stand.
It begs the question: if you don't need a terminal to process cards in person, is it even worth getting a card reader? Amruta Hunnurkar thinks so:
"Merchants come in all shapes and sizes, and have different needs. It goes for our merchants too. We see merchants that are just starting out with a need for simple payment acceptance, as well as merchants who need to accept payments in store, at the local market or at a catering event. We know from our customers that in many industries it's still crucial to have a separate payment device. Think of merchants who have several employees who certainly don't want to use their expensive private phone for customer contact.
SumUp's mission is to offer merchants the best possible solution for the current stage of their business and to grow together with them. So we definitely expect to have independent card readers around for a while, still – even offering extended features and services as the most convenient payment device."
Adapting to a tough business climate
In the current economic climate when prices are rising and hindering growth for new and small businesses, business expenses, like card transaction fees, are scrutinised more than ever.
The broad appeal of SumUp has long addressed the concern of affordability to merchants: pay a low price upfront for a card reader, then only a small fee per transaction accepted. No one is ever locked into a contract, so businesses can use the platform flexibly without worrying about managing a subscription or hidden fees. With new businesses launched and going bust all the time, payments are at least one less worry.
Fewer businesses can survive without a multichannel sales approach, especially evident during Covid-19 lockdowns when merchants were reliant on payment links and an ecommerce channel. SumUp was quick to adapt to this demand. How is SumUp approaching online and remote payments now?
"Payments will continue to be a lifeblood for our merchants' success. Multichannel payments enable our merchants to have peace of mind that they can accept payments no matter what.
At the moment, a majority of our merchants transact with card readers because it provides extra reliability. We anticipate that to be the case for the midterm.
But multichannel strategy is increasingly important for every business due to the changing consumer demands, no matter how small the business. Apart from offering additional payment solutions such as invoicing, QR codes, an online store, gift cards and payment links, we do provide the merchant a whole ecosystem of business tools to rely on, such as a business account or loyalty programme. Our product suite – hardware and software alike – are built to serve any small merchant's needs as they grow their business.
Payment links, for instance, (which allowed merchants to take payments at a distance) were specifically important during the pandemic, helping our merchants and their customers to feel safe. SumUp's full ecosystem is created with the new multichannel world in mind and should level the playing field by giving the merchants not only hardware, but also SaaS (Software as a Service) solutions that they didn't have access to in an easy-to-use and affordable manner."
Ease of use still central to success
Moving forward, accessibility to a variety of payment methods continues to be a priority for the company's plans to help small businesses. The SumUp method from the start has been to save time for merchants in interacting with its services and products. As Hunnurkar explains:
"Ease of use is crucial for our new merchants, many of whom are first-time business owners. This is baked into a merchant's experience with SumUp.
A merchant wants to start transacting as soon as possible with their card reader. Rather than wait for a sales call, they can buy the card reader from our website or a partner retailer and get it set up within minutes. We keep pricing easy and transparent, without any monthly subscription fees attached. When they get the card reader, they can set it up themselves, because the product walks them through it intuitively."
Although most of these aspects are offered by competing payment providers, there's something about SumUp's software and terminals that just oozes more efficiency. The lack of extraneous features is not such a bad thing when all you need is just to get selling fast.