Zeller is challenging traditional banks in handling payments and reimagining business banking for the 2.6 million actively trading Australian businesses.
In less than two years since introducing their card terminal, Zeller has had 30,000 businesses sign up. Led by former Asia-Pacific head of Square, Ben Pfisterer, the company has disrupted the Australian market for financial services for small and medium-sized businesses. In addition to Zeller Terminal, Zeller offers a transaction account, debit cards and invoicing.
Challenging the traditional banks
The Zeller CEO knows the banking sector well, having been part of the team introducing tap-and-go at the National Australia Bank (NAB) in 2006 when contactless payments were still in their infancy. NAB – along with ANZ, CBA and Westpac, referred to as the 'big four' Australian banks – has dominated the retail banking space, holding 80% of deposits.
Zeller facts
Co-founded in 2020 by Ben Pfisterer and Dominic Yap
Headquartered in Melbourne, Victoria, Australia
Number of employees: 215
Services offered: Card machine, transaction account, debit card, invoicing
NAB – along with ANZ, CBA and Westpac, referred to as the 'big four' Australian banks – has dominated the retail banking space, holding 80% of deposits.
The big four have had a firm grip on the business market too. Tyro Payments, established 20 years ago to challenge the payment processing dominance of the big banks, still holds only around 4% of the total card payment market in Australia.
Ben Pfisterer led the Australian expansion of American fintech company Square in 2016, growing its market share over several years. Rather than taking customers from Square and Tyro as you may assume, Pfisterer says over 80% of Zeller customers are switchers from the big four banks.
Zeller does not yet hold a banking license, and refers to their account as a "transaction account". For many businesses, Zeller's account is the only one they need, bypassing a traditional bank account.
The account also comes with a debit card and access to Zeller's online invoicing product. "This is something that the big four banks do not offer all in one place," says Pfisterer. "Having your finances housed in one location rather than with several disparate providers is very attractive to new and established businesses alike, as they get more value for money."
Simplicity a major draw
The ease of dealing with one provider for several financial needs is one part of the attraction of Zeller; simplicity and time saved are also key. Pfisterer says simplicity is at the heart of everything they do.
"Signing up for a Zeller Account online can take under five minutes. The experience continues to be time-saving and smooth throughout – whether sending an invoice, creating a new account or debit card."
We know that business owners are notoriously frustrated by the limitations of financial services companies with complex, hand-written forms, long waits at branches
The traditional banks have been investing in digital solutions to serve customers better. The rapid growth of Square and Zeller is a sign that easy and frictionless customer journeys are not yet a reality for business banking. Pfisterer calls their practices "outdated".
"We know that business owners are notoriously frustrated by the limitations of financial services companies with complex, hand-written forms, long waits at branches and everything in between. We want to surprise our customers with how simple and beautiful our user experience is. We have seen consumer banking products evolve to be well-designed with apps and features in the last few years – we are committed to bringing this to businesses, too."
Expanding services
Zeller has not gone down the same route as competitor Square, to offer a range of hardware and point-of-sale solutions, but is instead focusing on competitive online invoicing software as well as several other products coming soon.
Recognising that there is an increasing demand for the convenience of paying for invoices online with a debit or credit card rather than a bank transfer, Zeller recently launched an invoicing tool. For a business, offering an online payment option typically reduces the time to get paid.
Zeller lures business owners with the prospect of sending unlimited invoices for free. Pfisterer says their customers also like the "greater visibility of cash flow alongside their other financial services products."
Many Zeller customers have opted for the integration with Xero, the accounting software with the highest market share among small businesses in Australia. Merchants can send invoices from Xero and have funds settled in the Zeller transaction account.
Zeller is now taking a step further: challenging accounting software providers on their home turf, invoice issuance.
Cost reduction is another drawcard. Zeller offers the most attractive online card payment rate for invoice processing at the time of the interview, a point Pfisterer is highlighting: "Businesses can save 5% on a $100 invoice if they process invoices with Zeller, compared to the next-most affordable competitor."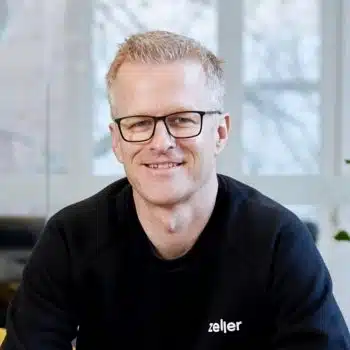 2020 – present: Zeller, Co-founder and CEO
2014 – 2019: Square, Australia Country Manager and Head of Asia Pacific
2009 – 2013: Visa, Head of Innovation and Emerging Products for Australia and New Zealand
2006 – 2009: National Australia Bank, Senior Manager positions
The surcharging debate
The Zeller transaction fee for card terminal sales is simple: one flat rate for all cards, which has remained at 1.4% since the launch in 2021. The rate undercut Square's transaction fee as well as the PayPal card reader, which has since exited the Australian market. Launching during the Covid-19 lockdowns, when many businesses were struggling, made the competitiveness of Zeller's fees even more compelling.
Merchants can choose between covering the fees themselves or passing them on to the customer as a surcharge. Surcharging is fairly common throughout Asia. It is a trend Pfisterer says is increasing among their customers.
"It is a commonly used feature of Zeller Terminal, yet we aren't building our business around it – you can choose to use it, switch it on and off as it suits, or surcharge only part of the fee. We feel strongly that this should be the decision of the individual business and for this reason, don't prescribe one approach."
With some negative chatter among consumers on social media about surcharging, we had to ask if the trend had gone too far in Australia, to the point where businesses risk putting customers off. Pfisterer notes that surcharging is divisive, but also points out:
"There is an argument to say that it provides a degree of transparency. Ultimately, all costs incurred by businesses need to be recouped in their pricing, so whether it's blended into the cost of the item or added as a surcharge, the result is the same.
Due to the overall increase in the practice, I don't believe business owners should be concerned about putting customers off. Big businesses like Aldi have been applying surcharges for years. Australian consumers are becoming more familiar with the practice."
Global expansion
Airwallex, another Melbourne-born payment unicorn, made cross-border financial services the core of its business model. Zeller has focused solely on the domestic market. "We are focused on building and launching more products here in Australia to serve our growing base of customers," says Pfisterer.
Pfisterer was in charge of innovation and new products for Visa, covering both Australia and New Zealand, and has vast international experience, well-versed for when the time for international expansion is right.
A date has not been set yet, but Pfisterer told Mobile Transaction that "international expansion is definitely on our roadmap. Everything we build is in preparation for global expansion. Yet we will only do so when the timing is right."
Zeller is focusing on growth in Australia first, promising to introduce more financial products and services in the coming months.