If you have a UK business of any size and are thinking about upgrading your ePOS system, or if you are starting a new business and need some basic facts about the AirPOS ePOS system to help guide your decision-making, read this review first. AirPOS is part of the new breed of ePOS and e-commerce software solutions that are making life simpler and easier for retailers and businesses in the UK.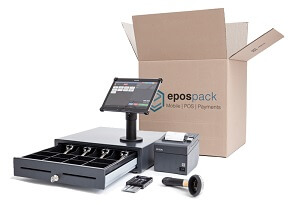 What is AirPOS?
AirPOS is a cloud-based ePOS software platform that works with Windows, iOS and Android devices. It has been designed so that you can install it yourself and use it with your existing hardware, as well as with fixed and mobile point of sale devices. Alternatively an AirPOS ePOS pack is also available containing all the hardware you need to process cash and card payments.
The AirPOS platform has been designed to support mobile payments and Android users can integrated AirPOS with Payleven's Chip and PIN reader, while iPad users can use PayPal Here. There is a further option where customers can pay for goods using a smartphone and the PayPal app by 'checking-in' to the store. The customer's profile then appears on the AirPOS system and payment is made by clicking on the profile.
Synchronization, online and in-store
AirPOS is clearly designed for flexibility by providing multiple channels for customers to pay for goods, but it also lets you either set up or integrate your existing online presence with your in-store sales. The software can synchronize sales and inventory between your online and retail store, and even if you temporarily lose your internet connection the system will automatically synchronize the data once you are reconnected.
Find out how well your business is doing
No matter what size your business, be it a micro-business or large enterprise employing many people, data is vital. At the basic level you should at least know how your sales are going and this is easy to find out with the Airpos 'Backoffice'.
The Backoffice is AirPOS's comprehensive reporting and analytics portal. You can keep it simple and just follow your sales, but if your business is larger it allows you to follow many elements of the business in real time, including sales patterns, employee performance and all the elements of stock and inventory control can easily be managed as well as synchronized if you have online sales too.
With some accounting functions thrown in for good measure, you can really keep track of your business.
Simple pricing
AirPOS pricing structure is simple and straightforward and there are two packages to choose from. The point of sale apps package is a flat-rate fee of £17.50 per month per device, and the multi-channel package is £32.50 per month and includes PayPal payment integration, web hosting and multi-channel inventory control.
Hardware supported
AirPOS supports a wide variety of hardware including a large number of mobile printers and
cash drawers (any standard RJ-11 cash drawer), barcode scanners and mobile point of sale readers.
There is much to recommend about AirPOS and its ease of installation and functionality, which means owners can get on with the job of running their business and making profits. As AirPOS is a cloud-based system, data is secured safely in the cloud and is backed up on an hourly basis.