Simply put, a virtual terminal is a secure web page in your internet browser where you can process card payments online. It is called "virtual" because it functions like a credit card terminal, but through a non-physical software application rather than physical terminal.
Usually, the virtual terminal is embedded on a page you can access when you're logged in to your payment provider's account online. You process the payment by manually entering the customer's card details – which you may be given over the phone, a mail order form or through an online chat – and submitting it for processing. The customer's card will then be charged, and the money transferred to your payment provider account or bank account, minus applicable processing fees.
Manual payments are usually completed without the cardholder present, for example if you take a booking, reservation or order for a product over the telephone. In order to take a manual payment, you need to have three things – a virtual terminal, computer or mobile device, and an internet connection.
The basic steps
If you've shopped online, you will have been directed to a payment page where you've entered your card information and clicked "pay". A virtual terminal is almost identical – and you can process a payment in three easy steps:
Make sure you're connected to the internet. Then log in to your virtual terminal (you'll need to set up an account with your payment processing provider first to do this).
Enter the details prompted by the form on the page while you're communicating with the customer.
Click on the "submit" (or similarly named) button.
Through the magic of technology, you have securely charged your customer's credit or debit card following these steps.
Read more: How to take payments over the phone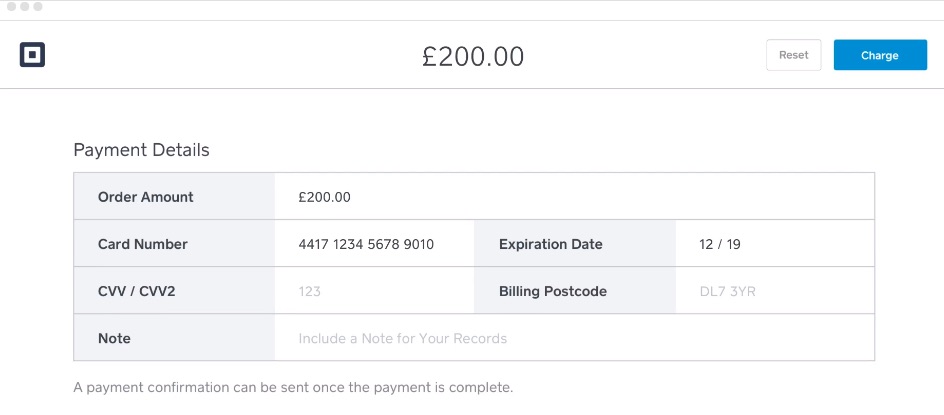 Square is an example of an easy-to-use virtual terminal interface that an be used in any browser.
Advantages of virtual terminals
You can take payments quickly and easily without your customer being present. But if the customer is present, you will need a card reader that can perform a chip and PIN or contactless transaction instead, for security and verification reasons.
You don't need to invest in expensive point-of-sale software or traditionally expensive credit card machines. If you don't sell anything in person, you don't even need to invest in a cash drawer.
There is more freedom and flexibility – transactions can be carried out anywhere, from any device and at any time, as long as you have an internet connection.
Disadvantages of virtual terminals
You need extra security measures in place to take card-not-present payments to avoid chargeback fees.
Keyed-in payments require more effort (typing needs attention to detail) than a card machine transaction that automatically processes a contactless or chip and PIN card.
Fees are typically higher for transactions where the card/customer is not present than for card machine payments.
Okay, I think a virtual terminal will benefit my business. How do I know which provider is right for me?
The market is full of virtual terminal providers – the trick is to find the right one for your business. Researching the fees and contractual commitments is often difficult, since providers are usually not very transparent about these.
Larger financial institutions such as banks usually insist that merchants sign up to a fixed-term contract (often a minimum of 12 months), fixed monthly fee and transaction fee. To give an example, Barclaycard makes you commit to:
A 12-month contract
A fee of 1.75% for Visa and Mastercard, with additional fees for American Express
A fixed fee of £20 per calendar month which covers up to 350 transactions
Further transactions are then charged at a flat rate of 10p each
Please note that these fees are from the latest available information online about Barclaycard's virtual terminal. You'll need to phone Barclaycard to verify details, as these may change any time.
For many businesses, and particularly start-ups or those with a highly variable monthly income, the concept of being tied to a contract or paying fixed monthly fees is untenable.
If you don't want to get tied in to a contract, PayPal also offer a virtual terminal that has:
No contract
A monthly fee of £20
Transaction fees which could be as low as 1.9% plus 20p per transaction, or as high as 3.4% plus 20p per transaction and are variable depending on the total payments processed the previous month
Additional currency conversion fees and cross-border fees apply
The downside with PayPal is that your business has to process more than £1500 a month to qualify for merchant rate pricing. If you put through less than that, you will be paying the higher rate of 3.4% + 20p per transaction.
If monthly fees are turning you off, you could consider a provider like Square. Better for businesses keeping a tight rein on their month-to-month expenses, Square offers:
No monthly fees
No contract
A fixed transaction fee of just 2.5% for every payment you process
There is no setup cost with Square – you really only pay the fixed transaction fee, so you always know what to pay while being able to opt out any time.
There is a virtual terminal suitable for every business. Find yours and get ready for a whole new avenue of sales and profit.