It's well-documented that Buy Now Pay Later has boomed online during the pandemic. The less reported aspect is its popularity at the point of sale in physical stores, also referred to as 'offline'.
Buy Now Pay Later (BNPL) is a credit option allowing consumers to buy a product or service straight away and pay in fixed instalments.
Whereas point of sale (POS) finance for expensive items like laptops has been offered in store for decades, this typically involves a full credit check before the customer is approved and signs a contract for an instalment plan.
The new BNPL solutions, such as Klarna and Clearpay, are different. They use computer algorithms instead of rigorous credit checks, are largely unregulated and function to encourage more and higher-value sales. In fact, retailers offering BNPL get an up to 55% higher average order value (source: Verifone) at checkout.
In the UK, 5% of all online payments were using a buy now, pay later option in 2020. This number is higher in Germany (18%, 2019 figure) and Australia (10%, 2016-2020 figure), likely because consumers possess fewer credit cards in those countries. Only 2% of online payments in the US were using a BNPL method in 2020, likely because of their normalisation of credit cards.
But what are the signs that in-store BNPL payments are gaining foothold?
More physical stores offer BNPL, but mainly big retailers
Some major UK retailers have started offering Klarna in store, for example New Look, Schuh and iSmash. H&M launched Klarna in store in 2019, which works through H&M's own app.
Furthermore, Argos offers its own store card with short, interest-free payment plans for purchases at Argos, Habitat and Sainsbury's only. Argos Card has become the UK's most popular store card, and the app My Argos Card is the second most downloaded BNPL app, after Klarna.
Apart from the big retailers, the roll-out of BNPL solutions in small retail shops is lagging behind. That's partly because the transaction fee is much higher for these payments, but also because there are not many EPOS systems and card machine providers actively incorporating this payment method into their software.
Only one electronic point of sale (EPOS) system in the UK is currently advertising a BNPL integration, and that is Vend which works with Klarna In-Store. Out of all the card machines, only Verifone models can so far show QR codes for in-store BNPL payments, and this would require a pre-installation.
Zettle has a partnership with Klarna for in-store payments in some European countries including Denmark and Norway, but this collaboration has yet to come to the UK.
Since Square bought Afterpay in 2021, North American Square merchants can expect to see this integrated at some point, whereas British Square merchants may have to wait for an integration with Clearpay (same company).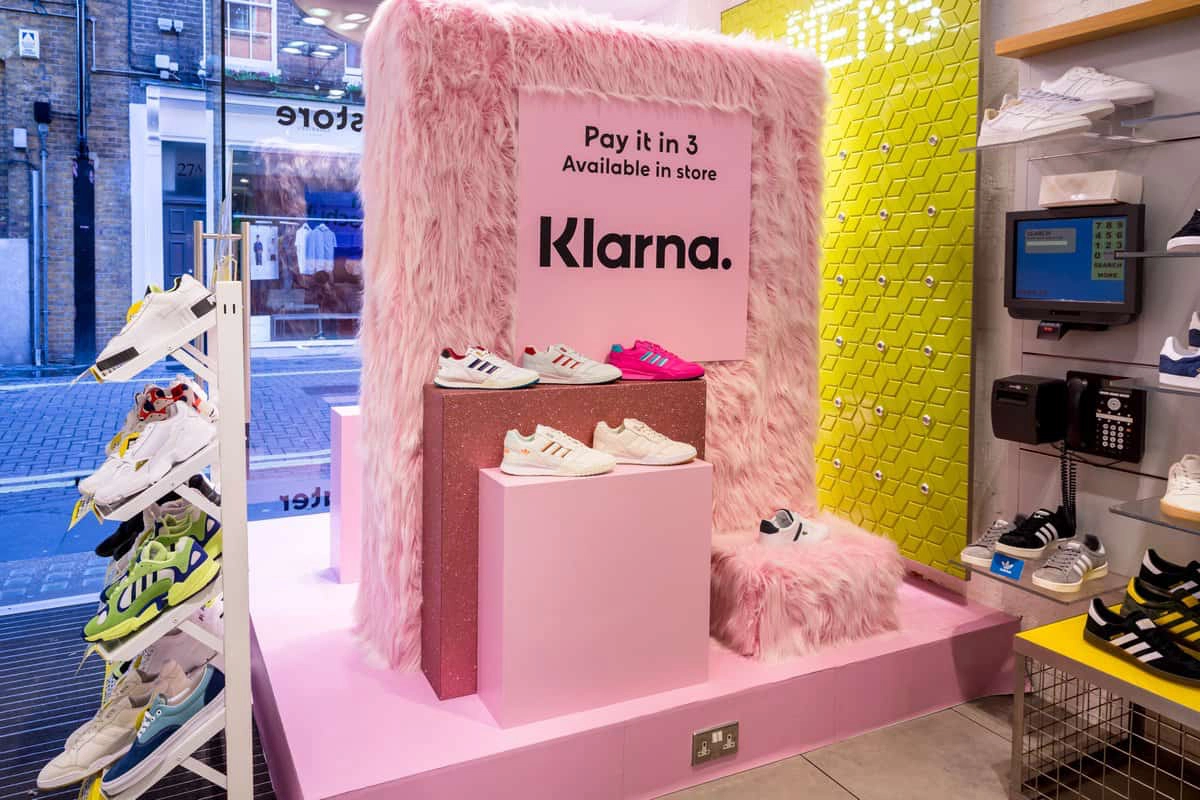 British consumers can pay with Klarna at Schuh (pictured) and other big high street retailers.
BNPL providers are making it easier to spend in store
But Buy Now Pay Later providers themselves have lowered the threshold for in-store purchases by introducing apps to consumers.
Laybuy, for example, offers a digital card you can add from the Laybuy app to your mobile wallet. This lets consumers tap their smartphone on a card machine for payment in 6 interest-free instalments in select retail chains accepting Laybuy.
The great success of Afterpay in Australia has seen more people search for shops offering this in store, particularly since the digital Afterpay Card can be added to your mobile wallet for use in stores accepting Afterpay. In the UK, sub-company Clearpay has yet to introduce this feature along with in-store payments.
The digital card available in the Klarna app can still only be used in online stores. In a store, users have to provide their email address and mobile number to the till staff, then go through a basic confirmation process for the Klarna transaction – a bit more tedious than Laybuy's "tap and pay" method.
Other BNPL providers, like US-based Affirm, are working on similar virtual cards yet to be launched. Retailers can sign up for these providers, but a barrier is the cost of transactions which is higher than for physical card payments.
Banks are fighting back with own BNPL solutions
The BNPL trend has lured more people away from using their credit cards, threatening to steal a chunk of the interest fees that banks rely on.
Therefore, an increasing number of banks are now working on introducing BNPL as a payment option for anywhere their debit card is used.

In the last quarter of 2021, however, there is still only one bank offering a BNPL solution: Monzo. In September 2021, Monzo Flex was launched in beta for Monzo Personal account holders, allowing users to purchase anything above £30 in three interest-free instalments. You only need to process one upfront application, and then the card can be used in any online and physical store accepting Mastercard.
Revolut has announced they are working on a similar solution for its account holders in Europe, so it may only be a matter of time before more people use it at the till with a tap on a contactless terminal.
There's talk about certain banks, e.g. Barclays, working on their own BNPL solutions in order to catch up with demand, so the next years will probably see more competition.
The US is more developed in that regard, since you already have credit cards with a BNPL option like AmEx Plan It, Barclays Easy and My Chase Plan. Apple Pay Later is another new product specific to the US market.
Will BNPL be the new norm in physical shops?
Most big online retailers now offer a buy now, pay later option. But while BNPL fintechs have gained traction with eye-watering valuations and global reach, it's still unclear when small-business sellers can benefit from it.
The growth of BNPL during the Covid pandemic shows that consumers – mostly Millennials and younger people with insufficient credit options – are getting comfortable with its concept. Consequently, it may eventually be expected that small shops catch up too.
As an in-store option, it's becoming less important for the retailer to set up a BNPL merchant account directly, since the likes of Monzo Flex allow consumers to opt for it anyway. Even online, independent retailers that haven't set it up may unknowingly accept it through the likes of PayPal Credit.
The question is whether BNPL will eventually be preferred over credit cards, which over 60% of British people – mainly in the 40-54 age bracket – still use. If it will, small businesses will have to adapt and promote it as a payment option in store.
BNPL's interest-free, short-term credit undoubtedly lures people to choose it, but this has prompted debates about whether it harms consumers more than it helps. To address this, the UK Government has just launched a consultation due to be finalised in 2022.
Even with regulations on BNPL products looming on the horizon, independent sellers are looking to adopt it in their stores – albeit cautiously.