Business ideas are as varied as people, so it can be hard to know where to begin. But starting a business online broadly requires similar steps.
The actions can be grouped into:
Becoming a legal entity
Creating your website and online presence
Internal processes
Growing the business
Within these categories, we look at the crucial actions to address in Australia to get your online business on its feet.
Becoming a legal business
You may want to register as a company or other entity in Australia, depending on what type of business you are.
This is done on the Australian Business Register website by signing up for an Australian Business Number (ABN), which identifies you to the Australian Tax Office (ATO) so you can submit taxes and claim back GST.
A Partnership, Company or Trust must be ABN-registered to operate legally. Sole Traders, on the other hand, can get away without it if still at a hobby stage, but it is recommended to get an ABN to look serious and avoid a complicated accounting scenario further down the line.
Crucially for an online business, an ABN allows you to get a web address ending with .com.au, .net.au or .org.au. These domain endings are managed by the Australian Domain Name Authority (auDA), who requires your business details (incl. an ABN) to grant you one of these URLs. That's because they are strictly reserved for commercial use only, except for those ending with .id.au which is strictly for personal use only.
It's possible to buy an international domain ending in .com or similar, but the auDA may take the site down if you use it for business purposes. Once you start providing a commercial service, you'll have to reregister it with an .au ending.
Food and drink companies also need to obtain relevant food licences to operate legally in Australia.
Creating your website
Once your business and domain are registered, it will be easier to register for an ecommerce platform for building a "home" with products and services. This should be linked to an online payment system, if selling through the website.
Save time with all-in-one ecommerce platforms
If you're not tech-savvy, we recommend an all-in-one website builder requiring no technical expertise to build an online store with a payment system.
>>We recommend these all-in-one ecommerce platforms
Some are better for retail shops, such as Shopify. Others have templates and payment options better suited for services, subscriptions and bookings, such as Squarespace and Wix. The most affordable one with versatile payment tools is Square Online.
Alternatively, you can choose a more custom (and technical) setup like WordPress, add a shopping cart plugin and hire a developer to create the site. It's possible to create a custom site in WordPress starting with no coding experience, but we don't recommend it as a quick way to get started.
The main components of a business website are the following:
Template: Design 'skeleton' determining style, fonts, colour scheme and layouts.
Payment system: Processor accepting cards or other payment methods online.
Images: Photos, illustrations and logos aligned with your business.
Copy: Core text on home page, buttons, products/services and essential pages.
Content: Blog posts, articles and information pages to bulk up the site.
Page elements: Header, footer, contact form, maps and other website parts.
Some use videos as part of the visual design or to communicate how something works, for example. Audio can be added to the home page (can slow the site down, though) or to aid those who need auditory guidance.
A good website builder allows you to edit, add and remove any component easily, either through drag-and-drop showing visually the changes in a preview or a user-friendly menu that's easy to understand.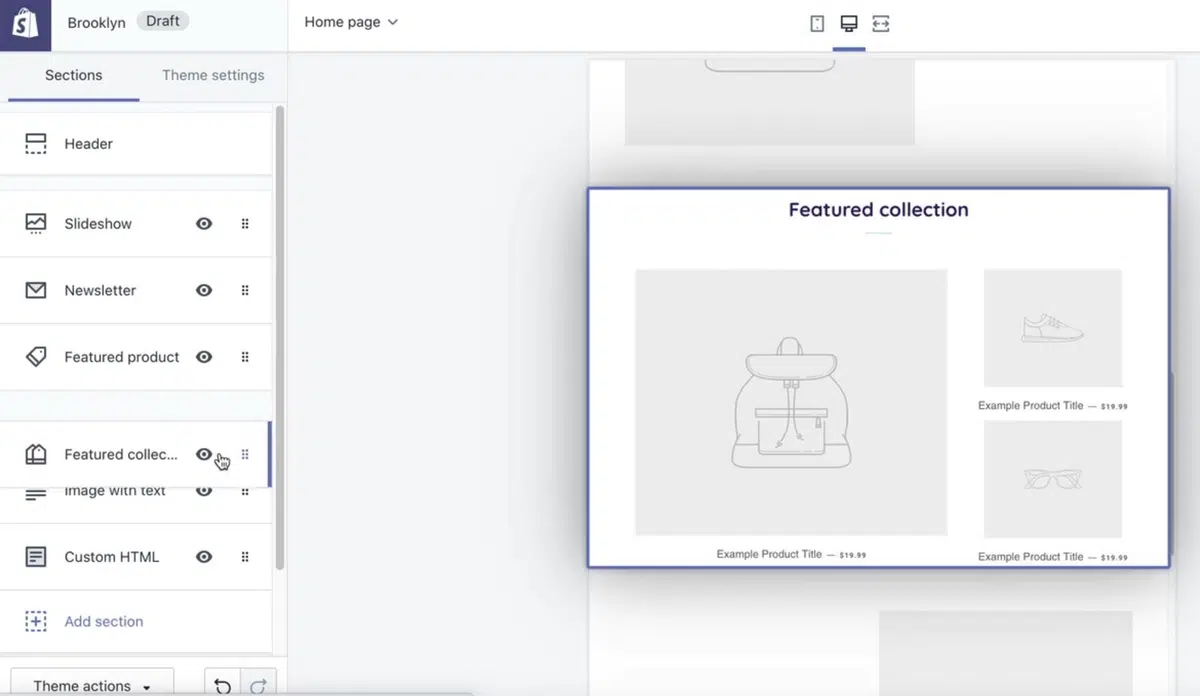 In Shopify, you edit pages from a side menu that's not too complicated.
Your purchased domain is linked to the website on your chosen platform. All-in-one builders include web hosting (server storage for the site), which is essential. If it doesn't, it's necessary to subscribe to a hosting provider like DreamHost, GoDaddy or Cloudways, then link it with your website.
Website platforms either have an online payment gateway (payment system) built in or you can integrate chosen processors like PayPal, Stripe and Alipay. Transaction fees differ greatly between the solutions, and may be reduced on a more expensive subscription.
Solidifying your online presence
Businesses generally benefit from a dedicated website and some social media presence, but some sectors also need profiles on certain marketplace platforms.
Food delivery companies, for example, may get more customers by signing up for Menulog, Deliveroo and Uber Eats (though they charge high service fees). We therefore recommend researching the different sales channels your type of business sells through, and consider which to join.
If your business has a physical address, you should as a priority register a Google Business Profile rendering it visible in Google Maps for users to find. Otherwise, people won't know it even exists. This profile can be linked with your website, an online ordering menu, and more.
Social media channels help grow an audience, but you don't need a presence on all networks, unless you can dedicate enough time for it.
A Facebook/Meta Business profile is important if your ideal customers hang out there, since it's normal to look up businesses on Facebook. Instagram is great for promoting photos of physical products, events, places and anything else you can portray visually. WhatsApp works well for direct messaging instead of text messages.
Image: Mobile Transaction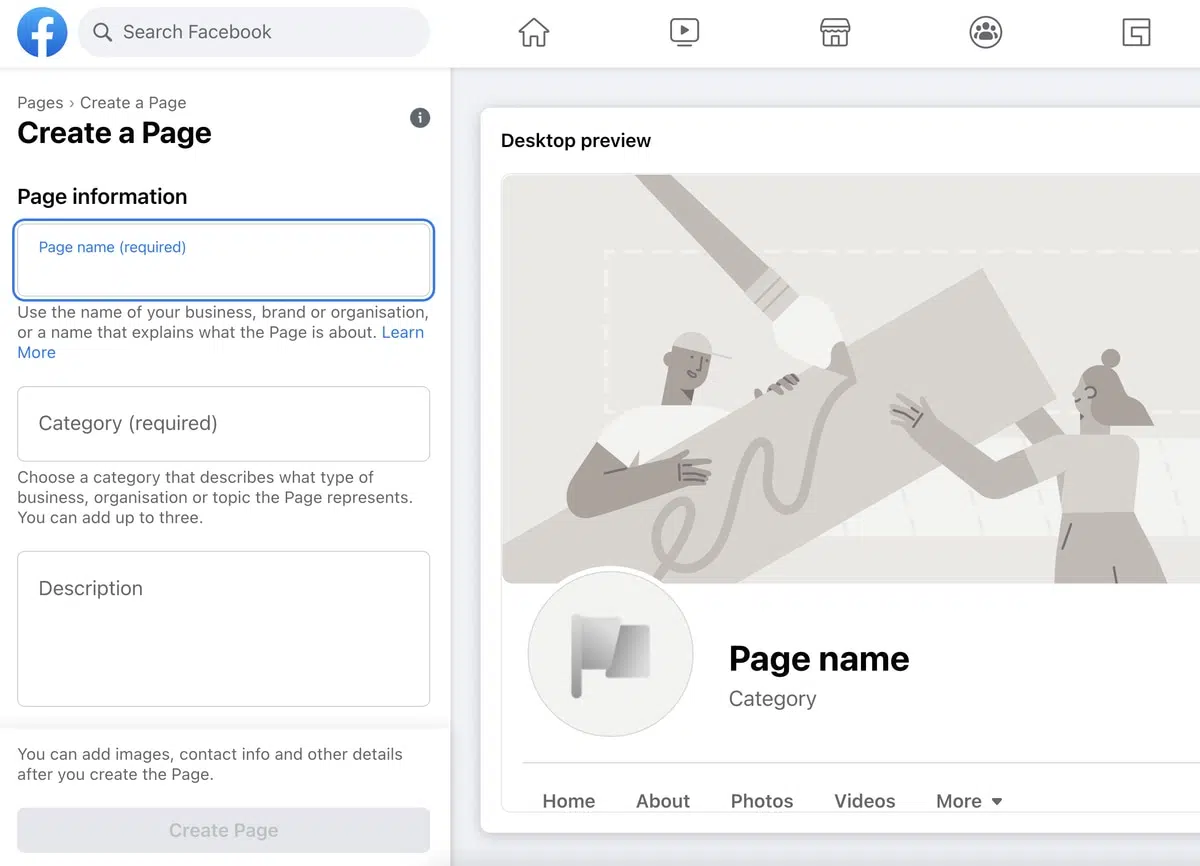 Facebook guides you through creating a business page with easy-to-understand steps.
People tend to spend quite a bit of time on Instagram, Facebook and even Twitter, so they are opportunities to build a community of like-minded followers. If selling physical products, you can even add a shop on Instagram and Facebook to sell directly from there and analyse what users like.
As the number of online profiles grows, so does your management load as they should all be kept up to date and interlinked. On social media, posting regularly is important to show you're active and available to approach with questions.
Internal business processes
Registering your business, building a website and linking it to other profiles are the foundations to be found and sell online, but certain practical aspects have to be managed too. What these aspects are depend completely on the type of thing you're selling – here are some examples.
Shipping, delivery and/or pickup processes (retail)

Takeaway, courier and/or takeaway processes (food and drink)

Inventory management and storage
Calendar/booking management

Communications prior to service

Deposit and cancellation process
Scheduling/booking management

Digital and/or physical tickets

Streaming of online events
Platform allowing account sign-ups with exclusive access on a website

Membership cards (if relevant)
Apart from the sector-specific processes like above, you'll need a bookkeeping system (maybe an accountant) and time to maintain the website and online profiles.
The easiest way to manage all these is to choose an all-in-one platform with all the relevant functions integrated.
For example, Squarespace accommodates for various types of startups, with features for e.g. memberships, scheduling and inventory management. Square has a similarly wide feature set with many free online payment tools.
Growing the business
Once the online presence and internal processes are functional, it's time to grow the business. Key ways to do this include:
Social media marketing: Posting content on profiles, communicating with followers, promoting services/products.
Search engine optimisation (SEO): Keywords on website, content optimisation, interlinking.
Email marketing: Mailing lists, email promotions and news, encouraging new sign-ups.
Promotions: Occasional offers, voucher codes, timed promotions.
Customer loyalty: Collecting customer details, analysing purchasing behaviours, exclusive offers.
Running ads in Google and on social media is expensive and often not the best way to get customers. If you sell handmade or vintage products, Etsy is a good place to get an online shop that gets advertised for you, but transaction fees are high.
It's good to focus on the quality of services or products sold, as word of mouth goes a long way to attract new customers. Positive reviews on Google, Facebook and anywhere else are often the best kind of ad – but only if they're not fake (that is cheating and against website policies).