Businesses selling face-to-face commonly have a setup for transactions referred to as a 'POS system'. But what does it mean?
The acronym POS stands for point of sale, the location where people complete commercial transactions in person. A POS system is the hardware and software system merchants have in place to process transactions at the point of sale.
Given the reference to system, a POS system is a configuration of equipment and features essential to sales, such as entering items purchased, accepting payment methods and finalising transactions with a receipt for the customer.
There are many types of POS system geared towards different budgets, physical setups, sectors and levels of complexity.
Types of POS system
A POS system can refer to a whole setup of hardware and software components, but it is also the term for just the POS software at the heart of it all.
To confuse matters further, there are different types of POS systems, each requiring different setups. The main purpose of them all is to accept payments for goods being purchased in person.
Cash registers
Mechanical and electronic cash registers have physical buttons for entering transactions, a display, and usually a built-in receipt printer and accompanying cash drawer. These are not connected to anything else away from the point of sale.
Cash register – characteristics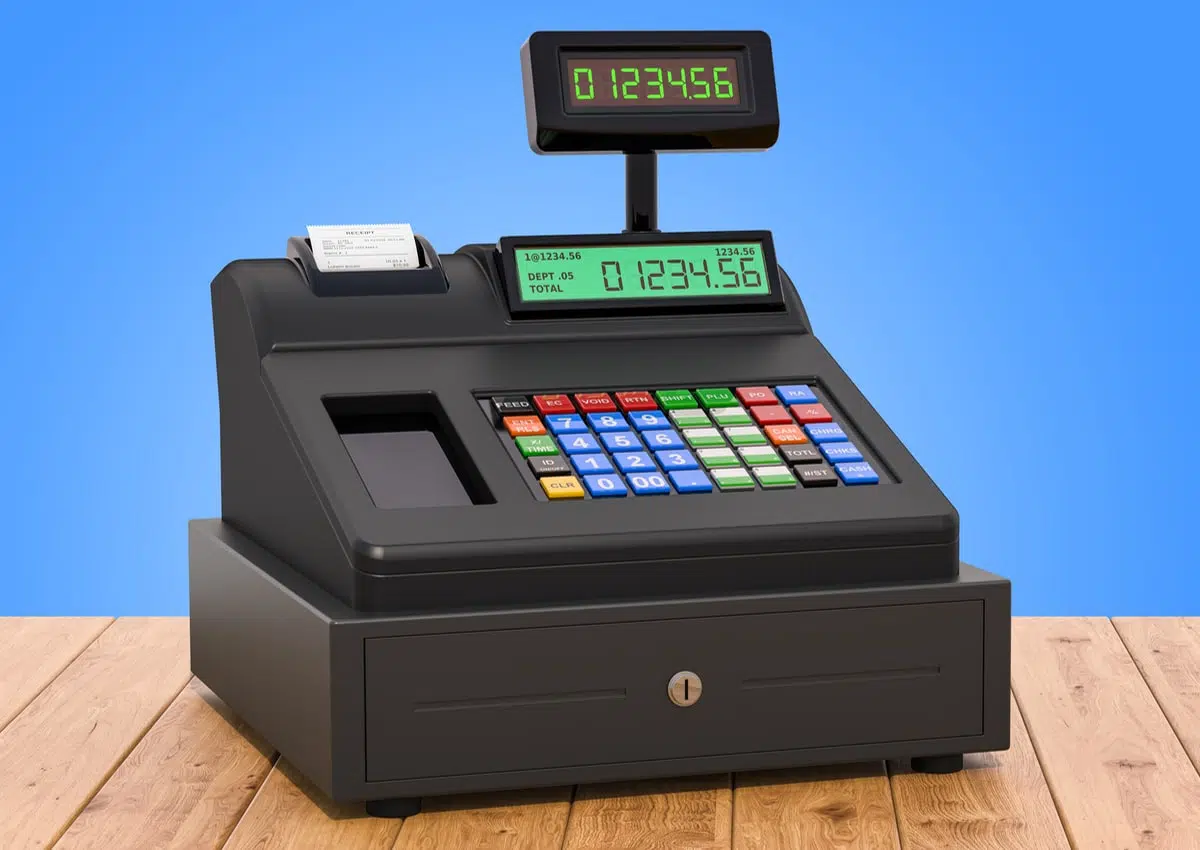 Mechanical or electronic
Has physical buttons, display, receipt printer and (sometimes) a customer-facing display
Paired with cash drawer and (sometimes) barcode scanner
Manuel entry of prices; preprogrammed items possible in modern registers
No connection to internet
Not integrated with EFTPOS machine, but can be used in parallel with one
Guided by price tags or pricing lists, the cashier manually enters the dollar amount on the register of each product being purchased. The cashier then accepts the customer's cash (or cheque/other manual payment method), places it in the cash drawer and hands back change to the customer along with a receipt.
Since the the 1880s, shops have used cash registers as the main way to record transactions up until the 1990s when computerised tills rose in prominence. Electronic registers are still used in some places, but digital POS solutions are more dominant.
On-site, 'legacy' POS systems
As personal computers (PCs) went mainstream in the 1990s, so did computerised POS systems installed on the merchant's premises. These are costly software packages based on a local hard drive (instead of the internet) and connected with a touchscreen PC showing a virtual button interface at the point of sale.
On-site POS – characteristics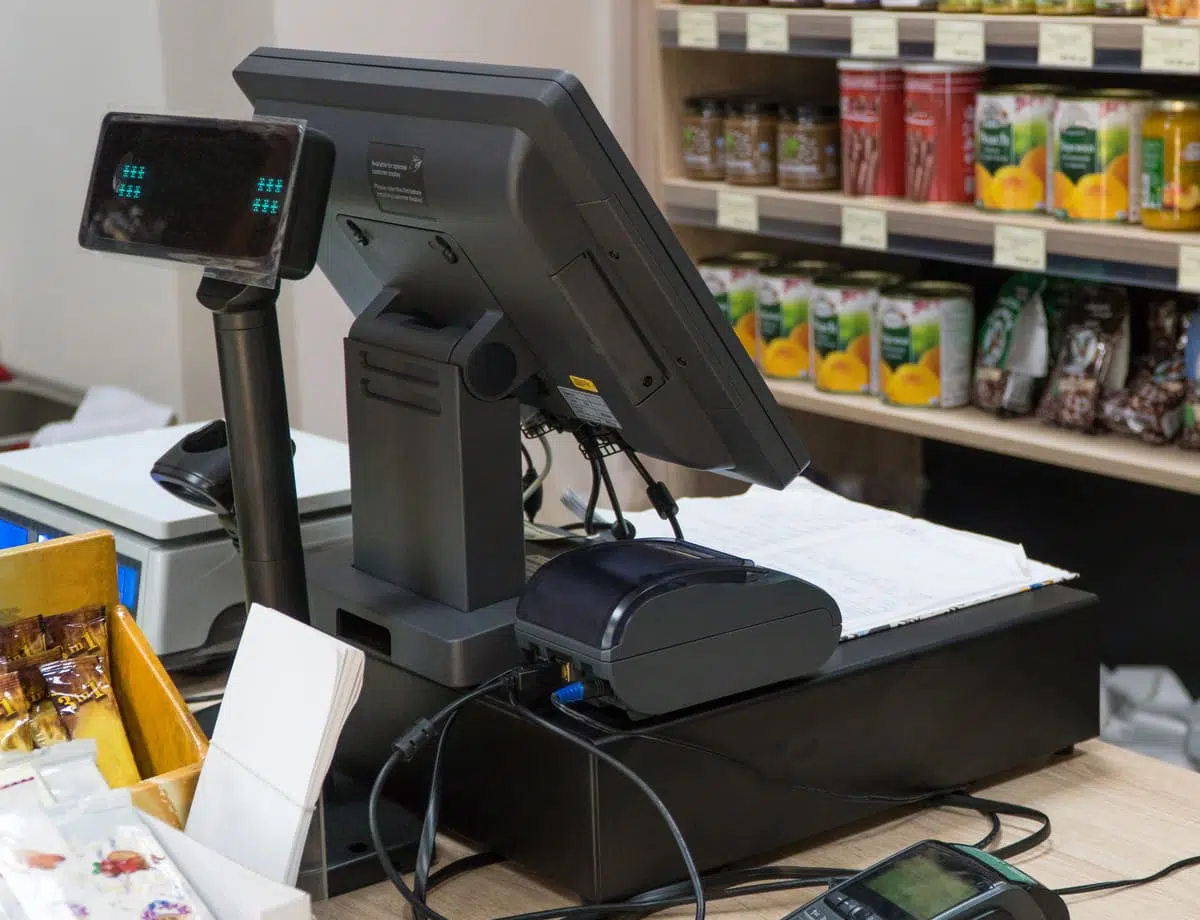 Software installed on your local computer network with routers – runs on local intranet instead of online
May require manual software updates
Virtual POS interface on computer screen (usually PC) – can be touchscreen and/or linked with keyboard
Typically integrated with a separate cash drawer, receipt printer, customer-facing screen, barcode scanner and/or EFTPOS machine
Many POS features, e.g. inventory management, staff logins, sales analytics
Expensive setup with long-term contract
The touchscreen interface shows functions relevant for the point of sale, such as a product menu (tapping items adds them to the bill), discount options and a transaction summary. Because it is software-based, it became possible to integrate EFTPOS machines to the system to speed up transactions.
So-called 'legacy POS systems' do not require the internet to work, but they do need a network of cables and a router to link up a back office computer (where managers can monitor sales and print reports) with the frontend POS register screen.
A barcode scanner, cash drawer and receipt printer are also connected at the point of sale with different cables.
Cloud-based POS systems
In the 2000s and 2010s, cloud-based POS systems started to gain foothold. These are POS software systems where data is stored in the cloud (internet servers) rather than on your own computers. This enables businesses to monitor sales anywhere online in real time, and the hardware setup in store is simpler.
Cloud POS – characteristics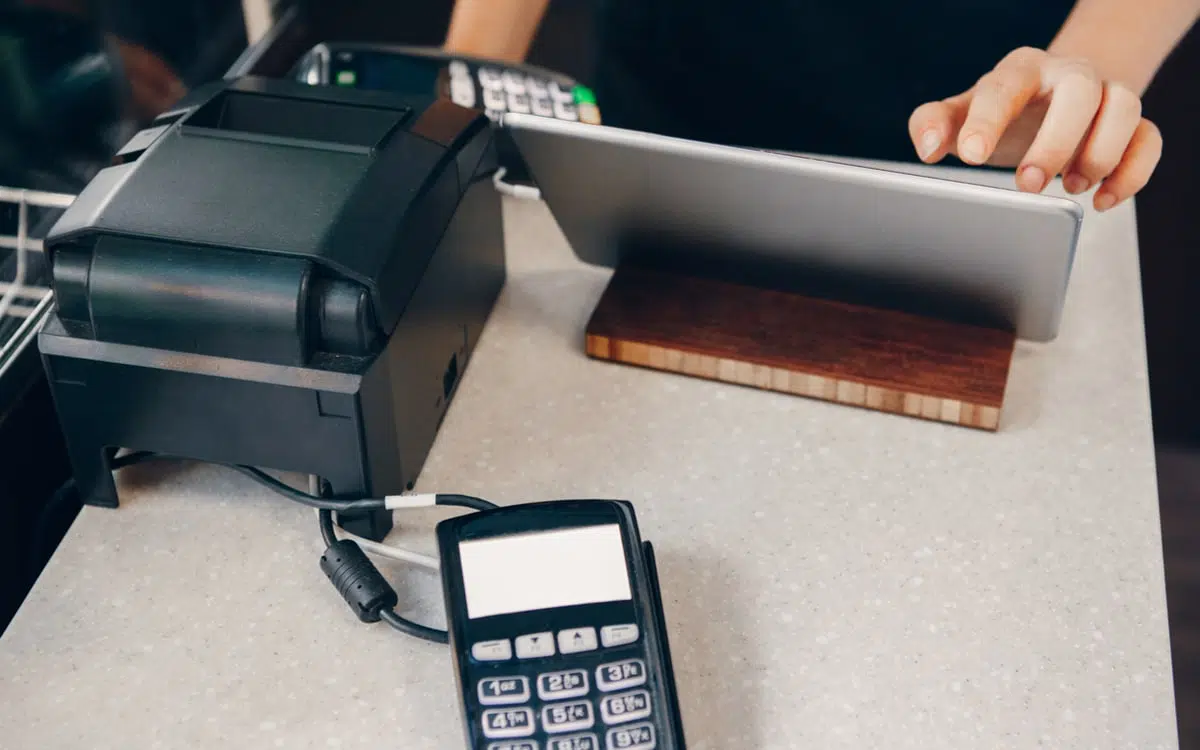 Requires internet connection via LAN, WiFi or mobile network
Automatic software updates
Real-time view of transactions and changes from web portal anywhere
Can be hybrid with local data storage too
Virtual POS interface in app on commercial tablet (iPad, Android) or purpose-built touchscreen (usually PC or Android POS terminal)
Can be integrated with cash drawer, receipt printer, barcode scanner, EFTPOS machine and/or customer-facing display
Many POS features and integrations with external software possible
Can be the cheapest POS setup
While legacy POS systems may require an engineer to install the hardware and software, cloud-based POS can be easily set up by the merchant. The main thing is having a stable internet connection for the POS register, and getting equipment that's compatible with your cloud POS app.
This sort of POS system may work on mobile devices like iPad, Android tablets and even smartphones, but also PC touchscreens or Android registers made for hospitality or retail checkouts. Barcode scanners, receipt printers and cash drawers may also be added.
POS software: more than just a checkout
Modern software-based POS systems don't just register transactions, they also make business management easier. That's because they have all-round functions for managing business processes, not just a front-facing checkout register.
Some checkout-related features are similar across all sectors, for example:
Product library with preprogrammed items
Discount options
GST amounts
Selection of payment methods
Printed and digital receipts
Staff logins
Cash drawer management
Cloud POS systems also include a variety of extras like:
Sales reports and analytics
Customer loyalty features, e.g. customer records, vouchers and promotions
Gift card options
Inventory management, e.g. stock level tracking (retail)
Multi-location management
Table plans with open tabs (for restaurants)
Menus with modifiers and ingredient tracking (hospitality)
Timesheets and employee records
Training mode (to practice using the system)
The combination of these depend on the package you go for. Specialised POS systems for retail and restaurants only give you what is relevant to those sectors.
Apart from the features built into the POS system, a good solution allows you to integrate with external software for things like accounting, ecommerce, takeaway/delivery ordering and marketing tools.
A few POS systems also have a card payment system integrated so you won't have to use a different provider for EFTPOS payments.