Our rating
A solid mPOS service offered by a payments veteran.
PayPal Here is a reliable and convenient mPOS solution that offers Australian small businesses the opportunity to accept credit and debit card transactions from their customers. The service is easy to set up. It's also reliable and secure but unfortunately comes with relatively elevated transaction fees and no EFTPOS acceptance.
Highs: No monthly fees. No long-term commitment. Immediate fund availability.
Lows: High transaction fees. EFTPOS payments not currently accepted.
Buy if: You predict a low volume of card transactions or you already use PayPal for online transactions and would like to manage everything in one place.
What is PayPal Here?
Most of you will have heard of PayPal, the online payments giant, with over 16 years in the business and counting. The now ubiquitous household brand has decided to penetrate the global mPOS (mobile point of sale) market. PayPal Here is aimed at Australian merchants who are looking for an easy solution for accepting card payments from their customers.
How PayPal Here works
With PayPal Here, you use a mobile terminal (also referred to as a "card reader") to process debit and credit card transactions. This reader uses Bluetooth to connect to iOS or Android smartphones and tablet devices.
Applications for the service can be made online, but you can also receive the card reader by going to your nearest Officeworks outlet and creating your account there.
It is also possible to accept payments through the app itself (without the card reader) if the customer has a PayPal account. However, it should be noted that fees for app-based payments are considerably higher than standard card transactions (more on fees below).
Chip and PIN or Tap and Go?
PayPal Here offers two distinct mPOS services and card readers.
Firstly, there's the more traditional Chip and PIN service for accepting Visa and Mastercard payments, then there's the newer Tap And Go card reader.
Most small businesses looking to take card payments should almost definitely opt for the latter solution. With the rise of contactless payments in Australia, Tap and Go is quickly becoming an essential rather than a bonus feature. It is also worth pointing out that the Tap and Go reader comes with a digital screen, making payments easier to manage in real time.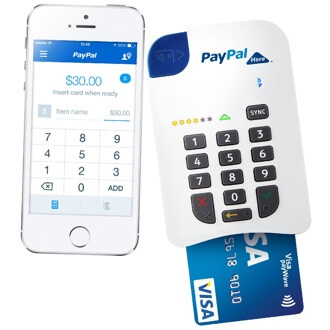 The "old" Chip and PIN reader.
How much does it cost?
With PayPal Here, you buy the card reader when you make an application to use the service. This differs from competitors such as eWay who prefer to have you lease the reader indefinitely.
The cost for the Chip and PIN card reader is a flat $99 while Tap and Go costs $149. Considering the overwhelming popularity of contactless payments in Australia, it seems like a prudent course of action to pay the extra $50 for what is a considerably more useful terminal.
As for transaction fees, this is where things start to get a little bit expensive. Each Visa or Mastercard transaction costs 1.95% which is higher than the Mint mPOS rate (1.75%), but equivalent to eWay's SmartPOS service.
As noted above, it is also possible to accept payments through the PayPal Here app itself, but this method is even more expensive at 2.6% + $0.30 per transaction.
Finally, manually entered payments come in at a whopping 2.9% + $0.30 per transaction.
Quick cash flow and no monthly fee or minimum commitment are significant advantages
So what are some of the major advantages of PayPal Here? First of all, PayPal is an established and trusted payments operator. As such, you are dealing with a reputed company that has a strong reputation for upholding high levels of security in its operations.
You can therefore sleep better knowing that that PayPal will be around for the foreseeable future.
Second, there are no monthly fees with PayPal Here which means that you only pay for transactions that are actually processed.
Third, funds from card payments are generally available immediately in your PayPal account which offers strong cash flow advantages.
From your PayPal account you can send money to your bank account in-app or by using the online dashboard.
Furthermore, if you already use PayPal for online transactions or eCommerce then you may find PayPal Here to be highly convenient. Using PayPal here will allow you to keep everything in one place rather than having to deal with multiple providers.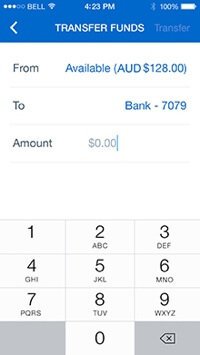 In addition, there is no long-term commitment required which means that Paypal Here comes with no service cancellation fees. This is a significant advantage of this service as compared to Mint mPOS and eWay who both charge hefty amounts for leaving their services.
High transaction fees and EFTPOS card support are large downsides for merchants
As discussed above, transaction fees are a major negative point of the PayPal Here service. In addition, PayPal Here does not currently support transactions made through the EFTPOS network.
Although Visa and Mastercard uptake has increased among Australian consumers in recent years, EFTPOS is still one of the more common forms of payment.
In our opinion, this is perhaps the largest disadvantage of the PayPal Here solution, as it means that you will be unable to accept a large number of in-person transactions. EFTPOS payments tend to be relatively inexpensive for small businesses so there is also a cost consideration when customers are forced to use their Visa or MasterCard.
PayPal Here: A solid mPOS offering that could be a bit cheaper
Overall, we give PayPal Here four stars. We found it to be a useful payment solution that is reliable, convenient and effective for processing card transactions. It could be cheaper in some respects and hopefully EFTPOS payment support will be added in the future, but the contract flexibility and no monthly fees are both very welcome for small businesses.
If you would like to try out a mobile payment solution without committing to the long-term then PayPal Here might be worth considering. If you also foresee relatively low transaction volumes then PayPal Here is certainly a solid candidate.