Our rating
Emmy mPOS is a solid choice for Australian merchants who are looking to process card payments on-the-go.
Emmy is an extremely compact and convenient payment terminal that is targeted at Australian small businesses. The service offers merchants the possibility to accept a plethora of debit and credit card payment options with the benefits of same-day settlement and round-the-clock customer support.
Highs: Wide range of cards accepted. Same-day payment settlement. Strong customer support structure.
Lows: No contactless payment. Full list of fees not publicly available.
Buy if: You prefer to pay a fixed and predictable monthly fee.
What is Emmy?
Emmy is a mobile point of sale (mPOS) service aimed at small businesses in Australia. When Emmy was launched by Commonwealth Bank in 2014, it was introduced as a new kind of "business assistant" that allows you to get paid faster while saving valuable time in the process. Accordingly, this service offers the likes of local merchants, tradespeople and family businesses a means of rapidly and conveniently accepting mobile payments on-the-go. The Emmy terminal is small and light, allowing it to be carried around with ease.
Accordingly, this service offers the likes of local merchants, tradespeople and family businesses a means of rapidly and conveniently accepting mobile payments on-the-go. The Emmy terminal is small and light, allowing it to be carried around with ease.
In this article, we will explain the ins and outs of the Emmy service before weighing up its pros and cons from the point of view of the small business owner.
How Emmy works
With CommBank Emmy, you use a mobile terminal to process card payments from anywhere. The Emmy terminal works via a Bluetooth connection to your smartphone or tablet device (Apple or Android).
After being accepted into the service and downloading the suitable mobile app, you will be able to process and manage credit and debit card payments with Emmy. All you need is a 3G or wireless connection to connect to Emmy's payment service. It doesn't get much more simple than that, does it?
How much does it cost?
The Simple Merchant Plan will set you back a fixed amount of $30 per month, including the terminal rental and the Emmy app. This amount is valid for a turnover of up to $1,500 of transactions, after which an additional 1.5% will be levied upon payments beyond the monthly threshold.
Aside from the basic monthly plan, there are also some additional charges to consider, including a $30 fee per chargeback, a $110 service cancellation fee and a $550 fee for not returning the terminal. These extra fees are approximately in line with mPOS market norms, give or take.
Indeed, many competitors charge higher amounts for leaving their service. For example, Quest Pocket Pay demands a whopping $359 for early cancellation of its 24 month contract! Overall, we found the fees for Emmy to be pretty reasonable.
Wide credit card acceptance and same-day settlement are strong points
First of all, Emmy is suitable for processing payments from a wide range of debit and credit cards. At the time of writing, the Emmy card payment terminal accepts Mastercard, Visa, American Express, Diners, Discovery and JCB cards. Australian EFTPOS cards are also accepted.
This is ideal for small businesses who would like to handle all transactions with the same payments provider rather than having to enter into multiple contracts and dealing with the administrative complications that follow.
Second, assuming that you have a CommBank business transaction account and a linked CommBank merchant facility, then all transactions are settled on the same day as they are processed, all year round.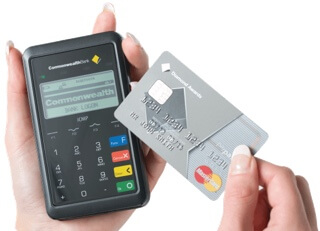 This is another boost for small businesses who rely on rapid cash flow for their core operations.
Third, it's always reassuring to do business with a major company such as Commonwealth Bank. You can be reasonably confident that this bank will still be here tomorrow – that helps ensure continuity for your business operations.
Last but not least, CommBank seems to be committed to providing their full and proper support for this service. Customer support is, of course, offered 24 hours a day, 365 days per year, but there's more to it than that! The bank promises to replace any faulty terminal within just 4 hours of your call (assuming you are located in a metropolitan or regional area).
This certainly gives peace of mind to those who may be worried about the potential consequences of a terminal not working and the loss of business that could result from such a situation. Assuming that CommBank makes good on this promise, we think you'll agree that this is an example of rather impressive customer service.
No contactless payment and lack of transparency are downsides
As far as we could tell, Tap & Go functionality does not appear to be available with the Emmy service. This is a shame, as it's an otherwise impressive service. With more and more Australian consumers now expecting contactless payment options, we feel that Emmy is a little behind the times in this area. Perhaps they will offer contactless possibilities in the future, but we saw no indication of this from the CommBank website.
Secondly, it is perhaps a minor point, but it seems that CommBank does not publish the entirety of its fees for Emmy online. The bank states that these extra details will be sent upon application to the service.
One wonders what is the rationale is for this policy. We think that CommBank could have been more forthcoming in this department. Even if the additional charges listed are not all that significant, it forces small business owners to spend their limited time checking over the small print.
Emmy – a commendable service for small business
In the end, we decided to give Emmy a 3.5 star rating. This would have been 4 stars but for the lack of Tap & Go options. That said, everything else seems to mostly be in order and geared towards merchant needs. The pricing structure is simple and easy to understand. Same-day settlement is also a great plus for many smaller businesses who rely on rapid cashflow to fund their ongoing operations.
Finally, the customer service structure is well thought-out and offers merchants some peace of mind about potential terminal problems. Overall, we give Emmy a big thumbs-up. If you are a small business owner in Australia then we recommend taking a closer look to see if this service suits your requirements.