Our rating
A worthy mobile payment service for Australian merchants.
Quest Pocket Pay is a worthy mPOS solution for Australian merchants and small businesses who are looking to accept card payments on-the-go. The service has the distinct strong point of supporting a wide range of card payment choices, including EFTPOS. Unfortunately, it comes with high transaction charges as well as hefty fees for leaving the service.
Highs: Wide range of card options. Light and compact card reader. Windows Phone support. Contactless payment.
Lows: High transaction charges. Hefty fees for service cancellation, even after initial contract period is up.
Buy if: You like to deal with a service provider who designs and manufactures its hardware locally.
What is Quest Pocket Pay?
Quest Pocket Pay is an mPOS (mobile point of sale) service that enables small businesses to accept credit and debit card payments from anywhere. The service was launched in April 2014. It is provided by Quest, an Australian technology company which designs and manufactures payment terminal hardware locally.
How Quest Pocket Pay works
The Quest Pocket Pay is fairly straightforward to use. The service employs a rented Quest MT330 EFTPOS terminal to make card payments possible.
First of all, you need to install the Pocket Pay mobile app on your preferred smartphone or tablet device. Next, you pair the terminal (i.e. the card reader) with your mobile device via Bluetooth. Once this is done, you are ready to accept card payments from your customers!
Quest Pocket Pay allows Chip & Pin as well as contactless card payments. The service works for a wide range of cards, including Visa, MasterCard, EFTPOS (Cheque and Savings), Diners, Amex, JCB and stored value gift cards.
The card reader is extremely compact and weighs just 0.1 kg, making it easy to carry around with you while you go about your daily business.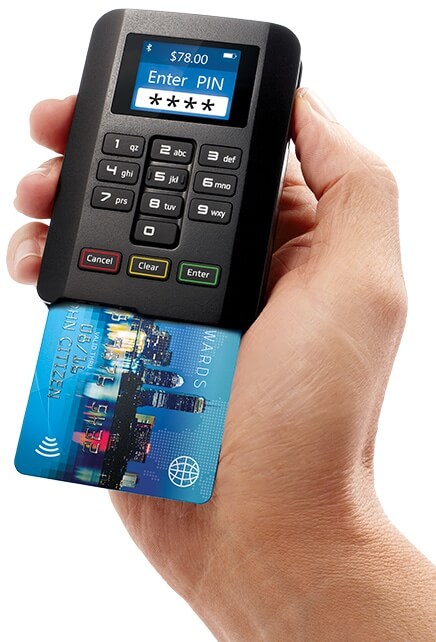 How much does it cost?
Pocket Pay charges a monthly fee of $25 per terminal over a contract term of 2 years.
The transaction costs for card payments are 2% for Visa and MasterCard and 25c for EFTPOS Debit. As for the setup fee, it is normally $71.50 but it appears to be waived by virtue of an ongoing special offer. This may depend on timing, so it is best to contact Quest directly to confirm availability.
Overall though, these fees make Pocket Pay one of the more expensive Australian mPOS solutions that we have reviewed.
Pros
The wide range of card choices offered is definitely a strong plus for Australian merchants looking to cover the full range of payment possibilities in one unified service. As mentioned above, the card reader itself is light and compact, which lends itself to being used conveniently on-the-go.
Another advantage of Pocket Pay is its Windows Phone support. Most services only seem to offer iOS and Android apps, so this is a distinct positive of Pocket Pay.
We also liked the fact that contactless payment is included in the basic service rather than being offered for an extra fee. This is perhaps a reflection of the fact that Quest is an OEM (original equipment manufacturer) and can therefore offer this extremely useful feature as a standard part of its mPOS solution.
Moreover, is fairly safe to say that you should be well covered when experiencing any technical or hardware issues, as you are dealing directly with the manufacturer rather than a third party. This peace of mind may go some way towards justifying the higher costs involved.
Cons
As already mentioned, a major downside of this service lies in its expensive fees. At 2.0% per transaction and with a monthly fee, costs could really add up when using Pocket Pay.
What's more, there is also a rather hefty charge for leaving the service. According to the Quest website, the fee for cancellations before the 24 month term comes in at a whopping $359.82.
But that's not all! There is also a "Closure Fee" for any cancellations after the initial 2 year term. While this is only $95, it seems quite an unreasonable charge considering Quest is already charging you a monthly amount and high transaction fees.
Quest might consider reviewing this policy when looking to bring on board small businesses. Overall, we can state that the costs are the biggest downfall of this service.
Quest Pocket Pay – a solid but expensive service
We gave Quest Pocket Pay Rating Value: 3.5 stars. This is a solid mPOS service that comes at a price. If you already use Quest terminals then this may be a natural choice for your business.
In addition, if you like the idea of supporting Australian manufacturing and enjoying the benefits of dealing directly with the OEM for technical support issues then Quest Pocket Pay might be for you.
However, for many Australian merchants, there are perhaps better services out there. We recommend perusing our other mPOS reviews such as those for eWay, PayPal Here and Mint Payments.
Name of Reviewed Item:

Quest Pocket Pay AUS
Review Date: