Since the Covid-19 pandemic started, food and drink businesses have had to adapt to lots of social distancing rules. If there's no lockdown, then restaurants, bars, pubs and cafés have had to find ways to offer food and drinks without the usual physical touch points.
Not only does the touch-free ordering setup need to incorporate payments – it also has to be very easy for customers to use. Luckily, there are now several contactless ordering systems to consider. So how do they work?
QR code ordering system
QR code ordering in restaurants have quickly grown in popularity since 2020 – and no wonder. All it takes for the customer is their smartphone (any Android or Apple device with a camera will do) and your QR code.
This system is for customers ordering at your premises, whether from a table, queue outside or entrance for takeaway. It is the most hygienic way to receive orders within your premises, as customers do not have to touch anything other than their own phone or stand in front of a staff member to place an order.
How it works:
You display a QR code at the customer's table, checkout, entrance or where the customer is queuing. The code can be printed on card, a sticker, put in a display holder or shown on a screen.

The customer opens their phone camera app and scans the QR code. A browser page opens with your contactless menu, from which the customer can add things to a cart, then enter card details manually on their phone to pay for the order.

Your kitchen or POS system will receive the order immediately so you can start preparing it, then bring it to the customer in person. If the customer didn't pay online, you also bring a card machine to accept the payment.
If you don't have a QR code, you could alternatively display a URL that customers can enter manually on their phones, but this is more fiddly so there will be a risk that customers can't be bothered and just leaves.
Where to get it: Square, SumUp Point of Sale, Lightspeed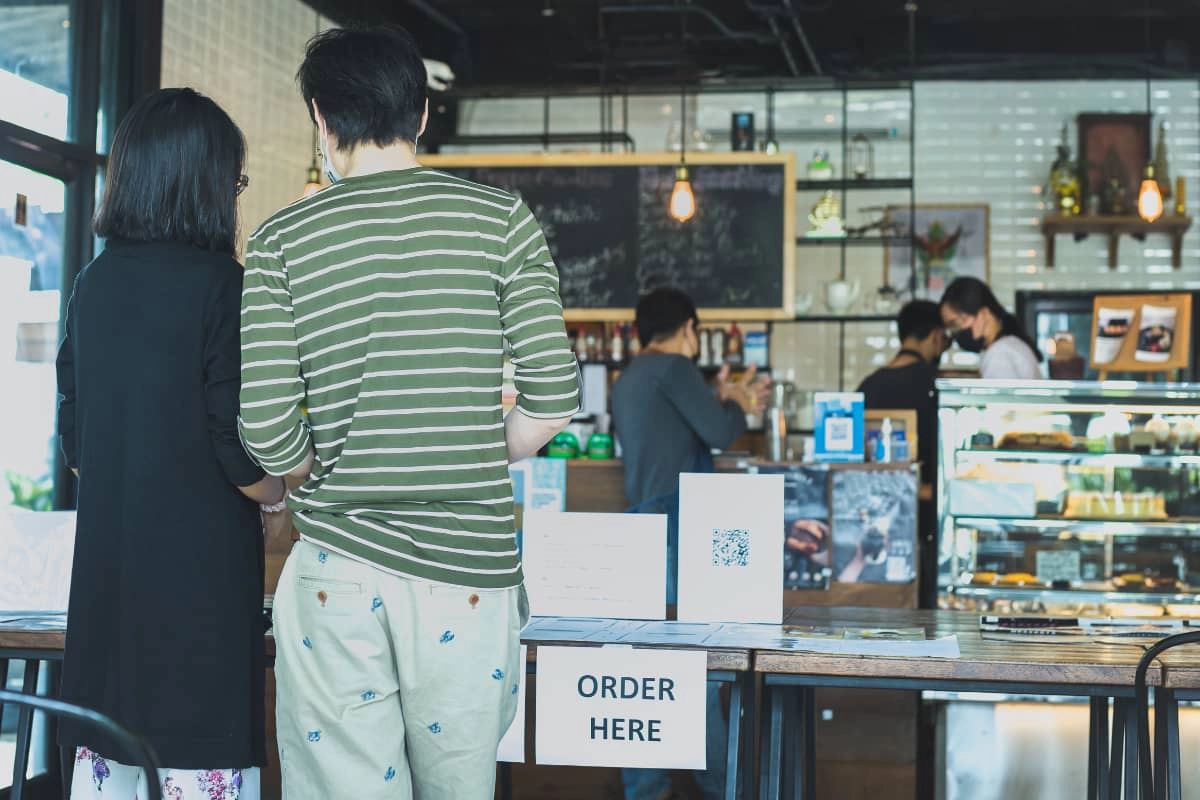 Customers can order on their phones by scanning your QR code while staff prepare orders.
Self-serve kiosk
A self-ordering kiosk is a tablet or touchscreen monitor that customers can use to place a food order by themselves – just like ordering takeaway online, except they are doing it on your premises, on your touchscreen device dedicated to this.
This reduces contact with your staff, but since customers have to physically touch the same tablet, there is a risk of virus transmission if people do not wash their hands or you do not clean the screen in between uses.
How it works:
You display a tablet or touchscreen monitor with a self-service ordering menu at your entrance or another convenient location on your premises.

Customers use the touchscreen menu to add items to a cart, then checks out by submitting the order or paying for the items.

The order is sent to the kitchen and/or POS system so the food can be prepared. When ready, you can bring the food to the customer in person. If the customer did not pay via the digital menu, you can charge the customer through a card machine.
This method costs more for the restaurant, as it requires at least a tablet for the kiosk software. Big food chains like McDonald's tend to have a large self-service kiosk at the entrance with a card machine attached, but this may be too expensive for a small food business. Instead, you can get an app from e.g. TouchBistro to install on a consumer-grader tablet.
Where to get it: TouchBistro, Lightspeed, Revel Systems, SumUp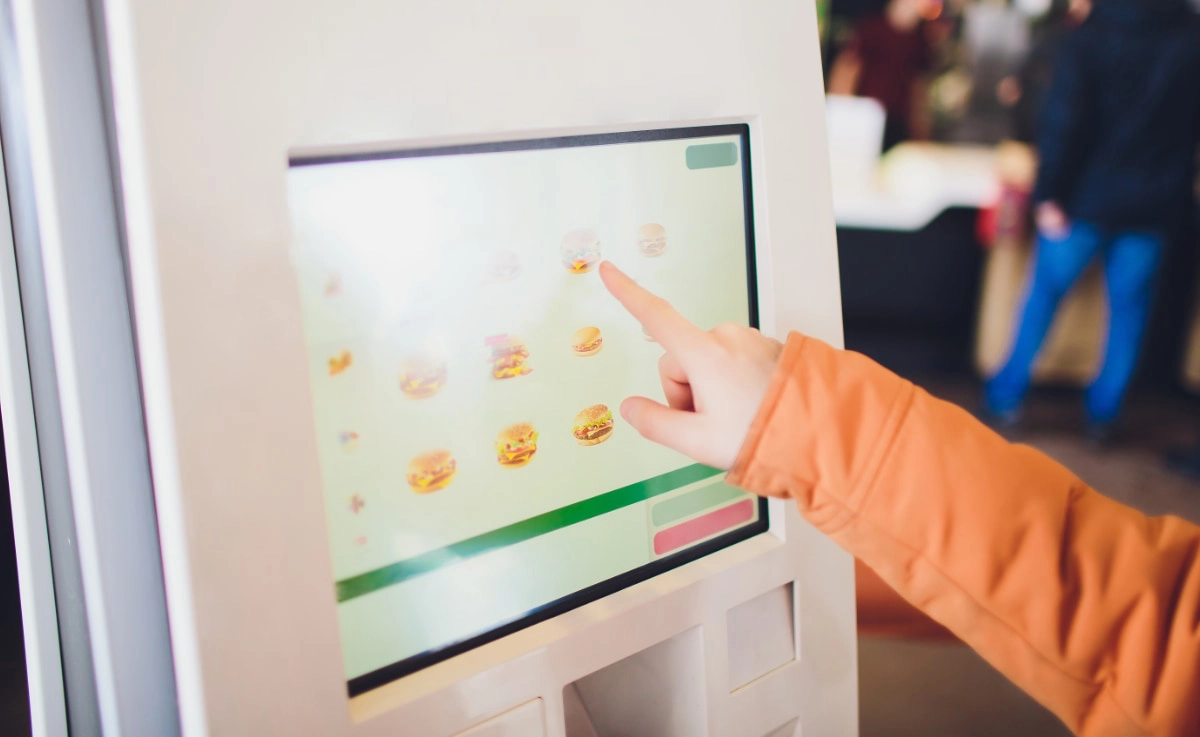 Self-service kiosks can be big like at McDonald's (pictured) or small tablet kiosks like TouchBistro's.
Order systems for pickup
Order and collect is when a customer places an order online for collection at your premises. This is also called Click & Collect and ordering for pickup – all the same thing.
This method is for remote orders requiring payment online, usually on a web page or takeaway delivery platform.
The customer goes to your website or page on a takeaway delivery platform.

The customer adds items to the cart, chooses the pickup option and pays for the order (tips can sometimes be added at checkout).

When the transaction is successful, the business receives the order in the POS system or kitchen display system so it can be prepared. An email or text confirmation is sent to the customer to confirm the order, pickup location and appropriate time of collection.

The customers goes to your location, asks for the order and shows the order confirmation (if needed). The order is handed to the customer to take home.
Click and collect systems require a food menu and checkout system on a website, web page or profile on a takeaway platform. The system enables people to secure food orders so they don't have to order and wait in a queue for ages at your premises. When you get a collection time by ordering remotely, the customer knows exactly when the food should be ready to pick up, so no time is wasted.
Where to get it: SumUp Point of Sale, Lightspeed, Revel Systems, Square
Click and collect is a popular way to accept transactions remotely for in-person collection.
Ordering for no-contact delivery
Lastly, you can let people order online for no-contact delivery. Takeaway platforms like Deliveroo and Uber Eats use their own couriers for a high commission per order, but businesses can also set up their own ordering page if they have couriers on hand.
How it works:
The customer goes online to order from your website, takeaway platform or standalone menu page at a web address.

The customer adds items to the cart, adds tips (where possible) and pays for it online. Immediately, the business receives the order details so the food and drinks can be prepared, and the customer receives an order confirmation via email or text.

The business cooks and prepares the order, staples an order ID on the bag (or marks it in some other way) and hands it to the responsible courier.

The courier goes to the customer, rings the door bell or knocks on the door, puts the bag with the food down, steps back to respect social distancing rules and lets the customer take the order in person.
Online ordering for delivery is the most convenient option for customers, as they don't need to travel to the business to pick up the order themselves. Because it requires a courier to deliver the goods in person, it's common to have a delivery charge – making it the priciest option for customers.
Where to get it: Deliveroo, Epos Now, Goodtill, Just Eat, Lightspeed, Revel Systems, Square, TouchBistro, Uber Eats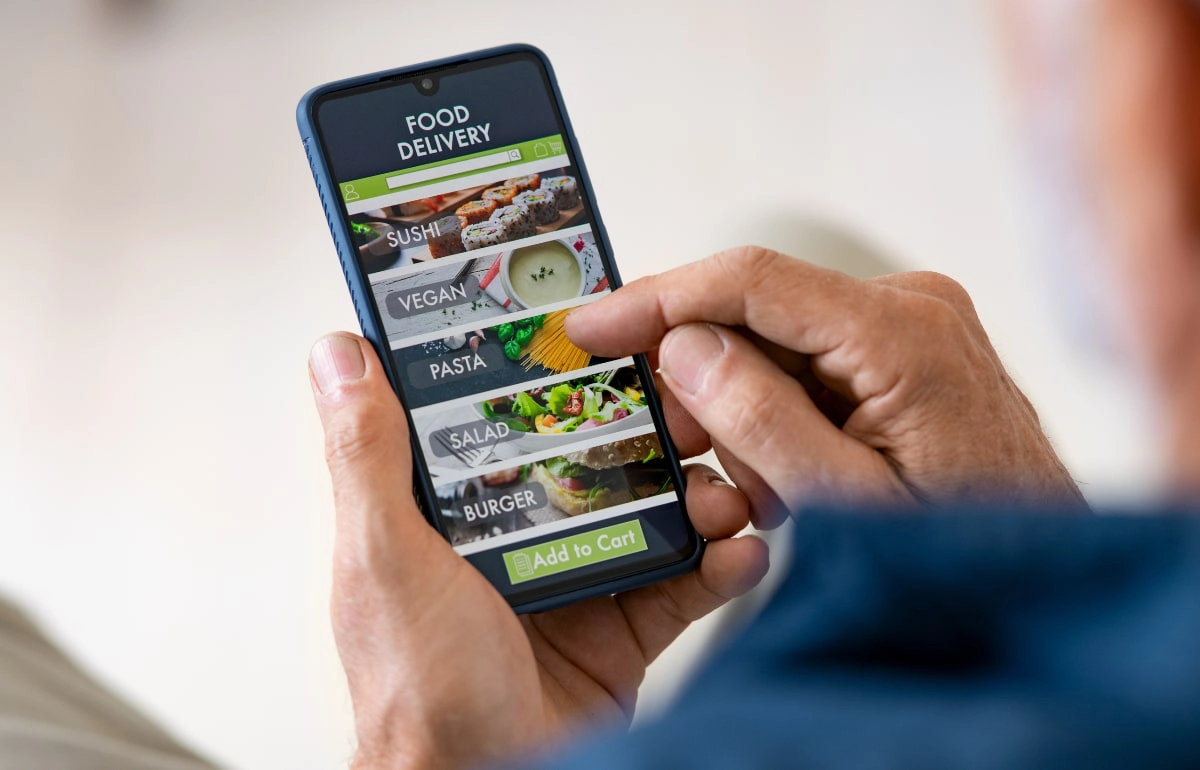 People tend to use their phones for ordering takeaway for delivery.
Which is best?
During uncertain times like a pandemic, it's extra important to be prepared for all scenarios. It is a matter of business survival to adapt fast when a country switches between lockdown and reopening of the hospitality sector.
Consequently, you do need to implement some of these ordering methods to make enough sales – but expect changes along the way as some technologies become more popular than others.
When your business is allowed to accept customers for eat-in, the QR ordering setup is the cheapest and most hygienic. Ordering from a self-serve kiosk requires a physical terminal that could be expensive upfront or require a monthly fee. QR code orders are completed on the customer's own phone, which won't pass on germs to other people.
Remote orders are good for both lockdowns and 'business as usual', since people are now so accustomed to Click & Collect or delivery. During a lockdown, delivery and pickup orders keep businesses afloat. Outside lockdowns, remote orders add to your profits on the whole.