With lockdowns and social distancing rules, consumers have naturally taken to online shopping to replace in-person shopping. 'Click and collect' is one of the more popular methods for buying remotely, but how would it work for a small business?
Firstly, let us define the term:
'Click and collect' is when a customer purchases a product online to collect in person at a specified location outside home.
This service has different names such as 'order and collect' or ordering for 'pickup'. Commonly, retailers and food businesses call it 'Click & Collect' with capitalised letters, as that is what most people are familiar with. In the US, 'curbside pickup' is popular since you don't need to leave the car at the collection point – instead, the order is handed through the car window or placed directly in the trunk.
The way it is set up varies between retailers and food-and-drink and depends on your preferred process, but orders are always placed remotely, the payment is processed remotely/online, and collection must be done in person.

It is also custom that no collection fee applies to the customer, whereas orders for delivery usually have a charge.
Click and collect: the 3 core steps
A customer orders your products online through a website, ordering page or app, selecting the option for pickup.

After the customer pays for the order online, they should receive an order confirmation with collection details. The order details are communicated to the business who prepares the order for collection.

The customer goes to the pickup location, usually with proof of the order, and collects the products in person.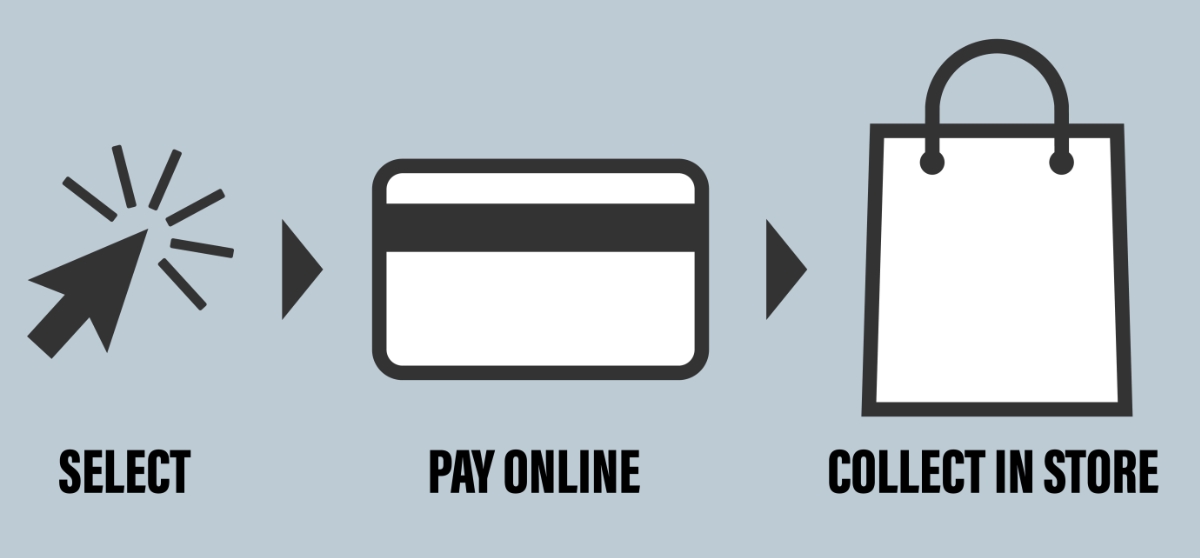 The online transaction has to be communicated promptly to the merchant so the in-person collection can be prepared in time for the pick-up. The customer also has to be communicated a collection address and pickup time before or just after paying for the goods.
The pickup location can be at your store or a collection point shared with other businesses (for example, a service station or convenience store). The latter is possible through third-party Click and Collect systems such as HubBox and Amazon Hub.
Apart from these basics, how do you set up click + collect? What are the options for retailers and food-and-drink businesses?
Different click-and-collect setups
There are a few different ways to implement order-and-connect for your business. Options will vary depending on whether you're selling takeaway food or retail products, but the software required is generally available through:
Ecommerce platforms with integrated order-and-collect features

Point of sale (POS) systems with integrated order-and-collect features

Click-and-collect software to use on its own or with online store, POS or social media

Marketplace platforms with click-and-collect integrated
In any case, you need a web or app ordering page, online payment system, stock count system and notifications system for alerting you and the customer. Ordering software for small businesses often includes all these things, but custom solutions can, for example, let you use an online gateway of choice for taking payments online.
Let us go through the different order-and-collection routes.
Through website builder
Some ecommerce platforms have integrated click-and-collect options that just need to be activated in the online store account. A pickup option will then display at the online checkout so customers can select it before paying. The ecommerce system should display pickup orders in your account in real time, alert you of new orders and have a section for managing orders.
This solution suits mainly online businesses, whether there is or isn't a physical store. No further integrations are required if the built-in features are enough.
Ecommerce platforms with click-and-collect features: Lightspeed eCommerce, Shopify, Square Online, Squarespace, Wix, WooCommerce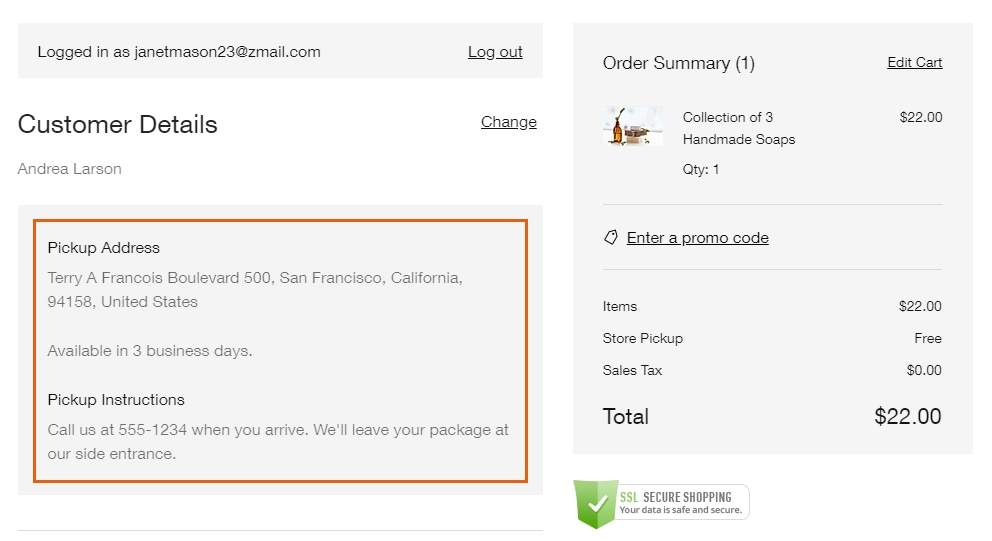 It's important to add pick-up instructions for customers, as seen here in Wix.
Many ecommerce solutions, such as PrestaShop, require adding a paid, possibly third-party module to the core software. The pricing can vary a lot depending on how advanced the features need to be, and how high your order sales volume is.
Through POS system
Some EPOS systems have developed their own click-and-collect features designed to be easily activated in the backend account. This does, of course, require having some sort of web page with its own web address. Such a page will usually be set up in the pickup ordering settings in the POS system, either with an auto-generated web address to post on social media and/or with options to link the online ordering page to a full-fledged website.
POS systems with built-in click-and-collect: Cybertill, Epos Direct, Goodtill, Practi, Revel Systems, Shopify POS, ShopKeep, Square, SumUp (Online Store Starter), Tevalis, Toast, Zonal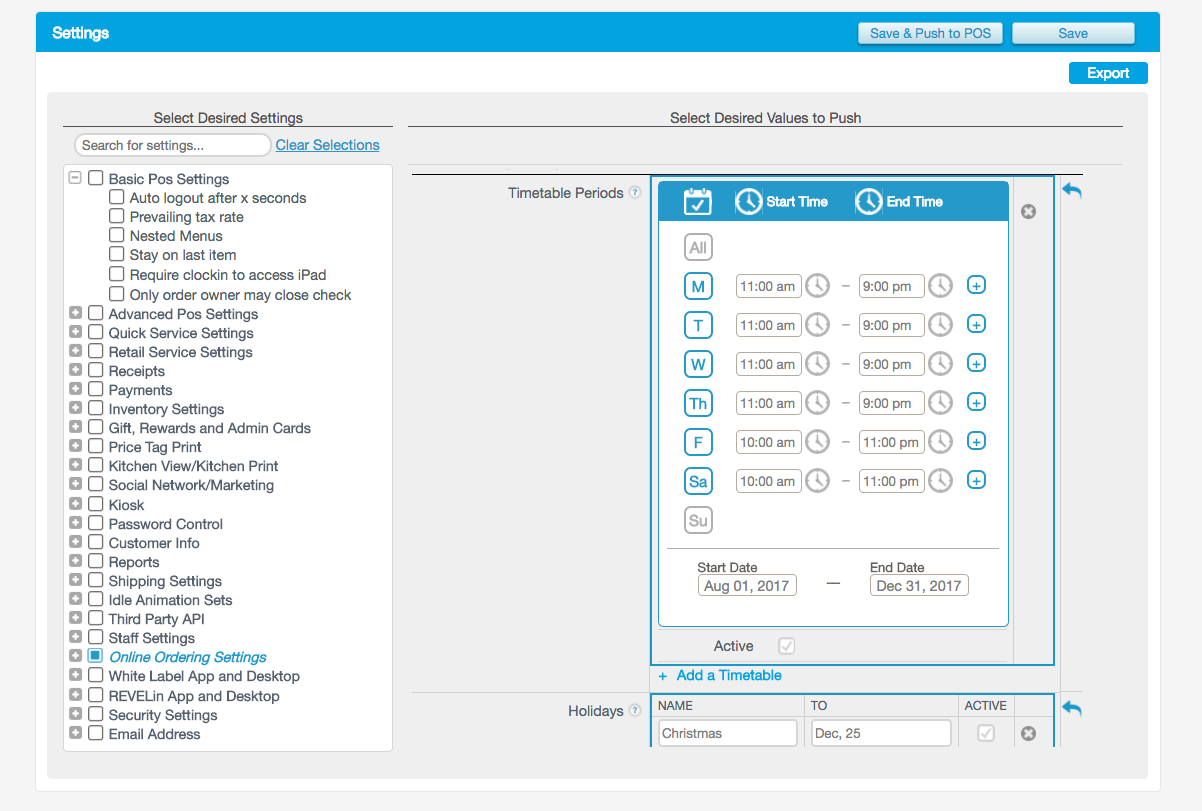 Opening times must be set for collections, as seen here in the Revel POS settings.
Other POS systems don't have their own order-and-collect software, but can integrate with external apps for the features required. Noteworthy examples are Vend POS for retailers and Epos Now for most business types. Together, Lightspeed Retail and Lightspeed eCommerce can make up the core order-and-collect system, but it requires Ikeono for communications with customers. Lightspeed Restaurant integrates with a large choice of online ordering apps.
Through online ordering software
There are also specialised solutions for click and collect that don't require a connection with POS or online store software. If compatible, these could combine with your EPOS and online store for advanced ordering and pickup features.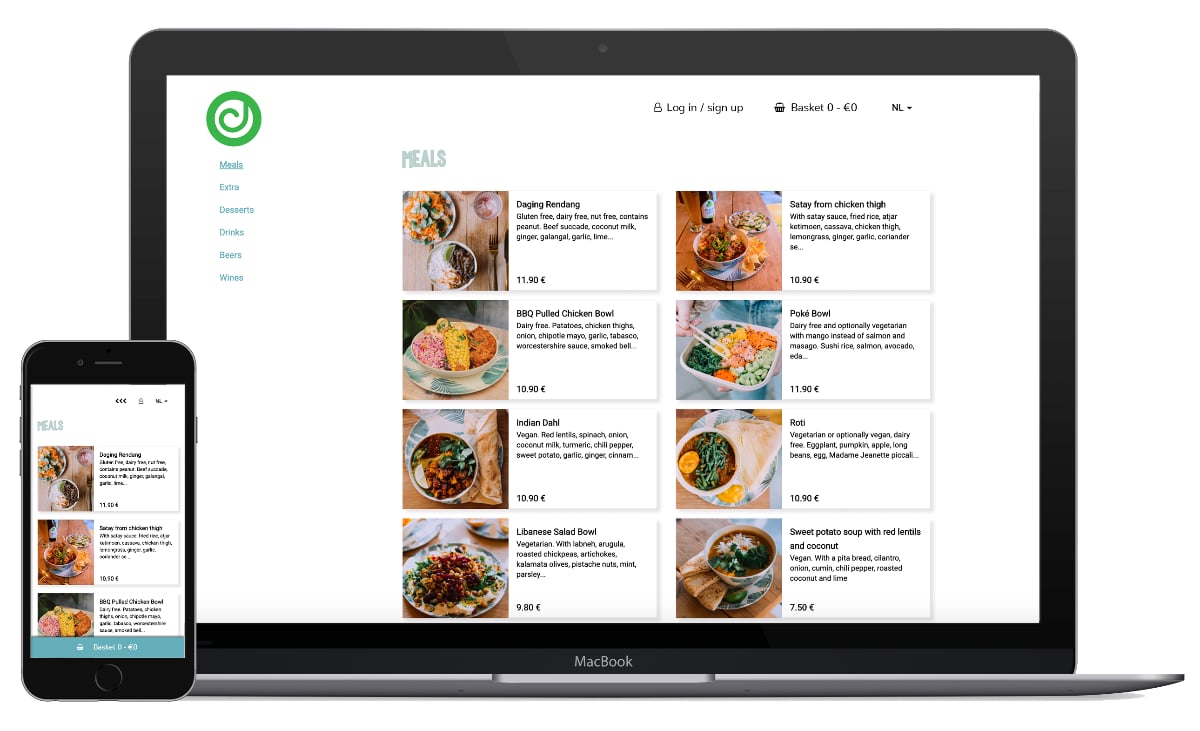 Deliverect lets you create a branded Click & Collect page connected with EPOS and a website.
Some of these solutions allow you to build a custom app for your business, which is typically more expensive. Some are built to work as a standalone Click & Collect solution. Some are easy to set up, like Google's The Ordering.app, while others require more time (and money) fine-tuning processes for a very advanced setup.
Click and collect software: 5loyalty, Collectec, Craver, Crocollect, Cuboh, Deliverect, Flipdish, Incentivio, Kafoodle, LivePepper, Nettl, PepperHQ, Ritual ONE, The Ordering.app (Google), UEAT, Wi5, Zuppler
Through marketplace platform
Alternatively, you can set up a profile on a marketplace platform, i.e. website with lots of other businesses selling similar products. Well-known marketplace platforms like the takeaway apps Deliveroo and Uber Eats can give lots of exposure since they're already popular with millions of people.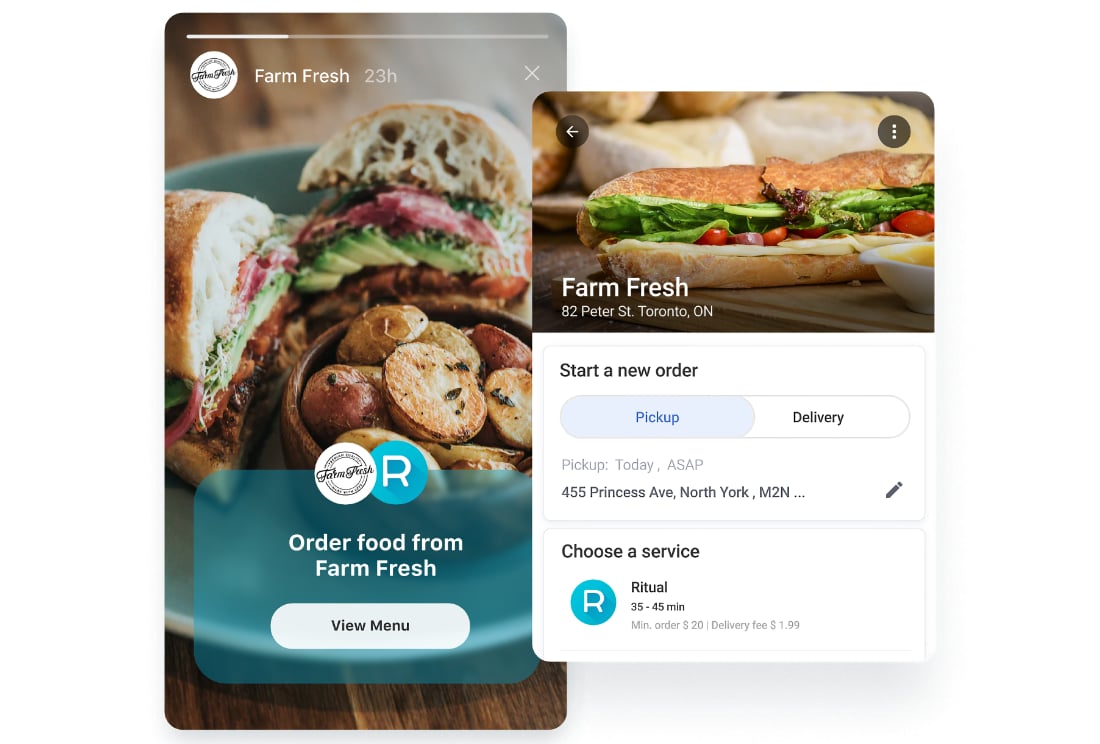 An online ordering page can be shared on social media, e.g. straight from Instagram Stories.
The downside, however, is the high commission rate for orders on these platforms. It's likely cheaper to set up an independent Click & Collect web page – but then, you need to advertise this website yourself.
Online marketplaces: Amazon, Deliveroo, Just Eat, Ritual, Uber Eats
Regardless of the setup, you can expect to add time slots for accepting orders, menu or product descriptions, stock counts, location descriptions and email content. When there's a live web page, it's good to link to that from social media profiles, a website, your Google Business Profile page and anywhere else a customer might want to click.
You also need a smooth process with staff to notice new orders, prepare goods and mark collections as complete.
Good rules to follow
There are certain good practice rules that every Click & Collect business should follow to be successful.
Accepting orders: Your software should monitor stock levels so out-of-stock items are not displayed online. Imagine if someone paid for products for pickup, only to find out later that the promised collection time is not possible.
A big reason why people love click and collect is the guarantee of obtaining an item sooner (and more reliably) than a shipped delivery. Your job is to meet that expectation.

Multi-location stores can let customers choose pickup location.
Knowing exactly when to pick up an order is a great appeal for those who don't want to wait around in a queue – especially during Covid-19 where people want to avoid crowds.
Communications: As soon as an order is paid for online, you should receive an order confirmation. If a restaurant has a kitchen display system, the kitchen can receive orders directly, while a retailer might receive a notification in the till system or by email.
It's important that the ordering system sends customers an email or text confirmation with an order number, details of pickup location and time of collection. This acts as the customer's proof to show at the collection point.
Covid-secure collections: When social distancing rules apply, it's best if customers don't need to enter your premises to pick up their orders. A table by the entrance, open window or open space outside where staff can place parcels and bags for collection are ideal setups.
Busy businesses will need to manage queues by indicating clearly where to wait for collection orders, making clear where customers who haven't placed orders in advance should go. It's good to display signs reminding people to keep their distance to others at all times and wear a mask where needed.