These days, an online ordering system is essential for most restaurants and retailers to stay relevant. But what is it?
Here's a basic definition:
Online ordering means submitting an order of physical items – e.g. food or clothes – over the internet in advance of receiving them.

This can be done on a smartphone or computer, in an app or browser.

The requested items can either be shipped to the buyer, delivered by a courier, collected in person or dropped off at a specified location.
There are different types of online ordering systems – the nature of it depends on what you're selling and how. Let us dig into the nuances.
How it works
To order online, the customer has to use their internet-enabled phone, tablet or computer to access the relevant website, app or menu.
Examples of where you can place online orders:
Online store (browser)
Uber Eats (app)
Web page with food menu (browser)
Amazon (browser or app)
Facebook (browser or app)
If you're ordering through an app, you typically just tap the app icon to open it before you browse products to add to a shopping cart.
Websites and web-based menus can be found through search engines, following a link, entering a URL or scanning a QR code. In restaurants, you typically scan a printed QR code at a table to access a food and drink menu in a mobile browser or app.
Once you've added what you need to the cart, you submit the order, usually by completing an online card payment on a web page or in-app. When the order is confirmed, the business receives a notification to prepare it for posting, drop-off or collection.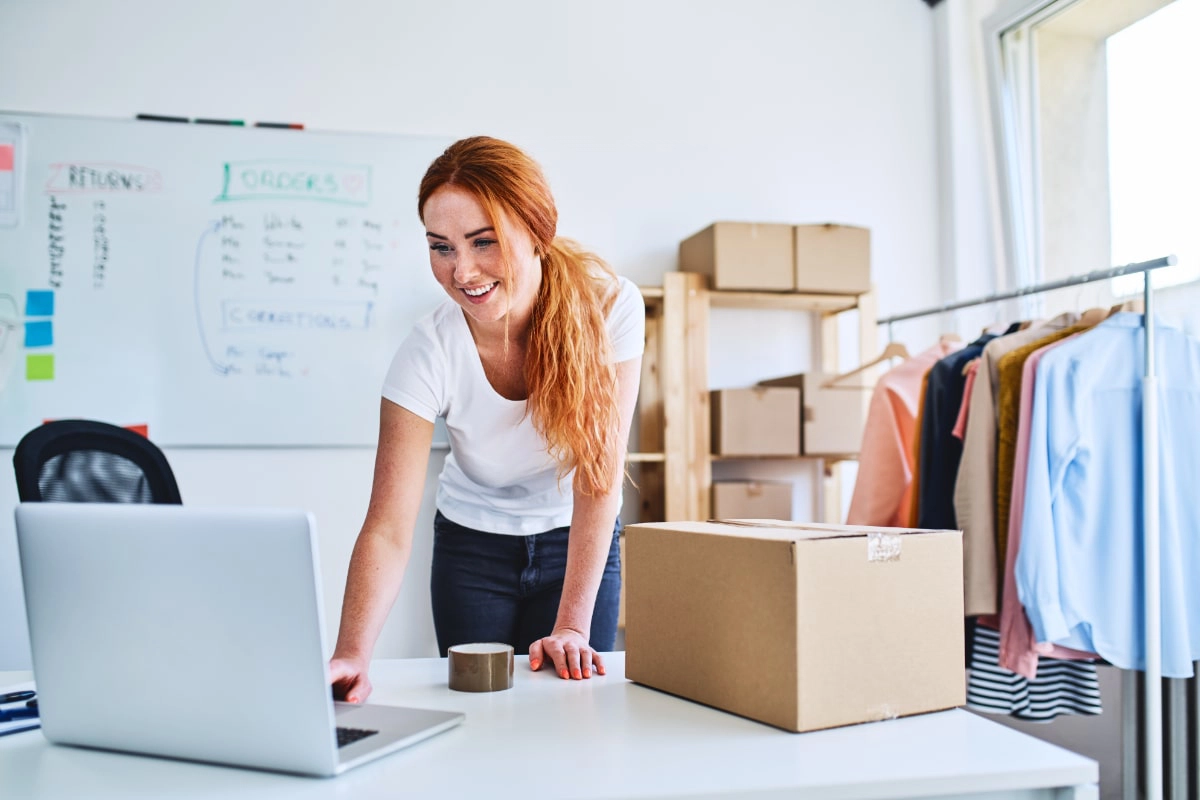 A small clothes retailer packs an online order to be posted to the customer.
Ordering for shipping
Ordering to get something sent in the post is what most people are familiar with when they shop online from a retailer, independent shop or marketplace seller.
After the customer enters their postal address and pays for the order online, the merchant's ecommerce system notifies them to prepare and ship the order within the promised time period. If the shop is a big retailer, the business may have a warehouse where packing and logistics are managed.
Only products that would not get damaged by bumps and rough handling are suitable for shipping – but they can be well-protected by packaging to avoid this. Additionally, posting usually takes longer than a delivery by a driver or courier, so perishables like a freshly cooked meal cannot go in the mail.
Postage can be arranged through Royal Mail, DPD, Parcelforce, DHL, Hermes, FedEx and others.
Click and collect
'Click & Collect' used to be associated with supermarkets and retail chains (well, it still is), but has because of Covid taken off in hospitality and small shops too.
To "click and collect", the customer needs to select this option before paying for the order online. It saves them money on shipping or delivery (usually charged a fee), as the business doesn't need to spend extra money on transport.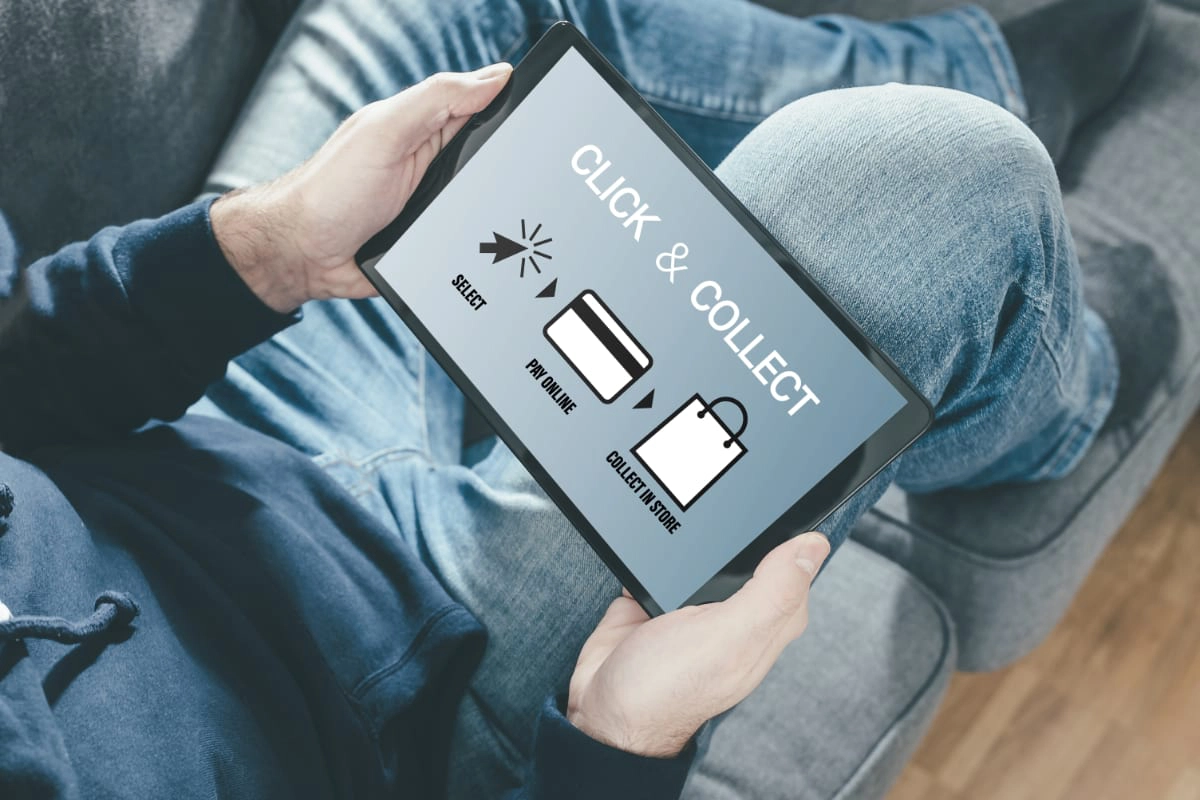 Click + collect is a type of online ordering requiring the customer to pick up their order.
Instead, the customer goes to the designated collection point to pick up their order at a specific time or within a certain time frame. This could be at a restaurant's physical location, business' point of sale, Amazon Hub, local collection point (e.g. participating off-licence) or anywhere else decided by the business.
Any physical items should be suitable for pickup, as the customer can bring their own means of transport and come at short notice if it's a time-sensitive takeaway order.
Ordering for delivery
Having something delivered (as opposed to shipped) means the order is transported directly to the customer by an in-house or outsourced courier. The courier may travel by bike, car or other vehicle, and it is their job to deliver the package at a specified time.
For example, when you order takeaway on a platform like Deliveroo, a courier working for Deliveroo will pick up your food from the restaurant and cycle or drive to your location to deliver it quickly and unscathed.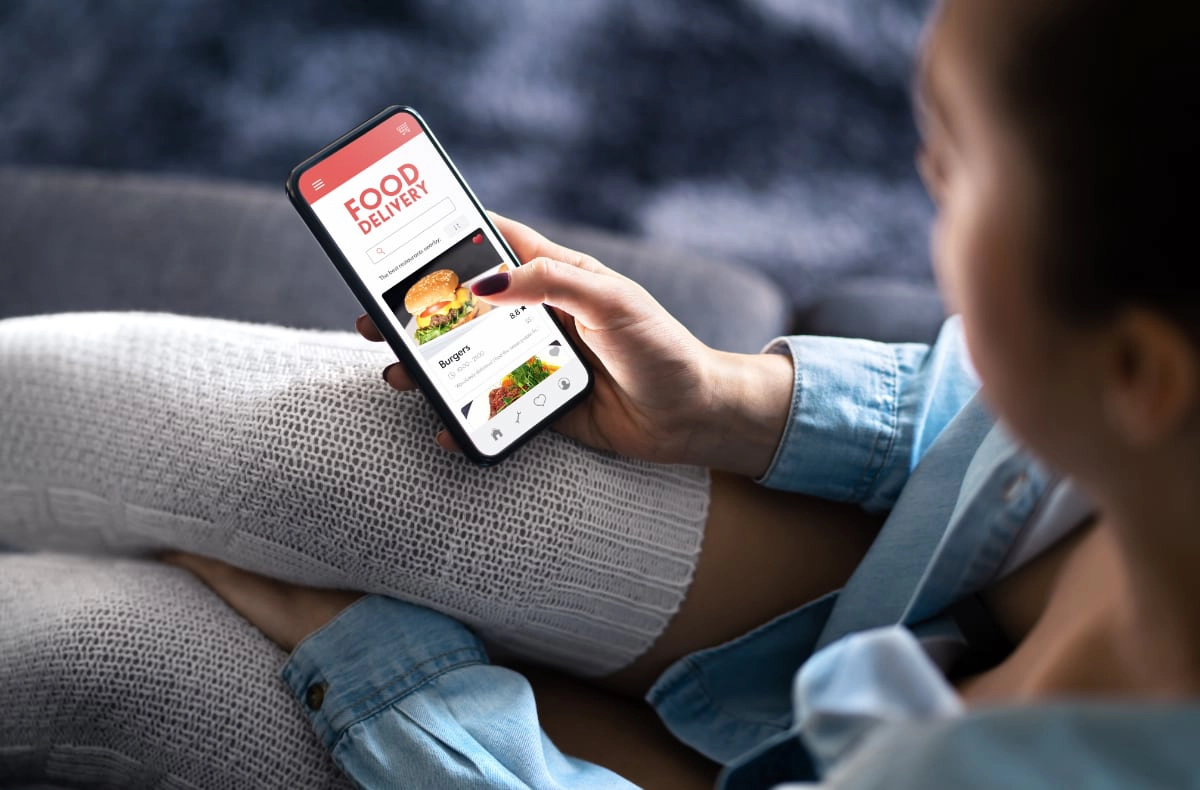 Online food ordering systems coordinate takeaway orders with local couriers.
It could also be that you're ordering flowers for Mother's Day or need another time-sensitive item to be brought to you in person at a specific time, like groceries.
How the delivery time is specified depends on what you're ordering. On food delivery platforms, restaurants prepare orders straight away, meaning as soon as the meal is cooked and packed, the courier collects and delivers it.
For gifts, you can select a time slot when placing the order, whereas furniture companies may inform you of the delivery day and time slot after submitting the order.
QR code ordering
Ordering via a QR code is a socially distanced way to order food in restaurants, bars and cafés. It's a type of online ordering because the order is placed on your smartphone over the internet, even in the vicinity of the waiters.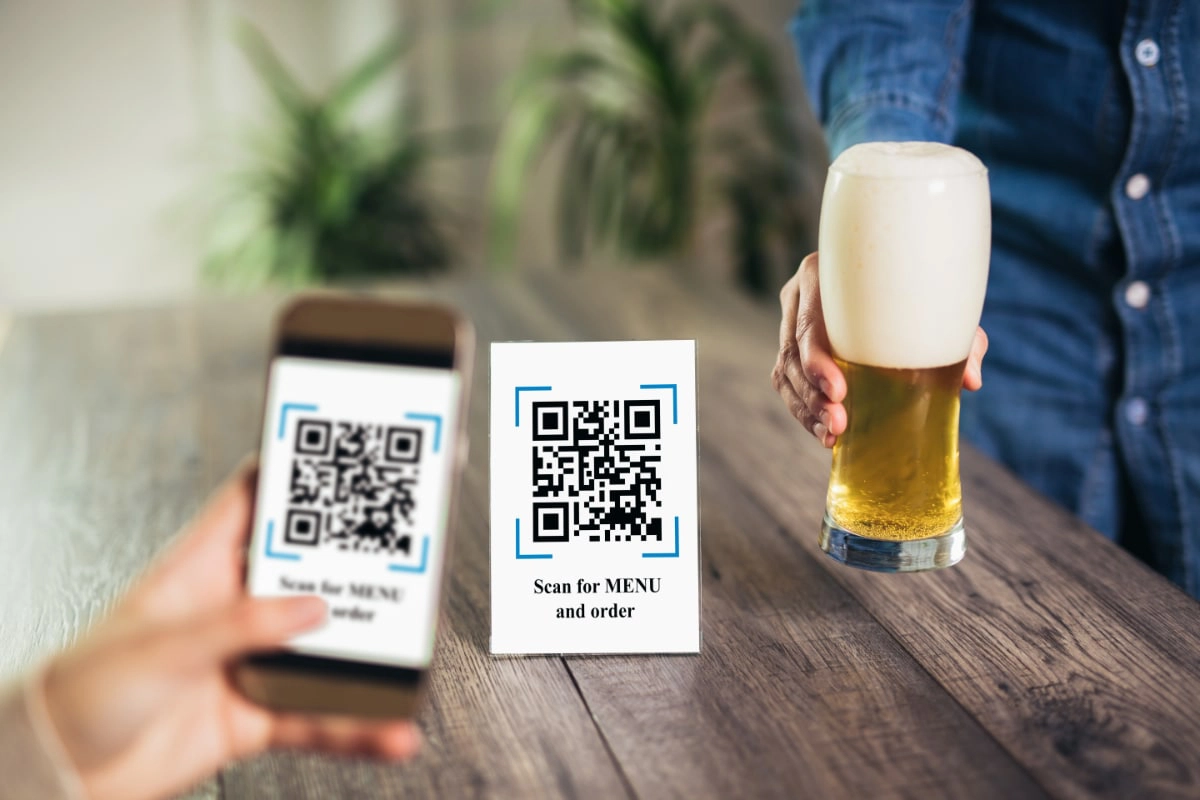 Staff don't have to process orders themselves if the customer can order through a QR code menu.
To place a QR code order, the customer scans the venue's QR code which could be situated at the food counter, on the customer's table or in the window. This opens a link in the mobile browser or associated app, where the diner can order off an online menu.
To submit the order, the customer pays for it with their card or mobile wallet on an online checkout page. The order details are then sent to the kitchen who prepares the food to be handed to you by a waiter or collected at the counter.
It is also possible for retail shops to display a QR code that links to their online store or a specific product to pay for online, but it's more common to use it in a hospitality context.