You've probably heard the term, but what does PDQ machine stand for? And what is it exactly? Let us define it:
PDQ stands for "Process Data Quickly" and a PDQ machine is basically any card payment machine that processes debit and credit cards electronically.
Nowadays, PDQ machine is rarely used as a term amongst consumers and merchants in the UK. Instead, people use a mix of terms such as card machine, card terminal, chip and PIN machine, POS machine, card reader or card payment machine.
PDQ machine – how did the name come about?
The term PDQ machine was popularised when electronic card machines were first released, since it was a way to process card payments quickly in person.
Before the invention of electronic card machines, cashiers had to manually process every card payment, which was a slow and tedious process. It involved using manual credit card imprinters, signatures, phone authorisations and transporting copies of the credit card slips to the bank.
It's therefore not surprising that 'Process Data Quickly' (or 'pretty damn quick', as some people thought it meant) became the focal meaning of the first electronic terminals that could do a good chunk of this in seconds.
The first type of PDQ machine, introduced in 1979, read magnetic stripe cards swiped through the machine. It would then identify the cardholder's name and bank details and check with the bank via a landline connection whether there was enough balance in the card account for the transaction.
The card machine would then print a receipt that communicated either a rejection or approval of the transaction. If accepted, the customer would need to sign the receipt, after which the cashier compared the signature with the one on the back of the card to verify the card ownership.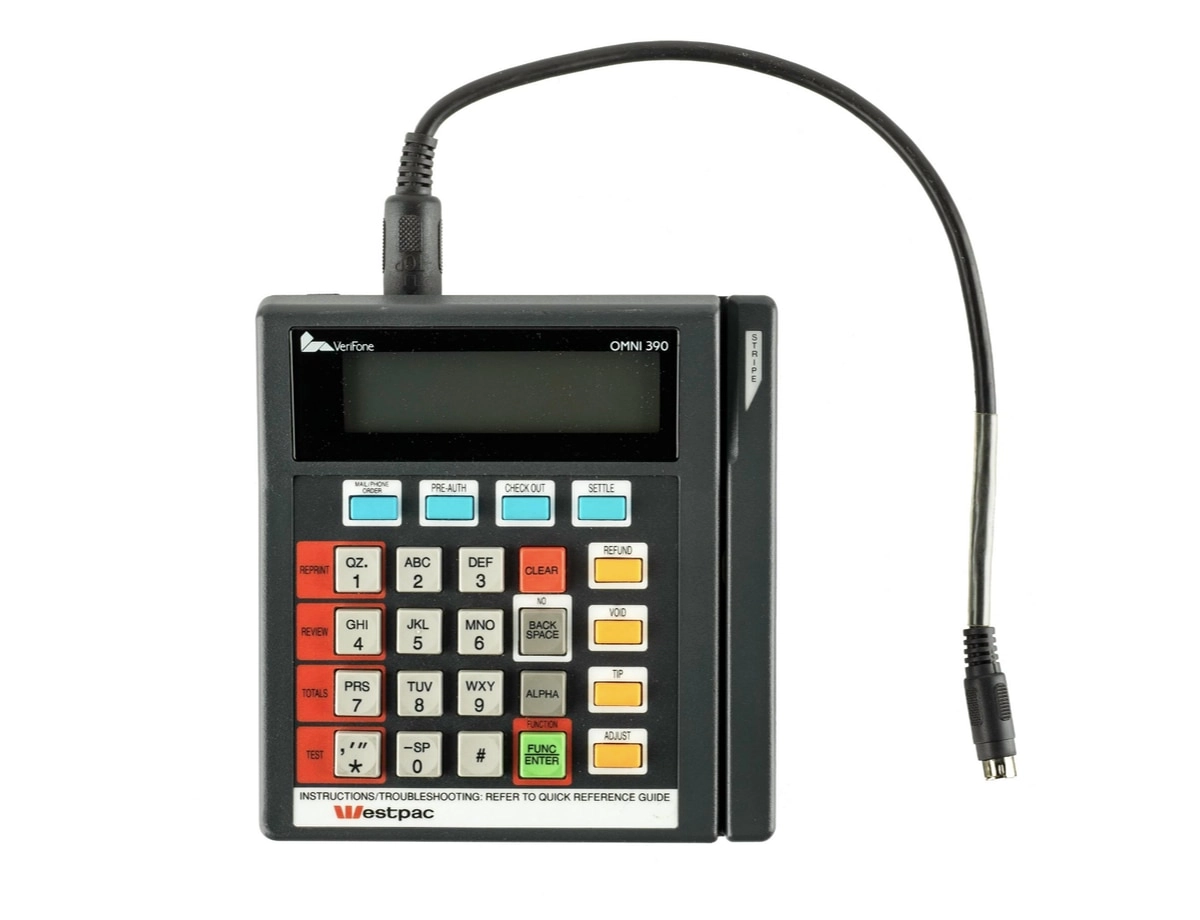 Late 1980s PDQ terminal by VeriFone for magnetic stripe cards. Photo: Smithsonian Institution
Not until 2004 were these early swipe terminals replaced by models with chip and PIN technology in the UK. This was the beginning of phasing out customer signatures that could be faked by fraudsters. Instead, customers could enter a 4-digit PIN code on the terminal's PIN pad to verify their card ownership even faster than signing a credit card slip.
Since chip cards were referred to as 'smart cards', these newer chip and PIN machines were also referred to as 'smart terminals' (different from today's smart POS terminals with a touchscreen).
Eventually, card readers could also accept contactless cards with near-field communication (NFC) technology. This would not require a PIN or signature for transactions up to a limit, making payments even faster.
Today's card machines may have all of these card technologies built in, although swipe payments are being phased out due to security concerns.
In short, 'PDQ machine' is a term associated with the first swipe card terminals, but you could argue it's more apt than ever with contactless payments processed 'pretty damn quick'.
Types of PDQ machines
When people talk about PDQ terminals today, it refers to any countertop, portable or mobile card terminal that electronically reads and verifies credit and debit cards. Although the original meaning was associated with swipe card machines, the name has stuck to any contemporary card machine with chip and contactless capabilities.
The best PDQ machine depends on your POS setup and budget. Here are the main types you can get:
Traditional terminals: Stationary, portable and mobile card machines with a push-button PIN pad below a display. Popular models are manufactured by Ingenico and Verifone, used by most big retailers and supermarkets.
Smart POS terminals: Portable and mobile card terminals with a touchscreen interface instead of physical buttons. Usually Android-based with a selection of apps to add point of sale (POS) features to the basic card payment functions. Popular brands include PAX and Clover.
Card reader with app: These only accept cards while synced with a smartphone or tablet app (iOS or Android) via Bluetooth. They can be used on the go, using the mobile device's 4G or WiFi connection. Popular brands include Zettle, SumUp and Square.