More and more payment terminals are adopting an Android operating system.
This is a stable trend enabled by the drop in manufacturing costs and justified by the prospect of going beyond simple payments to offer value-added services too.
What exactly is an Android terminal? Why choose it? What models are available?
Definition and background
An Android POS machine is a touchscreen card terminal with an Android-based operating system. Android is an open software system created by Google, and it is what most (non-iPhone) smartphones are using. Android terminals can access diverse payment methods and add-on apps such as point of sale (POS) software.
An operating system (OS) is a software environment adapted to a certain type of hardware, on which all other software is based. Apart from Android, the other main operating systems are iOS for Apple products and Windows or Linux for PCs.
Software written for Android can theoretically "run" or work on any other device whose operating system is Android or a modified version of it, subject to some adaptations due to interface differences. For example, software written for a smartphone or tablet can be adapted very quickly to a payment terminal.
Photo: Emmanuel Charpentier (EC), Mobile Transaction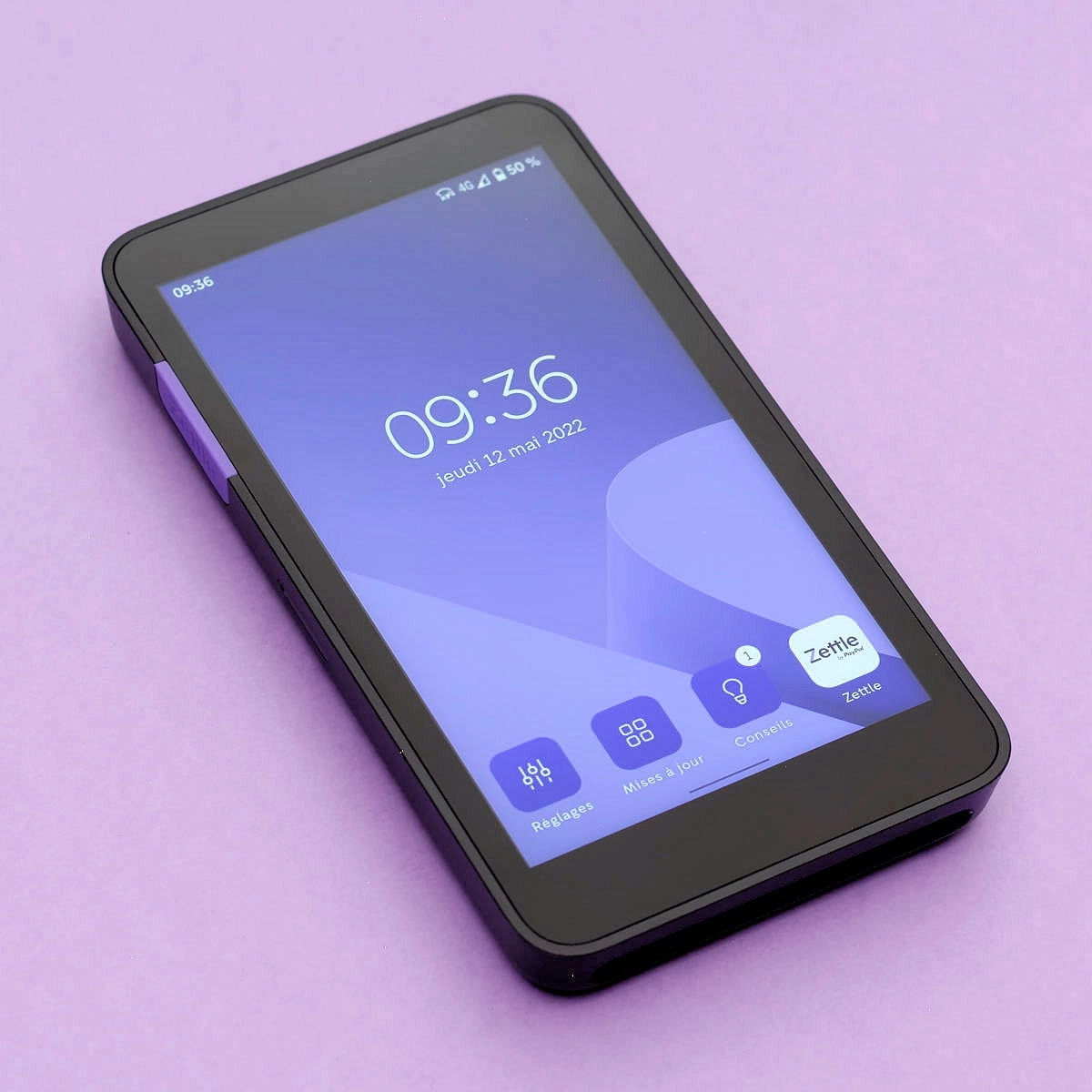 Zettle Terminal runs on Android 10 and looks very much like a smartphone.
Legacy terminal operating systems – Telium for Ingenico and Prolin for Verifone and PAX – were based on Linux, an open and reliable system. This was, however, insufficiently developed commercially, with only a small base of developers behind it.
By switching to Android, payment terminals have more potential since they can accommodate a number of existing software, and many programmers are experienced in creating Android applications. This makes it much easier to develop an app market for a POS machine.
When it comes to hardware, manufacturers have adapted by developing devices with large touchscreens and more RAM (memory). Some Android card machines look downright like mobile phones, while others retain a more traditional look. Others move in the direction of cash registers with a more hybrid look.
The term smart POS terminal is sometimes used to refer to these new devices, but the term "Android payment terminal" is both more specific and easier to understand.
We present examples of commercially available Android terminals later, but first, let's see what they can do practically.
What can you do with an Android terminal?
An Android POS terminal can of course offer similar features as predecessors, such as acceptance of card payments, receipts, barcode scanning, preauthorisations and keyed payments (virtual terminal).
It also runs more complex or additional software:
Allowing a card machine to operate POS software opens up new possibilities, since it becomes two solutions in one. This makes it possible to save counter space, but also to carry out all the operations directly with the customer on the move, in a department store or at a market stall.
Since there are no real software limitations, hardware manufacturers and makers of integrated solutions (hardware + payment processing) can offer a wide variety of hardware setups to cover all scenarios.
It is entirely possible to develop POS software for a terminal with a Linux OS, but it is Android that has won the commercial war.
Models of Android terminals
To find one's bearings in the Android universe, it is necessary to distinguish the device designs, providers and whether or not it is a product exclusive to one payment system.
Indeed, some manufacturers make their model available to many merchant service providers and card processors. Other devices are created by a single supplier that also markets its own payment solution.
Let's start with the PAX A920 as an example. This is an Android terminal that retains the shape of a mobile card machine with built-in receipt printer, but it has a very large touchscreen that completely replaces a keypad.
Photo: EC, Mobile Transaction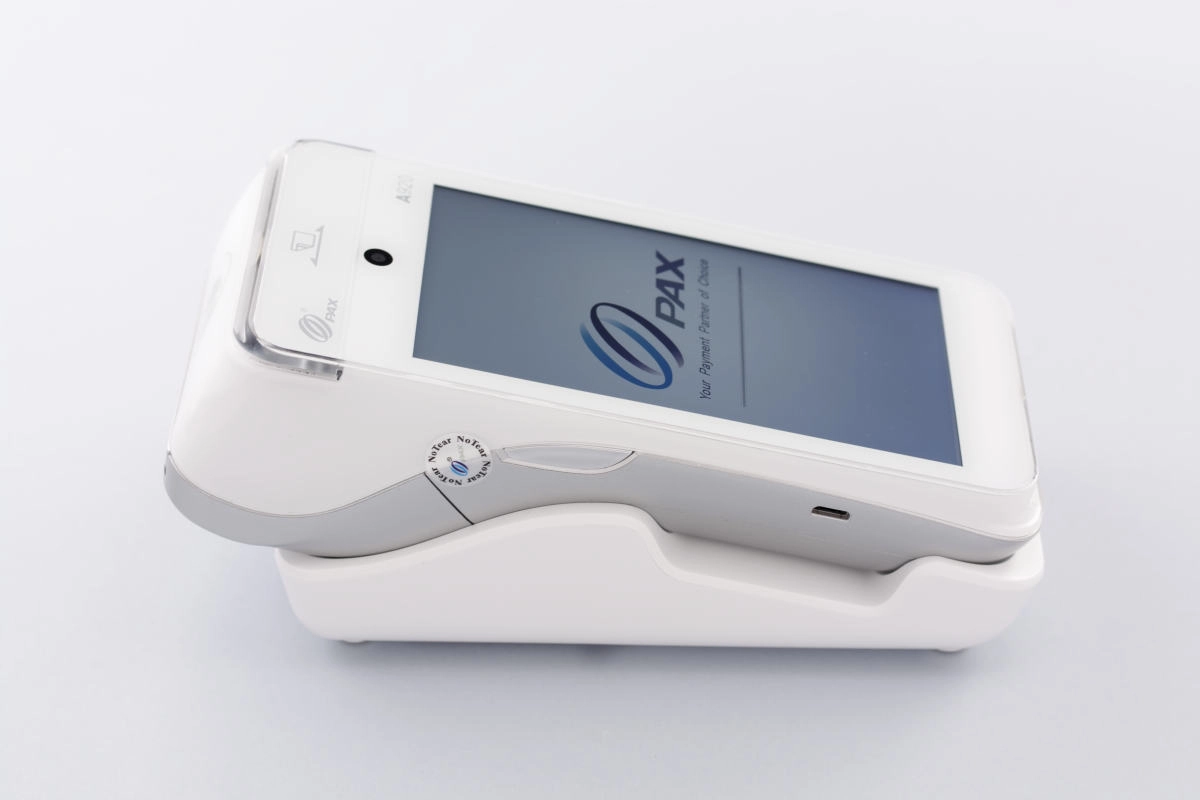 PAX A920, one of the first Android card machines to make its mark in the UK.
PAX A920 is offered by the merchant service provider Takepayments. It is also Dojo's central product, but the company has added some green details on the terminal to match its branding.
Other Android terminals of a similar type include Axium DX8000 from Ingenico (available from Worldpay), Carbon Mobile 5 from Verifone, or the N86 from Nexgo available from myPOS under the name of myPOS Carbon.
Photo: Emily Sorensen, Mobile Transaction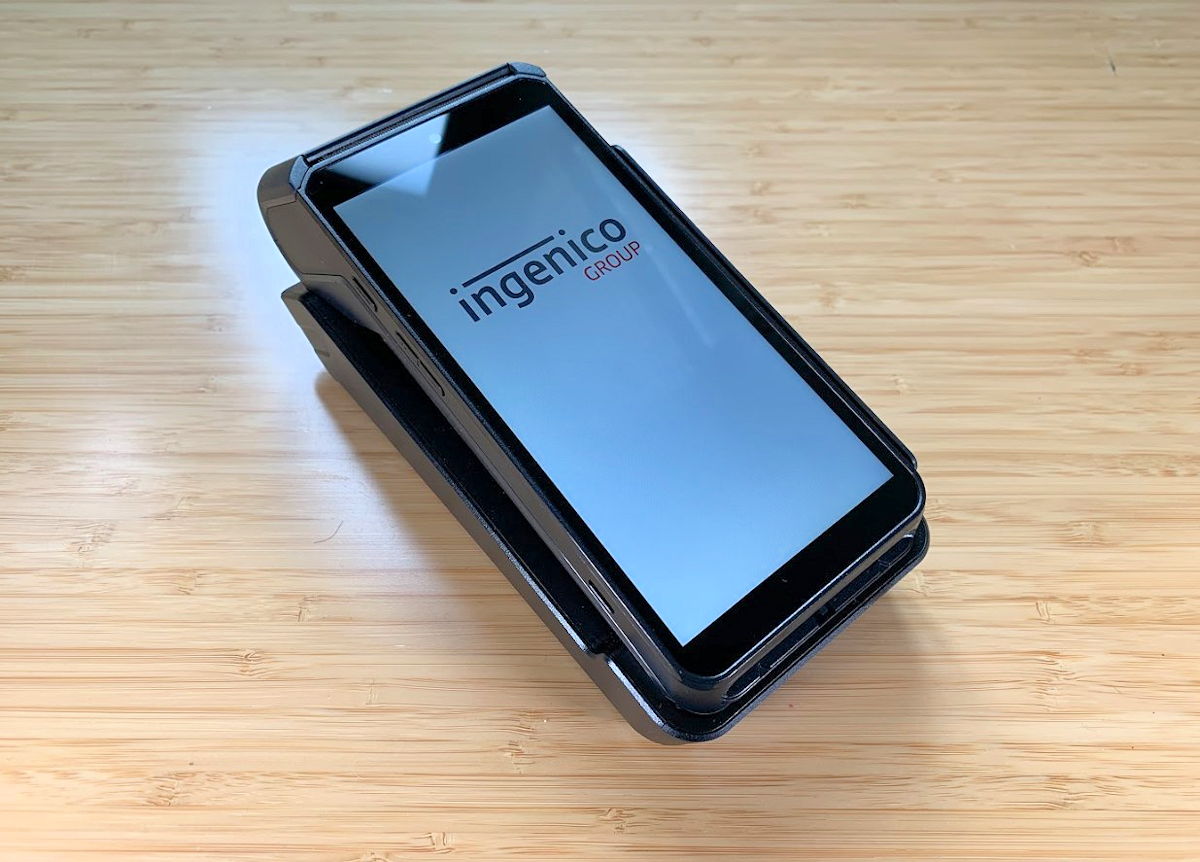 The Axium DX8000 terminal – Ingenico's new flagship model?
In the smartphone-like Android terminal genre, we showed Zettle Terminal in a photo earlier in the article. This is a unique device that is only available from the Zettle company.
To take the example of a terminal available from different suppliers around the world, we turn again to a PAX model, the A50, which is available from PayaCardServices with a monthly subscription.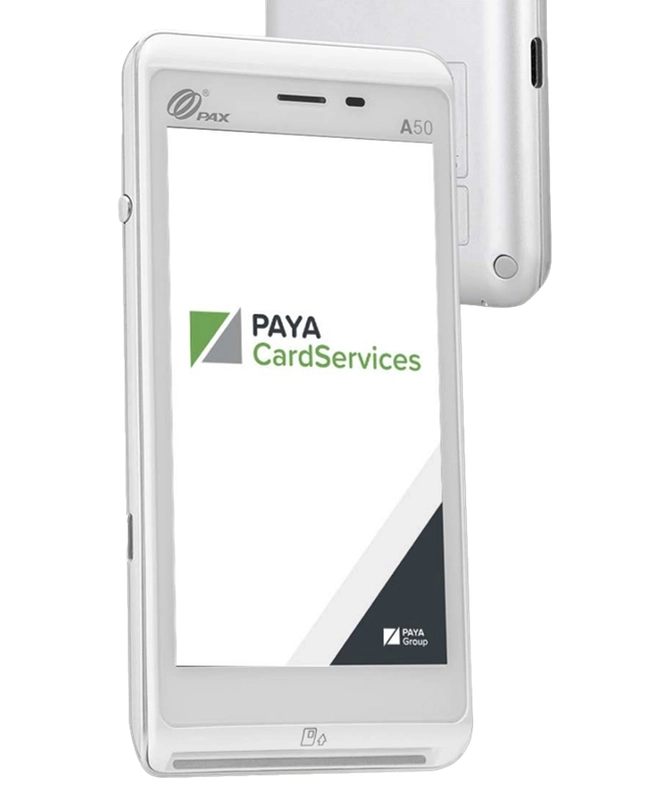 PAX A50 is offered by Paya.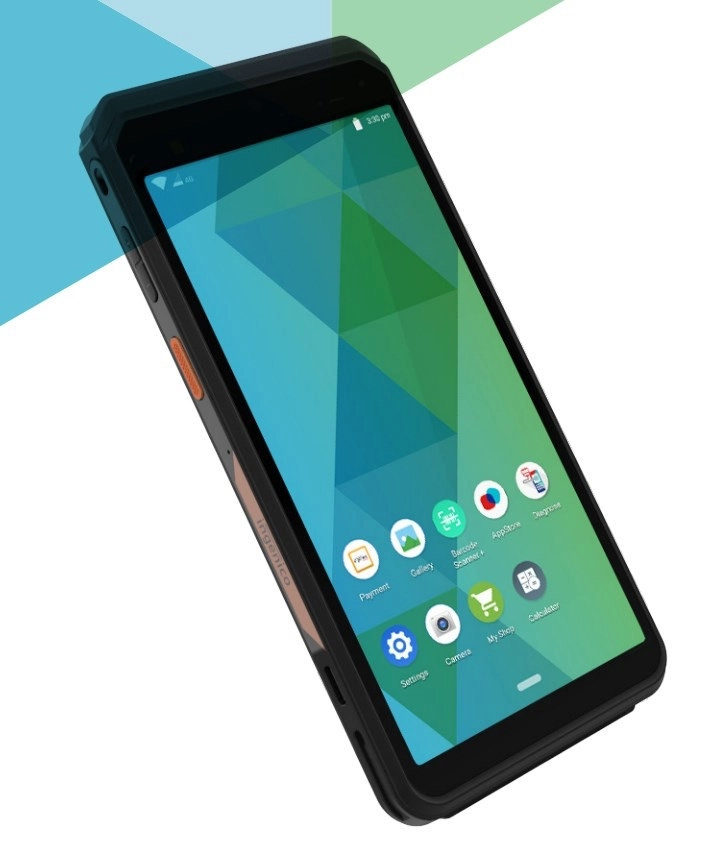 Ingenico recommends EX8000 for retail.
Other similar Android terminals are Ingenico's Axium EX6000 and EX8000 which also run on Android 10. Attractive devices, but they are not yet used in the UK.
The last category is what we call hybrid Android devices. Are they terminals or tablets, or even cash registers with an integrated terminal?
Elsewhere, we've featured Ingenico Axium D7, a chunky, dual-screen tablet with a base for printing receipts. It is no longer part of the range, but replaced by the AECR-C9 and C5 terminals which are bigger and rather evoke a cash register – particularly the C9 terminal with a double screen.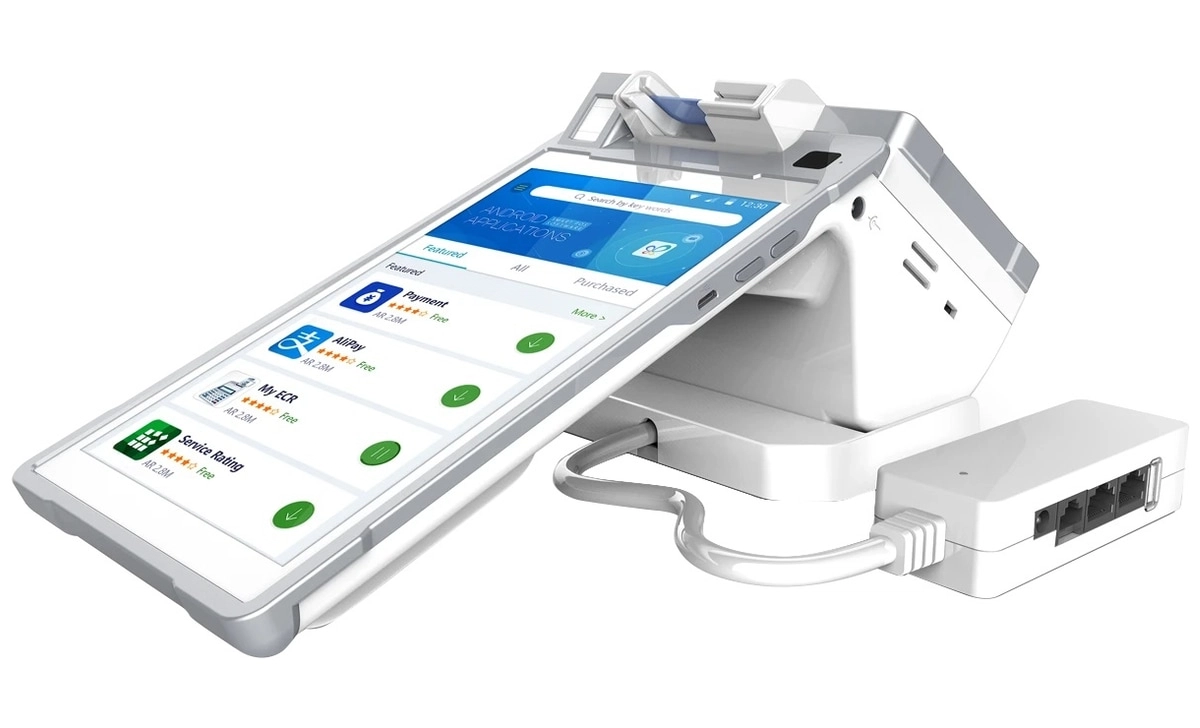 PAX E600 – terminal or cash register? You choose.
The model that most closely resembles the defunct Axium D7 is PAX E600, officially a cash register, but actually not much different from a smart terminal with its Android-based PayDroid OS.
Will Android terminals dominate in the future?
In our opinion, Linux-based terminals that only accept traditional payment methods (cards, keyed, etc.) will have their place for a long time, whether they are used independently or with a till system. Their reduced cost will remain a good selling point.
As far as more advanced terminals are concerned, open systems based on Android will be on the rise in the coming years, because it is in the interest of merchants, terminal manufacturers and software vendors.
A range of Apple-branded payment terminals could logically see the light of day – like we've seen tap-to-pay on iPhone – but nothing has been announced.