Gift cards are a type of currency only redeemable at a particular business. People usually buy it as a gift for others to spend at a store, but it is also sold for other purposes as we shall see below.
You can get physical gift cards or electronic gift cards (e-gift cards) sent via email, text or chat messaging. This makes it suitable for both remote and in-person businesses.
A growing number of point of sale (POS) systems offer gift cards as part of a wider selection of payment methods. Each card has an amount of credit that can be used instead of a payment card or cash before an expiry date.
But why sell gift cards? They benefit businesses in more than a few ways – here are six reasons why gift cards are good.
1. Gift cards are a source of income during lockdowns
People often buy gift cards for birthdays, Christmas or other celebrations as a gift, but since the Covid-19 pandemic started, many businesses have been selling them as a way to keep sales going during lockdowns.
Selling gift cards brings you revenue in advance of providing your products or services. This makes it a perfect temporary source of income when unable to offer particular services at the moment.

With that in mind, it's best to record the gift card amounts due to be spent in the future, as you are basically given credit for products you're expected to provide in the future without further payments.
2. Gift cards are a sustainable, easy gift idea
Gift cards are a better gift than unwanted tat – obvious, but often forgotten. Christmas is a particularly wasteful time where people buy each other things they don't need. This leads to lots of rubbish destined for landfill, stress of refunds (for the merchant as well) and unwanted gifts gathering dust in people's houses.
A gift card empowers the recipient to buy something they actually want, as long as it's from a shop they want something from. Stores can emphasise this to customers who are clearly out to buy a present. Any till point would benefit from a sign advertising gift cards as an easy gift idea that won't go in the bin.
3. Gift cards can be issued instead of refunds
Many small shops are hesitant to offer refunds, preferring exchanges instead. However, it can leave a pretty negative impression in customers' minds to be refused a refund for items that would qualify for a return in other stores, or for a poor service.
A better way to deal with customers who don't want an exchange is to offer a gift card instead – this is often referred to as a credit note. This way, the customer can come back at a later time and hopefully find something else to spend the money on.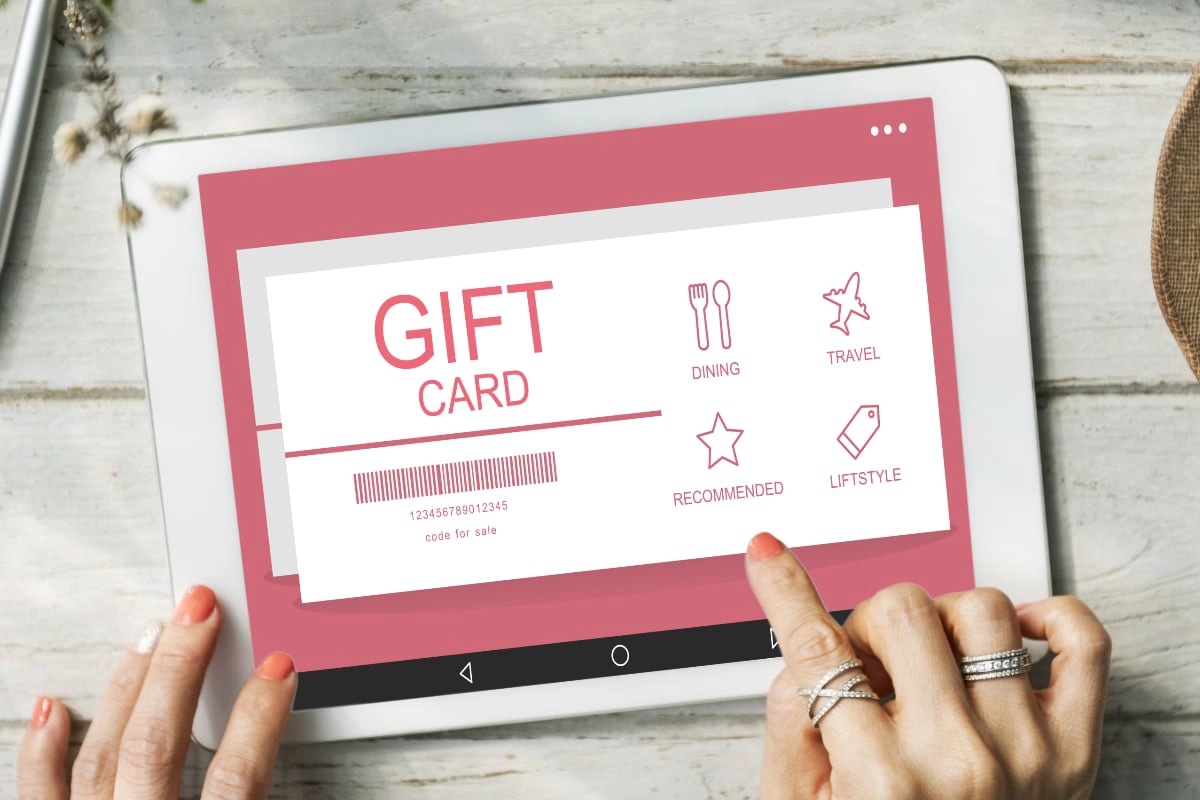 E-gift cards are issued online.
4. Gift cards promote your business
Gift cards are linked to your business only, and they can be customised to display your branding. When someone receives a gift card from your business, they have to spend that credit on your website or in your store. If they didn't know about your company before, they will learn about it in order to spend the credit wisely.
A proven way to get more customers is getting people to recommend your services or products to their friends. People trust their friends more than your advertising, so gift cards from a loved one can be the best way to get new people through the door.
5. Gift cards encourage repeat visits
It's not always convenient to spend a whole credit balance in one go, so the customer may have to come back to deplete the gift card. This means more time spent with your business, in person or on your website – and repeated exposure to the same environment has a tendency to grow people's liking for that place.
For example, seeing the same staff again may encourage friendly chit-chat. Products you were only slightly interested in the first time around can grow on you in between visits. Moreover, every time a customer visits, you may have new things they could be interested in buying.
6. Gift cards can be used as an incentive to buy more
Does anyone ever use the exact amount of a gift card? Sure, but gift cards intended as a present often have round numbers like £20 or £100 rather than £19.99 or £105.99, which might be the actual price of products while round numbers may not match any prices in your store.
Then people often get small leftover amounts to spend in the future, or the customer may aim to get something slightly more expensive than the credit amount.
Merchants can use this to their advantage by issuing gift cards of fixed amounts like £5, £10, £20, £50 and £200 only (or whichever price range is suitable). Of course, it would be better customer service to let people decide on the exact amount – it's still likely the gift card holder spends more than that amount.
How to sell gift cards
There are a few ways to sell gift cards as a business:
Order physical cards with your branding and a barcode to scan at the till point to register the gift card sale/amount.

Add e-gift cards as a product in an online store for customers to add to the online checkout.

Post a link to a dedicated gift card page online where customers can enter a gift amount and recipient details, then pay online.
Low-cost payments and POS platforms offering gift card solutions in the UK include SumUp, Square, iZettle, TouchBistro, Lightspeed and many others. Different costs apply depending on whether you need physical cards (more expensive) or e-cards (usually costs just a transaction rate).