Some predicted a reduction in physical card machines at the point of sale, being overtaken by QR codes and tap-on-phone. Yet the card machine is far from dying.
In an increasingly digital world, the look and feel of the payment terminal has become more, rather than less, important. Along with innovation in functionality, card machines have become more pleasant to look at, almost fun.
We look at the models you will likely see in 2023.
The smart terminal PAX A920
Most payment providers still get their card machines "off the shelf" from a manufacturer.
The model seeing the biggest growth in recent years is an Android-based smart terminal called A920 from Chinese manufacturer PAX Technology. The model has been on the market for 3 years already, but with the technology that was ahead of its time at launch, it is a model we will see even more of.
Emmanuel Charpentier, Mobile Transaction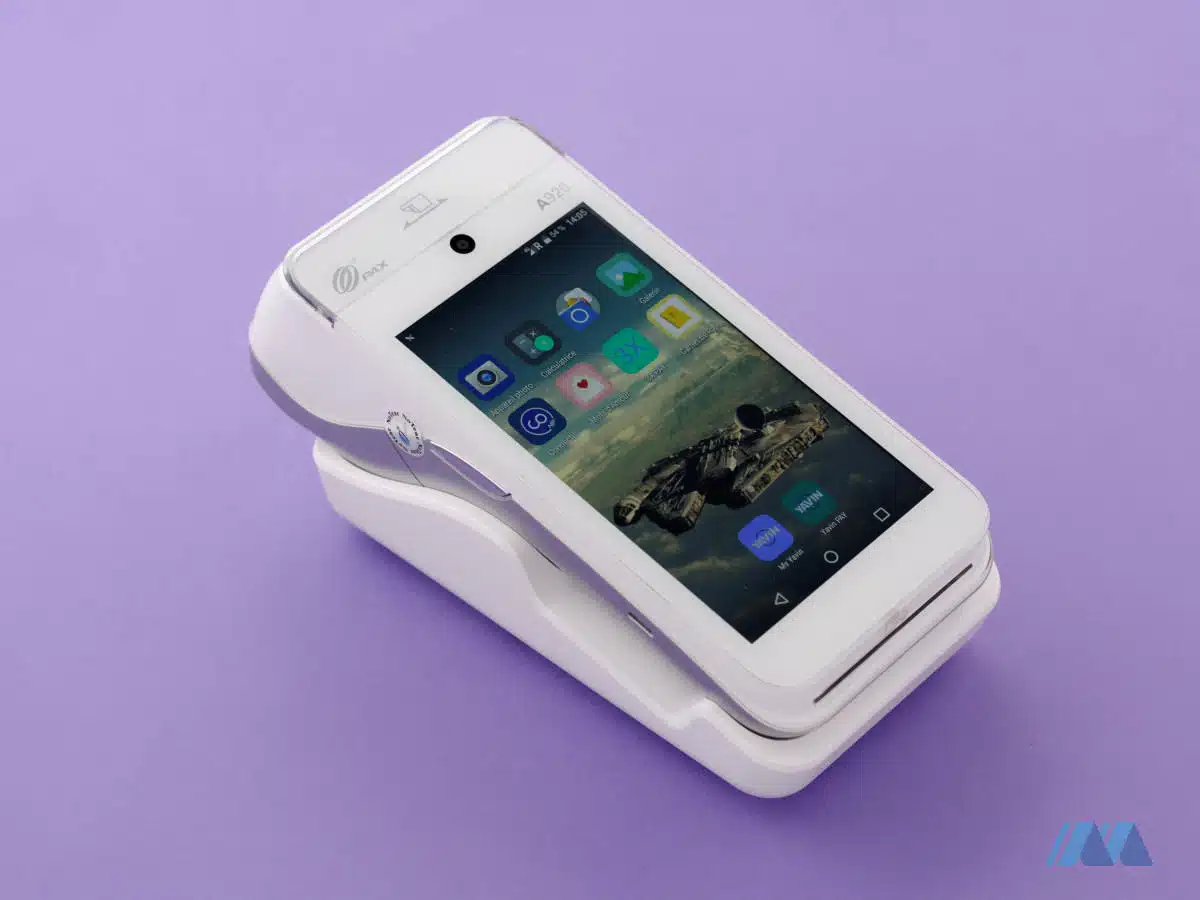 A PAX A920 terminal with Android apps for payments and customer loyalty. 
Like similar so-called smart terminals, it can do much more than simple payment acceptance and receipt printing. The basic capabilities will depend on the pre-installed software by the payment provider, often including a point of sale system on the terminal.
Being run on Android, the terminal allows the use of third-party apps, just like an Android smartphone does. For merchants, this means not just a touchscreen checkout at their fingertips, but also third-party apps to help boost sales, such as rewards, loyalty and additional payment options.
Rather than a physical PIN pad, it features so-called PIN on glass, though fewer and fewer customers actually need to enter a PIN code given increasingly higher contactless limits.
PAX sold 12 million terminals in 2021, many of them to the UK, and the sale of the A920 model has only increased in 2022.
Dojo, an offshoot brand of Paymentsense, has made success with this terminal, as evident from its prevalence in any major UK city. Other providers opting for the A920 are Takepayments, Novus Pay and Liberty Pay.
Ingenico's attempt to regain market share: Axium DX8000
The criticism that most payment terminals only a few years ago looked like phones from the late 1990s, not evolving the way payment technology has, is one largely targeted at Ingenico terminals.
Ingenico tried to prove the critics wrong about its design with the Move/5000 model. Some will say that the success was only limited. The PIN pad still had a retro feel to it with its push buttons. And while its shape was more elegant than clunky, the overall look and feel was not as convincing as comparable terminals from PAX. Ingenico's less flexible operating system Tetra did not help.
Emily Sorensen, Mobile Transaction
Ingenico Axium D8000 features a crisp screen and more forward-looking design than the Desk/5000 in the background. 
Axium DX8000, launched last year, is an Android-based terminal that looks more appealing. It has started to emerge at some bigger retailers.
Worldpay, one of the main payment providers and processors on the UK market, is also offering it to small and medium-sized businesses at competitive rates. Yet the price tag might prevent other payment providers from promoting it as much as PAX A920 to the small-business segment.
Custom-designed card reader from Revolut
The fintech companies SumUp, Zettle and Square shook up the payment industry a decade ago with their card readers. They opted for their own designs rather than the standard manufactured models seen across a range of providers.
In the category of low-cost card readers connected to an app on a smartphone or tablet, Revolut Reader is the latest launch we're likely to see more of in 2023.
The simple, yet futuristic, form and look was designed by Revolut Business in-house. With no PIN pad and just a simple touchscreen, it is operated by the merchant from an app on their mobile phone.
Emily Sorensen, Mobile Transaction
When unpacking Revolut Reader, we found the look to be unique, despite building on recent design trends. 
Product owner Luis Leal says the intention of the design was to strike a balance between a trustworthy and familiar form: "We aimed at a sleek design that conveys a simplistic and seamless experience for both the business and the customer."
The small size of 78 mm x 78 mm x 22 mm and weight just above 100 grams makes it suitable for payment acceptance on the go, says Luis Leal:
"This is not just a countertop device, it can be used on the move or carried in bags or pockets. The compact shape contributes to its mobile appearance, while giving it a modern look."
Revolut Reader integrates with point of sale system Nobly, recently acquired by Revolut. Not yet a payment and solution ecosystem as mature as that of Square and SumUp, Revolut is rapidly catching up.
Simple with its own SIM card: SumUp Solo
Solo is the second card terminal of SumUp to feature an integrated SIM card, bypassing the need to connect it with a mobile phone via Bluetooth.
The option of a compatible receipt printer, that also functions as a battery charging dock, will make it a more complete card machine that's likely to take over as the bestseller of SumUp from its previous flagship model SumUp Air.
Emily Sorensen, Mobile Transaction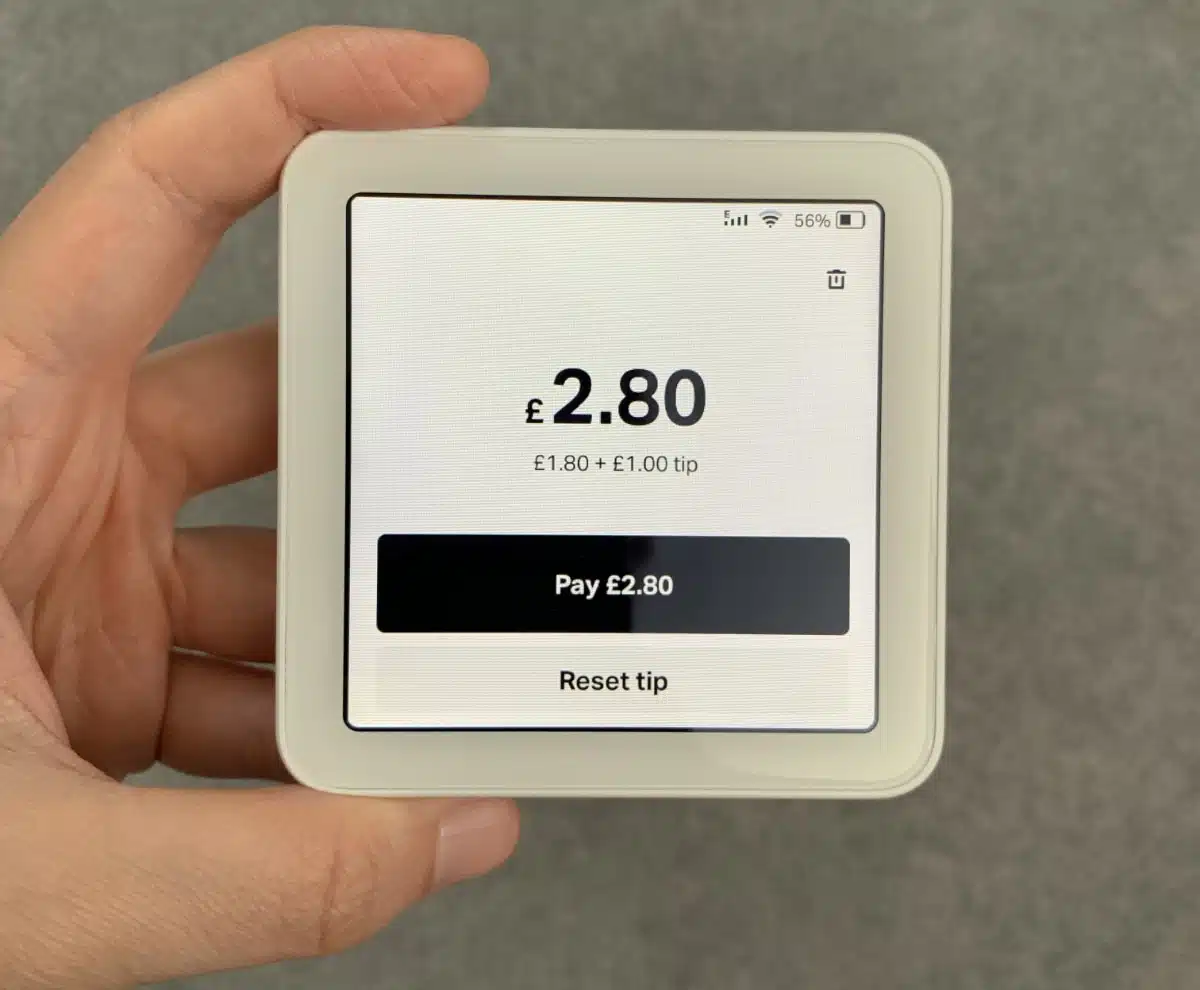 SumUp Solo is easy to use and comes with smart tipping options.
Launched before Revolut Reader, the look of Solo is fairly similar. It was the first of its kind as a small and square-shaped, standalone card machine with a touchscreen acting as the entire interface. This is reflected in the price, which initially was higher than its predecessor SumUp 3G that came with push-buttons and a small, monochrome display.
Emmanuel Charpentier, Mobile Transaction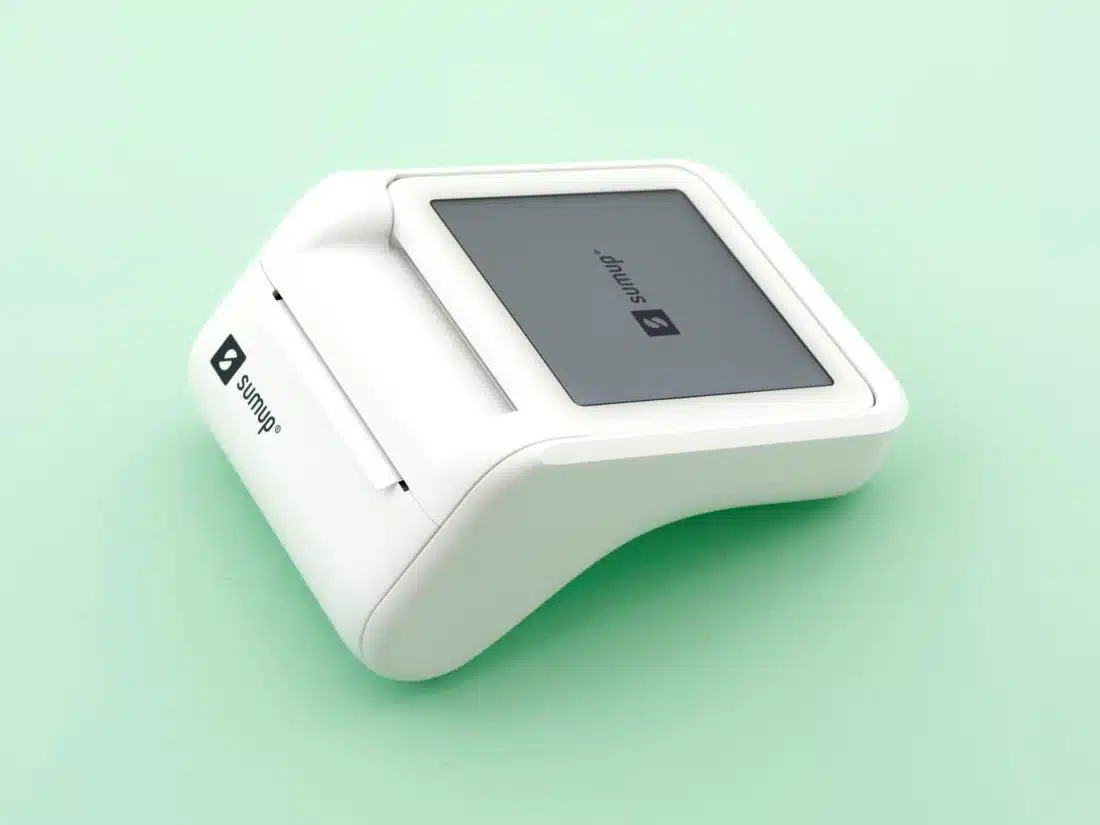 The Solo terminal with receipt printer has a contemporary look – sleek, yet cute.
The lack of integration with a point of sale (POS) system is a limitation, but sources at SumUp tell us this is in the works. The great thing about a touchscreen card terminal is its ability to innovate on the same device, since all it takes (depending on the complexity of the added feature) is a software update.