Our rating
A decent mPOS service that could have been much better.
NAB Now is a nifty mPOS solution that makes accepting credit and debit card payments easier for merchants in Australia. The service offers rapid cash flow for small businesses as well as no minimum commitment term, but it's expensive and does not include Tap & Go support.
Highs: No minimum term or cancellation fee. Same-day settlement.
Lows: High transaction fees. Contactless payment functionality extra. High cost of replacement for card reader.
Buy if: You already bank with NAB and want to keep things simple.
What is NAB Now?
NAB Now is a mobile point of sale (mPOS) solution offered by National Australia Bank. The service was launched in early 2015. It principally targets small businesses in Australia who want to accept card payments on-the-go. According to the bank, the major benefits of NAB Now reside in making card payments both easier and faster than traditional payment terminals.
How NAB Now works
NAB Now enables Australian merchants to accept payments from credit and debit cards, including Visa, Mastercard and EFTPOS. During the transaction, the mobile card reader connects to your iOS or Android smartphone (or tablet) via Bluetooth, essentially turning your device into a card terminal.
Operations are then managed with the NAB Now app, which is available on both iTunes and Google Play.
The service is currently only available to those with business accounts at National Australia Bank. It therefore follows that if you don't already have an account with the bank, then it will be necessary to open one in order to use NAB Now.
App receives mixed reviews
The NAB Now app is pretty intuitive and the back end offers sales records and some analytics.
Since the NAB Now app is critical for the service to work, it is worth noting the variable reviews. Recent reviews by Android users on Google Play cite frequent crashing of the app.
As of October 2015, the average Google Play rating was 3.2 out of 5, which is not impressive. You may want to download the app on your smartphone or tablet before you make a decision.
The app does not have enough downloads and reviews to make a final judgment, but keep in mind that NAB is a bank – not a technology company.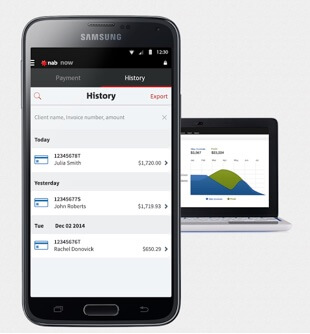 The more advanced mPOS services globally have all come out of technology-oriented startups rather than traditional financial institutions.
How much does it cost?
To get started with NAB Now, you will firstly need to make an application and order a card reader. The card reader costs an initial $100 followed by a $10 monthly fee thereafter. We found it slightly odd to charge twice for renting the card reader. What's more, replacement or non-return of the card reader at the end of the contract will set you back a whopping $350.
More importantly though, transaction costs are high – weighing in at 2.10% for Visa and Mastercard. By comparison, mPOS competitors' offerings come in significantly lower in terms of transaction cost. Mint mPOS charges 1.75% per transaction while PayPal Here and eWay SmartPOS charge 1.95% respectively.
Finally, NAB Now levies a flat charge of $0.40 for EFTPOS payments.
What about contactless support?
Unfortunately, NAB Now only supports the more traditional "Chip & Pin" card payments. If you are looking to use Tap & Go, then a more expensive option is available. This solution goes by the name of "NAB mPOS" and costs $40 per month up to a monthly transaction total of $1,500. Any payments above this threshold will then be charged at 1.5% per transaction. Whether NAB mPOS worth it or not will depend on your predicted transaction volume.
Same-day settlement and no minimum commitment are great service features
The principle advantage of NAB Now is that your payments are settled into your bank account on the same day. We suppose that this is the upside of using a large bank such as National Australia Bank rather than a smaller startup-type company. This same day settlement also applies to weekends which is an added bonus for merchants who require rapid cash flow.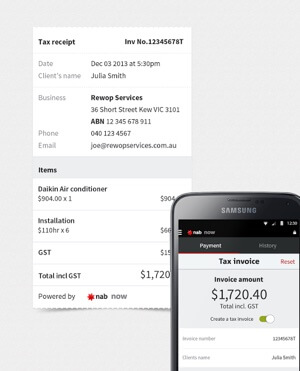 Second, there is no minimum contractual commitment and no cancellation fee. This compares favourably to some of NAB's competitors (Mint Payments in particular) who charge penalties for leaving their services before a certain date.
However, as noted above, you must return the mobile terminal at the end of the contract or else be charged a "non-return fee" of $350.
Thirdly, invoices can be generated via email or SMS, which is welcome relief from the paperwork burden that many small businesses face.
Finally, it's perhaps added peace of mind to use a reliable and secure service from a major bank that won't be going anywhere soon. The more conservative among you might prefer to use a solution from a name that you already recognise and trust.
High fees and lack of contactless payment are major downsides
As noted above, NAB Now is a rather expensive service. Its 2.10% transaction fee is the most expensive of all Australian mPOS service providers that we have reviewed to date. Also, despite the fact that you are charged $100 up front for ordering the mobile terminal, you do not actually own it. You are thereafter charged an "access fee" of $10 per month.
If quick settlement and security are upsides of doing business with a large bank, then seemingly excessive fees and penalties might be some of the downsides.
The second disadvantage of NAB Now is the lack of contactless support. Considering how addicted Australians are becoming to Tap & Go payment, this offering seems a little behind the times. Sure, you can upgrade to the next plan, but this is a larger initial commitment that some small businesses might not be able to tolerate.
Thirdly, the business account requirement with National Australia Bank could be a hurdle (and extra hassle) for some merchants. Conversely though, it may be an advantage for businesses who already bank with them.
Finally, the miscellaneous charges such as those for card reader replacement seem excessive. Why does replacing a card reader cost so much more than ordering the first one? Again, this seems typical of what you might expect from a traditional bank.
About National Australia Bank
National Australia Bank (NAB) is one of Australia's largest banks by both overall market capitalization and total number of customers. At the time of writing, the company is valued at just over $83 billion and serves almost 13 million customers worldwide. NAB operates in Australia, New Zealand, United States, United Kingdom and several Asian countries.
Summary
Overall, we gave NAB Now Rating Value: 3.5 stars. It is a good service with plenty of upsides such as rapid cash flow and no minimum commitment, but the downsides end up bringing NAB Now down a few pegs. In the end, National Australia Bank just weren't daring enough to take more of a risk with this service.
The lack of contactless payment support for the basic plan and very high transaction fees will put off many small businesses. All things considered, we think that both Mint mPOS and Paypal Here compare favourably. The exception might be for those of you who already bank with NAB, in which case you may decide that keeping everything in one place is a more convenient option.