Intuit Pay was discontinued in December 2015, so details in this article are outdated and no longer updated. For current options, see the best card readers with app in the UK. QuickBooks integrates with PayPal for online payments.
If you are looking for a mobile credit card reader, then there is no shortage of contenders in this dynamic and exciting payment sector. Whether you are a small business, sole trader or just need to take credit cards on the move, the new mobile credit card readers from technology companies like iZettle and SumUp may be the solution for you.
This article takes a closer look at Intuit Pay by QuickBooks, who offers a chip and PIN mobile credit card reader. Intuit is known for its online accounting services, and if you are already a QuickBooks customer with a need for accepting face-to-face payments, Intuit Pay is worth a consideration.
What is Intuit Pay?
Like its competitors iZettle and Payleven, Intuit Pay is a system that lets smartphone and tablet users take credit card payments by using a chip and PIN device connected to a smartphone or tablet via Bluetooth.
Users of Intuit Pay also need to register for free with Intuit and download the free app on the iPhone, iPad or Android device they want to use.
The device can take chip and swipe payments, but is not yet enabled for contactless.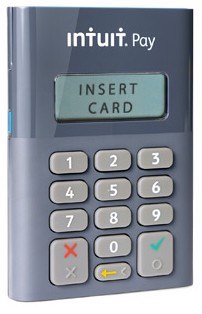 Costs and charges
The basics of Intuit Pay are similar to its competitors: it's free to sign up to and download the app, and the mobile card reader is available on the company's website for £79. Once you are all set to go, there are no monthly fees or costs and users pay a flat rate of 2.75% per transaction, including for sign and swipe transactions. The minimum transaction amount is £0.01 and the maximum transaction limit £9,999.99.
In the interest of comparing, iZettle, for example, has a sliding scale for its fees that also starts at 2.75%, but the higher your sales the less you pay. The fee starts dropping below 2.75% once sales go above £2,000 and iZettle's lowest rate of 1.5% applies once your transaction level reaches approximately £12,800. Currently, Intuit Pay accepts Visa cards, Mastercard and Maestro, a smaller number than its iZettle rival.
Intuit will deposit money owed into your account in 5-7 business days (although according to Intuit Pay's website, funds may also be held for 'further review and verification' and if this is the case, you will be notified by email).
Online payment too
Where Intuit Pay differs from its competitors is that signing up with Intuit Pay also gives free access to an online payment portal that lets you take card payments online by signing in and entering the card details. In other words, it supports 'customer not present' transactions in a way that its rivals do not.
However, if you intend to take payments over the phone, make sure you understand your responsibilities for verifying the ID of the cardholder, since you are liable for chargebacks for transactions when the cardholder is not present.
US version criticised by some
Intuit has its headquarters in the US, and the service was launched in the US as Intuit GoPayment (using a card reader that plugs into the headphone jack), where the service rivals its US counterpart Square. Not everyone has been satisfied by their experience, and various forums list a range of complaints from poor customer service to problems with receiving funds. However, Intuit Pay is relatively new in the UK, so it will be interesting to see how the customer base develops and what feedback is generated over time.
Summary
Pros
Clear flat fee structure for payments, including swipe and sign
Online payments
Chip and PIN solution
Cons
Does not accept as many cards as iZettle
Not the most competitive fees in the card reader market