Payleven and SumUp have merged under the name of SumUp. Payleven no longer accepts new customers. Information in this article is therefore outdated and no longer updated. Instead, see our overview of the best Payleven alternatives currently in the UK.
Our rating
Professional payment solution, with competitive rates and live customer service.
Payleven was the first mobile card reader solution in the UK. It currently offers two card readers, priced £59 and £79. There are no fixed monthly costs, and transaction fees range between 2.75%- 1.50%, similar to its main competitor iZettle.
Highs: Good customer support. Rates go down with increased use. Over-the-phone payment option.
Lows: Printers are an extra cost. App functionality is good, but not the best available.
Buy if: You want a contactless reader.
Mobile point-of-sale solutions are becoming more mainstream in the UK market. Payleven was the first company to introduce a chip and PIN card reader to the UK, and is one of the better options for a small business to take payments over the phone.
So what exactly is the Payleven chip and PIN solution?
In simple terms, Payleven allows businesses and private individuals to use iOS or Android smartphones or tablets to accept card payments for goods and services. The process is straightforward and fast; once you have registered with Payleven online or over the phone and downloaded the free app, the company will send you a card reader.
The chip and PIN reader costs £59 (excluding VAT) for the Classic model and £79 for the Plus model. The main difference between them is that the newer Plus model also supports contactless payments. Given the small price difference, it is the better choice of the two.
The following video outlines the basics of taking payments and getting started with the reader.
For privacy reasons YouTube needs your permission to be loaded. For more details, please see our
Privacy Policy
.
I Accept
When you have the card reader, the next step is to pair it with your device, which is, in itself, an easy process that only takes a couple of minutes. Payleven's point of sale system works wirelessly. The card reader connects to your device using Bluetooth, and then your device connects to the internet via WiFi or 3G, and Payleven's servers complete the transaction.
Once you have paired the reader and device, you are ready to go. It is as simple as entering the amount on your device, inserting the card into the reader and asking the customer to enter the correct PIN number.
That's all there is to it. If the customer wants a receipt, this can be sent via email or printed using a Bixolon thermal printer, which is compatible with the chip and PIN reader and can be ordered at the same time as when you sign up for the card reader.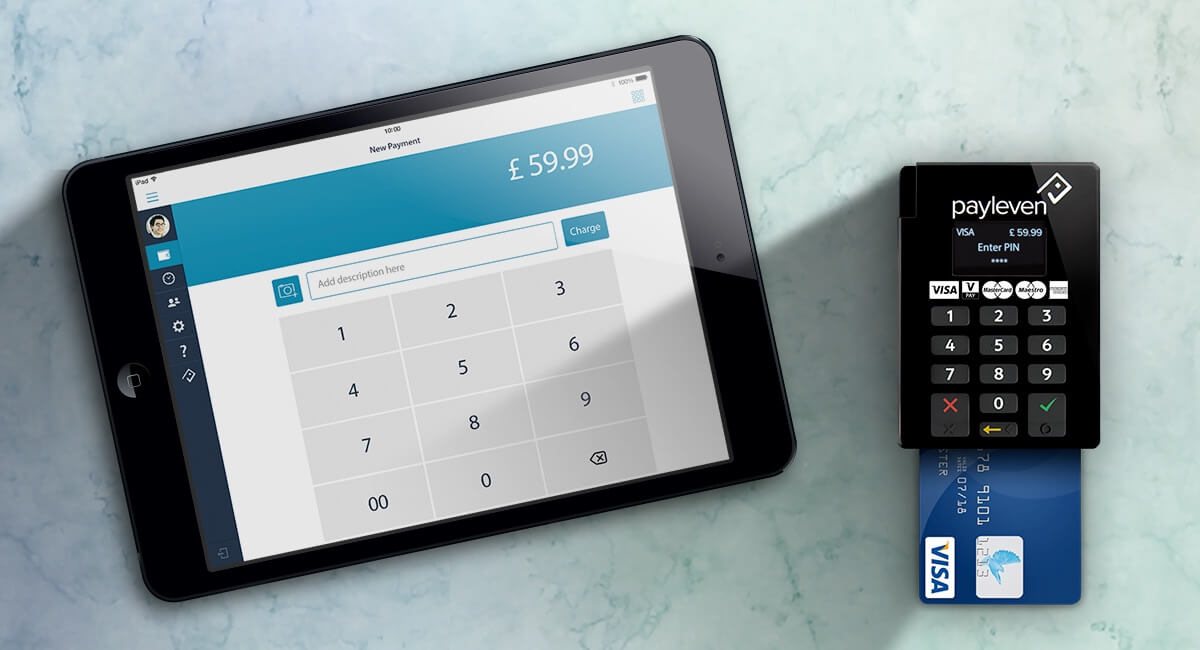 Payleven's "Classic" card reader.
What cards does it take and what are the transaction rates?
The types of cards that are currently accepted are Visa, V Pay, Mastercard, Maestro and American Express. This makes Payleven almost on par with competitor iZettle, which also accepts JCB cards. Payleven has indicated that more cards will be accepted in the future but to date is not specific about which ones and on what timescale. However, most merchants would be satisfied with the range of debit and credit card accepted.
The minimum payment is £1 and the maximum amount that can be accepted varies according to the type of business. There is no minimum monthly revenue level that needs to be reached. Payleven merchants are credited with their money once a week, on Wednesdays.
As with Payleven's competitors, there are no monthly fees, the app can be download for free, and the transaction fee starts at 2.75%, going down as low as 1.5% for high-volume businesses (note that payments over the telephone are charged at 2.95%).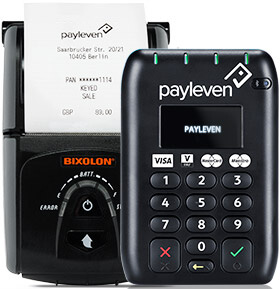 Transactions over £2,500 per month and lower than £5,000 will result in transaction fees of 2.25%. Merchants processing more than £5,000 per month, but less than £7,500 per month will pay 1.75%. The lowest Payleven rate of 1.5% is reached when processing over £7,500 per month.
The way the sliding fee scale works is that transactions will first be charged 2.75%. Then, based on the actual volume for the month any cost savings will be paid back to the customer the following month.
iZettle also has a sliding fee scale, which is slightly different from Payleven's (also read: Fee structure of PayPal and iZettle — how do they compare?). Businesses with one or more months reaching £7,500 in transactions will benefit from Payleven as the lowest fee of 1.5% is reached at this threshold. With iZettle, merchants have to reach £13,000 before the lowest rate of 1.5% is offered.
Since signing up is free and does not require a commitment or monthly fee, this would be one way to see in more detail if it is suitable for your business.
Over-the-phone payments at a fair rate and no monthly fee
In addition to the mobile app-based card terminal, Payleven offers a virtual terminal for payments over the phone. The process is straightforward: log into your online Payleven dashboard, and follow the step-by-step instruction for entering card data with a CCV2 security code.
Over-the-phone payments are charged at 2.95% regardless of volume. As opposed to virtually all its competitors, there are no monthly fees or monthly minimums. To get started, you would need to sign up for a Payleven account and buy one of the two card readers to take card payments in person (at present, it is not possible to sign up for a virtual terminal only).
The maximum charge amount for over-the-phone payments is £1000.
Extra features: product library and accounting
Payleven's chip and PIN solution gives you a full range of other options too, including the ability to enter pictures, prices and descriptions of your products and services.
You can also set up multiple accounts where each member of staff has their own chip and PIN reader that is linked to the same bank account. Customer receipts can be sent by email or printed using a mobile printer. It used to be possible to enter a tip using Payleven, but this function was disabled in August 2014 until further notice.
You also get access to useful real-time sales data, which can keep you informed and also helps with accounting. The app lets you analyse your transaction history, but you can get a more comprehensive overview of your sales data by logging in to the merchant area of the website.
For merchants with larger operations, Payleven has also teamed up with MICROS Kachng! to provide a more comprehensive and integrated cloud-based EPOS system, which is available on a subscription.
Opening up for use abroad
In principle, Payleven can only be used in the country it is registered in. The card reader communicates the location service function on the smartphone or tablet, and if the location service shows that the device is abroad, it will not be able to accept cards.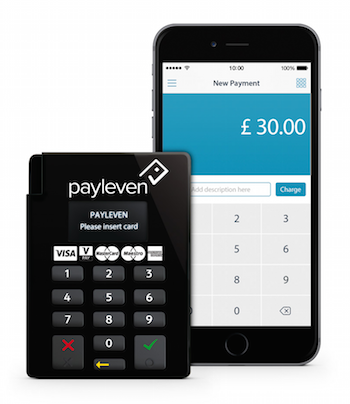 From November 2014, however, Payleven opened up for use abroad in approved cases. Customers who, for example, travel for a trade show abroad can contact Payleven customer service ahead of time and have the device activated for use abroad.
Customer service – online FAQ, live chat and telephone support
Payleven has a comprehensive list of FAQs online, as well as a troubleshooting guide and manual. Emails are normally answered within 24 hours, and from Monday to Saturday from 9am to 6pm, there is a live online chat service and customer support staff available on the phone. Payleven's customer service team is based in the London head office, working closely with the sales and technical teams.
Replacement terminals are normally shipped out the same day or the next.
Expansion plans
Payleven was established in 2012 by a team with diverse experience in payment and financial services. The company has headquarters in London and Berlin and is backed by several venture capital companies including Rocket Internet, the US-based venture capital firm New Enterprise Associates, ru-Net, Holtzbrinck Ventures, and B Cinque.
In addition to the UK, Payleven's chip and PIN system is available in Austria, Brazil, Belgium, Germany, Poland, the Netherlands, Italy, Ireland, Spain and France.