Our rating
Payzone's 12-month contracts for card machines are short, but terms and pricing typical.
Payzone is one of Britain's leading merchant service providers of card machines at reasonable costs, with contracts shorter than elsewhere. They're especially popular with convenience stores due to the add-on payment services on offer.
Highs: Contracts only 12 months. Mostly good reports about customer support. Can offer mobile top-ups, parcel collection and more.
Lows: Terms and pricing not transparent. Wait on helpline may be long. Amex and other foreign card brands not accepted.
Note: Payzone is now Takepayments. The Payzone brand still specialises in billing and utility payments, while Takepayments took over the terminal and payment solutions.
Accepted cards






The card machines can accept Visa, Mastercard, Maestro, Apple Pay and Google Pay via chip and PIN, contactless (up for £30) and swipe. With an additional contract, you can accept American Express as well.
Payzone allows you to sell mobile top-ups, international calling cards, top up gas and electricity, and more at a commission.
Furthermore, it is possible to take payments over the phone or online, or integrate with the point-of-sale (POS) system Epos Now.
Payzone is an independent sales organisation (ISO), meaning they negotiate merchant account contracts (for card processing) with acquirers on behalf of merchants. They prefer Barclaycard's contracts, but have relationships with others to allow for flexibility. Essentially, Payzone acts as the face of all the things behind your terminal solution.
Card machines
The card terminals are the standard Ingenico models you see in most shops, with the following three types to pick from.
Countertop: Compact, stationary terminal that needs to be plugged in at all times by cable. Uses your phone or broadband connection via a network cable. Fast receipt printing.
Portable: Small, lightweight terminal you can carry around wirelessly within 50 metres of its base unit. Uses Bluetooth to connect with the base unit that is connected to the phone line or broadband via cable.
Mobile: Small, compact terminal with inbuilt SIM connecting to the strongest available 3G network for card processing anywhere. Wireless solution, but requires charging. Long battery life.
Countertop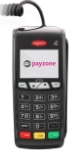 Suitable for:
Corner shops
Retail shops
Receptions
Beauty salons
Portable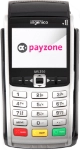 Suitable for:
Restaurants
Pubs
Bars
Cafés
Mobile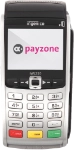 Suitable for:
Couriers
Taxi drivers
Tradespeople
Mobile caterers
All the card machines have an inbuilt receipt printer and a free paper roll is included in the box. It is then up to you to purchase more receipt rolls when this is used up.
The terminals can potentially accept phone payments via manual entry, but this would come at an additional cost.
| Type of cost | Expected? |
| --- | --- |
| Setup fee | Free |
| Terminal rental | From £20/month |
| Transaction fee | 0.6%-2.5% + flat fee (estimation) |
| Monthly minimum penalty | Fee for every month you make less than agreed minimum |
| PCI compliance | Additional cost |
| Amex acceptance | Separate cost and contract |
| Early termination fee | Equivalent of paying out remaining contract |
| Type | Cost |
| --- | --- |
| Setup fee | Free |
| Terminal rental | From £20/month |
| Transaction fee | 0.6%-2.5% + flat fee (estimation) |
| Monthly minimum penalty | Fee for every month you make less than agreed minimum |
| PCI compliance | Additional cost |
| Amex acceptance | Separate cost and contract |
| Early termination fee | Equivalent of paying out remaining contract |
There is no setup fee for getting started. Beyond that, Payzone claims to only charge three things if you meet the monthly minimum turnover: a monthly fee and two charges for each card payment. The monthly fee depends on which terminal you hire and what other services are added.
Transactions cost a "merchant service charge" (transaction rate) plus an "authorisation fee" (acquirer charge). Debit cards incur lower transaction fees (example: ~1%) than credit cards (example: ~2.5%).
At sign-up, the Payzone advisor will recommend a monthly minimum card turnover to earn, based on your typical card turnover. If this minimum is not met, you will pay a monthly minimum charge to make up for the lack of transaction fees paid to Payzone that month. This is normal in standard card machine contracts. Your level of turnover decides in part how high the transaction fees are (the smaller your typical card turnover, the higher the card rates), so a lower minimum will likely increase the transaction fees.
Although some pages of the website claim the terminals accept American Express, this is only true if you set up a separate merchant account with American Express directly. Put differently, Payzone allows you to accept Amex, but it requires a separate contract and additional costs associated with that. They do not indicate whether other foreign card brands can be accepted with additional contracts.
Despite the public claim there is no termination fee, you can expect to pay up the remaining months of any contract you are ending before the last contracted month. The advertised claim relates to if you cancel at the end of the contract – only in this case is there no exit fee.
Typically, contracts automatically renew two months before expiry. So if, for example, you cancel 45 days before the end of the 12-month contract, you have to pay penalty fees for leaving 12 months early.
PCI compliance, the industry standard of card security, costs extra. It is normal to be charged a PCI non-compliance fee for every month that passes without this in place.
Add-on services available to offer customers
If it suits your business, Payzone offers the option to provide additional services at a commission, although this may incur additional charges to have in place. The services include:
International calling cards
Mobile top-ups and SIM cards
Bill and utility payments
Prepaid debit cards
Transport and ticketing
Parcel collection
Lottery and online gaming vouchers
All shops providing Payzone payments are listed on a map online, so you get more advertisement out of it.
The recognisable Payzone signage for the shopfront can potentially draw in customers who would have not entered in the first place, so it is worth considering how far you want to go with this. More services that divert time away from your core products may not be worth the effort, though.
Customer support and user reviews
Payzone has a sales force who will meet merchants in person before signing them on to a contract. This makes it easier for them to give a fair quote, but harder to say no if you decide not to go for them.
The customer support team is available by phone all week long during work hours, though Sunday is very limited:
Monday-Thursday: 8am-7pm
Friday-Saturday: 9am-5pm
Sunday: 9am-1pm
The sales and customer support teams are separate, which is good for getting to speak with the right person quicker. They do not outsource the sales team, minimising the risk of being misled by aggressive sales tactics. You still have to ask for contract specifics and question everything upfront to avoid surprises around hidden fees, as some people on TrustPilot have reported sales reps hiding important terms and costs that only became apparent after signing the contract.
User ratings are generally high, with positive feedback about the customer service team who take care to help merchants promptly when needed. Still, many report having to wait a while before getting through on the line, so it is not always a smooth experience. Interestingly, there is very limited information about Payzone's service outside TrustPilot, which often means you shouldn't rely on those user reviews.
The company has a dedicated PCI compliance team to help you through this process, as it is not easy to fill in the PCI paperwork alone.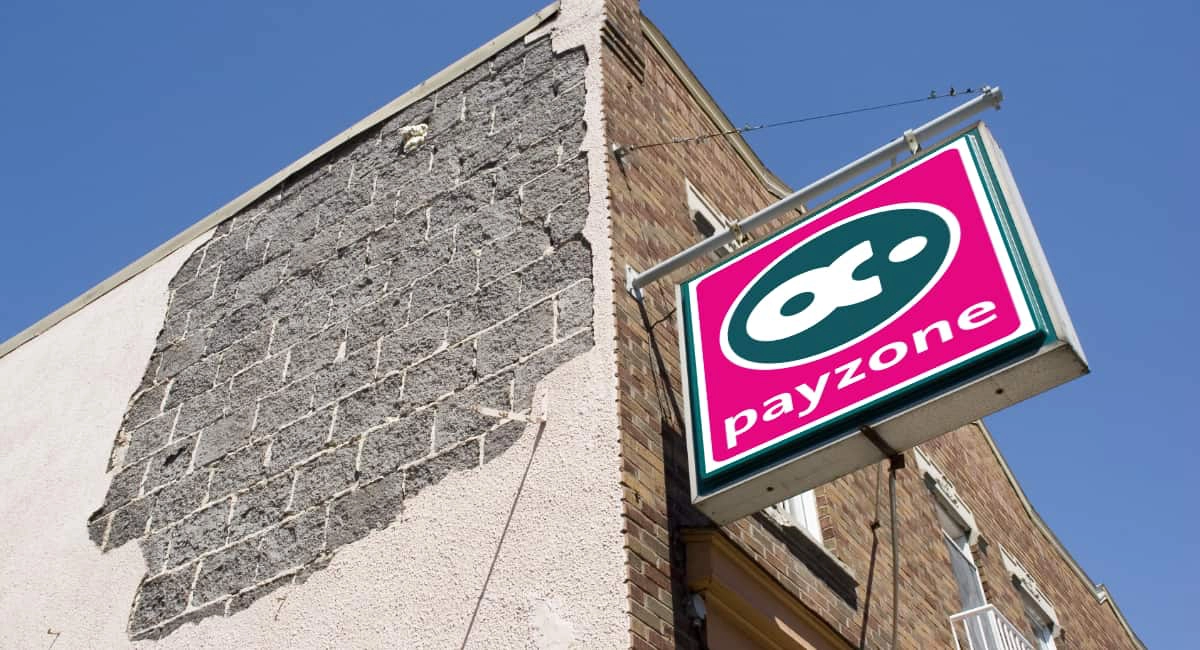 The Payzone sign is a ubiquitous sight outside Britain's corner shops.
Who is it best for?
Payzone would suit a variety of businesses, startups and sole traders. If you're a new or dwindling shop, the year-long contract is the least intimidating compared to the often-long commitment found elsewhere.
You've probably seen the Payzone logo in off-licences around the country, which is no wonder given that top-up and billing facilities are expected services in a convenience store. Even the Post Office uses Payzone so customers can pay utility bills, pick up parcels etc. at their local branch.
The portable card machines are handy for table service in restaurants, cafés, bars and pubs, and the countertop model is good at any stationary till point. Merchants on the go, e.g. couriers, food stalls and cab drivers, will find the mobile card machine a good choice.
Our verdict
By most indications, Payzone appears like a decent choice for smaller businesses and startups looking for a standard card machine with the least hassle. The perhaps biggest selling point is the relatively short contract period compared with the 18-36 months offered by most merchant service providers.
The add-on payment services to offer your customers is a big plus for shops where it makes sense to sell these.
The mixed customer reviews show both a good and slack side to customer support, but as long as you are wary of contract rollover and make sure you get all the terms upfront, Payzone should do the job.