Now that everyone's got a smartphone, it's no surprise the payment industry is going mobile in a big way. Just like most consumers today, merchants now expect ease of use, great flexibility and synchronisation across devices.
The answer to card payments? Compact card machines enabling you to take payments with an app on an iPhone. In the last few years, providers like iZettle, SumUp, Square and PayPal Here have become household names among small merchants – and for good reasons. Let's look at ten of them.
1. No complicated paperwork
Perhaps the main reason why many small businesses choose a mobile card reader is the absence of paperwork and fixed monthly rental fees. Traditional card machines typically come with a complicated contract in addition to several different types of fees – and a long-term commitment typically of 12+ months.
They also require a dedicated SIM card inserted, so it has data to process calls to the payment processor to approve each transaction. App-based card readers instead use your iPhone's existing network data or WiFi, hence no additional SIM account is needed.
Having no fixed or complex fees, and no minimum required transaction volume per month, give you more flexibility so you can grow your business at your own pace.
2. Low start-up costs
While traditional card machine providers often include start-up costs, you pay no setup fee with a card reader for iPhone. You just purchase the card reader, and it's yours forever.
Prices are in the £19–£39 range (usually excluding VAT) if you take advantage of the special offers in our reviews, which is a lot lower than the hundreds of pounds traditional card machines normally cost.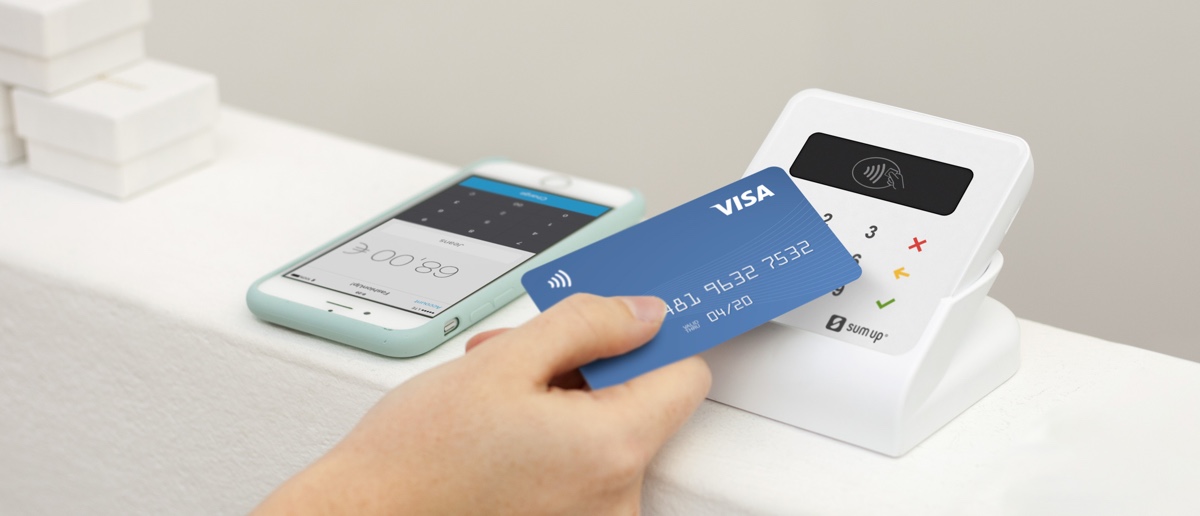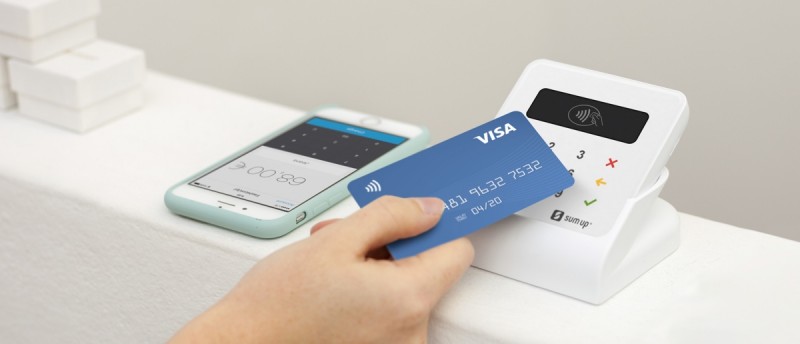 3. Accept a wide range of cards
All of the most popular mobile card readers let you accept Visa, Mastercard and American Express credit cards. If you choose iZettle, you can also take payments with Diners Club, UnionPay and JCB cards, and SumUp accepts Diners Club and Discover cards. Most support debit cards if they have the Visa or Mastercard logo on it (e.g. Visa Electron).
All the major card readers are enabled for contactless payments including Apple Pay and Google Pay, while Samsung Pay is not yet accepted by everyone. Accepting contactless is getting more important as statistics show the UK continues to warm to contactless and mobile payments.
4. Free point-of-sale system
All iPhone card readers work in combination with an app installed on the phone. Apart from processing payments, these apps offer essential point-of-sale (POS) functions, so there's no need for a separate cash register or accounting system. Some apps can even accept payments before you receive the card reader in the post, provided they accept manual entry (subject to higher fees than chip and contactless payments).
Some of the providers allow you to upgrade the free app to a more advanced POS application, provided you pay for it. If you prefer to use a more comprehensive accounting system such as Xero, this can be integrated with most point-of-sale apps.
5. Mobility
With an iPhone and card reader, you can sell anywhere. That's why you see these devices in so many places e.g. market stalls, restaurants or at trade fairs. You just need to keep the machine charged to avoid missing a sale because of the battery running out. Most of these iPhone card readers, however, can handle several hours' active use before they need a recharge.
All you need in order to accept chip and PIN or contactless payments is a Bluetooth connection between the card reader and iPhone, and that the phone is connected to WiFi or your 3G or 4G network. If you run a café or restaurant, it's also nice to be able to take payments at your customers' tables instead of having them queuing up at the till.
6. Do everything on the internet
Using a modern, internet-based payment system means you can also take care of business administrative tasks – such as changing your bank account details – easily and quickly in your online dashboard instead of over the phone. That said, if you prefer speaking to a customer support person, most of the providers offer a support line too.
There are no printed contracts and no other paperwork posted to you. You can get hold of all the information you need via your smartphone or web browser dashboard any time you need it.
7. Expandable
If you're a new business, you may be conscious that eventually, you'll want to scale the payment or till system. With the mobile card readers on the market today, the free point-of-sale apps and/or integration possibilities allow for expansion in line with company growth.
For example, you can add accessories like a receipt printer, cash drawer or barcode scanner whenever you need them. Most providers now offer integration with online sales features like e-commerce, invoicing and virtual terminals for phone payments, and more advanced POS software for a monthly fee.
The fixed transaction fees are usually competitive, even when you make more money. And worth pointing out: several of the providers offer reduced fees for high-volume businesses, although these are less than transparent and may need to be negotiated.
8. Sales data available anywhere
With an iPhone-based point of sale system, your transaction history and customer data are stored in the cloud. It's always available and up to date, so you can log in and run a sales report from any location.
This is especially useful when you're managing a store or food and drink establishment from afar, and your staff are running the place. At any point, you can log in to your online dashboard and see in real time how sales are going and other relevant information such as individual staff performance and stock levels. The amount and type of details you can monitor depend on the POS app.
9. Excellent for short-term use
Unlike traditional payment terminals, a card reader is ideal for anyone needing a reliable payment system for a short period of time or occasional card transactions. Even if you just need it for a weekend, the extra sales you get from just providing the option to accept card will usually more than make up for the low one-off cost of the card reader. What's more, there's none of the hassle and paperwork that comes with renting a conventional terminal.
But what about transaction fees? When app-based card readers first entered the market, transaction fees were high and usually dependent on sales volume. Fast-forward to 2018, and these fees have lowered and are almost always fixed and not dependent on sales volume (PayPal is a noteworthy exception). It means whether you use it for short-term or long-term use, the fee rates remain the same.
10. Appealing design
A compact card machine combined with an iPhone has an attractive, minimalist look and feel. Many people find that more appealing than the clunky terminals you find in supermarkets and other big retailers. In addition, app-based card readers are light-weight and easily stored in a pocket or small bag along with your iPhone.
The most popular card reader providers in the UK are increasingly upping their game with lower, more simplified fees, better hardware and more refined point-of-sale systems. The card readers themselves have come a long way from needing cables to being wireless and sleeker-looking. Simply put, they are now serious contenders to traditional card machines, worthy of consideration for most new businesses.