As most London taxi drivers will know by now, a new Transport for London (TfL) mandate will make it a requirement for all black cabs to accept card and contactless payments from October 2016. Not all drivers are overjoyed by this regulation, but it's not worth losing any sleep over. We take a look at how to become compliant with minimum costs and hassle.
To meet the requirements, drivers need:
A chip & PIN and contactless card terminal mounted in the passenger compartment
A receipt printer mounted in the driver compartment
Drivers can no longer pass on the cost of accepting card payments to the customer, so good rates are now critical. There are plenty of payment providers to choose from, and with tighter margins, good processing rates are worth shopping around for.
One of the first providers to launch a Black Cab-specific bundle is iZettle. A popular mobile payment service provider across Europe, iZettle is used by taxi drivers in several countries, but has introduced a bundle specially designed to meet the requirements of the October 2016 mandate.
What distinguishes iZettle from a traditional mobile terminal using the GPRS phone network, is that iZettle uses app technology on a smartphone in conjunction with a card reader. The reader relies on the processing power of your phone, thereby keeping the hardware costs down.
So what's included in the iZettle Black Cab bundle?
The iZettle bundle comprises everything required in order for cab drivers to meet their new obligations.
iZettle Card Reader Pro Contactless
Star SM-L200 Bluetooth Receipt Printer
Card reader mount
Power converter and box of 20 receipt rolls
The bundle will set you back £289 + VAT. It is good value compared to purchasing the items separately, which would cost you around £370 + VAT if purchased through iZettle.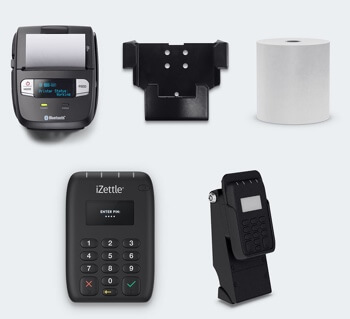 To use the card reader, you need to have an account with iZettle. Normally, it should not be a problem to get approved, but you might want to register online before you order the bundle.
Already with iZettle?
If your cab already uses iZettle and has an iZettle Lite card reader, you will need to replace this with a Card Reader Pro Contactless. It is also possible to purchase the bundle without a card reader if you already have a contactless reader. The price for this option would be £249 + VAT.
What are iZettle's transaction fees?
The mandate also specifies that tipping is cash-only, and that the cost of a trip should be the same whether paid by cash or payment cards. This is not all good news for the hard-working drivers who will find themselves unable to pass the cost of card payments on to their customers and are also limited to charging for just the cost of the fare without being able to add anything extra for a tip if the customer chooses to pay by card.
Pay as you go
iZettle also has a pay-as-you-go alternative, where the bundle is supplied without an upfront cost provided you commit to an increased transaction fee of 3.90% for the first 12 months. If the bundle hasn't been paid off during that time, iZettle will invoice the driver for the remaining amount. If too much was paid, the surplus will be paid back.
So drivers should absolutely be concerned about the day-to-day cost of processing transactions, which is in addition to the cost of the hardware and accessories bundle itself.
In a nutshell, iZettle offers:
No monthly fees
No minimum contract
A fixed transaction fee of 1.75% for all card payments
There are no fees for refunds
There are also no additional charges for cards issued abroad – great news when you consider the number of tourists visiting London each year!
There is no additional charge for American Express, Diners Club, UnionPay, Discover or JCB
You get more than payments
iZettle technology has a number of other handy features that may be beneficial to cab drivers.
Although a receipt printer is mandatory under the new TfL mandate, iZettle also has the capability to send the receipt either by email or text which might appeal to some passengers and save plenty of paper.
With iZettle, you get not just the card reader, but also cloud-based point-of-sale software. In the mobile app, it is possible to preprogramme types of trips and services. This handy feature lets drivers set up specific journeys at fixed costs. Think Gatwick or Heathrow trips, a sightseeing tour, peak/off-peak journeys and fares outside Central London. The iZettle dashboard can then analyse these trips by a number of different parameters including date, time of day, fare charged and more.
iZettle offers comprehensive data reporting in its online dashboard to help each driver make the most of their business – and ease accounting. All reports can be exported to Excel or CSV files.
iZettle could also work for you if you share a cab with another driver.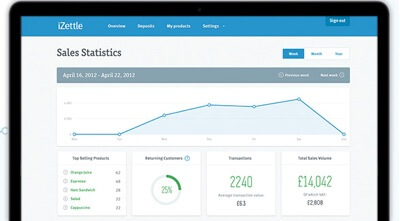 Multiple drivers can use the same card reader and printer provided that they each install the app on their respective smartphone or tablet. If each driver has their own iZettle account, they can simply link that account to the hardware and start taking transactions.
Alternatively, the cab owner can register an account and then set up separate logins for other drivers to use. This makes it simple to track which driver has taken which transactions, and the cab owner can then pay out accordingly.
Any downsides?
iZettle is compatible with most new smartphones, both Android and Apple devices. If there's still a problem connecting your phone with the iZettle setup, they will offer to refund the bundle.
Apart from the SM-L200 receipt printer in the cab bundle, Star Micronics carries three other portable Bluetooth printers that are compatible with iZettle's contactless reader (see mobile iZettle printers), although these cannot be bought as part of the cab bundle.
While a traditional card terminal uses the GPRS mobile network, iZettle needs 3G or above to operate smoothly. This should not be a problem in Greater London, although drivers should make sure they have a network provider with fairly consistent 3G or 4G signals.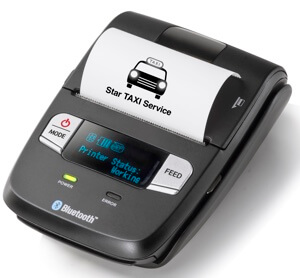 Star SM-L200 – a neat and lightweight Bluetooth printer.
An attractive solution?
iZettle have certainly taken advantage of the TfL mandate by providing a complete solution – their Black Cab Bundle – at an attractive price. With the simple setup and competitive transaction charges, we fully expect iZettle to continue to be a popular choice for contactless transactions in London's famous black cabs as we head into the latter part of 2016.