Our rating
myPOS Smart N5 is a worthy card machine with an online account – how is it different?
myPOS Smart N5 is a portable, all-in-one card terminal with checkout features and apps for managing a business on the go. There's no long-term contract, but various pay-as-you-go fees apply to the account and transactions.
Pros: Card-and-POS terminal in one device. No lock-in. Range of complimentary features. Works across Europe.
Cons: Payouts in bank account cost extra. Fees not that simple. Account holds. Inactivity charge.
Buy if: You want a touchscreen card terminal connected to a borderless online business account.
Note: The Smart N5 terminal has been discontinued and replaced with myPOS Carbon, so this article contains outdated information. For the latest card machines and fees, read our main myPOS review.
How it works
myPOS offers a good range of card machines, online payments and e-money account for small and medium-sized businesses.
As a European company based in Liechtenstein, its account features and terminals work across Europe regardless of where you signed up. This makes myPOS particularly useful for cross-border merchants.
The myPOS Smart N5 terminal is, according to myPOS, the company's "most successful" Android terminal that can be customised with apps. These apps are the software for e.g. electronic gift cards, remote payments and sales analytics, making a complete payment system for mobile merchants.
Accepted cards












All myPOS products come with a free online account, where transactions are settled directly, and a Prepaid Visa card. The web dashboard also has options for ecommerce, payment links and MOTO payments, and you can add additional user accounts, view transactions and print sales reports.
Costs and fees
myPOS does not have a fixed contract term with a monthly fee. Instead, you create a myPOS account, buy a card machine upfront and pay for transactions as you go. There are various fees for online transfers, refunds, cash withdrawals, chargebacks and more (below table only shows main fees).
| | myPOS cost |
| --- | --- |
| myPOS Smart N5 terminal price | £299 + VAT |
| Shipping | £10 + VAT |
| Account creation | Free |
| Fixed monthly fee | None |
| Commitment | None |
| Cash withdrawals with myPOS card | £2-£4 each |
| Transfers to UK bank account | £3 |
| Refunds | £0.49 |
| Chargebacks | £24.99 |
| Inactivity fee after 10 months' inactivity | £10/mo |
| Money redemption when closing account | £15 |
Although there's no contract lock-in, you have to pay an inactivity fee of £10 per month after 10 months of no transactions. This fee stops being being charged as soon as you accept the next card payment through the system. You should actively close the myPOS account to avoid this altogether, but it does cost £15 to redeem any money left in the online account upon closure.
Every new user gets a free myPOS Business Card (Prepaid Visa card), and you can request extra cards for colleagues for £5 each.
All transactions through the card terminal go straight to your online ('e-money') myPOS account within two hours, not your bank account. Transferring money to your UK bank account costs £3 per transfer and takes 1-3 working days to clear.
Transaction fees are determined by the brand of credit or debit card accepted, country of issue and whether it is a consumer, business or premium card.
| | myPOS transaction fee |
| --- | --- |
| Visa, V Pay, Mastercard, Maestro (EEA-issued consumer cards) | 1.45% (offer for new users – it's usually 1.75%) |
| All other credit & debit cards | 2.85% |
| MOTO/Virtual Terminal payments | 2.25%-4% |
myPOS
transaction fee
Visa, V Pay, Mastercard, Maestro (EEA-issued consumer cards)
1.45% (offer for new users – it's usually 1.75%)
All other credit & debit cards
2.85%
MOTO/Virtual Terminal payments
2.25%-4%
There are myriads of other fees related to international transfers and specific situations such as checking the account balance at a cash point.
Card machine features
myPOS Smart N5 is a wireless, Android-based terminal with built-in receipt printer, camera for barcode scanning and SIM card for mobile connectivity. It accepts contactless, chip and swipe cards and requires a WiFi, 3G or 4G connection to the internet (it does not work offline). It comes in red or white.
The 5.5″ touchscreen acts as your checkout screen, business hub and POS system in the same device through any combination of apps from the myPOS AppMarket. The card machine can be set to any of 13 European languages.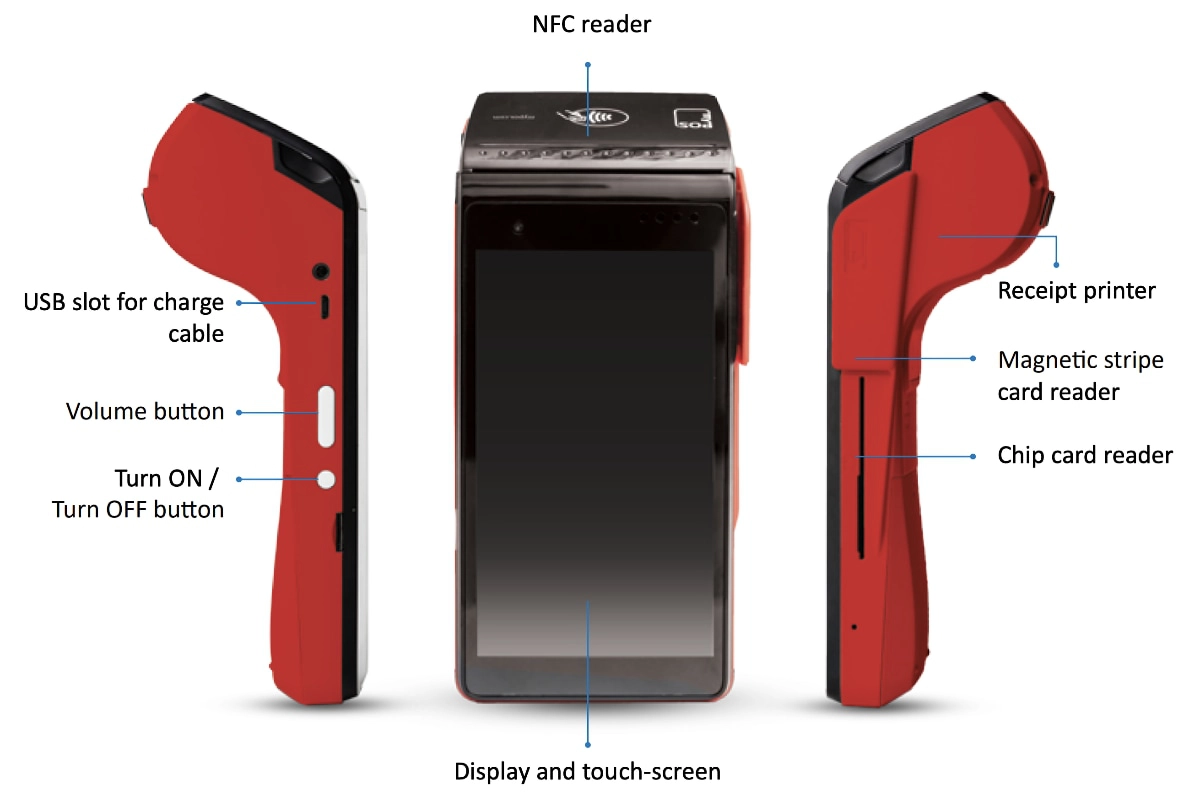 The Smart N5 terminal accepts any card type and prints custom receipts.
The terminal can connect to an external tablet via Bluetooth if the other device uses POS software compatible with myPOS. Other than that, Smart N5 cannot connect to a cash drawer or other external POS equipment – it is made to be used as a standalone, mobile card terminal.
What about myPOS Smart?
There's a similar terminal called myPOS Smart, also priced at £299 + VAT. What are the differences between that and Smart N5?
Advantages of myPOS Smart:
Is a bit smaller (5″ screen vs. 5.5″, 175.7 mm vs. 186 mm length)

Has a more powerful battery
Hardware is slightly better, Android OS is newer

Optional charging base is available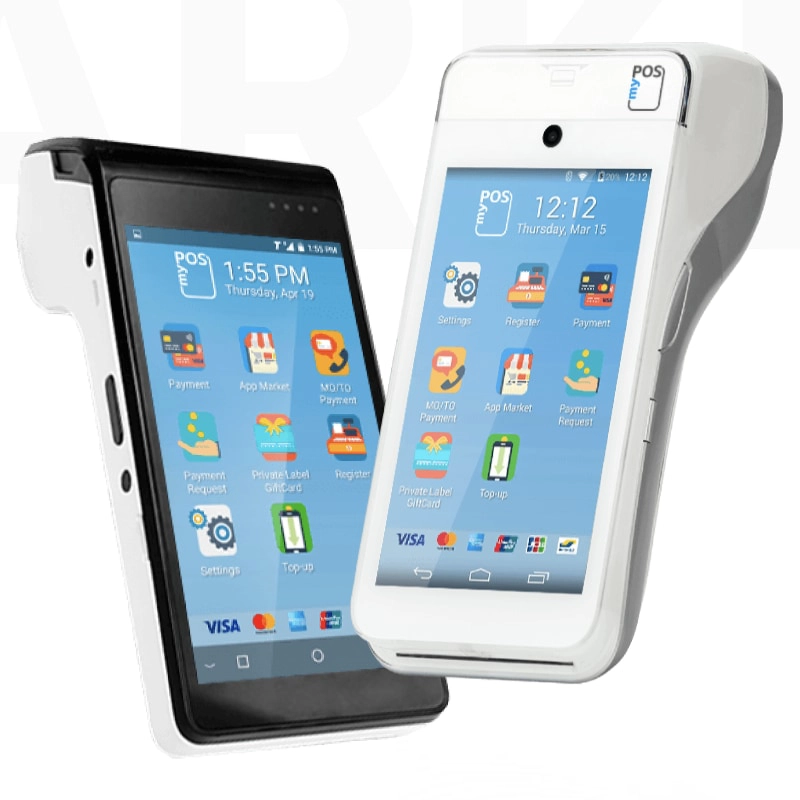 myPOS AppMarket
Arguably, the whole point of getting a smart POS terminal is the sheer range of apps (i.e. software features) available to download on the device. Without these, the terminal is a mere card payment machine without bells and whistles.
The myPOS AppMarket has apps – either created by myPOS or third parties – for:
Checkout features incl. tipping

Selling and accepting gift cards

Payment requests (links to let customers pay remotely)

Virtual terminal for over-the-phone payments
The main Payment app also allows you to generate sales reports on the terminal and track sales from wherever you are.
Online account
The online myPOS account can be accessed from any computer browser. Here, you can add additional myPOS accounts in other currencies like euros to avoid currency exchange fees if accepting payments from across Europe. You can make SWIFT transfers, move money to other myPOS accounts or send money to your local bank account.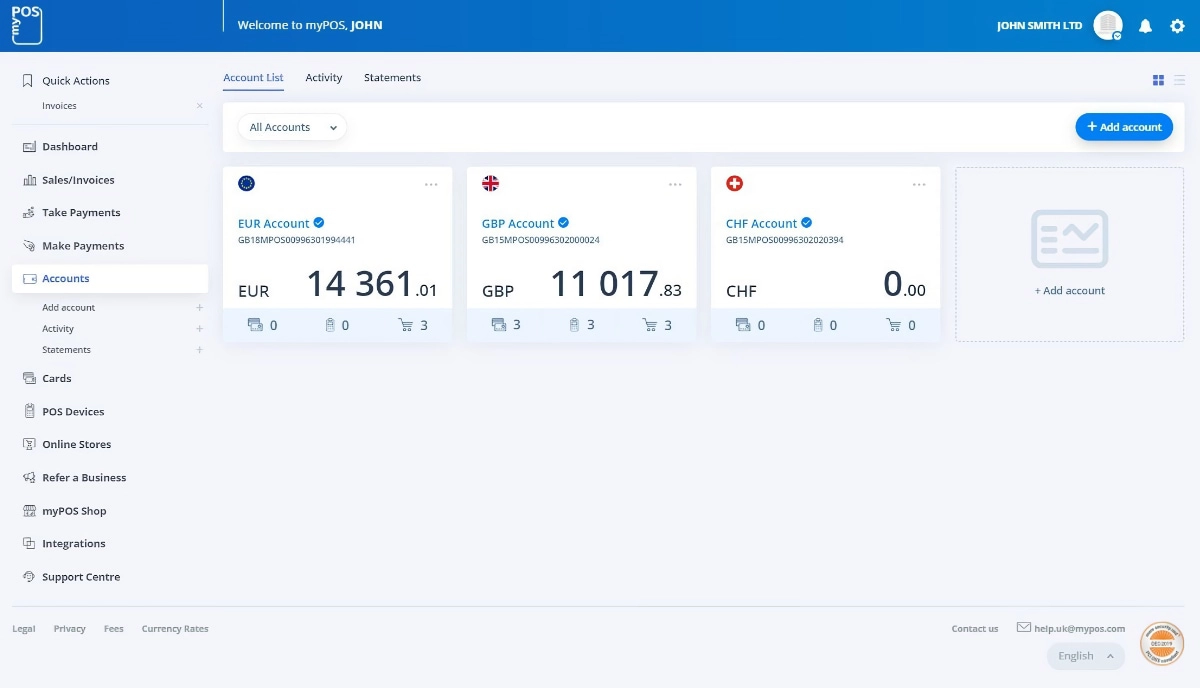 myPOS lets you add different currency accounts to avoid currency exchange fees.
In the myPOS Dashboard, you can add new user accounts for staff members to track their transactions, view detailed sales reports, manage multiple myPOS terminals and accept keyed-in payments in the Virtual Terminal. myPOS is also geared towards ecommerce with different types of payment links and possible integrations with external software.
Overall, myPOS has put a lot of effort into its online account features so potentially, you can use myPOS as an alternative business account instead of getting a business bank account.
Customer service, reviews and signing up
In the UK, myPOS users can call a UK-based customer support team 24/7, but we've seen mixed reviews about the service.
There have been plenty of negative myPOS reviews by users all over Europe complaining of account holds, failed transactions where myPOS withholds money without good reason, and excessive requests for documentation when transactions fail (with months-long resolutions – if the transaction does get resolved). Technical faults have also been reported with a slow response to get matters fixed.
Moreover, it takes longer to create a merchant account than through other terminal providers in the UK. myPOS requires you to fill in a lot of information about your business, submit documents, attend a 5-minute video call, and wait at least a day after this is completed (you may be asked for more documentation). It could therefore take a few days before your account is created.
Since acceptance of your business is not guaranteed, we recommend holding off buying the card terminal until it has been confirmed so you don't waste money.
Our verdict
myPOS is potentially attractive with all its software features, online account and flashy smart POS terminals, but we remain a bit sceptical of its value for British businesses.
The company hasn't quite taken off in the UK, which could be due to its multi-national status, heavy focus on using the online account (many prefer bank account payouts), hidden fees and unsettling amount of complaints about withheld funds. There are other smart POS terminals in the UK with smoother sign-ups and fewer pay-as-you-go fees.
That being said, myPOS Smart N5 is not a bad deal for delivery couriers, taxi drivers, small shops, professional services, hotels and hospitality workers requiring a mobile checkout terminal that works anywhere within the EEA.
Smart POS terminals and online business accounts with a debit card are both growing in popularity, and more than ever, businesses need options for remote payments. The whole myPOS package comes with it all – just beware of the fees and possible downsides before signing up.