Our rating
Pocket-sized SumUp 3G accepts cards anywhere with 3G reception. No contract, no monthly fees – just a flat transaction rate.
SumUp 3G is a lightweight, independently-functioning card machine accepting the most popular credit and debit cards. It's ideal for Irish small businesses that just want to get started accepting cards anywhere, without complex point-of-sale needs.
Highs: Simple fees. No contract. Works independently anywhere with 3G connectivity.
Lows: Cannot print receipts. No out-of-the-box integration with POS systems.
Buy if: You want a friction-free mobile device for taking cards, without monthly fees or lock-in.
| SumUp 3G terminal | |
| --- | --- |
| Price | €99 + VAT |
| To site | |
| Transaction fee | 2.75% |
| Accepted cards | |
| Contactless | |
SumUp 3G
terminal
Price
€99 + VAT
To site
Transaction fee
2.75%
Accepted cards
Contactless
Lowdown
SumUp's newest offering, the 3G card machine, is for those who want a simple way to get started accepting cards without any extra features or equipment. With this device, you enter the transaction value directly on the terminal, put in the chip card or tap the contactless card, and it will process the payment over the mobile network.
SumUp 3G accepts Visa, V Pay, Mastercard, Maestro and American Express as well as Apple Pay and Google Pay.
It's a pay-as-you-go system, so you purchase the card reader, then pay only one fixed transaction fee for all transactions through the machine. There's no contract or other fees to commit to, making this an economical solution for price-sensitive businesses, sporadic sales or startups that can't predict where they'll be beyond the next few months, or just those who need a mobile device to take cards where the customer is.
Emmanuel Charpentier, Mobile Transaction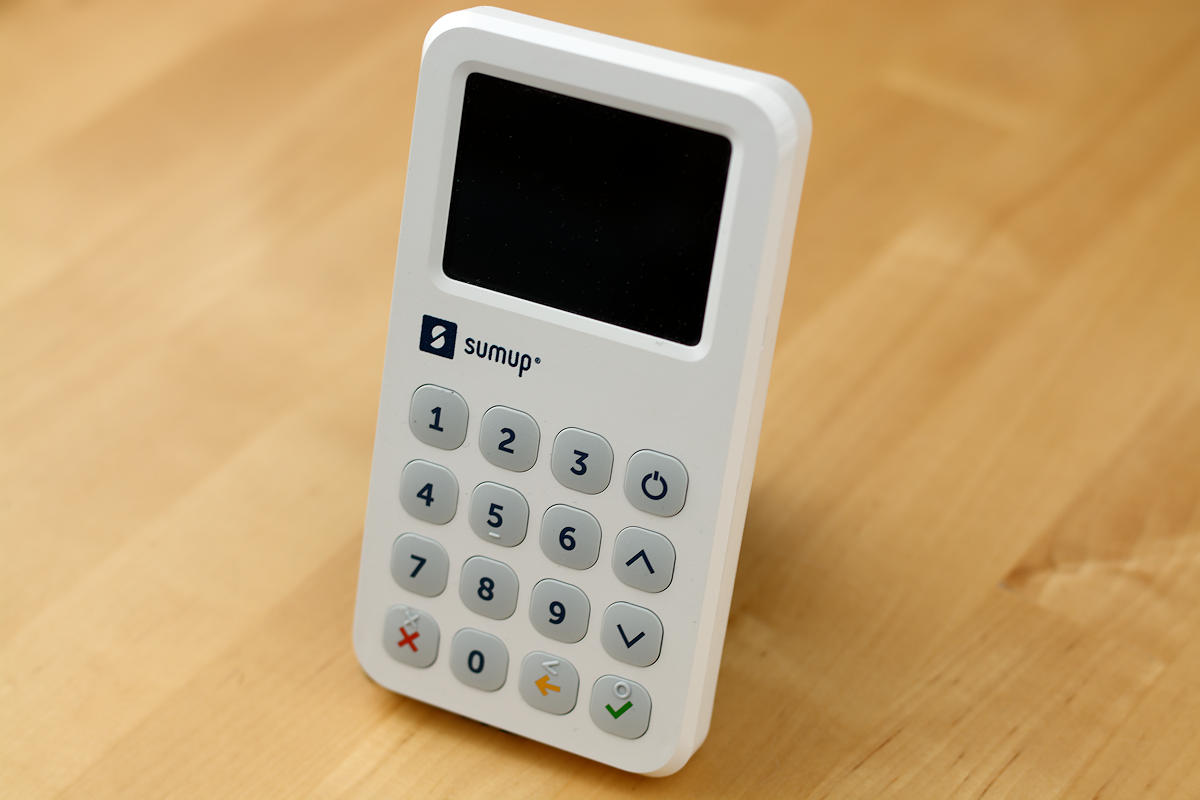 We have tested SumUp 3G, which is as small as you get a terminal with built-in SIM card.
Fees and settlement
The two things you pay for are: the €99 + VAT one-off cost of the card reader and transaction fee for all the payments processed through it. There's no extra fees for foreign cards. Delivery of the card reader is free, and there's no monthly fees or minimum sales volume required. They have a 30-day money-back guarantee for the card machine in case you change your mind, and one year's warranty.
Payments automatically reach your bank account 2-3 business days after the transaction, minus the transaction fee.
Refunds are free if done straight after the transaction took place, i.e. before settlement has completed. However, if payments have already been paid out to your bank account, SumUp keeps the transaction fee for the refund. Chargebacks incur a €10 admin fee.
Those who want to accept phone payments can also ask SumUp to activate a virtual terminal, which would only be accessible in a web browser. Those payments cost 2.95% + €0.25 per transaction.
€99 + VAT card reader
2.75% per transaction (any card)
No monthly or hidden fees
This is not an automatic feature – SumUp will look at your sales history (so you need to accumulate card machine payments for some time) and account as a whole and only add the virtual terminal if you pass their internal checks.
Of the pay-as-you-go solutions, SumUp is known for having the lowest transaction fees. Their other terminal, SumUp Air, also accepts cards at 2.75% per transaction.
Emmanuel Charpentier, Mobile Transaction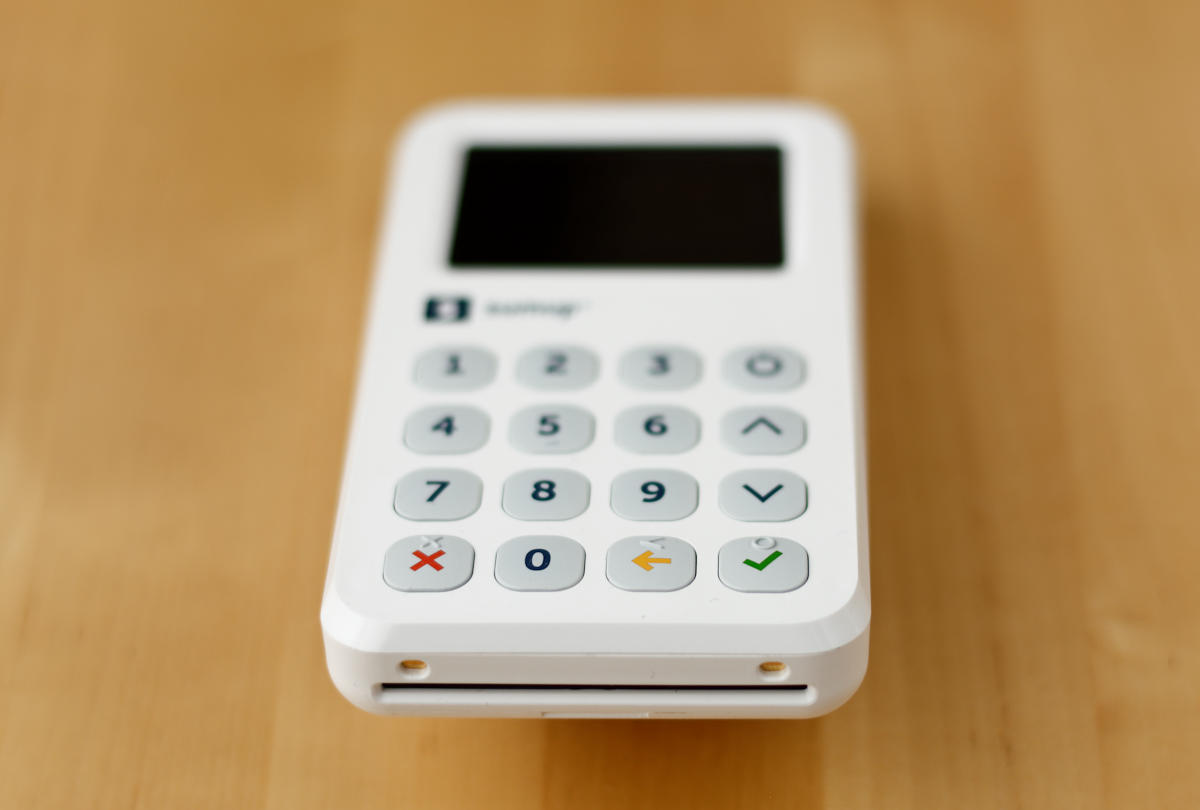 SumUp 3G's chip card slot is at the bottom.
Card machine specs
The terminal is very lightweight, small and easy to carry around compared to a traditional one, but sturdy enough to be reliable.
You navigate it through the keypad buttons and view the menu and information on the screen above the keypad. For some functions, you can use the display as a touchscreen.
SumUp 3G displays for sending a digital receipt.
For instance, the screen gives you an option to send a text or email receipt after each transaction. This, of course, requires you to ask the customer for a phone number or email address, or you can ask them to enter it themselves on the touchscreen in this case. It doesn't have a receipt printer built in like conventional PDQ machines, nor can it connect to one (yet).
It is limited what other more-than-basic functions are hardcoded on the device, but food businesses will like that you can add a tip on the machine before payments.
The card machine automatically uses a local 3G network via the preinstalled SIM card to process card transactions. SumUp provides unlimited data on this card, so no topping up is required. You just need to keep the machine charged in advance of using it and be somewhere with a stable network connection. That said, it doesn't take much to have a stable connection, since it automatically switches between networks to get the best service. The device does not work with WiFi, nor does it connect to other devices via Bluetooth.
Tech specs
Dimensions
133 x 71 x 19 mm
Connectivity
GPRS, EDGE, 3G
Data
Unlimited with preinstalled SIM card
Included accessories
USB type C cable for charging
Battery life
50+ transactions from full charge
Card technology
EMV (chip), NFC (contactless), swipe
Receipts
Email, text/SMS – no paper receipts
Tech specs
Dimensions
133 x 71 x 19 mm
Connectivity
GPRS, EDGE, 3G
Data
Unlimited with preinstalled SIM card
Included accessories
USB type C cable for charging
Battery life
50+ transactions from full charge
Card technology
EMV (chip), NFC (contactless), swipe
Receipts
Email, text/SMS – no paper receipts
Businesses with employees can use several SumUp 3G devices under the same SumUp business account. For this to work smoothly, it's recommended you set up subuser accounts in the SumUp dashboard, so each individual can log in with their email address and password and take payments simultaneously with the other card readers. All of such subaccounts will process payments through the main SumUp account, allowing you a full, real-time overview of all your employees' transactions in your web dashboard.
Reports and dashboard functions
As a SumUp customer, you can log in to an online dashboard accessible in any internet browser. Here, you can see details such as payment history, sales categorised into card types, where the payments were made, and payout history. If you've created multiple user accounts, you can filter payments to focus on individual employees.
SumUp emails you payout PDF reports automatically, and you can export transaction data as a CSV or XLS file from your SumUp dashboard. Furthermore, transaction history is available on the card machine display.
SumUp dashboard analytics, employee management and payout settings. Images: Mobile Transaction
Who is SumUp 3G best for?
SumUp 3G is perfect for merchants on the go, market stalls or rural areas where connectivity is basic (it works with EDGE, GPRS and 3G – not 4G or WiFi). The fact that tipping is available – and it fits comfortably in your pocket – makes SumUp 3G interesting for cafés and restaurants taking orders at the table.
The device can be the most convenient choice for businesses that don't need card machines to be synced automatically with a central POS system, and just want to get something at a reasonable price, low card fees and without contractual obligations.
The terminal cannot register individual products, but works with payment amounts (other terminals on the market, like SumUp Air, can integrate with product libraries). Secondly, it only sends SMS and email receipts. Those two things can be deal-breakers for some businesses.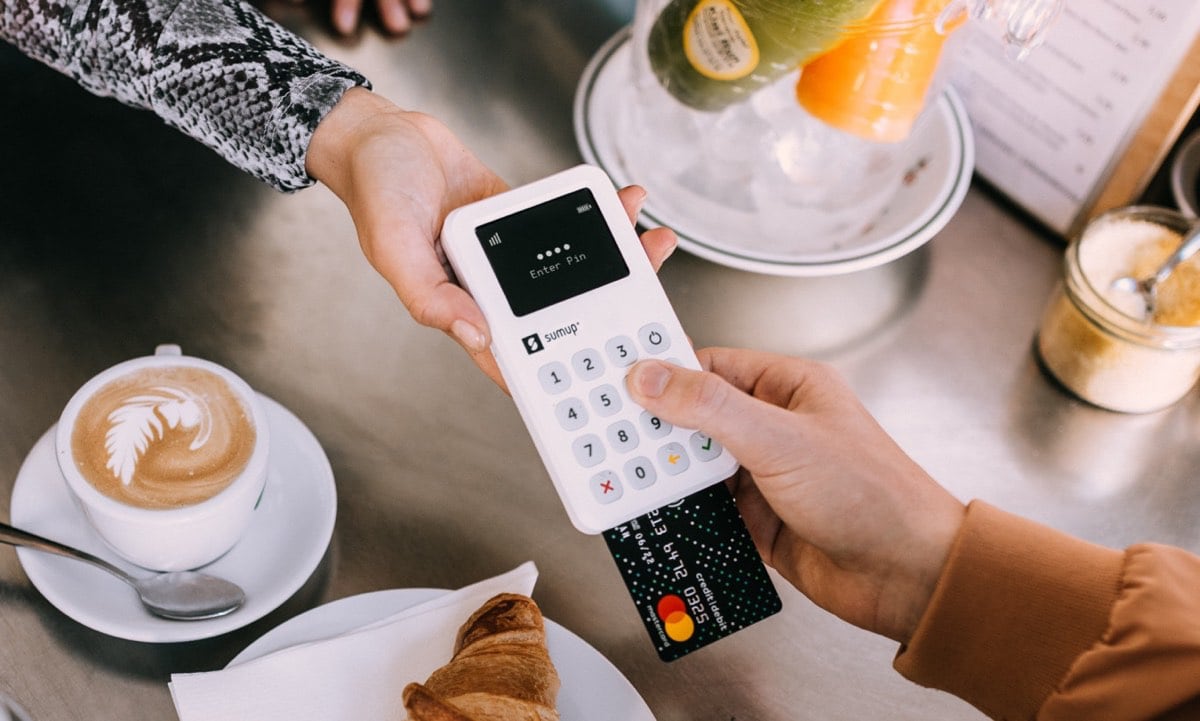 SumUp 3G is a convenient choice for small cafés and restaurants wanting to take payments at the table.
The simplified pricing structure makes it ideal for seasonal sales, since there's no contract, monthly fees or minimal sales volume required.
Travelling businesses could benefit from the option to use it in countries where SumUp's service is available (almost all European countries).
SumUp does not accept businesses taking payments for products or services provided over a week after the transaction. Other restricted businesses include non-profit organisations, door-to-door sales, business seminars, adult entertainment, airlines, pyramid sales, and a range of other businesses, some which are dubious or high-risk in nature.
Customer service
SumUp's customer support is over telephone and email, weekdays from 8am to 7pm and Saturdays from 8am to 5pm. They have a Support Centre section online, where most user questions have been answered. We recommend checking answers there first, since SumUp can occasionally take some days to respond over email. If you need an immediate answer or prefer talking, it's best just to call them during opening hours.
SumUp 3G is an economical solution for price-sensitive businesses, sporadic sales or startups wanting to take card payments without the hassle of complicated contracts.
SumUp is a streamlined service that, because their products are so simple, usually only require minimal contact with their customer support. That said, if you're having problems with the card machine on a Sunday or out of hours generally, you won't get help until next working day or Saturday during opening hours.
If something happens to the card machine after the first year, you may have to purchase a new one, although SumUp claims they usually offer free replacements even after the 1-year warranty period has passed. However, SumUp's machines should last a while provided you treat it well.
SumUp is generally rated highly online, with many saying how valuable the service has been for them. Some users have had connectivity issues, which there could be a number of reasons for, but SumUp puts in the effort to resolve any issues flagged to them.
Emmanuel Charpentier, Mobile Transaction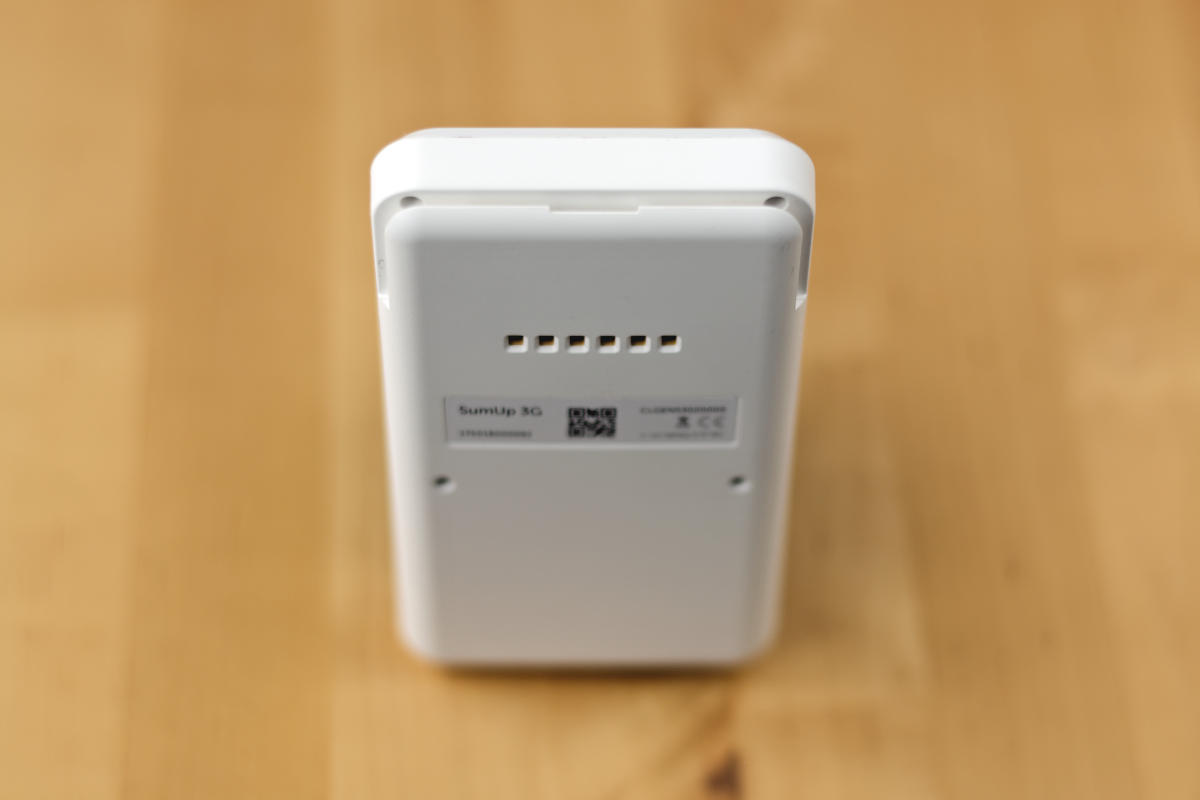 Unlike SumUp Air, the SumUp 3G card reader has a swipe slot for magnetic stripe cards.
Setup process
Registering for a SumUp account is completely online-based. It takes about 5-10 minutes to fill in the sign-up pages and order the card machine. Delivery is free and takes up to a week.
When you sign up, SumUp will perform some basic identity and business checks to ensure your details are legitimate and that your bank account is used by your company. If your business is within the restricted businesses category – such as multi-level marketing or door sales – SumUp will likely reject your account. However, most merchants will have a smooth sign-up with quick acceptance of their account.
Verdict
There's no simpler card reader service than SumUp in Ireland, whether you go for the mobile app-dependent SumUp Air or standalone card machine SumUp 3G. The latter comes with built-in data and software, the one-off price is affordable, and all you're paying for onwards is a fixed-percentage fee for transactions accepted (barring potential reasonable fees for chargebacks and refunds).
If you just need to take cards anywhere and with minimal fuss, we reckon SumUp 3G is the best choice.