Our rating
The handheld Clover Flex and desk-bound Clover Mini are both touchscreen card terminals – so which is best?
Clover Flex is a card terminal-and-checkout in one portable device. Clover Mini is a stationary tablet terminal that also accepts cards. Their touchscreens let you manage products, monitor sales, create orders and complete payments from anywhere with WiFi.
Highs: Each terminal accepts cards and comes with POS software pre-installed. Slick designs. Offline mode.
Lows: Poor customer service. Expensive, long contracts. Doesn't use other software than Clover's.
Choose if: You have stable business that needs a smart POS terminal for a small counter or around your premises.
What is Clover?
Clover is a cloud-based point-of-sale (POS) platform producing Android-based POS hardware and software. Their payment terminals are sold through third-party merchant service providers, but the owner and creator of Clover is the American acquirer First Data (now renamed to Fiserv).
All of Clover's terminals can take card payments and have a touchscreen with access to POS features, but only Clover Flex is portable. The next step up, Clover Mini, is compact but more of a tablet till that sits on a counter.
Despite their sleek looks and user-friendliness, the card terminals come with conditions, limitations and costs to be wary of.
Clover terminal specs
Clover Flex and Clover Mini are Clover's smaller POS terminals (Clover Station is the full till system with a larger screen). The terminals accept chip and PIN, magnetic stripe and contactless cards or mobile wallets. Accepted cards include Visa, Mastercard as well as the mobile wallets Apple Pay, Google Pay and Samsung Pay.
Before we look at differences, there are several things the Mini and Flex terminals have in common. For a start, Clover's touchscreen interfaces adapt to the features being used. If the customer, for examples, needs to enter a PIN code, the screen will show a virtual PIN pad for the customer – just like a smartphone.
Both are so-called smart POS terminals, because they do more than accept card payments. The touchscreen gives you access to a range of POS features like inventory management, gift cards, sales reports and customer management.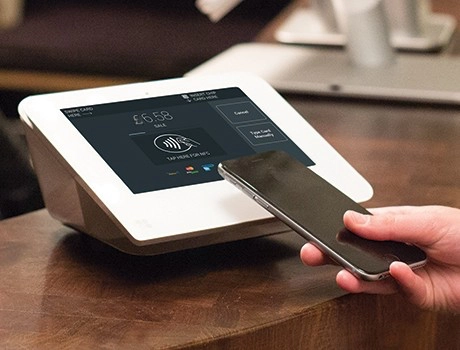 Clover Mini accepts any card type.
Mini and Flex also have a built-in barcode scanner and receipt printer. You can buy receipt paper through Clover, but it's cheaper to get compatible till rolls through other suppliers. Flex's and Mini's battery lives are up to 8 hours from a full charge.
The terminals accept cards offline for a limited period of time, but as with all offline card payments, these are only fully processed when back online.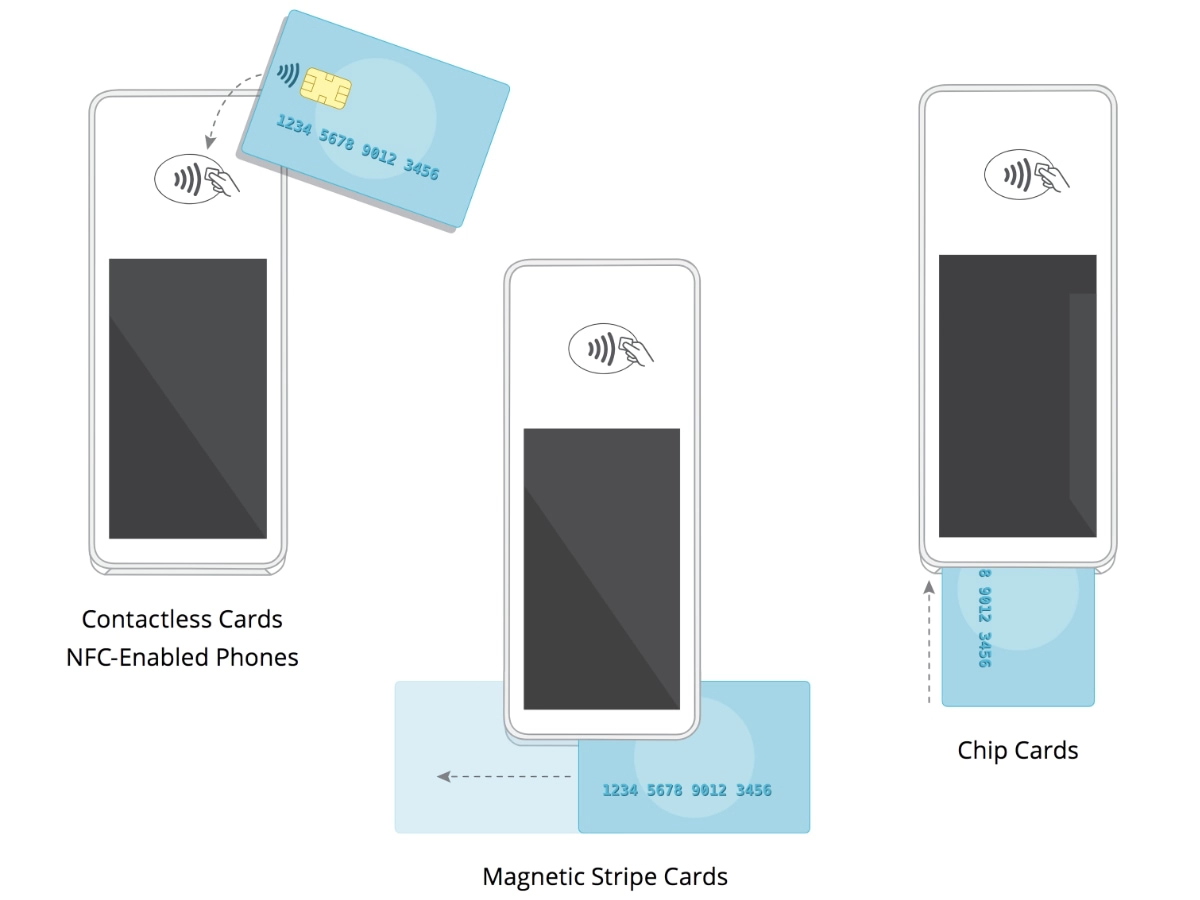 Clover Flex accepts contactless, swipe and chip card payments.
What about differences between Flex and Mini? Both terminals work with WiFi, but the Flex can be used with 3G/4G on the Register subscription. The other differences are more to do with physical design.
The high-definition Gorilla Glass screen is 5″ on Flex and 7″ on Mini. Clover Mini is ideal on a small counter space where there's no room for a separate receipt printer, big till screen or card machine – you only need Clover Mini for all till operations (though a cash drawer is required if you take cash).
Flex, on the other hand, is designed to be carried around in your hands on your premises or outside. Some Clover Flex users have remarked on how clunky the terminal feels in their hands. Flex looks fancy on photos, but you may need both hands to hold and use it without dropping it.
Price? Not that simple
Clover terminals are leased for a monthly fee or purchased upfront. There are other costs involved – upfront, ongoing and at the end of a contract. The hardware may need to be returned since it is proprietary.
Costs and contracts are in part determined by the merchant service provider, and in part by the type, size and sales volume of your business. This means you don't get the full picture of costs until asking a sales rep from your chosen merchant service provider. The main provider of Clover products in Ireland is AIB Merchant Services, so that is who you should contact for quotes.

The terminal is sold with a merchant account that may require up to 4 years' commitment. Transaction charges are determined by your card turnover and type of business. Add to that ongoing software costs and the upfront or ongoing hardware costs. If you're leasing the terminals from AIBMS, expect a 36- or 48-month lease contract.
The following are typical hardware and software costs applicable to the Flex and Mini terminals.
Hardware & software pricing*
Clover Flex terminal
Lease: €44/mo
Purchase: €630
Clover Mini terminal
Lease: €32.50/mo
Purchase: €495
Setup fee
€0-€200
Payment Plus or Register software
Up to €60/mo per device
(additional devices €25 each)
Extra features from App Market
€0-€30/mo per app
*Costs are estimates based on available reported information.
The terminals each require a Clover software subscription with pre-selected POS features (Payment Plus or Register), after which you can add extra software features on the terminal through the Clover App Market. Some of these apps incur monthly fees (even if it says they are "free" – this often refers to a free trial), so software costs can easily rack up with more features added.
A merchant account comes with its own contract and charges along these lines:
Merchant account*
Monthly fee
€11+/mo
Account on file fee
€5/mo
Minimum monthly fee
€17/mo
Via/Mastercard transaction fees (AIBMS)
0.18%-1.49% + 2¢
Chargeback fee
€28 + €280 review fee
Paper statement fee
€7/mo
PCI compliance service fee
€17/mo
PCI non-compliance fee
€28-€39/mo
Early termination fee
Equivalent to monthly fee of remaining months of your contract
*Costs are estimates based on available reported information.
With AIBMS, you can receive transactions in your bank account the next working day. If the customer disputes the transaction, a chargeback fee is applied.
There may be other costs for using Clover. For instance, it's common to pay a replacement fee if you damage the hardware. Leaving before the end of a contract will most certainly cost an early termination fee that may be equivalent to the amount you would've paid for the remaining months. This is on top of the collection fee when you need to return the Clover terminal after a lease period.
Whether or not you complete the documents for PCI-DSS compliance (card security standards), there will be a monthly fee. If AIBMS handles PCI compliance, it can cost €17 monthly. If you haven't completed the necessary paperwork to comply with PCI-DSS, it can cost at least €28 per month.
POS features
Irish users will be presented with a choice of two software subscriptions: Payment Plus and Register.
Since Payment Plus is the cheapest POS plan, it has more limitations. On either plan, features are general so they apply to most retailers and food businesses that don't require very specialised features.
| Feature | Payment Plus | Register |
| --- | --- | --- |
| All payment methods | | |
| Staff shifts & accounts | | |
| Open tabs | | |
| Discount-based rewards | | |
| 3G connectivity | | |
| Inventory management | | |
| Order management | | |
| Item discounts, rewards & taxes | | |
| Full App Market access | | |
| Items-orders integration | | |
| Remote order printing | | |
Feature
Payment
Plus
Register
All payment methods
Staff shifts & accounts
Open tabs
Discount-based rewards
3G connectivity
Inventory management
Order management
Item discounts, rewards & taxes
Full App Market access
Items-orders integration
Remote order printing
These features come pre-installed on the terminal so you can use it straight away. 3G connectivity is only available on the Register plan, so if you're on the Payment Plus plan, you can only use the Flex terminal with WiFi. Clover Mini isn't made for mobile connectivity, so it won't apply to that.
In addition, you can add extra features from the Clover App Market, but not all these apps are available on the Payment Plus plan. You actually have to pay extra (i.e. upgrade to the Register plan) for the privilege of accessing all apps with specialised features incurring additional costs. For industry-specific functions, it may therefore be necessary to subscribe to Register to subscribe to relevant apps.
Some of these apps are free, but many aren't. Some only work on the payment terminal, while others are for the Clover web dashboard (accessible in a browser), or both. The Clover Reporting app, which many users find essential, is free for the first 30 days before starting a monthly, paid subscription.
Alternatively, restaurants can subscribe to Clover Dining which only works on Mini and Clover Station. This includes features such as table plans and full integration with kitchen printers.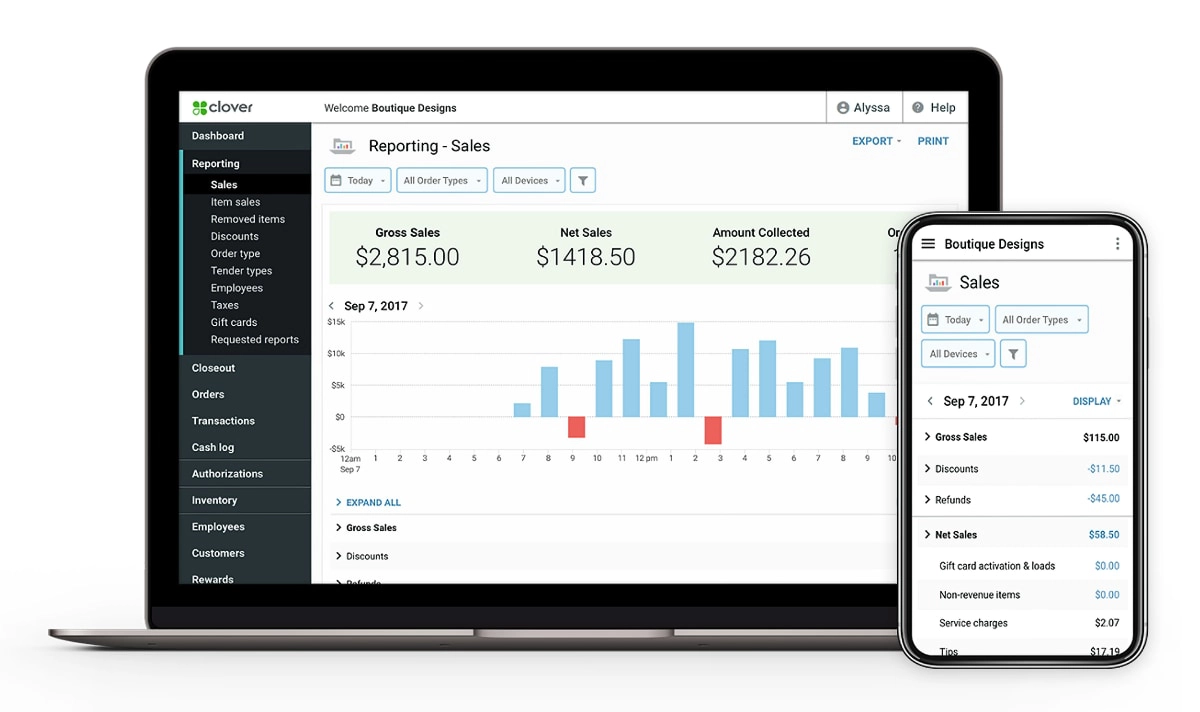 View in-depth sales reports in the Clover dashboard – if you subscribe to Clover Reporting.
Customer support and Clover reviews
AIB Merchant Services provides a phone number and email address for customer support. The customer service team is available to contact Monday-Saturday between 8am and 11pm and Sundays between 10am and 4pm. You can also email or call Clover directly during their (undisclosed) opening hours.
Clover reviews are hard to pinpoint for Ireland specifically. AIBMS does not have enough user reviews online, but that is perhaps unsurprising given the Clover service is managed by AIBMS, First Data, Clover and sub-companies like First Merchant Processing (Ireland) which doesn't even have its own website. This can be seen as a sneaky way to disperse bad reviews, as it's unclear for honest reviewers where to submit their experiences.
Users have ended up in loops between their bank and Clover, where each refers to the other without resolutions. Apps from the Clover App Market also have their own customer support, which can complicate matters
Trustpilot shows many positive customer reviews of Clover EU speaking of excellent customer service, but a lot of them seem less than legitimate and they apply to Clover users across the EU.
If you dig a little further and look at Google ratings for the Irish AIB Merchant Services, the bank scores a low 1.6 out of 5 stars for its service. Those reviews talk of very poor, patronising or lacking customer service with difficulties of getting through to the right department.
There are also mentions of hidden fees and descriptions of how the software is too simple for its high price, while the merchant is unable to leave the lock-in contract.
Elsewhere online, you see reports backing up these statements. When something goes wrong, users have ended up in loops between their bank and Clover, where each refers to the other without resolutions. Apps from the Clover App Market also have their own customer support, which can complicate matters when trying to solve software issues.
From what we've read, we strongly recommend close-reading the contracts you sign, paying particular attention to hidden fees and commitments that the sales rep may not mention unless asked directly about it. Otherwise, you could be tricked into a contract with fees too high for what it's worth. You should also confirm that the POS features you need are included in the price – many users have stated that basic features require additional apps that can be costly.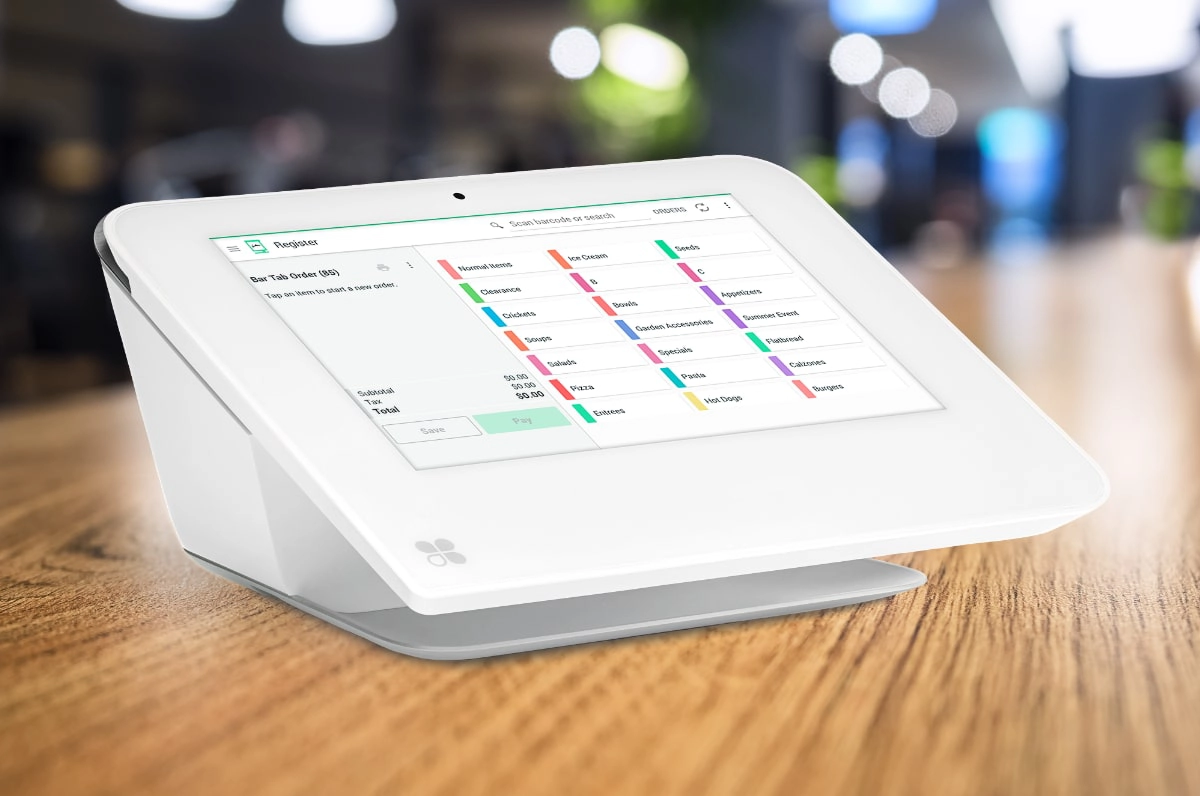 The Clover Mini looks nice on a countertop.
Who is Clover Flex and Mini best for?
Clover Flex is suitable for payments in most environments, whether out-and-about at markets, conferences or outdoor spaces, or inside for e.g. table-side orders or busting queues while the main till is handling slower transactions. It is a natural extension to a stationary Clover Station Pro system or Clover Mini as it works in conjunction with it.
Clover Mini, on the other hand, suits small countertops with simple till operations. If you opt for the Clover Dining software, the Mini can be perfect for small food-and-drink places.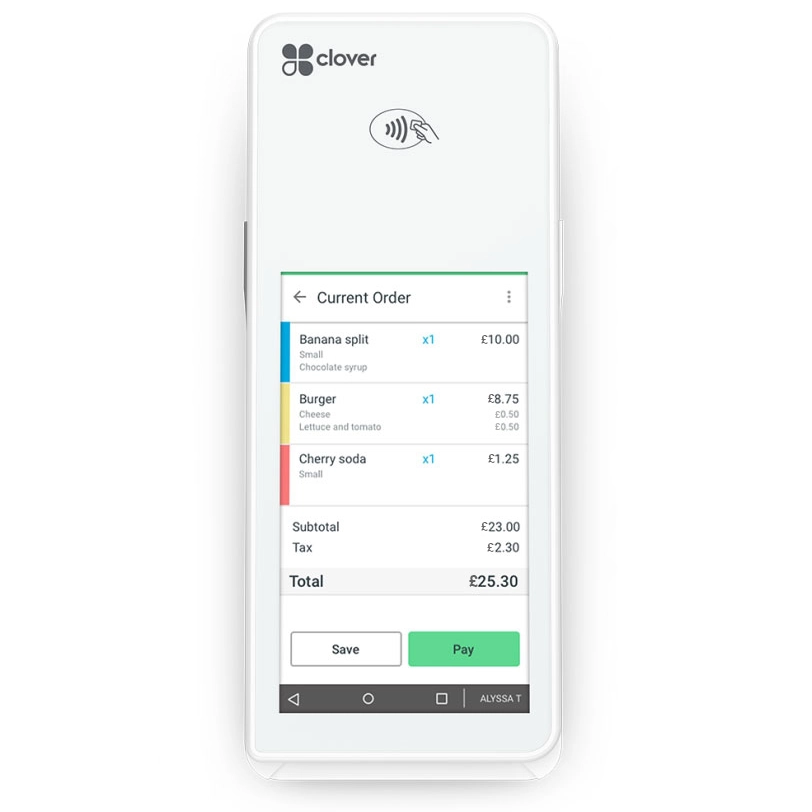 Clover Flex is great for table service.
Both the Mini and Flex screens are made of durable, antibacterial glass, so they are definitely suitable for food environments.
Small businesses with a sensitive budget should think twice before applying, though. Why? Because software, hardware and merchant account fees can easily end up costing more than you can afford, and being locked into the contract means you can't easily escape for a few years.
Bigger companies can get better card rates, while the extra apps can be just what they need for a till system tailored for the business.
Verdict
Whichever Clover device you choose, it will have a good balance of design aesthetic and customisation options from the Clover App Market. If you need a portable terminal acting as a till and card reader in one device, then Flex would be your choice. Clover Mini is designed for a stationary counter, but it is more limited in software capabilities than the bigger Clover Station. But as a small, multi-functional till-and-card machine in one, Mini will save you counter space.
Clover costs can rack up with more app features added, and you should consider the contractual commitment and fees only disclosed at sign-up. The customer support might not be great once you're locked in, so it's better to clear the air with all your questions beforehand and not assume that all desired software features are included as standard. Better transaction fees can be negotiated for businesses with a large card turnover, but this won't benefit a small business with a lower sales volume.
If you're on a budget and cannot reliably predict where you are in the next few years, we suggest looking at SumUp as an affordable, contract-free card terminal with no ongoing fees.
Clover is best for: Stable businesses that want a user-friendly smart POS terminal with custom features.