The Brazilian market of card readers is one of the most exciting at the moment. Companies are fighting for a slice of the sector, estimated to have released over 300 models so far and paved the way for two successful IPOs this year.
Yet not so long ago, local entrepreneurs were hostages of a system that offered card machines through banks, and to well-established businesses only. See why and how this scenario has changed and what you can expect in the near-future.
Mobile phones popularised first card readers
Mobile phones are popular in Brazil. According to Anatel (Brazilian National Telecommunications Agency), 234.4 million devices were in use in August 2018, which is around 1.1 devices per inhabitant. And this is one of the reasons why card readers that function along with smartphones were the first solution to win over customers.
European companies iZettle, SumUp and the former Payleven had a great start, selling to new entrepreneurs or those wanting to accept cards but who had been turned down by traditional providers such as Cielo (OTCPK: CIOXY), Rede by Itaú Unibanco and Santander Getnet.
234.4 million (mobile) devices were in use in August 2018, which is around 1.1 devices per inhabitant.
The new companies didn't require a credit check, stayed clear from bureaucracy and sold their solutions to both individuals and registered businesses.
On top of that, they offered transparent fees, zero fixed costs, and card readers that could be bought instead of rented. In a nutshell, they provided a much simpler way to accept cards, a solution that low-volume entrepreneurs have long been waiting for.
Standalone terminals are ruling the market
Currently, the standalone models – machines with built-in data SIM card for direct connection with the mobile network – answer for most sales. And we can point out a few reasons why. For instance, the mainstream data service provided by Brazilian mobile phone companies is often seen as unreliable. Merchants complain of losing sales due to the signal being cut off during a transaction, or not being able to get started at all.
Read more in Portuguese: Moderninha Plus PagSeguro é mesmo a melhor maquininha sem celular?
The requirement of having a compatible smartphone, usually with Bluetooth, to accept cards isn't always feasible. And the SIM card and data plan included in the price of standalone machines reduce the overall fixed cost. Statistics indicate that most Brazilians have a mobile phone – many people have in fact more than one – but it doesn't mean they own the latest models.
Standalone card machines solved all these issues. They are commanding the market. PagSeguro (NYSE: PAGS), a child company of the Brazilian web content firm Universo Online (Uol), is leading the way with a range of machines from budget to pro models, hoping to please all segments.
Traditional companies are also investing in SIM card machines that can be purchased instead of rented, now with fixed and transparent fees. To avoid losing sales on their premium market, some are trying to establish new brands: Cielo launched Stelo, and Itáu invested in Pop Credicard, both offering cheaper solutions.
But more competitors are starting to challenge them. Stone (NASDAQ:STNE) became one of the highlights after attracting investments from Warren Buffett's Berkshire Hathaway Inc and Alibaba's Ant Financial during their recent IPO.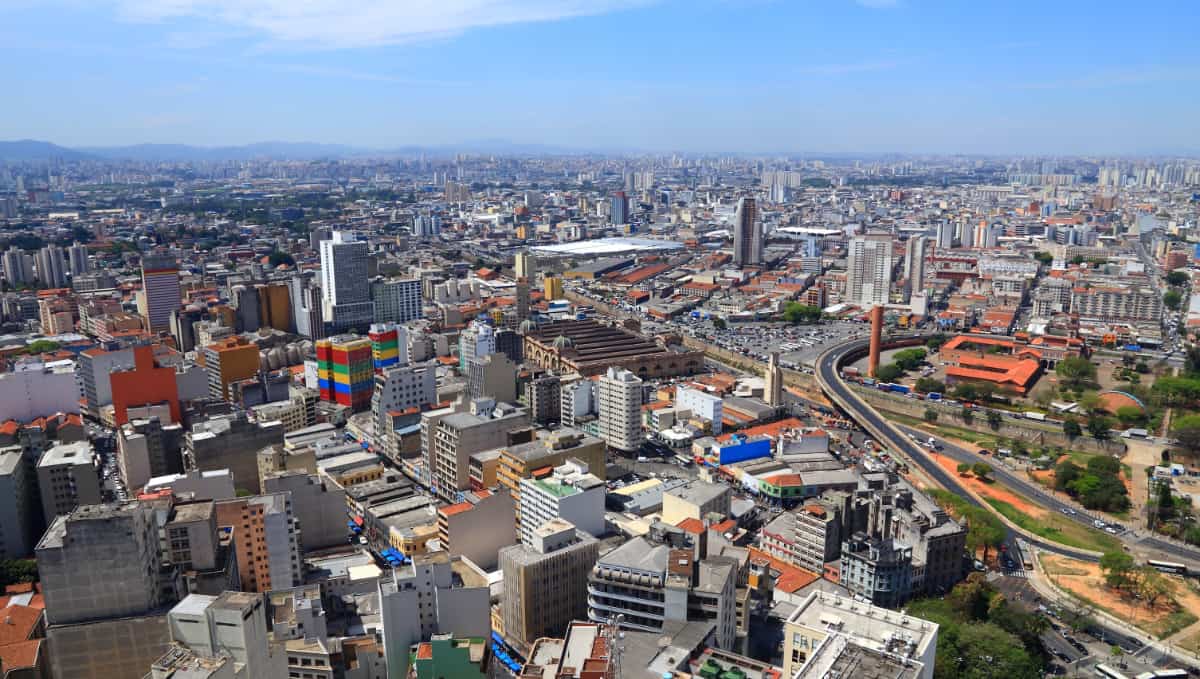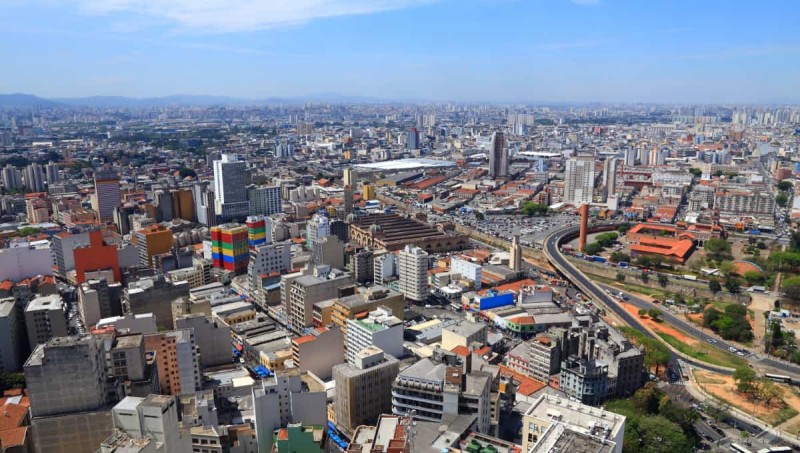 Sao Paulo is a dynamic hub for payment companies.
Companies aim at entrepreneurs with no bank account
A high number of Brazilians – an estimated 32% of adults – don't have a bank account, and many of them are entrepreneurs. This can be due to bureaucracy, failure to pass a credit check or poor branch coverage in the countryside, but it hasn't stopped their businesses from thriving. They accept cash, cheques (which they trade for cash) or keep a tab in a notebook the good old-fashioned way.
However, maintaining a healthy cash flow requires safer and more practical solutions. The fear of robbery is a constant in Brazil, making it dangerous to keep large sums of cash at home or in a shop. Plus, many clients want to pay by card due to the same concern and for the convenience.
Read more in Portuguese: SumUp conquista clientes com maquininha de cartão barata
Card reader providers came to the rescue, offering the possibility to buy a machine with a free, prepaid card to go with it. Those without a bank account can then use this card to withdraw cash from their sales or to make purchases. This add-on is now offered by most companies, including those supported by banks, and it's believed to have increased the sales of those card machines.
One step ahead, PagSeguro is also offering an app that creates a type of digital bank account. It can be used to pay bills, make transfers, top up mobile phones, and more. They and Mercado Pago – another major player – are also offering loans to compete with the machines provided by banks.
Merchants must check details and do the maths
As the competition becomes fierce, your best choice depends on checking details. The different companies are doing their best to ensure vendors notice their strong points by broadcasting these in expensive advertising campaigns.
The fight to prove who offers the best cost-benefit goes down to percentage points, and prices are cut to the bone during aggressive promotions.
Some providers want to be known as the one with the cheapest fees, some for their perfect customer service, while others highlight a broad package of extra features. The fight to prove who offers the best cost-benefit goes down to percentage points, and prices are cut to the bone during aggressive promotions, raising the question of how long it's going to last.
But the Brazilian retail market is famous for its epic commercial fights, leaving us to believe that the end of it might never come. The number of merchants still unable to accept cards is far from low, allowing the payment companies to continue scaling their businesses for much longer.
Cardless payments still in its infancy
On the other hand, cardless payment solutions like Apple Pay, Samsung Pay and Google Pay are still in their infancy in Brazil. It rests on two things: the cost of high-end smartphones and safety concerns.
Mobile payments like the digital wallets mentioned above require smartphone models with NFC or MST technology, still inaccessible to most of the Brazilian population. Also, the idea of flashing an expensive phone during or after a transaction is a source of anxiety.
Still, many pro and midrange card machines are already sold contactless-ready. While they wait for the internal market to catch up with the technology, they focus on foreign tourists who might have already adopted NFC payments.