Europeans are becoming more and more used to using plastic cards for everyday items. In some countries it's now quite possible to get through a day and even week without using cash at all.
According to Euromonitor International's recent consumer payments study, card payments are expected to be more popular than cash by next year. Furthermore, the study states that "money is going mobile." As such, companies that don't take card payments risk losing out on trade.
With this is mind, business owners must be fully geared up to take card payments – any time and anywhere. In France, three payment providers are emerging as the favoured SME options for mobile points of sale.
mPOS providers in France
iZettle has been established in Europe since 2010, and launched its operation in France earlier this year.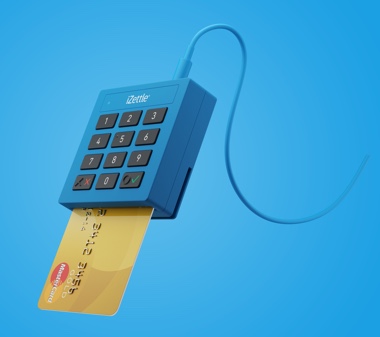 iZettle's card reader Lite.
iZettle is a great choice for small business and start-ups (in France, and indeed elsewhere) because it costs nothing at all to implement.
The company even offers a completely free card reader, allowing even the smallest firms to start taking mobile payments immediately by simply connecting the device to a smartphone. The business just pays a fixed fee on any transactions. This ranges from 1.5% to 2.75% depending on the volume of transactions put through the system.
Firms who outgrow the free card reader can, for a small fee (currently just €79) upgrade to the "Pro" reader, which has an integrated screen and connects wirelessly using Bluetooth.
To read our full review of iZettle in France, see Avis sur iZettle — un TPE gratuit, mais où est le piège ?
iZettle isn't the only option for mobile payments in France. Payleven and SumUp are the other big names in this emerging scene. While neither offer the free reader that iZettle provides, the cost of entry remains low, and within reach of businesses of all sizes.
Payleven's mobile card reader is Bluetooth-based, and hooks up via an app to any iOS or Android device. The reader costs around €69 depending on any available offers, and the provider charges a fixed fee of 2.75% on transactions. It's worthy of note that this fee doesn't reduce for a high transaction volume, making iZettle a more economical bet for some businesses.
Read our full review in French here: Avis sur Payleven: une solution fiable et éprouvée.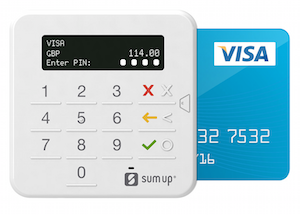 SumUp PIN+ with affordable, flat fees.
Still untapped potential in France
The three options above are all very easy to get started with. Regardless of the option you choose, you're looking at a business investment of less than €100 (or even nothing at all, in the case of iZettle) to ready your company for taking mobile payments.
The big banks responded surprisingly quickly to the potential threats from the market disruptors iZettle, SumUp and Payleven, and to date most of the big banks have launched their own competing products: Monetico Mobile from Crédit Mutuel, Encaissement Mobile from Société Générale, Mobo Mobile from BNP Paribas and Monem Mobile from LCL.
The problem with the solutions from the banks is that they still represent far more hassle for the customer in signing up and managing the service. They require an account in their respective banks. The fees are also usually less transparent. It remains to be seen whether they will be an attractive alternative to the more agile tech start-ups.
Last year, Visa Europe carried out a study that revealed that 730,000 SMEs in France were equipped with smartphones but not taking card payments. All of these companies deprive themselves of potential revenue from customers who wish to pay with plastic. With easy mPOS solutions available, there's no reason for any business in France to get left behind.