New mobile payment systems give merchants and small business owners in Hong Kong a chance to accept credit cards easily on the go.
mPOS terminals allow local businesses to accept international payment cards such as Visa, MasterCard and JCB wherever they are. An external card reader is connected to the phone and uses it to transmit card and payment data.
Dah Sing Bank's Pay@Mobile first to hit the market
The first Hong Kong mobile card reader using smart phones accepting both chip and magnetic stripe credit cards was Dah Sing Bank's Pay@Mobile.
Launched in December 2012 in partnership with Visa, Pay@Mobile is a credit card transaction system for smartphones, targeted at small and medium or mobile retailing enterprises.
"Pay@Mobile service platform responds to the continued growth of the mobile banking market in Hong Kong", Ms Phoebe Wong (Executive Director and Head of Retail Banking Division, Dah Sing Bank) said at the launch.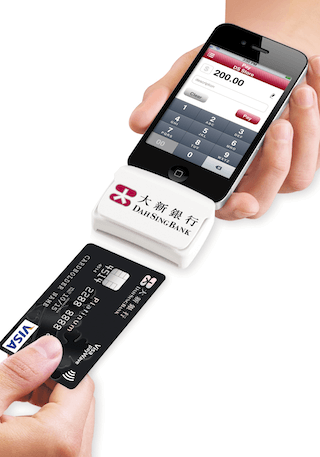 Dah Sing has partnered with Swish to provide technical and other support to merchants. While Dah Sing states that the cost of the mobile payment system is lower than traditional payment terminals, it does not publish its rates, saying it will be set on a case-to-case basis depending on the type of business, frequency of card use and average transaction amount.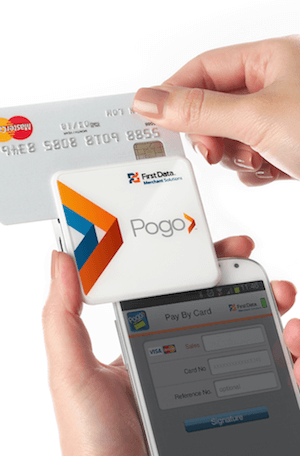 Pogo> second card reader in Hong Kong
The second mobile point-of-sale (mPOS) reader introduced in Hong Kong, named Pogo>, was launched by MasterCard and First Data Merchant Solutions in November 2013.
Pogo> has been available in the United States since 2012 and was the first customisable user interface mPOS in Hong Kong. It supports both chip cards and magnetic stripe cards. Pogo> works with iPhones and iPads as well as Android operating systems.
"Pogo> is gaining support among merchants and consumers, particularly at large-scale events.
Pogo> was also the chosen mPOS solution used by leading merchant Kukri Sports at the Hong Kong Sevens rugby tournament this year," said Mr John Lee, Country Business Manager of First Data Merchant Solutions in April 2014 when Pogo> was named "Hong Kong's Best mPOS Solution 2013" by MasterCard.
Mobile operator 1O1O follows suit
This was soon followed by mobile operator 1O1O, who teamed up with card processor Global Payments to launch a competing mPOS reader targeting merchants in December 2013. 1O1O is Hong Kong's leading 4G LTE network provider. Like Pogo>, this payment solution is designed to work with both iOS and Android operating systems.