On average each Norwegian citizen paid by card 417 times in 2016, beaten only by Iceland in the worldwide ranking.
With fewer Norwegians carrying cash, even the smallest of vendors find that not accepting card payments is hurting the bottom line – badly. But before we look at the market innovations to meet this challenge, some statistics.
A payment card-loving people
NFC payments have not yet taken off in Norway. The much anticipated mobile wallet from the biggest mobile carrier Telenor and the biggest bank DNB, Valyou, closed down business within a year.
Physical payments with chip cards is still king. Cash much less so. In 2014 Norwegians withdrew 87.9 billion kroners (just above $ 1 billion) from ATMs, down from 99 billion the year prior.
The national debit card system, BankAxept, is still dominating the payment cards landscape.
The value of BankAxept transactions is three times as high as that for international cards, but the gap is closing.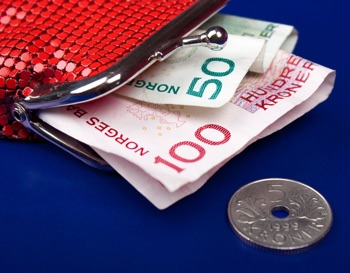 A less and less common sight these days.
The value of BankAxept transactions added up to 554 billion kroner in 2014, growing 2.3% from 2013. International cards, including credit cards, grew 9.1 percent to 245 billion kroner.
Along with the shrinking use of cash, the average payment amount with cards is also gradually declining. It is now at 364 kroner (source: Bank of Norway).
Traditional payment terminals expensive in Norway
Norway has traditionally been an expensive market for both payment terminals and processing fees, even compared to Scandinavian neighbours like Denmark. The leading terminal provider is Nets, and rent of their standard Ingenico mobile terminal iWL250G for GRSP starts at 694 kroner per month including sim card. To buy the same terminals, businesses are looking at more than 9 000 kroner excl. VAT.
Processing rates vary, but typically starts at 1.90 percent for Mastercard and Visa in addition to a fixed monthly fee and require a contract with one of the acquirers.
iZettle first to introduce app based mobile card reader
The market was ready for an industry disruptor, and iZettle was the first one to seize the opportunity. With one contract, no monthly fees and a transparent fee structure, iZettle is a mobile card reader that operates via an app on a smartphone or tablet.
The first card reader introduced in 2012 was plagued with a few issues, which eventually led Visa to abandon iZettle for several months. The newer readers have been operating more smoothly. The company launched a free "Lite" reader in February 2015, which helped increase its market share.
iZettle does not offer BankAxept, and has instead counted on the widespread use of debit and credit cards from Mastercard and Visa.
See also (in Norwegian): iZettle kortleser – erfaringer så langt
Nets launches its competing product: Miniterminal iCMP
After more than year of beta testing, Nets launched its competing product, the Nets Miniterminal iCMP in 2015. Like iZettle, the terminal works with via an app on a smartphone and tablet.
As opposed to iZettle, Nets Miniterminal has a monthly software fee for the terminal, and another monthly fee for a BankAxept agreement. Processing rates for BankAxept cards are comparable to the higher range paid with contracts for regular terminals.