As one of the most dynamic payment markets in Eastern Europe, it's no wonder SumUp Poland has experienced a boost in recent years.
What's the story behind the adoption of mobile payments in Poland? Let us look at the changing consumer behaviours and statistics with an eye on how it affected SumUp's growth.
Polish consumers happy to adopt new technology
Poland is a technologically advanced market, much more dynamic than the neighbour Germany. It was one of the first European countries to popularise contactless payments.
As for mobile payments, the tech-savvy Poles routinely use Blik, a popular app for payments, bank transfers and cash withdrawals. By the beginning of 2020, over 10 million Polish residents were using Blik – that's 26% of the population.
Out of all digital payments in Poland, Blik has proven most popular, but there are other signs that Polish people are comfortable with digital payments. According to Polcard, the uptake of mobile payments like Apple Pay, Google Pay and BLIK increased a whopping 31% quarterly in 2019.
We have also seen a boom in ecommerce as a response to the coronavirus pandemic. An Elavon/Ipsis Mori survey conducted in May 2020 revealed that 60% of respondents confirmed they will actively use their card and contactless payments after restrictions are eased. 48% responded that their online spending had increased since the start of the pandemic.
Cashless transactions in Poland
Pre-Covid-19, the usage of payment cards in general has grown for years in Poland. The table above shows the quarterly growth of cashless transactions – i.e. card usage compared to cash payments – steadily increasing from 83.7% in 2017 to 90.9% in the first quarter of 2020 in Poland.
Government policy has accelerated electronic payments
It is not just social dynamics that had an impact on card payments in recent years.
For one, the government-funded Cashless Poland Programme (CPP) pays for up to three card machines and the first year's transaction fees up to 100,000 PLN, if the merchant qualifies for the programme.
This has led to a high card machine penetration in the Polish market through major payment providers like Eservice and SumUp since its beginning in 2018. The programme is meant to stimulate the Polish economy, modernise the industry and attract new customers in commercial spaces.
Another law came into effect in January 2019: that employee wages must be paid via bank transfer unless a written request is submitted by the employee for another payment method.
Those without a bank account are entitled to open a basic payment account with banking features without additional fees. This resulted in a growth of new bank accounts and more debit card spending.
Popularity of SumUp in Poland
As SumUp's CEO, Daniel Klein, says: "Across Eastern Europe, we see a strong shift in payment behaviour from cash to card." And thanks to the government interventions and tech-minded population, Poland is now the main Eastern European market of SumUp.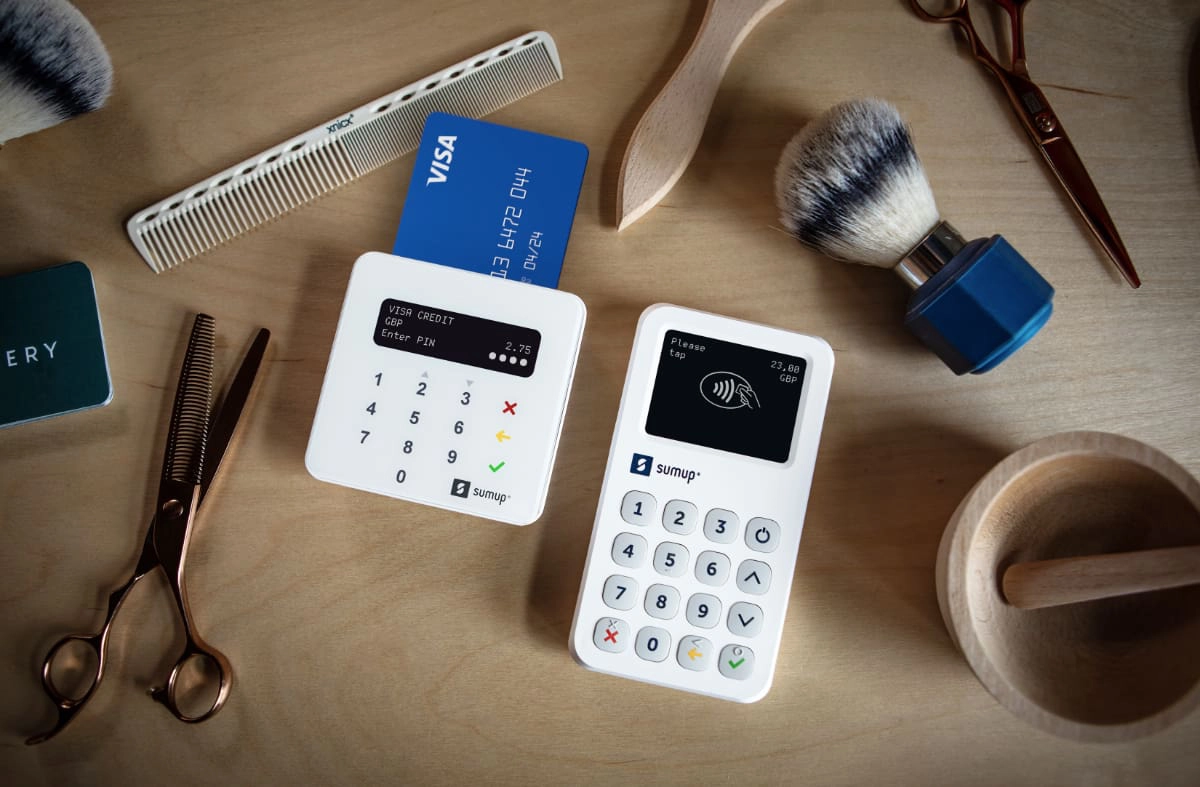 SumUp card readers in Poland: the Air (left) next to SumUp 3G (right).
The main products of SumUp are two pocket-sized card readers: SumUp Air that works in conjunction with a mobile app and standalone SumUp 3G with a built-in SIM card. The 3G has proven particularly popular because of the flexibility of using it anywhere – even on low mobile connections – without the need to use your smartphone as well.
SumUp has distinguished itself with its transparency and good online products at a low cost – merchants in Poland really like this.
Expansion to ecommerce via Polish Shoplo
The recent spike in online transactions is bound to benefit SumUp even more. To expand its ecommerce offering, the company acquired Shoplo in 2019, keeping the Shoplo developer team in Warsaw where it was already based.
"By leveraging Shoplo's technology, SumUp's merchants will get easy access to creating their very own online stores", the co-founder Marc-Alexander Christ said in the beginning.
Indeed, we have since seen a rapid expansion in remote payment options in most of SumUp's countries over the last year alone.
SumUp has distinguished itself with its transparency and good online products at a low cost – merchants in Poland really like this.
For example, the Online Store Starter is a free, extremely simple online store page that any merchant can create in minutes from their phone, but this is yet to be promoted in Poland. Other European countries like the UK and Netherlands already have access to this, with more fully-fledged online store options on the horizon.
The unexpected pandemic did, on the other hand, rush SumUp to release other remote payments on the scene as merchants needed new ways to take payments from a distance. In Poland, these options include electronic invoices, a virtual terminal for telephone payments and payment links via SMS, URL and QR code.